1N/2D Camping at Patnitop, Jammu
Jammu

Pumped
Couple / Group, Family, Solo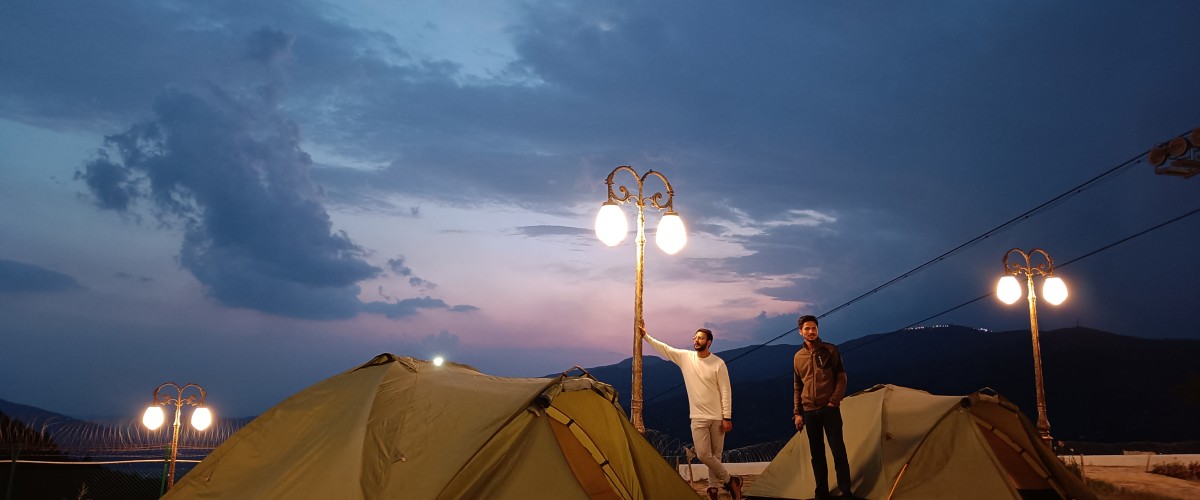 Overview
A perfect abode to experience the beauty of these mystic mountains of the Shivalik Himalayas. This location is an ode to the rustic and earthy charms of the valleys and the mountains, with a perennial focus on the oneness of the human spirit with nature in its abundance. Situated at Patnitop, lies 22 acres of natural blissful piece of land with some great adventurous options.  
Great hospitality, multicuisine restaurant to try every delicacy, adventure activities like zig zag zipline, tubing sledging, Magic Carpet ride and some Hiking and Biking experiences to give you the perfect blend of Adventure with Nature.  
A wholesome experience of leisure with a hint of adventure making it the most obvious choice for friends, family or a couple vacation.  
This destination is like no other that offers the best of outdoor activities, hospitality, fine dining, Camping and much more in the vicinity of the Himalayas in Jammu and Kashmir.
Adventure experiences like - Camping, Mountain Biking, Mountain Hiking and Leisure Trails.
One of Asia's highest Gondola Rides in the foothills of the Himalayas.
Magic carpet ride measuring 162 meters to the top, with the highest surface conveyor capacity.
An all-season tubing sledge featuring 238 meters of slopes.
Asia's longest zigzag zipline measuring 580 meters spread across 9 wires & 10 poles.
Multi cuisine dining options like at Banana Leaf, Skyview Café and Gazebo.
Get checked-in at the campsite and after getting freshen-up, head straight to enjoy the activities like Gondola ride, zipline or tubing sledge. In the afternoon, enjoy a delicious Lunch and rest for a while. 

 

In the evening, feel free to take a walk around or spend some leisure time. End your day with a hot-piping dinner and call it a day. 

 
Wake up to a refreshing morning and get treated to a scrumptious breakfast. After breakfast, check-out from the campsite. 

You can also opt for a short 2.5 Kms or long 5.2 kms nature trail to explore the surreal beauty of the location.

 
Camping
Activity as per your selection
Breakfast
Lunch
Dinner
Children below 5 years can avail themselves of this activity completely free of cost and must be accompanied by an adult.
Children between 5-12 years of age can buy a child ticket and must be accompanied by an adult.
Individuals above 12 years of age will be considered adults.
Individuals above 60 years of age are not allowed to take part in adventure activities.
In case of any damage to the property, the same will have to be paid by the guest immediately.
It is mandatory to register all occupants of the room with Government approved Id's.
Any violation by smoking inside the camps would attract a penalty of Rs. 5,000.
Food and Liquor is strictly prohibited in the Gondola.
Please do not make noise, which could disturb other guests, including the use of radio, TV and musical instruments to maintain quiet periods at the campsite are from 11 PM to 7 AM.
The age limit for this activity is below 60 years. Individuals above the age of 12 will be considered adults. Weight limit for Zipline & Tubing Sledge is 100 Kgs & Minimum height requirement is 4 Feet 11 Inches.

Starting Point
Patnitop
Sanget Valley, Chenani, Dist. Udhampur, Patnitop, Jammu & Kashmir 182142
Directions

We will confirm your booking within 24 hours. 

 

In case of non-availability for the date, our team will get in touch with you to work out best possible dates. Kindly bear with us as this industry does not work with real-time inventory view from vendor partners.

 

If you wish to cancel before receiving a confirmation, you will receive 100% refund.

 
Full Refund-

If cancelled before 7 days of scheduled date.

 

No Refund-

If cancelled by within 7 days of scheduled date.

 
100% at the time of booking

 
 

The duration of this experience   

is 1 night & 2 days if you opt for camping. 

 
You can enjoy various activities

like

Zig Zag

Zipline, Gondola ride

,

Magic Carpet,

Tube sledging

and adventure experiences like hiking. 

 
The age limit for this activity is below 60 years. Individuals above the age of 12 will be considere

d adults. Weight limit

f

or Zipline & Tubing Sledge is 100 Kgs & Minimum height requirement is 4 Feet 11 Inches.

 
The package includes Camping, Meals, and activity of your choice depending upon the add-ons. 

 
The check-In time is 02:00 PM and the check-out time is 10:00 AM. 

 
Patnitop is an all-year-round destination as all the seasons bring out a different part of nature's beauty. 

 

However, camping is not operational during heavy snowfall – You can take the experience from 1

st

Oct to 30

th

Nov and then 15

th

Feb to 31

st

March

 
If your activity is cancelled for weather conditions, operational or regulatory reasons, you will receive FULL refund or you can reschedule your activity to an alternative date of your choice.

 
You may cancel the booking anytime ,100% refund will be processed if the booking is cancelled 48 Hrs before the trip

 

No refund if cancelled within 48 Hrs of the scheduled trip.