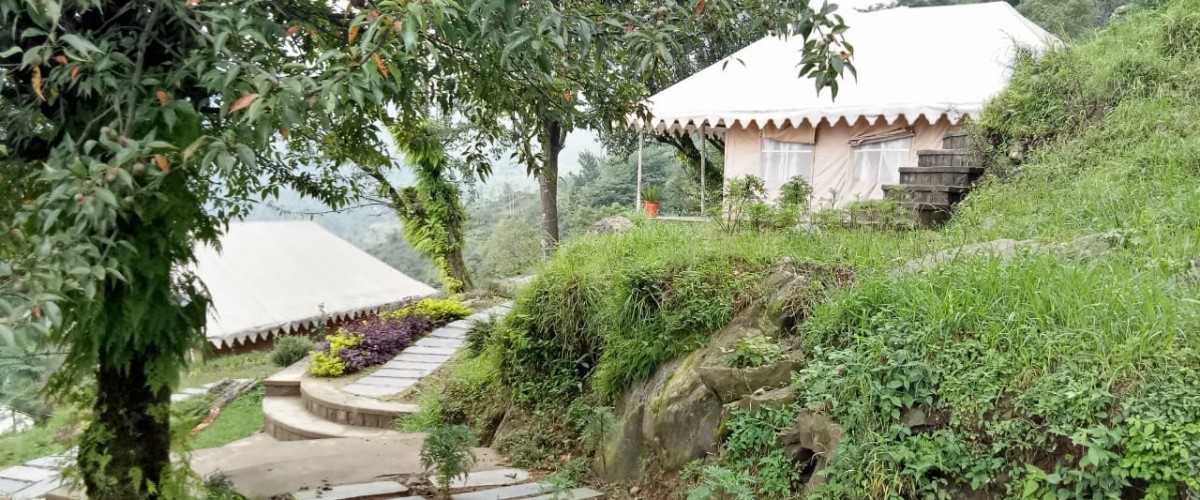 Overview
An escape into the woods from all the hustle bustle of the city life. This weekend, head to Dharamshala and find a new you within the holy embrace of spiritual and natural light. A humble abode set amidst the lush green forest of Dharamshala. This campsite allows the perfect setting for relaxing in peace. If you are a solo traveler or going out with your group, this place will surely delight you with mesmerizing views and well-furnished tents with some lip-smacking food served hot for you. Apart from spending time at the campsite, you can go out for hiking in the woods, try ziplining or a more adventurous sport like Paragliding here. There is something for everyone at Dharamshala. If you are an explorer, then feel free to visit the monasteries and get to know the Monk lifestyle and know more about Buddhist culture. 
Enjoy off-beat camping set amidst the forests of Dharamshala.
Explore the Buddhist culture or get mesmerized by the breath-taking views of Dharamshala.
Indulge in various adventure activities like Paragliding, Ziplining or do café-hopping.
After arriving at the campsite, you will be greeted and will be given a brief tour. Later you can settle in your Swiss tents and relax. Spend the rest of your day at leisure. If you have a group with you, you can indulge in Jamming session around the bonfire in the evening. You can also head out to explore the nearby places or do some café hopping in Dharamshala. Have dinner at night and retire for the night in your comfy tents. 
Wake up to a beautiful morning and enjoy some hot tea before breakfast. After that, check-out from the campsite and

 head out to try some adventure activities like paragliding, Ziplining on your own. Have a fun-filled day and return home with wonderful memories. 

 
Stay in Swiss tent
2 Meals (Dinner and Breakfast)
Bonfire in winters
Check-in: 12:00 PM-Check-Out: 12:00 PM.
Please bring valid Id proof like Aadhar card/ Driving license.
Vendor details will be shared post booking. Please co-ordinate with vendor on reporting time & location.
Child above age 5 will be considered as an adult.
ID proof is mandatory for each individual guest at the time of booking, and also upon arrival. PAN card will not be considered as valid address proof.
It is advisable not to carry valuables as the tents do not have a lock facility. Kindly carry lockable suitcases.
Smoking inside tents is not allowed.
Any personal expenses or items of personal nature will not be included in the package. Any meals or transfers not mentioned in the itinerary are to be considered an exclusion in the deal.
Any kind of drink (alcoholic, aerated, or mineral water) is not included in the package cost.
Guidelines issued by the State Government are to be followed. Social distancing to be maintained. Frequent hand sanitization and use of mask recommended.
Any breakage or damage of any items in the camp will incur charges.
We will confirm your booking within 24 hours. 

In case of non-availability for the date, our team will get in touch with you to work out best possible dates.
Kindly bear with us as this industry does not work with real-time inventory view from vendor partners.
If you wish to cancel before receiving a confirmation, you will receive 100% refund.
Full Refund – If cancelled before 7 days of scheduled date.
No Refund – If cancelled within 7 days of scheduled date.
100% at the time of booking.
Rescheduling is subject to availability.

Once the cancellation window ends, rescheduling cannot be done.

Each booking allows for a maximum of two rescheduling opportunities. After which, no further changes can be made to the booking.

Any price differences resulting from rescheduling, such as changes in seasonal rates or availability, will be applicable and will be communicated to the customer during the rescheduling process.

In the event that a customer requests a rescheduling but fails to attend the newly scheduled appointment, it will be considered a missed appointment, and our standard cancellation policy will apply
The duration of this experience is 1 night and 2 days. 

 

 
The starting point for this activity is

Dharamshala.
If your activity is cancelled for weather conditions, operational or regulatory reasons, you will receive FULL refund or you can reschedule your activity to an alternative date of your choice.

 
Full Refund- 

If cancelled before 7 days of scheduled date.

 

No Refund- 

If cancelled within 7 days of scheduled date.