1N/2D Luxury Glamping in Jaipur with Adventure Activities
Jaipur

Pumped Adventure
Couples/Group Adventure, Family Adventure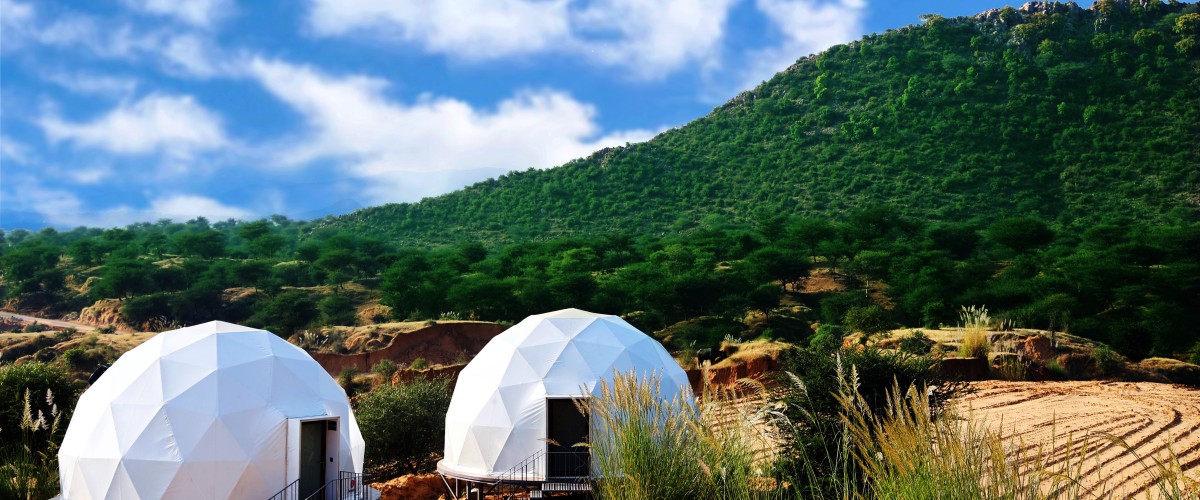 Overview
Unveil the hidden gem of luxury glamping in the heart of Jaipur, where adventure meets opulence amidst 500 acres of untouched desert and forest beauty. This is not just a getaway; it's a thrilling journey into the realm of nature's tranquillity and immersive luxury. Each of the nine luxury glamping tents is a testament to indulgence, blending the allure of nature with the comfort of modern amenities.
Get ready to wake up to the symphony of chirping birds and rustling leaves, with sprawling landscapes stretching as far as the eye can see. These glamping tents are more than accommodations; they are an escape from the mundane into the lap of serene wilderness. 
In this haven of tranquillity, adventure knows no bounds. Engage in a plethora of adventure activities in Jaipur and experience the thrill of the wild. From heart-pounding treks to thrilling adventure sports in Jaipur, every activity will awaken your inner daredevil.
As day transforms into night, gather around the campfire, sharing stories and laughter under a star-studded sky. The experience is priceless, yet the glamping tent price ensures that it's within reach of those who seek luxury with a touch of wilderness.
This is more than just a stay; it's a symphony of luxury, nature, and adventure. Immerse yourself in the lap of indulgence and rejuvenation, making each moment a cherished memory. Discover the magic of luxury camping with AdventuRush, where you can escape the ordinary and embrace the extraordinary. 
Prepare to be swept away to a realm where outdoor activities, top-notch hospitality, gourmet dining, and the thrill of camping collide. Step into the magical tapestry of Jaipur, Rajasthan, where every moment is curated to perfection.
Set foot in a world that redefines luxury and reimagines experiences. Get ready to be captivated by the allure of this exceptional destination, where every corner whispers stories of grandeur and charm.
Seek refuge in a haven where the bustle fades, replaced by the soothing serenity of a destination that beckons you to unwind. Let the peaceful beauty of this retreat wash over you.
Get your heart racing with a range of recreational escapades at this enchanting haven. From heart-pounding ATV rides to strategic paintball battles and guided nature explorations.
Check in, enjoy lunch, and pick your adventure: ATV or paintball (Purchasable as Addon). Evening brings a gourmet dinner and a campfire.
Take a guided nature walk, have breakfast, and bid farewell to The Glamping Resort.
Accommodation
Meals (Depending on the variant)
Expert Guidance
Equipment's: For ATV Ride and Paintball
Safety gear: For ATV Ride and Paintball
Check-in timings: 2:00 PM / Check-Out: 11:00 AM
Activity Reporting Times: ATV & Paintball: 08:00 AM to 06:00 PM & Nature Walk: 6:30 AM to 8:30 AM
The duration of an ATV ride is approximately 20 to 25 minutes.
Activity is suitable for ages 12 to 45, with weight requirements between 40 to 110 kgs.
Vendor details will be shared post-booking. Coordinate with the vendor for reporting time and location.
Carry valid photo ID proof; mandatory for booking and check-in. PAN card isn't accepted as valid address proof.
For Stay: Children above 10 are considered adults.
Personal expenses and items of a personal nature are not included. Unmentioned meals and transfers are excluded.
Alcoholic, aerated, or mineral water not included.
Adhere to State Government guidelines. Maintain social distancing, sanitize hands frequently, and wear masks.
Resort item breakage or damage will incur charges.
We will confirm your booking within 24 hours. 

 

In case of non-availability for the date, our team will get in touch with you to work out best possible dates. Kindly bear with us as this industry does not work with real-time inventory view from vendor partners.

 

If you wish to cancel before receiving a confirmation, you will receive 100% refund.

 
Full Refund-

If cancelled before 7 days of scheduled date.

 

No Refund-

If cancelled by within 7 days of scheduled date.

 
100% at the time of booking

 
Rescheduling is subject to availability.

Once the cancellation window ends, rescheduling cannot be done.

Each booking allows for a maximum of two rescheduling opportunities. After which, no further changes can be made to the booking.

Any price differences resulting from rescheduling, such as changes in seasonal rates or availability, will be applicable and will be communicated to the customer during the rescheduling process.

In the event that a customer requests a rescheduling but fails to attend the newly scheduled appointment, it will be considered a missed appointment, and our standard cancellation policy will apply
The duration of this experience is 1 night and 2 days. 

 

 
The starting point for this experience is Achrol, Jaipur.
Yes, this activity is suitable for beginners as it is completely supervised by the certified instructors. 
The ideal clothing for this activity is comfortable clothes. Trekking shoes or sports shoes are recommended for activities. 
The duration of the Activity is 25-30 Mins approx. . (Depends on the driving speed).
Length: The track is 4 Kms.
Minimum Age Is 16 Years To Drive With Valid Photo ID For Proof Of Age
Drivers Licenses Are Not Required
Children 12 To 15 Years Must Be Accompanied By An Adult
Participants Under 18 Years Must Have A Parent Or Guardian Sign A Consent Waiver
Max Capacity of Weight is 110Kg Per Person.
Minimum Age Is 16 Years To Drive With Valid Photo ID For Proof Of Age
Children 12 To 15 Years Must Be Accompanied By An Adult
Max Capacity of Weight is 110Kg Per Person.
If your activity is cancelled for weather conditions, operational or regulatory reasons, you will receive FULL refund or you can reschedule your activity to an alternative date of your choice(subject to availability).
Full Refund-

If cancelled before 7 days of scheduled date.

 

No Refund-

If cancelled by within 7 days of scheduled date.
Embark on a journey like no other as you step into The Glamping Resort's world of opulence. Check in to your luxurious Dome accommodation and let the indulgence begin. Have a delectable lunch at the on-site restaurant made from local ingredients. The afternoon is your playground, offering thrilling choices such as an ATV ride through breathtaking landscapes or a pulse-pounding paintball session. 
As the sun dips, the resort's tranquil surroundings beckon. Lounge in your Dome, absorb stunning vistas or lose yourself in a captivating book. As evening casts its spell, an exquisite gourmet dinner awaits at the restaurant, promising a culinary journey like no other. Gather around a warm campfire beneath the star-studded sky and enjoy your night to the fullest.
As the sun gently rises, set out on a guided nature walk that unveils the wonders of the natural world enveloping the resort. Learn about local flora and fauna from experienced guides while basking in the serene atmosphere. 
Your day starts on a delicious note with a hearty breakfast at the on-site restaurant, fuelling you for the day ahead. With memories of your glamorous camping adventure etched in your heart, bid adieu to The Glamping Resort. Check out, carrying the magic of your stay and the promise of returning to this luxurious haven amidst nature.