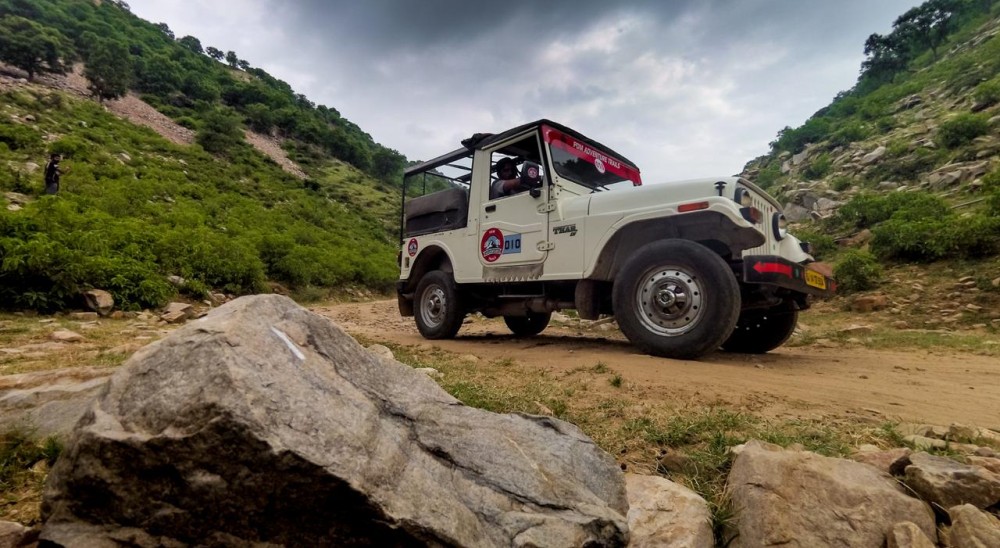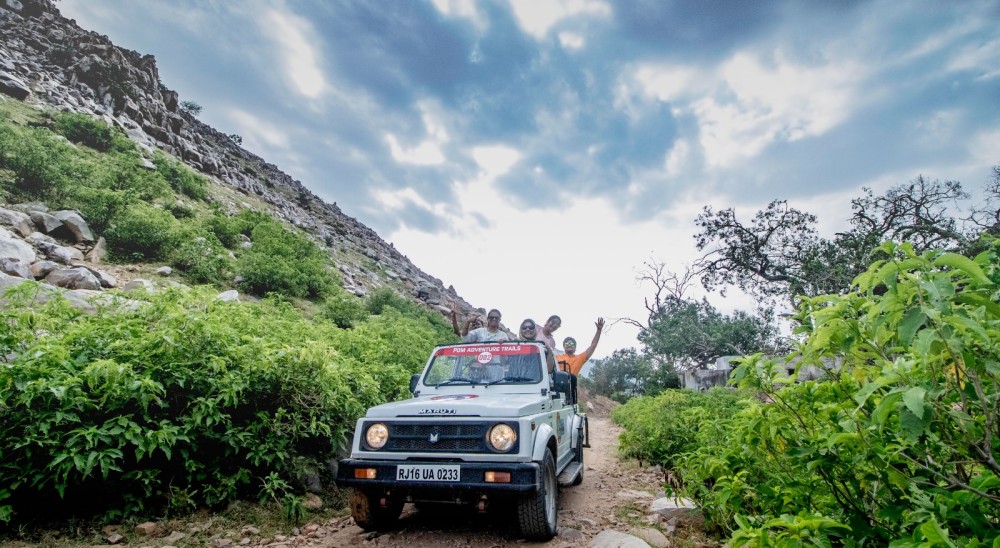 Off Road Jeep Safari in Jaipur
₹

2,999
Jaipur

Pumped Adventure
Couples/Group Adventure, Family Adventure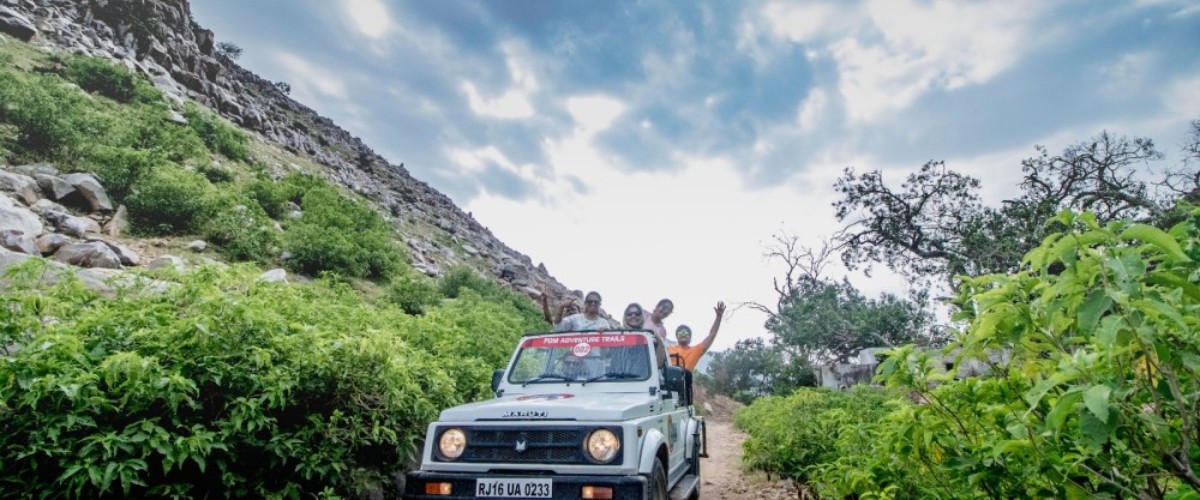 Overview
Prepare for the adventure of a lifetime with the Off-Road Ride – a journey that promises to ignite your spirit, captivate your senses, and leave you with indelible memories. This extraordinary expedition is more than just a safari. It's a complete package of a deep dive into heritage, awe-inspiring vistas, invigorating treks, and thrill-filled off-road escapades.
As you embark on this exceptional ride, get ready to be transported to a world where every moment is a blend of heart-pounding excitement and blissful contentment. The Jeep safari price is a small investment for the wealth of experiences you'll encounter on this unforgettable journey. 
Join AdventuRush for the Off-Road Ride, where adventure meets heritage, and every twist and turn in the trail promises a new, exhilarating revelation. Don't miss this chance to make memories that will stay etched in your heart forever.
Escape the tourist crowds and cumbersome logistics with Off Road Ride, a bespoke adventure to explore breath-taking destinations.
Revel in the pure beauty of each place, unburdened by the typical tourist hustle and bustle.
Unleash the full potential of every moment as Off Road Ride crafts a one-of-a-kind, unforgettable adventure meticulously designed.
Embrace the freedom to savor every experience to the fullest.
Begin your journey at the historic Amer Fort, exploring its intricate details. 

Move on to the authentic village of Kukas and then to Achrol for relaxation. 

Immerse yourself in local traditions and culture, savouring the serene beauty of each place. 

Enjoy a snack in Achrol as a delightful addition to your adventure.
Village Safari: Dive into the heart of rural life and traditions.
Off-Road Climb: Conquer rugged terrains for an adrenaline-pumping rush.
Mountain Top View: Marvel at breath taking vistas of pristine natural grandeur.
Downhill Trek: Embark on a thrilling descent through the mountains.
Off-Road Vehicle: Explore the wilderness adventurously in open vehicles.
Commando Obstacle: Test your agility and strength through exciting challenges.
Comprehensive Adventure.
ID is mandatory while making booking and the tourists must carry the same id proof all the time during their ride.
Duration: The activity typically lasts 2 to 3 hours.
Off-Road Vehicles: Our off-road vehicles are modified golf carts powered by a turbocharged motor featuring passenger safety cages.
Please read all advisory and policy documents carefully.
Briefing: Pay full attention to the provided briefing and strictly follow all recommended guidelines.
Footwear: Closed-toe sturdy shoes are mandatory for this experience.
Children: Children below 8 years of age can enjoy the experience for free.
Consent Waiver: Participants under 18 years of age must have a consent waiver signed by a parent or guardian.
Fitness Assessment: The instructor may assess participants' fitness for the activity. Your safety is paramount, and unfit participants may be prohibited from participating.
Vendor Details: Vendor contact details will be shared after booking. Please coordinate with the vendor regarding reporting time and location.
We will confirm your booking within 24 hours.
In case of non-availability for the date, our team will get in touch with you to work out the best possible dates. Kindly bear with us as this industry does not work with real-time inventory views from vendor partners.

 

If you wish to cancel before receiving a confirmation, you will receive a 100% refund.

 
Full Refund- 

If cancelled before 48 hours of the scheduled date. 

No Refund- 

If cancelled within 48 hours of the scheduled date. 
If participants are deemed unfit by the instructor or refuse to go through with the experience at the site, no refund will be applicable. 
100% at the time of booking.
Rescheduling is subject to availability.

Once the cancellation window ends, rescheduling cannot be done.

Each booking allows for a maximum of two rescheduling opportunities. After which, no further changes can be made to the booking.

Any price differences resulting from rescheduling, such as changes in seasonal rates or availability, will be applicable and will be communicated to the customer during the rescheduling process.

In the event that a customer requests a rescheduling but fails to attend the newly scheduled appointment, it will be considered a missed appointment, and our standard cancellation policy will apply
The duration of this trip is 2 to 3 Hrs.
The starting point for this experience is in Achrol.
Please read the Notes and Advisory section on the product page carefully before starting the activity.
 There is no age or weight limit for this trip. Moreover, the activity is completely free for children below 8 years. 
The ideal attire for this activity includes comfortable clothing. It is recommended to wear trekking shoes or sports shoes for your comfort and safety.
The refund will be initiated as per the cancellation policy termed below.
Cancellation policy – 
Full Refund- 

If cancelled before 48 hours of the scheduled date. 

No Refund- 

If cancelled within 48 hours of the scheduled date. 
If participants are deemed unfit by the instructor or refuse to go through with the experience at the site, no refund will be applicable. 
Embark on a journey through time as you begin your adventure at the resplendent Amer Fort, where history comes alive amidst intricate architectural details. From there, venture into the charming village of Kukas, where rustic charm meets authentic culture. 
Your path leads you to the tranquil oasis of Achrol, a place for relaxation and rejuvenation amidst nature's beauty. Here, you'll delve into rich heritage, immersing yourself in local traditions and experiencing the vibrant culture that defines these enchanting locations. 
As you explore, allow the serenity of these places to captivate your senses. And, of course, remember to savour the delightful journey with a well-deserved snack in Achrol, adding a delicious note to your memorable adventure. End your day with a heartful of thrill-filled memories as your adrenaline still rushes through.