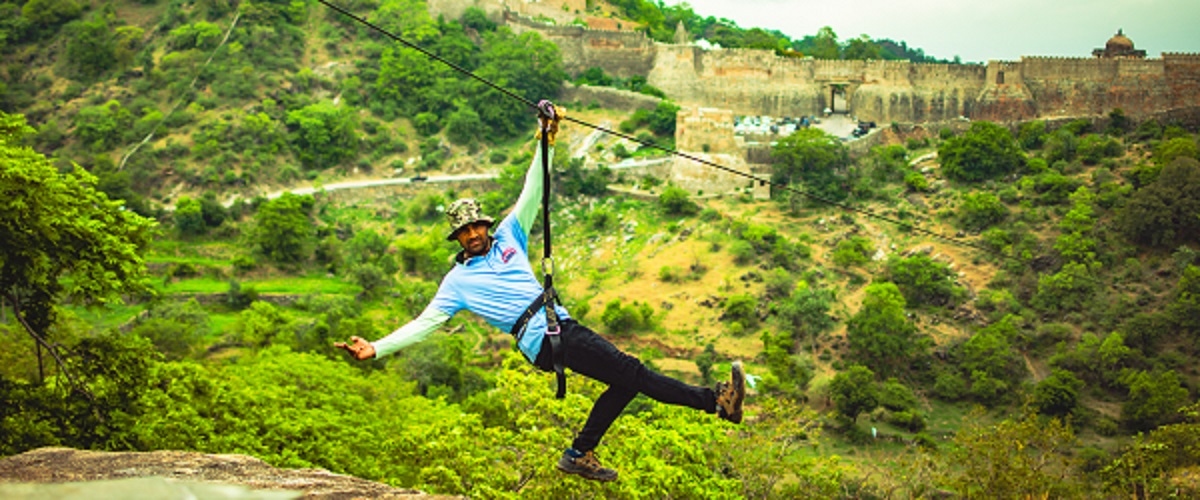 Overview
In the 15-19th century, Rana Kumbha built and expanded Kumbhalgarh, a world heritage site in Rajasthan. Maharana Pratap, the great warrior king of Mewar, was also born here. Soak up all this great history and view of the second longest wall in the world, Kumbhalgarh fort walls while visiting the thrilling adventure park in Kumbhalgarh. This park features many adventure activities including one of the longest ziplines in the state covering a staggering distance of 1 km. 
Zipline - Witness the world's second longest wall, Kumbhalgarh, as you zipline over the jungle for over 1 km.
Rock-climbing – Scale a monolithic gray wall to new heights with your bare hands.
Rappelling – Descend artificially created terrains on a wall with some interesting techniques.
Rope course (4 hurdles) - Encounter an exciting combination of adventure, strength, and self-confidence.
Sky cycle - Cycling from platform to platform above the trees and canopies in the sky.
Professional instructors will guide you through the activities.
Put on your safety equipment to ensure a hassle-free experience.
Access to park
Activity as per booking
Professional instructors
Safety equipment
Prices mentioned are per person.
Keeping your safety first, if the weather is poor, the park maybe closed. An alternative date can be opted for or full refund can be availed.
Minimum, age - 12 yrs, height - 1.4m (4ft 7").
Maximum weight - 115kg.
A parent or guardian must sign the disclaimer for any child under the age of 18.
Participants deemed unfit for the activity may be prohibited from participating by the instructor. Since this decision will be made by the expert for your safety, we request your adherence. Kindly read our advisory in attachment to understand if you are fit to participate.
Kindly pay full attention to the briefing provided and follow all guidelines as recommended.
Upon arrival, valid Id & address proof is required. (Pan Card will not be considered as a valid address proof).
Vendor details will be shared post booking. Please co-ordinate with vendor on arrival time and location.
We will confirm your booking within 24 hours.

In case of non-availability for the date, our team will get in touch with you to work out best possible dates. Kindly bear with us as this industry does not work with real-time inventory view from vendor partners.

If you wish to cancel before receiving a confirmation, you will receive 100% refund.

Full Refund– If cancelled before 48 hours of scheduled date.
No Refund– If cancelled within 48 hours of scheduled date.
If participants are deemed unfit by instructor or refuse to go through with the experience at site, no refund will be applicable.
100% at the time of booking.
Rescheduling is subject to availability.

Once the cancellation window ends, rescheduling cannot be done.

Each booking allows for a maximum of two rescheduling opportunities. After which, no further changes can be made to the booking.

Any price differences resulting from rescheduling, such as changes in seasonal rates or availability, will be applicable and will be communicated to the customer during the rescheduling process.

In the event that a customer requests a rescheduling but fails to attend the newly scheduled appointment, it will be considered a missed appointment, and our standard cancellation policy will apply
Each Activity will take 30-45 Minutes approximately. 
The zipline tour includes 2 spectacular zip lines up to 1050 m long.
Yes, this activity is completely safe as the zipline tour has been designed and constructed to international standards.

Before starting the tour, each participant receives a comprehensive verbal and written safety brief, a safety demonstration.
Please read the 'Notes' and 'Advisory'  Section on the product page for detailed guidelines.
Yes, this activity is suitable for beginners as it is completely supervised by the certified instructors.
Minimum age – 12, height – 1.4m (4ft 7″).
The starting point for this activity is  Kumbhalgarh fort , Rajasthan.
The best time to visit Rajasthan is during the winter season. If you want to try this activity during a pleasant day then the best time to go for this would be in the month of October to March. 
If your activity is cancelled for weather conditions, operational or regulatory reasons, you will receive full refund or you can reschedule your activity to an alternative date of your choice. 
You may cancel the booking anytime, 100% refund will be processed if the booking is cancelled 48 Hrs before the  date of activity.

No refund if cancelled within 48 Hrs of the booked date.