Jhalana Leopard Safari
₹

5,999
Jaipur

Pumped
Couple / Group, Family, Solo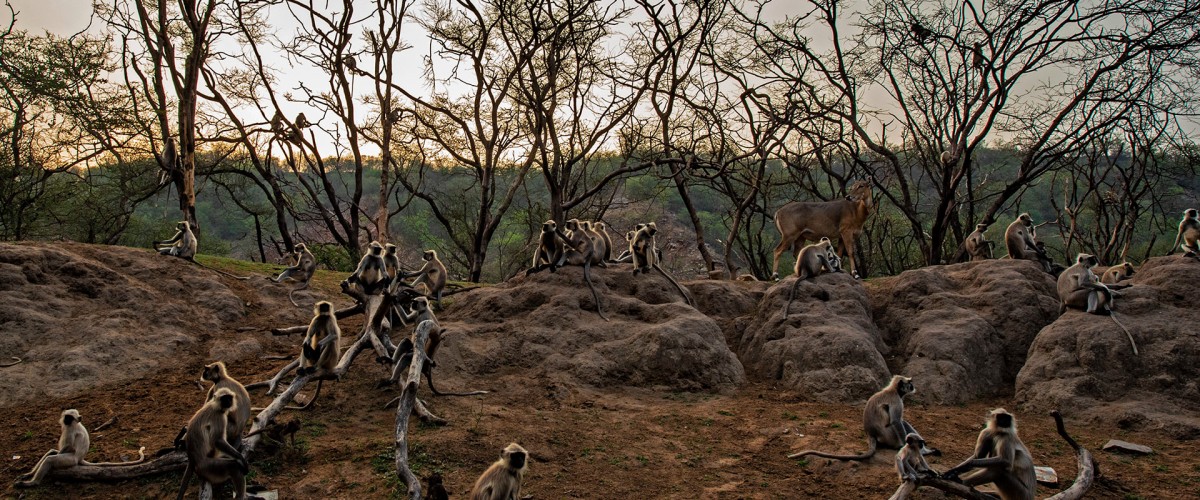 Overview
A home to the leopard in the foothills of Aravali range, lies Jhalana Leopard reserve in the heart of Jaipur. It is India's 1st Leopard reserve which is a home to more than 40 leopards and 5 cubs. This safari is a truly a treat for nature lovers, abundant with various creatures of the wild like striped hyenas, Indian civets, desert cats, jungle cats, desert foxes, jackals, porcupines, jungle rats, monitor lizards, and mongooses, Sambar deer, spotted deer (chital), Blue Bull (Nilgai) and a variety of snakes.  Enjoy bird watching at Jhalana and get a chance to spot Birds like the Indian Pitta, Dusky Eagle, Owl, Spotted Owlet. 
Enjoy a wildlife safari in Jhalana, India's first leopard reserve and get a chance to witness the exotic leopards in their natural habitat.
Witness the rich flora and fauna of Jhalana, and capture some beautiful shots of Striped hyenas, Indian civets, desert foxes, jackals, Sambar deer, spotted deer (chital), Blue Bull (Nilgai).
Enjoy bird watching at Jhalana and get a chance to spot Birds like the Indian Pitta, Dusky Eagle, Owl, Spotted Owlet.
Reach the starting point 10 minutes before the reporting time.  
Pay heed to the instructions given by the expert Naturalist. 
Keep your binoculars ready and enter the jungle for an adventurous ride. Enjoy the safari ride and spot some leopards. 
Get dropped off at the starting point and head home with thrilling memories of your time in the jungle.  
ID is mandatory while making safari booking and the tourists have to carry the same id proof all the time during their safari ride.   (PAN card will not be considered as a valid address proof)
Littering is strictly prohibited. Keep the forest clean.
Foreigner tourists adhere to furnishing the details of their passport while making their safari booking. 
Please be ready at pickup point 10 minutes before departure. 
Please coordinate with our vendor partner on meeting spots and timings, post booking.  
Please read all advisory and policy documents carefully. 
Vendor details will be shared post booking, please coordinate your reporting time and location with the vendor partner 

Starting Point
Jhalana Leopard reserve
VR4M+28P, Central Road, near Hill View, Malviya Nagar Industrial Area, Malviya Nagar, Jaipur, Rajasthan 302017
Directions

We will confirm your booking within 24 hours.

 

In case of non-availability for the date, our team will get in touch with you to work out the best possible dates. Kindly bear with us as this industry does not work with real-time inventory view from vendor partners. 

 
If you wish to cancel before receiving a confirmation, you will receive a 100% refund.
Safari Permit cost – Non-refundable, non-amendable, non-transferable .
100% at the time of booking.  
The duration of this safari is 2.5 hours approx.  
Yes, this trip is absolutely safe for everyone. Kindly pay heed to the instructions of the guide and do not provoke the wildlife.  
Please read the Notes and Advisory section on the product page carefully before starting for the activity .
There is no age or weight limit for this trip.  
The starting point for this activity is Jhalana Tiger Reserve.  
This safari is open around the year including the monsoon season. However, the best time to visit Jhalana Leopard reserve is from November to April as the weather is pleasant which adds to the beauty of the reserve and the chances of spotting leopards are also very high. 
Please wear cotton clothes that are dull in colors or have camouflage Print. If you are visiting during the winter season, you need to carry warm clothes, a down jacket and windcheater.  The animals get attracted to bright colors. Please wear proper shoes to avoid any injuries.  
The refund would be initiated as per the cancellation policy termed below  
Cancellation policy -  
Safari Permit cost – Non-refundable, non-amendable, non-transferable