2N/3D Kanha National Park – Fixed Departure
₹

23,999
Madhya Pradesh

Pumped Adventure
Couples/Group Adventure, Family Adventure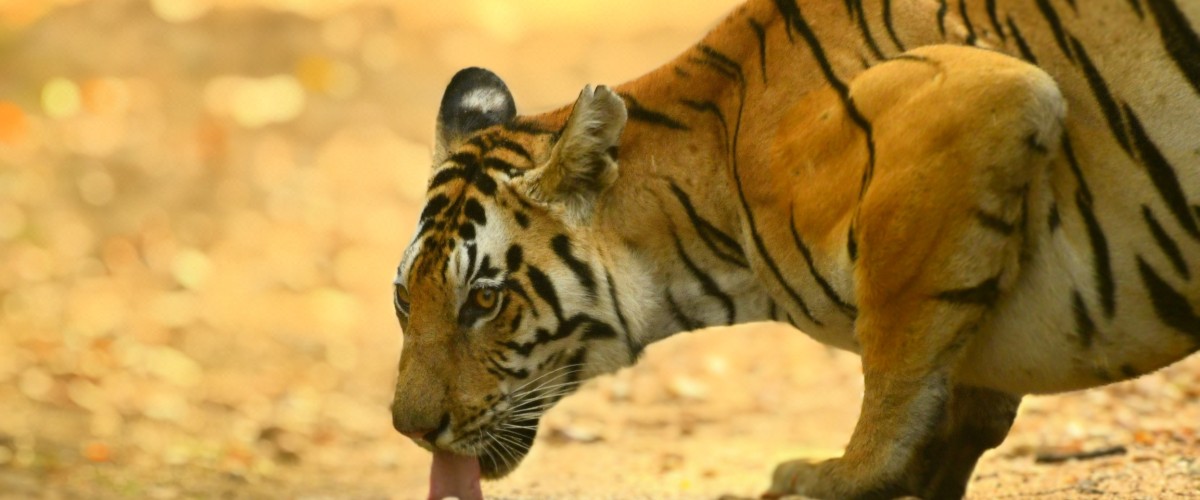 Overview
A prized possession in the "heart of India" – Madhya Pradesh, Kanha National Park boasts an unmatchable charm for wildlife enthusiasts and photographers. Lush with verdant tropical forests, rolling grasslands, and meandering streams, the largest national park in Madhya Pradesh is an abode of rich flora and fauna. If you can't wait to catch rare glimpses of wildlife and 1000+ species of blooming plants, the Kanha National Park tour package by AdventuRush is the one to go!
Amidst the sprawling meadows and dense woodland, the national park offers serendipitous views of animals in their natural habitat. The Kanha Tiger Reserve is home to the majestic Royal Bengal Tiger, Indian leopards, sloth bears, bara Singha (swamp deer), Indian wild dogs, and various other fascinating species.
Experience the varied fauna from a close via Kanha National Park Safari booking. Hop on for the unforgettable Kanha Jungle safari and immerse yourself in the natural wonders of the wild. Let's dive deep into this 3 days/2 nights trip highlights and Kanha National Park itinerary.
Find yourself encompassing dense, green forest, spotting the Royal Bengal Tiger, Bara Singha, Indian Leopards, and other wildlife.
Venture on an odyssey into the untamed lands by 3 Jeep safari excursions.
Explore the park through four safari zones – Kanha, Kisli, Mukki, and Sarahi – each offering thrilling safari drives with an expert driver and a guide.
Stay at a comfortable resort in nature, with all meals included.
Transfer from and back to Nagpur.
Arrive at Nagpur and get transferred to your resort after a drive to Kanha. Post lunch, venture out for your first jungle safari and slumber overnight at the resort.
Start your morning with a delightful breakfast and head for an exciting day of wildlife encounters with morning and afternoon safari. Devour your lunch and dinner at the resort.
Savor your breakfast and end the trip as we drive you back to Nagpur.
Celebration Vanya Vilas / Similar
Safari
Transportation: From Nagpur Airport to Kanha National Park and back
Permits & Taxes
Meals
Stay
ID is mandatory while making safari booking and the tourists must carry the same id proof all the time during their safari ride.
Foreigners are required to furnish the details of their passport while making their safari booking.
Please be ready at pickup point 10 minutes before departure.
Please read all advisory and policy documents carefully.
1 Jeep safari and Transfer Vehicle (Innova) can have Max 6 Pax.
Children who are five years and older are counted as one passenger for Safari Jeeps, while there is no charge for children under the age of five.
Extra Adult cost is for 1 Person sharing the Rooms on Triple Occupancy, provided there is space in the Safari Jeeps and Transfer Vehicle
Vendor details will be shared post booking, please co-ordinate your reporting time and location with the vendor partner
All reservations for use of any facility including an entry in Tiger Reserve are provisional in nature and are subject to modification/cancellation by the Field Director, Forest Department, without assigning any reasons.

Starting Point
Nagpur Airport / Railway Station
Dr Babasaheb Ambedkar International Airport, Sonegaon, Nagpur, Maharashtra 440005
Directions

We will confirm your booking within 24 hours.
In case of non-availability for the date, our team will get in touch with you to work out best possible dates. Kindly bear with us as this industry does not work with real-time inventory view from vendor partners.

 

If you wish to cancel before receiving a confirmation, you will receive 100% refund.

 
For Safari:
The costs for Jeep Safari and Canter Safari are non-refundable, non-transferable, and non-amendable.
For Stay:
All cancellations during the last 15 days – No Refund
Cancellation between 15 to 30 Days – 75% of the Trip cost to be Deducted
Cancellation before 30 Days – 45% of the Trip Cost to be Deducted
You need to pay 60% Advance at the time of Booking and the remaining  40% balance one month before the Travel Date
Rescheduling is subject to availability.

Once the cancellation window ends, rescheduling cannot be done.

Each booking allows for a maximum of two rescheduling opportunities. After which, no further changes can be made to the booking.

Any price differences resulting from rescheduling, such as changes in seasonal rates or availability, will be applicable and will be communicated to the customer during the rescheduling process.

In the event that a customer requests a rescheduling but fails to attend the newly scheduled appointment, it will be considered a missed appointment, and our standard cancellation policy will apply
The duration of this trip is 2 night & 3 days.
Yes, this trip is absolutely safe for everyone. Kindly pay heed to the instructions of the guide and do not provoke the wildlife. 
Please read the Notes and Advisory section on the product page carefully before starting for the activity 
 There is no age or weight limit for this trip. Moreover, the activity is completely free for children below 5 years. 
The starting point for this activity is Nagpur or Airport/Railway Station.
Kanha National Park is open to visitors from October 15th to June 30th. The best time to visit is between October and March, during the winter season when the weather is pleasant. From March to May, in the summer, the vegetation in the park dries up, making it easier to spot tigers for jungle safari and photography.
Please wear cotton clothes that are dull in colors or have camouflage Print. If you are visiting during the winter season, you need to carry warm clothes, a down jacket and wind cheater.  The animals get attracted to bright colors. Please wear proper shoes to avoid any injuries. 
The refund would be initiated as per the cancellation policy termed below 
Cancellation policy – 
For Safari:
The costs for Jeep Safari and Canter Safari are non-refundable, non-transferable, and non-amendable.
For Stay:
All cancellations during the last 15 days – No Refund
Cancellation between 15 to 30 Days – 75% of the Trip cost to be Deducted
Cancellation before 30 Days – 45% of the Trip Cost to be Deducted
Arrive in Nagpur for your first day of the tour, and we drive you for nearly 6 hours to reach Kanha in Madhya Pradesh. Check in at the resort nestled in nature's lap, invigorate yourself with a hearty lunch and set off for your first Kanha Jungle Safari. After exploring the lush habitat of wild creatures, head back to your resort, enjoy a delightful dinner, and stay overnight at the resort.
Brace yourself for a day that oozes with heart-racing adventures and rare sights of animals. Enjoy your delicious morning meals and head for the adrenaline rush in the thicket with two safaris. Capture the vast biodiversity in your digital lenses and make mental notes of the diverse nature as you connect with the surrounding wilderness on morning and afternoon safaris. Head back to your resort and have a fulfilling lunch. Spend time reminiscing about the wonders you witnessed as the sun sets in Kanha. End your day with a sumptuous dinner after a fulfilling day of wildlife encounters.
After a good night's sleep, indulge in a lazy morning and relish a delectable breakfast at the resort. Pack your bags, check out by noon, and bid adieu to the mesmerizing world of Kanha. With a collection of memories and photographs, end the unforgettable trip as we drive you back to Nagpur.