2N/3D Tadoba Jungle Safari Fixed Departure
₹

22,499
Maharashtra

Pumped Adventure
Couples/Group Adventure, Solo Adventure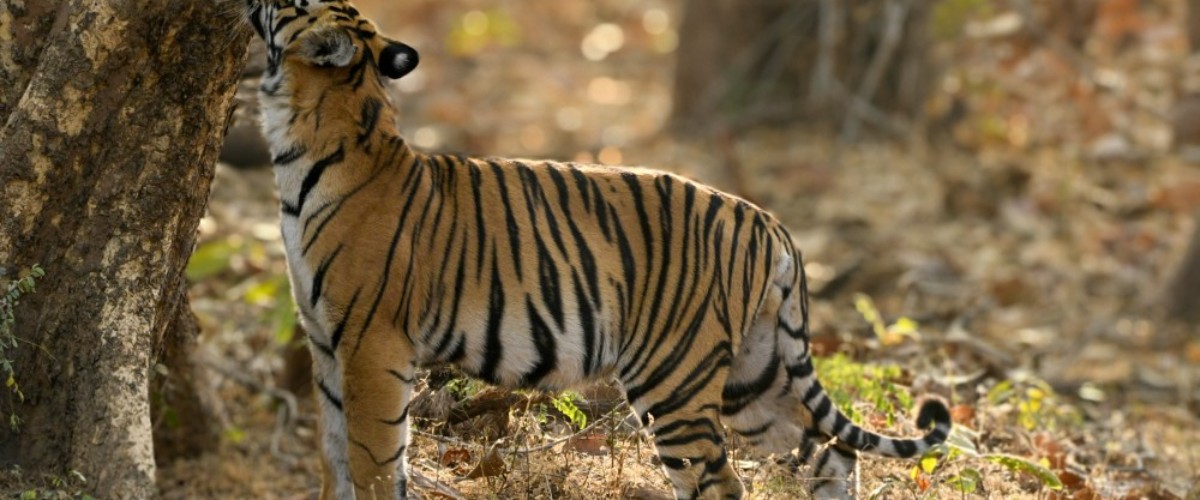 Overview
In the heart of Maharashtra, lies one of the largest and oldest national parks– Tadoba. Also known as Tadoba Andhari Tiger Reserve, this national park is a must-explore escapade sandwiched between flora and fauna. From stellar views with Tadoba Lake and Kolsa Lake to the many paragons of wilderness, including big cats, chital, and Indian cobra, the destination offers enormous ways to redefine a break from urban clamor.
Break ties with the mundanity for a while and let AdventuRush take you on a bumpy, enthralling ride with Tadoba national park packages. Every step of the way, lost in the woods, you will spot endearing creatures feasting right from your open top gypsy. Wait no more! Explore this enriching Tadoba national park Nagpur itinerary to see what's in it for you.
Explore one of India's largest national parks.
Follow the muddy trails to the treasure land of flora and fauna.
Spot Royal Bengal Tigers and a humongous native species.
Spend cosy nights in the embrace of the woods.
Say hello to the first day of your Tadoba national park booking! After your arrival in Nagpur, it will be time for a 3-hour drive to Tadoba. Savour breakfast and catch the glimpses of the surroundings from the window. Upon reaching the resort, take a quick nap and wake up to a tasteful lunch. We will head for the first jungle safari in an open vehicle, which will be our porter to the majestic realm of the woods. Spot, wonder, and breathe an awe as a creature or more flock here and there. Relish dinner at the resort before you say goodnight.
The morning asks you to wake up at  05:00 am as we will have a Nagpur Tadoba safari waiting for us. Revel in your first cup of tea of the day and head to the captivating adventure in the lap of Tadoba. Pack your breakfast as this ride won't stop before 10:30 am. Tap the magic of nature as you witness the wilds. Head back to the resort for some rest and lunch. We will leave for yet another safari– to wander around a new part of the forest.
We check out by 12.30 am after breakfast. Pack your Bags and we will bid adieu to one of the most scenic park of India.  Cars will be ready to drop at the Nagpur Airport / Railway Station. You can have your Lunch at extra cost. 
Tadoba Tiger valley / Similar
3 Safari in core and buffer zone
Transfer from Nagpur
Stay
All Meals
Permits
ID is mandatory while making safari booking and the tourists have to carry the same id proof all the time during their safari ride.
Foreigners are required to furnish the details of their passport while making their safari booking.
Please be ready at pickup point 10 minutes before departure.
Please read all advisory and policy documents carefully.
1 Jeep safari and Transfer Vehicle (Innova) can have Max 6 Pax.
Children 5 years onwards are considered to be one Pax for Safari Jeeps. There are no fees for children below five years.
Extra Adult cost is for 1 Person sharing the Rooms on Triple Occupancy, provided there is space in the Safari Jeeps and Transfer Vehicle
Vendor details will be shared post booking , Please co-ordinate your reporting time and location with the vendor partner
All reservations for use of any facility including an entry in Tiger Reserve are provisional in nature and are subject to modification/cancellation by the Field Director, Forest Department, without assigning any reasons.
We will confirm your booking within 24 hours.
In case of non-availability for the date, our team will get in touch with you to work out best possible dates. Kindly bear with us as this industry does not work with real-time inventory view from vendor partners.

 

If you wish to cancel before receiving a confirmation, you will receive 100% refund.

 
All cancellations during the last 15 days – No Refund
Cancellation between 15 to 30 Days – 75% of the Trip cost to be Deducted
Cancellation before 30 Days – 45% of the Trip Cost to be Deducted
You need to pay 60% Advance at the time of Booking and the remaining  40% balance one month before the Travel Date. 
Rescheduling is subject to availability.

Once the cancellation window ends, rescheduling cannot be done.

Each booking allows for a maximum of two rescheduling opportunities. After which, no further changes can be made to the booking.

Any price differences resulting from rescheduling, such as changes in seasonal rates or availability, will be applicable and will be communicated to the customer during the rescheduling process.

In the event that a customer requests a rescheduling but fails to attend the newly scheduled appointment, it will be considered a missed appointment, and our standard cancellation policy will apply
The duration of this trip is 2 night & 3 days.
Yes, this trip is absolutely safe for everyone. Kindly pay heed to the instructions of the guide and do not provoke the wildlife. 
Please read the Notes and Advisory section on the product page carefully before starting for the activity 
 There is no age or weight limit for this trip. Moreover, the activity is completely free for children below 5 years. 
The starting point for this activity is Nagpur Airport/Railway Station.
The best time to visit Tadoba National Park is from February to May and October to December. During these months, the weather is pleasant, and the chances of spotting wildlife are higher. The park remains closed from July to September due to the monsoon season.   
Please wear cotton clothes that are dull in colors or have camouflage Print. If you are visiting during the winter season, you need to carry warm clothes, a down jacket and wind cheater.  The animals gets attracted to bright colors. Please wear proper shoes to avoid any injuries. 
The refund would be initiated as per the cancellation policy termed below 
Cancellation policy – 
All cancellations during the last 15 days – No Refund
Cancellation between 15 to 30 Days – 75% of the Trip cost to be Deducted
Cancellation before 30 Days – 45% of the Trip Cost to be Deducted