%
Nanemachi Trek
Currently Unavailable
Maharashtra

Pumped Adventure
Couples/Group Adventure, Family Adventure, Solo Adventure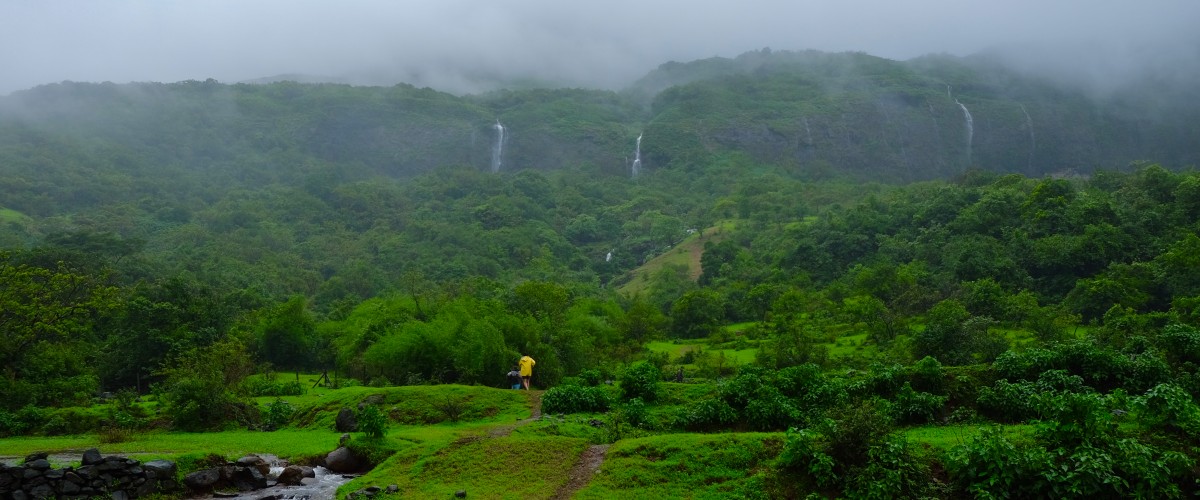 Overview
Sometimes, peace and marvels are enough for a day in the unfiltered lands of unforgettable beauty! That's precisely what the Nanemachi Waterfall trek does. Located in the heart of the breathtaking Nanemachi Forest, the Nanemachi trek offers captivating wonders and adventurous trails constituted by nature itself. The trek is no less than a treat for seekers of enthralling experiences, hikers, and explorers. As you move into the forest, the music of birds and flowing water welcomes you to the majestic Nanemachi Waterfall. 
AdventuRush has thoughtfully crafted this unexplored Nanemachi Waterfall itinerary to show you the forest's treasures. The cascading water plunges from towering heights into a crystalline pool and the mist created by the waterfall invigorates your soul. Experience it all in your best hiking shoes and reconnect with raw and unspoiled beauty.
Spend a day in the untouched land of the enchanting Nanemachi trek.
Witness the sublime beauty of the forest, the flora and fauna, including rare species.
Find yourself giving into the meditative sounds of the waterfall.
Fuel your body with healthy, scrumptious meals.
Ready, set, and brace yourself for an exhilarating day as you pack your bags and board the bus for Nanemachi Waterfall trek. The vehicle will pick you up from Mumbai or Pune, as per your departure point. Before scavenging the wilds of Nanemachi Waterfall, loosen up a bit while soaking up the ethereal scenery on your way.
Lace-up your boots and prepare your cameras to record the bountiful vistas of Nanemachi. The day of the Nanemachi trek is finally here! Before embarking on an adventure through hidden trails, fuel your body with a healthy breakfast. Trek leaders will guide you every step of the way. So, be all ears and indulge in the exchanges of love of nature with like-minded trekkers.
The waterfall cradles in the watch of a dense forest, fathoming about 400 feet in depth. Apart from the sheerness of its roars, the waterfall emerges with different hues of colours, passing as a work of art. Experience the music, the atmosphere, and the most authentic form of nature while on the Nanemachi Waterfall trek.
Head back to the base village for lunch. After an exciting day spent in the forest and on the water, you make your way back to your destination.
Transportation
Meals
Guide Charges
First Aid Kit
Entry Charges
Age limit 12+
Keeping your safety first, if the weather is poor, the event may be delayed or postpone, and an alternative time slot will be suggested.
Please carry an ID proof and passport size photo (PAN card will not be considered as a valid address proof)
Kindly read all sections in attachment to know more about the trip.
Kindly pay full attention to the briefing provided and follow all guidelines as recommended.
Trekking is to immerse oneself in nature, so please expect basic facilities.
Electricity may be available only at a few locations.
Package includes vegetarian meals only.
Vendor details will be shared post booking. Please co-ordinate with vendor on reporting time & location.

Starting Point
Mumbai
Western Express Highway, New Rajendra Nagar, Kulupwadi, Borivali East, Mumbai, Maharashtra 400066
Directions


Starting Point
Pune
Report at FC road
Directions

10:00 PM: Borivali National Park((https://goo.gl/maps/qvxmxjK8Tmn5JgScA)
10:05 PM: Samta nagar police station, Kandivali
10:15 PM: Sufi Irani Cafe, Goregaon
10:30 PM: Hanuman Road Bus Stop Andheri
10:45 PM: Kalanagar Bust Stop, Bandra
11:00 PM: Neeta Volvo, Sion
11:10 PM: Ghatkopar Mankhurd Link Road
11:30 PM: Vashi (under the bridge)
11:45 PM: Nerul LP
11:55 PM: Kharghar station
We will confirm your booking within 24 hours.

In case of non-availability for the date, our team will contact you to work out the best possible dates. Kindly bear with us as this industry does not work with real-time inventory views from vendor partners.

 
If you wish to cancel before receiving a confirmation, you will receive a 100% refund.

 
Full Refund-

If cancelled before 7 days of the scheduled date. 

No Refund-

If cancelled within 7 days

of the scheduled date.

If participants are unable to or refuse to go through with the experience at the site, no refund will be applicable.
100% at the time of booking.
Rescheduling is subject to availability.

Once the cancellation window ends, rescheduling cannot be done.

Each booking allows for a maximum of two rescheduling opportunities. After which, no further changes can be made to the booking.

Any price differences resulting from rescheduling, such as changes in seasonal rates or availability, will be applicable and will be communicated to the customer during the rescheduling process.

In the event that a customer requests a rescheduling but fails to attend the newly scheduled appointment, it will be considered a missed appointment, and our standard cancellation policy will apply
The ideal time to visit Nanemachi is during June to October when the weather is pleasant and favorable for trekking.
The starting point for this trek is from Mumbai and Pune depending on the option you choose.
Yes, beginners can attempt the Nanemachi trek, but it is important to be physically fit and mentally prepared for the challenges of the trek. It is advisable to start with less difficult routes and gradually progress.
Some precautions to take while trekking Nanemachi include carrying sufficient water, wearing proper trekking shoes, carrying necessary medications, and being aware of weather conditions and trail markings.
If you become ill and cannot finish the trek, you will be escorted down to the base camp as necessary. Please be aware that we are unable to offer refunds or rescheduling for this situation. The traveller is responsible for any extra expenses that may arise during the transfer.
Full Refund-

If cancelled before 7 days before scheduled departure.

No Refund-

If cancelled by the customer less than 7 days before scheduled departure.

 

If participants are unable or refuse to go through with the experience at the site, no refund will be applicable. 
The payment policy is 100% at the time of

booking.
Refunds are subject to cancellation

policies.

All refunds will be processed in 10 business days to the source account.

 
In case of extreme bad weather, government restriction or political disturbance, if any activity is cancelled; then the operator will suggest the best possible alternative. However, a cash refund is not applicable. In case of a change in itinerary due to weather, Please note that any additional expenses incurred during travel will be the responsibility of the traveller.
From Mumbai:
10:00 PM: Borivali National Park((https://goo.gl/maps/qvxmxjK8Tmn5JgScA)
10:05 PM: Samta nagar police station, Kandivali
10:15 PM: Sufi Irani Cafe, Goregaon
10:30 PM: Hanuman Road Bus Stop Andheri
10:45 PM: Kalanagar Bust Stop, Bandra
11:00 PM: Neeta Volvo, Sion
11:10 PM: Ghatkopar Mankhurd Link Road
11:30 PM: Vashi (under the bridge)
11:45 PM: Nerul LP
11:55 PM: Kharghar station
From Pune: