Tadiandomal Trek
₹

4,059
Karnataka

Pumped Adventure
Couples/Group Adventure, Solo Adventure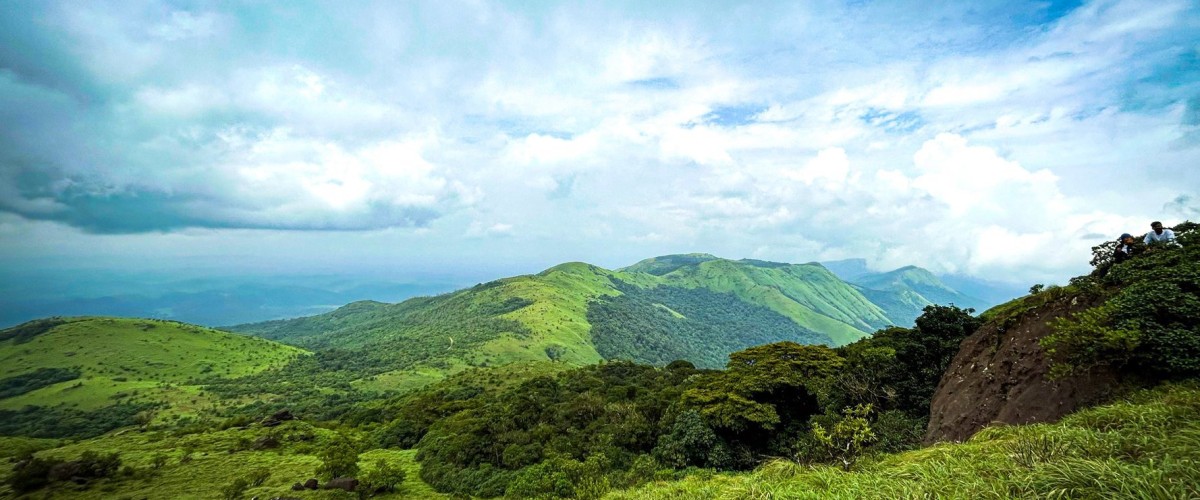 Overview
Embark on an exhilarating escapade to conquer the majestic Tadiandamol Peak! Get ready to immerse yourself in the thrill of Tadiandamol Trek, a journey that will awaken your sense of adventure and leave you spellbound by nature's grandeur.
With expert guidance from our experienced Tadiandamol Trek Guide, challenge yourself as you ascend towards the peak. As you conquer new heights, the world below unfolds, painting a mesmerizing picture of lush valleys and mist-covered landscapes.
Experience the thrill of reaching the summit of Tadiandamol hills, witnessing a panoramic view that will leave you awestruck and camp under the starlit sky, breathing in the tranquillity of Tadiandamol camping. The Tadiandamol trekking promises a perfect blend of adventure, natural beauty, and cherished memories.
AdventuRush's carefully crafted Tadiandamol trek package promises an experience like no other. Starting from the trek's inception point, prepare to traverse through the undulating Tadiandamol Hills, a terrain that reveals breathtaking vistas at every step. From the Tadiandamol start point to the peak, Tadiandamol Trek invites you to embrace the spirit of adventure, conquering the mountain and savouring the magnificence of nature.
Conquer the highest peak in Coorg, Tadiandamol, standing tall at an elevation of 1,748 meters. Experience the thrill of scaling the summit and revel in the breathtaking panoramic views that unfold before your eyes.
Trek through the undulating landscapes of Tadiandamol, surrounded by lush greenery and mist-covered hills.
Benefit from the expertise of the Tadiandamol trek guide, who will lead you through the trails, provide insightful information about the region's flora and fauna, and ensure your safety throughout the journey.
Spend a night camping under the starlit sky, surrounded by the serene beauty of nature.
Begin your day by boarding the bus from Bangalore to Tadiandomal by 10:00 p.m.
Arrive at the base camp by 5.30 a.m. refresh and enjoy a delicious breakfast as the morning light strikes.

Start trekking towards the Tadiandomal peak, taking a thrill-filled, steep acsend.

Reach the peak, glimpse the mystical valleys and have your packed lunch there. 

Trek down in the same route and reach the base by evening.

Have a dinner after enjoying a campfire at the base.
Wake up, have breakfast and leave for Bangalore. Visit the

Golden Temple or Dubare Elephant Camp

en route.
Accommodation
Meals
Transportation
First Aid
Instructor
Age limit 12+
Keeping your safety first, if the weather is poor, the event may be delayed or postpone, and an alternative time slot will be suggested.
Please carry an ID proof and passport size photo (PAN card will not be considered as a valid address proof).
Kindly read all sections in attachment to know more about the trip.
Kindly pay full attention to the briefing provided and follow all guidelines as recommended.
Trekking is to immerse oneself in nature, so please expect basic facilities.
Electricity may be available only at a few locations.
Package includes vegetarian meals only.
Vendor details will be shared post booking. Please co-ordinate with vendor on reporting time & location.

Starting Point
Indiranagar, Banglore
100 Feet Rd, Binnamangala, Hoysala Nagar, Indiranagar, Bengaluru, Karnataka 560038
Directions


Ending Point
Indiranagar, Banglore
100 Feet Rd, Binnamangala, Hoysala Nagar, Indiranagar, Bengaluru, Karnataka 560038
Directions

10:00 PM - Pick-up from BMC, office Indiranagar
10:15 PM: Pick-up from Domlur Sky Walk, Opp to Domlur Bus Stop
10:30 PM - Pick up from Sapphire Toys, Richmond Road (Near Sacred Heart Church)
11:00 PM - Pick-up from Yeshvantpur metro station
We will confirm your booking within 24 hours.

In case of non-availability for the date, our team will contact you to work out the best possible dates. Kindly bear with us as this industry does not work with real-time inventory views from vendor partners.

 
If you wish to cancel before receiving a confirmation, you will receive a 100% refund.

 
Full Refund- 

If cancelled before 7 days of the scheduled date. 

No Refund- 

If cancelled within 7 days

 of the scheduled date.

If participants are unable or refuse to go through with the experience at the site, no refund will be applicable.
100% at the time of booking.
Rescheduling is subject to availability.

Once the cancellation window ends, rescheduling cannot be done.

Each booking allows for a maximum of two rescheduling opportunities. After which, no further changes can be made to the booking.

Any price differences resulting from rescheduling, such as changes in seasonal rates or availability, will be applicable and will be communicated to the customer during the rescheduling process.

In the event that a customer requests a rescheduling but fails to attend the newly scheduled appointment, it will be considered a missed appointment, and our standard cancellation policy will apply
The ideal time to visit

Tadiandomal

Trek is from June to October when the weather is pleasant and favourable for trekking.
The starting point for this trek is from  Indiranagar, Banglore.
Yes, beginners can attempt the

Tadiandomal

Trek, but it is necessary to be physically fit and mentally prepared for the challenges of the trek. It is advisable to start with less difficult routes and gradually progress.
Some precautions to take while trekking

Tadiandomal

Trek include carrying sufficient water, wearing proper trekking shoes, carrying necessary medications, and being aware of weather conditions and trail markings.
If you become ill and cannot finish the trek, you will be taken to the base camp depending on the situation. Please note that reimbursement or rescheduling for the same is not possible. The traveller will be responsible for any additional costs incurred during this transfer.
Full Refund- 

If cancelled before 7 days before scheduled departure.

No Refund- 

If cancelled by the customer less than 7 days before scheduled departure.

 

If participants are unable or refuse to go through with the experience at the site, no refund will be applicable. 
The payment policy is 100% at the time of

 booking.
In case of extreme bad weather, government restriction or political disturbance, if any activity is cancelled; then the operator will suggest the best possible alternative. However, a cash refund is not applicable. In case of a change in itinerary due to weather, any additional expenses will be borne by the traveller.

 
09:30 PM – Pick-up from Indiranagar
09:45 PM – Pick-up from Domlur Sky Walk, Opp to Domlur Bus Stop
10:00 PM – Pick up from Sapphire Toys, Richmond Road (Near Sacred Heart Church)
10:30 PM – Pick-up from Yesvantpur metro station
On the first day of our adventure, the excitement is palpable as our thrilling journey kicks off at 10:00 PM. We commence with a pick-up from the office in Indiranagar, setting the stage for what promises to be an exhilarating expedition. The adventure continues as we make our way to the Domlur Sky Walk, Opposite Domlur Bus Stop, at 10:15 PM, where more eager participants eagerly join our group. The atmosphere is charged with anticipation as we pick up adventurers from Sapphire Toys on Richmond Road, near Sacred Heart Church, at 10:30 PM. Finally, at 11:00 PM, we reach our last stop at RR Nagar Arch, where the group is complete, and the signal for the start of our Tadiandamol Trek adventure is given. The journey has begun, and we are all set for the adventures that await us.
On the second day of our adventure, we embark on the exhilarating journey of conquering the heights of Tadiandamol. Our day begins at 1:30 AM as we gather at the Srirangapatna Bus stand in Mysore, where participants from Mysore join us, enriching the camaraderie of our group. By 5:30 AM, we arrive at the base camp, providing you with the opportunity to freshen up and savour a hearty breakfast that will energize you for the challenges of the day ahead.
At 9:30 AM, the real adventure commences as we brace ourselves for the thrilling trek to Tadiandamol Peak. This ascent takes us through the breathtaking beauty of nature, offering an immersive experience in the wilderness. By noon, we reach the peak, where you can take a well-deserved rest and indulge in a fulfilling lunch while surrounded by awe-inspiring vistas.
At 1:30 PM, we begin our descent back to the base camp, returning to the campsite for relaxation and rejuvenation, where tea, coffee, and snacks await. As the sun sets at 8:00 PM, we gather around the campfire, fostering bonds with fellow trekkers, enjoying a delightful dinner, and relishing the warmth of the moment. It's a day filled with adventure, nature, and shared experiences that will create lasting memories.
On the morning of our final day, at 7:00 AM, you'll wake up to the invigorating embrace of fresh mountain air, kick-starting the day with a refreshing session to rejuvenate your spirits. A wholesome breakfast awaits, ensuring you're nourished for the journey ahead.
At 9:00 AM, we embark on our return journey to Bangalore, carrying with us cherished memories of our Tadiandamol adventure. The journey back is an opportunity to reflect on the incredible experiences and connections forged during our expedition.
As we make our way, around 10:00 AM, you can opt to visit either the Golden Temple or the Dubare Elephant Camp, adding unique and memorable experiences to our journey home. This final touch of exploration ensures that the adventure continues, even on our way back to Bangalore.