3N/4D Tadoba Safari
₹

83,999
Closed for the Season
Maharashtra

Pumped Adventure
Adventure Holidays for Couples, Family Adventure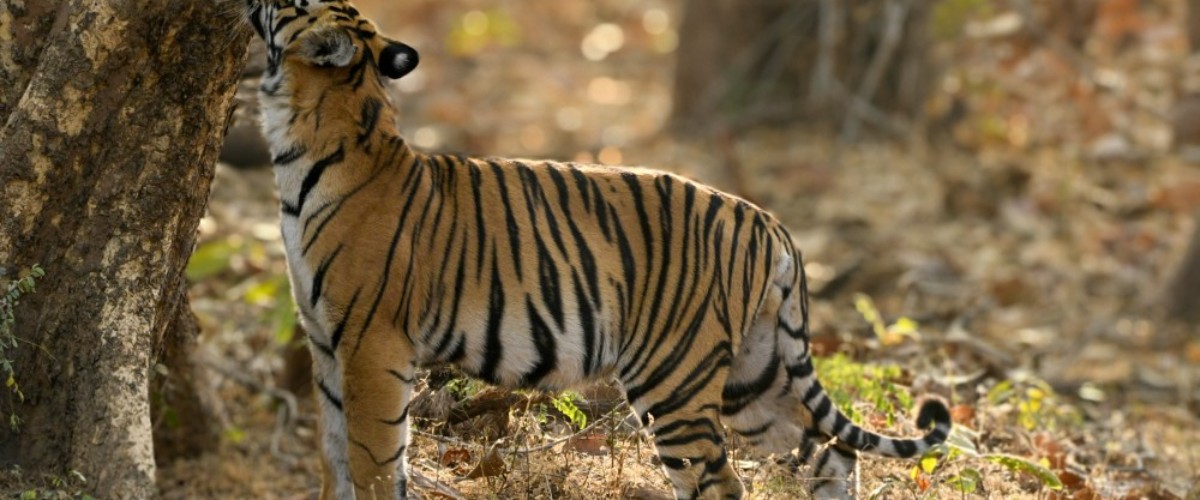 Overview
Imagine setting out on a memorable adventure to Tadoba National Park in Maharashtra, India, a place where nature rules supreme and the wild roam freely. From the airport in Nagpur, you will begin a three-hour drive, and you will feel anticipation and excitement building inside of you.  Prepare to be transfixed by a world of awe as you discover Tadoba National Park's rich flora and fauna. Majestic tigers and sleek leopards can be seen prowling through the jungle, and playful sloth bears can be seen playing in the fields. Keep an eye out for sly hyenas and vicious wild dogs who are out hunting.
And if that weren't thrilling enough, Tadoba is also home to over 200 different bird species! Imagine yourself deep in the wilderness, surrounded by a cacophony of chirps, tweets, and trills. It's a singular experience.
What are you still holding out for? Come and experience Tadoba National Park's charm firsthand. You're about to go on a once-in-a-lifetime experience!
Brace yourself for a jaw-dropping wildlife experience with five thrilling Jeep safaris.
Say goodbye to the stress of planning your trip - we've got you covered with convenient to-and-fro transfers.
Complete with mouth-watering meals that showcase the best of local cuisine.
Get up close and personal with India's incredible wildlife.
Savor the taste of India with delicious local cuisine that will leave you wanting more.
Day 1 is all about anticipation and excitement. Reach Nagpur Airport by 7.30 am, and get ready to be whisked away to your resort in Tadoba. The drive is about 3 hours long, but with the promise of adventure waiting for you, time will fly by. Along the way, grab breakfast at your own cost and fuel up for the journey ahead.
Your first jungle safari might begin after some much-needed rest and a great meal at the lodge. Hold on tight as you make your way into the wilderness in an open 4 × 4. As you look around you in search of elusive tigers, majestic leopards, and other amazing wildlife, you'll feel your heart racing with excitement. Enjoy a delicious dinner at the resort to relax and unwind after an exciting day of exploration. Get a good night's sleep so you can wake up refreshed and ready for your second jungle safari adventure.
Get ready to immerse yourself in the natural beauty of Tadoba National Park as you wake up to Day 2 and Day 3 of our incredible itinerary. Rise and shine with a refreshing wakeup call at 5.30 am, followed by a quick cup of tea or coffee as you meet your fellow adventurers at the meeting area at 6.00 am. Take a deep breath and soak in the serene beauty of the early morning as you prepare for another day of unforgettable experiences.
It's time to leave and discover Tadoba's magic with breakfasts in tow. You'll be in amazement and wonder at the park's magnificent splendor as you travel farther into the wild. As you move through the jungle, keep a look out for elusive tigers, majestic leopards, and a stunning diversity of wildlife. By 10.30 a.m., return to the hotel, and then spend the rest of the morning unwinding by the pool. At noon, indulge in a delicious lunch before getting ready for your third safari round. You'll be in awe of Tadoba's breathtaking vistas and amazing fauna as you discover a new region of the forest.
As the sun sets on another unforgettable day, enjoy a delicious dinner before heading off to bed. Dream of the adventures to come as you fall asleep, knowing that tomorrow brings even more excitement and wonder in the heart of India's wilderness.
As our incredible Tadoba adventure comes to an end, Day 4 promises a tranquil and leisurely morning, giving you time to reflect on the incredible memories you've made over the past few days. Savor a delicious breakfast at 9.00 am, surrounded by the beauty of nature, and take some time to enjoy the soothing waters of the pool. With the sounds of the forest as your backdrop, let the peace and tranquility wash over you as you relax and unwind.
By 11.30 am, it's time to pack your bags and say goodbye to this breathtakingly beautiful park. As you bid adieu to the stunning landscapes and incredible wildlife, you'll carry with you memories that will last a lifetime. Before we reach the Nagpur Airport/Railway Station, we'll make a stop at the famous "Haldiram" at around 2:00 pm for a delicious lunch (at your own cost). Enjoy the mouth-watering flavors of India one last time before heading back to reality.
As we reach the Airport/Railway Station, you'll feel a bittersweet mix of emotions – sadness that the adventure has come to an end, but also gratitude for the incredible experiences and memories that you'll cherish forever.
Standard - Pugmark/Taru Vann/ Similar 
Luxury - Irai Safari retreat/ Svasara Resort / Similar 
Premium- Welcome Heritage/ Bamboo Forest / Similar 
Safari
Permits & Taxes
Transportation
Meals
Stay
ID is mandatory while making safari booking and the tourists have to carry the same id proof all the time during their safari ride.
Foreigners are required to furnish the details of their passport while making their safari booking.
Please be ready at pickup point 10 minutes before departure.
Please read all advisory and policy documents carefully.
1 Jeep safari and Transfer Vehicle (Innova) can have Max 6 Pax.
Children 5 years onwards are considered to be one Pax for Safari Jeeps. There are no fees for children below five years.
Extra Adult cost is for 1 Person sharing the Rooms on Triple Occupancy, provided there is space in the Safari Jeeps and Transfer Vehicle
Vendor details will be shared post booking , Please co-ordinate your reporting time and location with the vendor partner
All reservations for use of any facility including an entry in Tiger Reserve are provisional in nature and are subject to modification/cancellation by the Field Director, Forest Department, without assigning any reasons.
We will confirm your booking within 24 hours.
In case of non-availability for the date, our team will get in touch with you to work out best possible dates. Kindly bear with us as this industry does not work with real-time inventory view from vendor partners.

 

If you wish to cancel before receiving a confirmation, you will receive 100% refund.

 
All cancellations during the last 15 days – No Refund
Cancellation between 15 to 30 Days – 75% of the Trip cost to be Deducted
Cancellation before 30 Days – 45% of the Trip Cost to be Deducted
You need to pay 60% Advance at the time of Booking and the remaining  40% balance one month before the Travel Date. 
The duration of this trip is 3 night & 4 days.
Yes, this trip is absolutely safe for everyone. Kindly pay heed to the instructions of the guide and do not provoke the wildlife. 
Please read the Notes and Advisory section on the product page carefully before starting for the activity 
 There is no age or weight limit for this trip. Moreover, the activity is completely free for children below 5 years. 
The starting point for this activity is Nagpur Airport/Railway Station.
The best time to visit Tadoba National Park is from February to May and October to December. During these months, the weather is pleasant, and the chances of spotting wildlife are higher. The park remains closed from July to September due to the monsoon season.   
Please wear cotton clothes that are dull in colors or have camouflage Print. If you are visiting during the winter season, you need to carry warm clothes, a down jacket and wind cheater.  The animals gets attracted to bright colors. Please wear proper shoes to avoid any injuries. 
The refund would be initiated as per the cancellation policy termed below 
Cancellation policy – 
All cancellations during the last 15 days – No Refund
Cancellation between 15 to 30 Days – 75% of the Trip cost to be Deducted
Cancellation before 30 Days – 45% of the Trip Cost to be Deducted