3N/4D Jaisalmer Desert Escapes
Jaisalmer

Pumped Adventure
Couples/Group Adventure, Family Adventure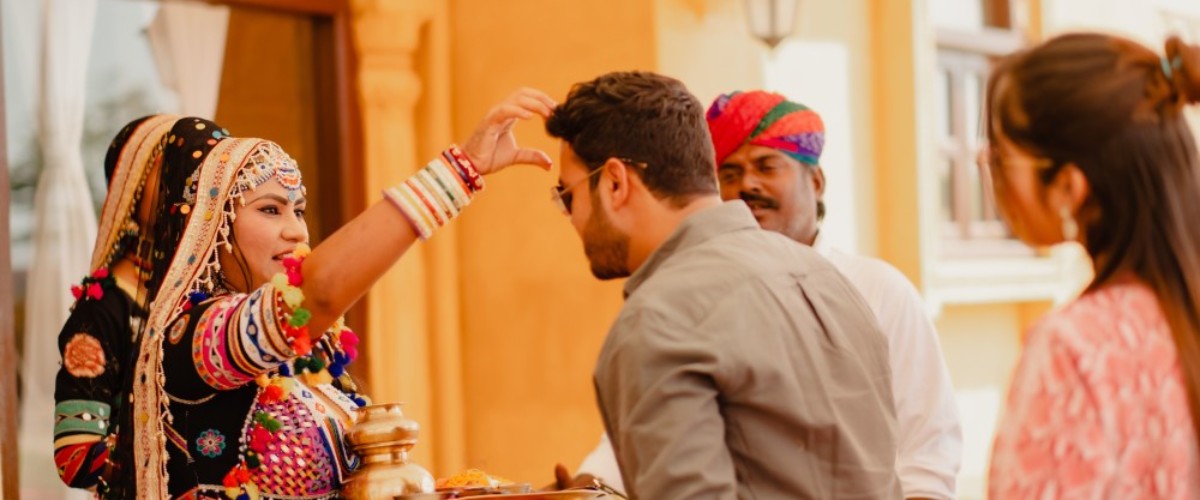 Overview
Escape the city and embark on an unforgettable journey into the heart of Rajasthan's enchanting landscapes with our Jaisalmer package for 4 days. Get ready for a weekend like no other as you dive headfirst into the captivating world of Khuri dunes. Over 3 nights and 4 days in Jaisalmer, you'll be swept away by a whirlwind of adventure, culture, and nature, leaving you with memories to treasure for a lifetime.
Picture yourself beneath a star-studded sky, the warmth of a bonfire crackling nearby, and the haunting melodies of an Ektaara weaving tales of desert lore. This is just the beginning of your 4 days trip to Jaisalmer with AdventuRush, where the desert's magic comes alive.
But that's not all; the real adventure awaits as you set out on thrilling Jeep and Camel Safaris across the ever-shifting sands. Feel the rush of the desert winds against your face and the ancient stories whispered by the dunes.
Are you ready for a journey that will etch itself into your memory? Join us for an unforgettable Jaisalmer 3 nights 4 days package, where every day is a new adventure and every night a starry spectacle. Your perfect desert escape begins here.
Explore the crown jewel of Jaisalmer, a massive sandcastle-like fort rising from the Thar Desert. The intricate architecture, narrow lanes, and stunning views from the fort walls make it a must-visit.
Explore the ornate havelis (mansions) of Jaisalmer, such as Patwon Ki Haveli, known for its exquisite architecture, intricate carvings, and historical significance.
Enjoy a peaceful stroll around the picturesque Gadsisar Lake, known for its stunning architecture, charming pavilions, and vibrant birdlife.
Arrive in the serene desert haven of Khuri Village, where your desert adventure begins. As the sun sets over the sand dunes, you'll witness a mesmerizing display of colors. Enjoy a delightful Rajasthani dinner at the resort under the starry desert sky.
Jaisalmer Fort – Patwon ki Haveli – Gadisar Lake – Ghost town of Kuldhara
Start your day with a hearty breakfast before embarking on a City Tour of Jaisalmer. Visit the iconic Jaisalmer Fort, Patwon ki Haveli, Gadisar Lake, Army War Museum, and the historic Kuldhara village. Return to your resort for relaxation.



Longewala and the revered Tanot Mata Temple
After breakfast, venture to Longewala and the revered Tanot Mata Temple, offering insights into India's border regions. Return to the resort for rejuvenation before an enchanting Camel Safari in the desert night, accompanied by a Bonfire.



Enjoy a satisfying breakfast before checking out from the resort. Our team ensures a seamless transfer to the airport or railway station, bidding adieu to your memorable desert adventure.
Dinner on dunes start from 05:00PM-10:00PM
During the pitching process, our dedicated jeep driver and staff will be on hand to assist you. Please note that there are no washroom facilities on-site, and guests may need to use the open area. However, rest assured that a nearby security guard will be available to ensure your safety and provide any necessary assistance.
The entire event or activity will span a total of 1 hr. from its beginning to its conclusion. You are expected to participate in this experience after you have finished your dinner.
Indulge in an authentic lunch experience in the village from 1:00 PM to 3:00 PM. Savor the flavors of traditional dishes and immerse yourself in the local culture during this delightful dining experience. The duration of the lunch will be two hours, allowing you ample time to relish the delicious cuisine and enjoy the warm hospitality of the village.
Accommodation
Welcome drink on arrival
Camel Safari
Camp fire
Evening tea/coffee with snacks
Dinner & Breakfast
Pickup and Drop from Jaisalmer Airport/Railway Station
Sightseeing as per the itinerary
Children above age 6 will be considered as an adult.
Jeep safari is to be purchased as an Add-on.
Please note in-room dining is not allowed.
Smoking inside tents is not allowed
Any personal expenses or items of personal nature will not be included in the package. Any meals or transfers not mentioned in the itinerary are to be considered an exclusion in the deal.
Any kind of drink (alcoholic, aerated, or mineral water) is not included in the package cost.
Guidelines issued by the State Government are to be followed. Social distancing to be maintained. Frequent hand sanitization and use of mask recommended.
Any breakage or damage of any items in the resort will incur charges.
We will confirm your booking within 24 hours. 

 

In case of non-availability for the date, our team will get in touch with you to work out best possible dates. Kindly bear with us as this industry does not work with real-time inventory view from vendor partners.

 

If you wish to cancel before receiving a confirmation, you will receive 100% refund.

 
Full Refund-

If cancelled before 7 days of scheduled date.

 

No Refund-

If cancelled by within 7 days of scheduled date.

 
100% at the time of booking

 
Rescheduling is subject to availability.

Once the cancellation window ends, rescheduling cannot be done.

Each booking allows for a maximum of two rescheduling opportunities. After which, no further changes can be made to the booking.

Any price differences resulting from rescheduling, such as changes in seasonal rates or availability, will be applicable and will be communicated to the customer during the rescheduling process.

In the event that a customer requests a rescheduling but fails to attend the newly scheduled appointment, it will be considered a missed appointment, and our standard cancellation policy will apply
The duration of this experience is 3 night and 4 days. 

 

 
The starting point for this experience is khuri desert, Rajasthan.
Yes, this activity is suitable for beginners as it is completely supervised by the certified instructors. 
The ideal clothing for this activity is comfortable clothes. A trekking shoes or sports shoes are recommended. 
Full Refund-

If cancelled before 7 days of scheduled date.

 

No Refund-

If cancelled by within 7 days of scheduled date.
Dune Bashing – vibrant Cultural Program
Your desert escapade begins as you touch down at the airport, where our welcoming team awaits. They'll whisk you to your idyllic haven, a charming resort in Khuri Village. Enjoy a smooth check-in, and take a moment to unwind before an evening filled with exhilaration. 
The star of the night is a thrilling session of Dune Bashing(Purchasable as add-on), where you'll navigate the mesmerizing desert terrain with gusto. As the sun begins its descent, the resort comes alive with a vibrant Cultural Program, a true immersion into the local heritage. Cap off the night with a delectable dinner, savouring the flavours of Rajasthan.
Jaisalmer Fort – Patwon ki Haveli – Gadisar Lake – Ghost town of Kuldhara
With a hearty breakfast to fuel your day, set out on a captivating City Tour of Jaisalmer. Your journey into the heart of this Golden City takes you to iconic landmarks. Explore the formidable Jaisalmer Fort, witness the intricate architecture of Patwon ki Haveli, and find serenity at Gadisar Lake. 
The Army War Museum offers insights into India's military history, while the enigmatic Kuldhara village narrates tales of the past. Return to your resort, where you can unwind and rejuvenate, preparing for more adventures to come.
Take a leisurely boat ride (at additional cost), admire the historic chattris (cenotaphs) that dot the lake's edge, and enjoy the company of migratory birds. Visit the insightful Army War Museum and explore the enigmatic ghost town of Kuldhara, a village that has been abandoned for centuries.
Stroll through its narrow lanes, peering into the decaying homes, and let your imagination run wild with tales of the past. Return to the resort, where the evening comes alive with vibrant folk performances.
Longewala and the revered Tanot Mata Temple
As the day breaks, a hearty breakfast awaits, fueling you for an unforgettable journey. Today's adventure leads you to Longewala and the revered Tanot Mata Temple, offering glimpses into the fascinating border regions of India. Return to your resort for a well-deserved rest before another unique experience.
At Night  it's time for a magical Camel Safari (Purchasable as add-on). Glide through the sands under the shimmering desert sky, accompanied by the warmth of a crackling Bonfire, a truly enchanting way to round off your desert day.
On your departure day, start the morning with a satisfying breakfast, savoring the last moments in the desert oasis. With your bags packed and memories cherished, it's time to bid adieu to the enchanting Khuri dunes. Our attentive team ensures a seamless transfer to the airport or railway station, marking the end of your unforgettable desert sojourn.