2N/3D Jaisalmer Desert Escapes
Jaisalmer

Pumped Adventure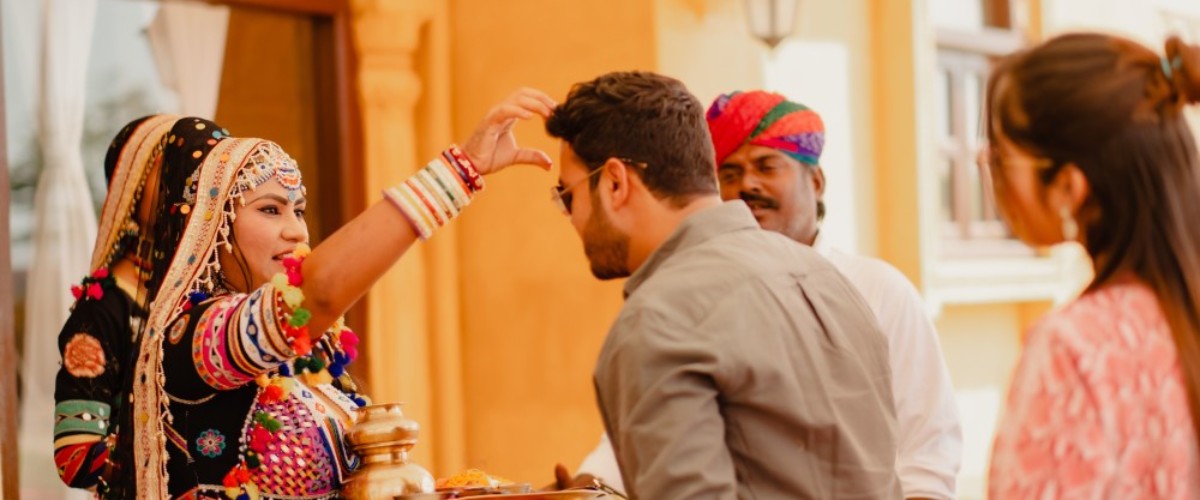 Overview
Unplug from the daily grind and step into a world of enchantment in the heart of Khuri's golden dunes. This specially crafted Jaisalmer tour package for 3 days promises an unforgettable weekend escape. As the sun dips below the horizon, you'll find yourself nestled in a cozy camp under a mesmerizing canopy of stars. With a crackling bonfire and soulful Ektaara melodies, the evening sets the stage for a magical desert soiree.
But that's just the beginning. Over the next two days, get ready for thrilling adventures, including the exhilarating Jeep and Camel Safaris that will take you deeper into the desert's secrets. At the campsite, surrender to relaxation, soaking in the tranquil ambience of the dunes.
And let's not forget the vibrant local culture – be enthralled by captivating folk performances that will transport you to another era. From the moment you arrive, this 2 night 3 days Jaisalmer itinerary is designed to immerse you in the very essence of Rajasthan's desert life. Your journey is bound to be etched in your memory forever.
So, pack your bags and get ready for an expedition that promises the best of Jaisalmer in just 3 days with AdventuRush. Unleash your adventurous spirit and let the golden sands of Khuri weave their magic around you. Your Jaisalmer 3 days 2 night package is a gateway to an experience like no other.
Immerse yourself in the enchanting Khuri desert, known for its stunning golden dunes that stretch as far as the eye can see.
Experience the magic of the desert nights with a one-night camping adventure under a star-studded sky.
Embark on thrilling Jeep and Camel Safaris, exploring the rugged beauty of the desert and discovering its hidden treasures.
Arrive in the serene desert haven of Khuri Village, where your desert adventure begins. As the sun sets over the sand dunes, you'll witness a mesmerizing display of colors. Enjoy a delightful Rajasthani dinner at the resort under the starry desert sky.
Jaisalmer Fort – Patwon ki Haveli – Gadisar Lake – Ghost town of Kuldhara
Embark on a captivating exploration of Jaisalmer's iconic landmarks. Visit the formidable Jaisalmer Fort, Patwon ki Haveli, Gadisar Lake, Army War Museum and Kuldhara village. Return to the resort for an evening filled with vibrant folk performances.



After a hearty breakfast at the resort, it's time to bid farewell to the enchanting deserts and cultural treasures of Jaisalmer. You'll be transferred to the airport or railway station for your onward journey, taking with you memories of an unforgettable Rajasthan experience.



Dinner on dunes start from 05:00PM-10:00PM
During the pitching process, our dedicated jeep driver and staff will be on hand to assist you. Please note that there are no washroom facilities on-site, and guests may need to use the open area. However, rest assured that a nearby security guard will be available to ensure your safety and provide any necessary assistance.
The entire event or activity will span a total of 1 hr. from its beginning to its conclusion. You are expected to participate in this experience after you have finished your dinner.
Indulge in an authentic lunch experience in the village from 1:00 PM to 3:00 PM. Savor the flavors of traditional dishes and immerse yourself in the local culture during this delightful dining experience. The duration of the lunch will be two hours, allowing you ample time to relish the delicious cuisine and enjoy the warm hospitality of the village.
Accommodation
Welcome drink on arrival
Camel Safari
Camp fire
Evening tea/coffee with snacks
Dinner & Breakfast
Pick up & Drop from Jaisalmer Airport/Railway Station
Sightseeing as per the itinerary
Children above age 6 will be considered as an adult.
Jeep safari is to be purchased as an Add-on.
Please note in-room dining is not allowed.
Smoking inside tents is not allowed
Any personal expenses or items of personal nature will not be included in the package. Any meals or transfers not mentioned in the itinerary are to be considered an exclusion in the deal.
Any kind of drink (alcoholic, aerated, or mineral water) is not included in the package cost.
Guidelines issued by the State Government are to be followed. Social distancing to be maintained. Frequent hand sanitization and use of mask recommended.
Any breakage or damage of any items in the resort will incur charges.
We will confirm your booking within 24 hours. 

 

In case of non-availability for the date, our team will get in touch with you to work out best possible dates. Kindly bear with us as this industry does not work with real-time inventory view from vendor partners.

 

If you wish to cancel before receiving a confirmation, you will receive 100% refund.

 
Full Refund-

If cancelled before 7 days of scheduled date.

 

No Refund-

If cancelled by within 7 days of scheduled date.

 
100% at the time of booking

 
Rescheduling is subject to availability.

Once the cancellation window ends, rescheduling cannot be done.

Each booking allows for a maximum of two rescheduling opportunities. After which, no further changes can be made to the booking.

Any price differences resulting from rescheduling, such as changes in seasonal rates or availability, will be applicable and will be communicated to the customer during the rescheduling process.

In the event that a customer requests a rescheduling but fails to attend the newly scheduled appointment, it will be considered a missed appointment, and our standard cancellation policy will apply
The duration of this experience is 2 night and 3 days. 

 

 
The starting point for this experience is khuri desert, Rajasthan.
Yes, this activity is suitable for beginners as it is completely supervised by the certified instructors. 
The ideal clothing for this activity is comfortable clothes. A trekking shoes or sports shoes are recommended. 
Full Refund-

If cancelled before 7 days of scheduled date.

 

No Refund-

If cancelled by within 7 days of scheduled date.
Your desert adventure begins with a warm welcome at the airport, where you'll be whisked away to your resort nestled in the heart of Khuri Village. As the sun begins its descent, embark on an enchanting camel safari to explore Khuri Desert. Here, you'll witness a mesmerizing sunset that paints the vast sand dunes in a brilliant golden hue. In the evening, tantalize your taste buds with a delectable Rajasthani dinner at the resort, all while being serenaded by the starry desert sky.
Jaisalmer Fort – Patwon ki Haveli – Gadisar Lake – Ghost town of Kuldhara
After a hearty breakfast, gear up for a day of exploration in the legendary city of Jaisalmer. Your journey takes you to iconic landmarks such as the formidable Jaisalmer Fort, also known as the "Golden Fort," which stands as a sentinel in the heart of the city, the intricate Patwon ki Haveli.
A short journey from the fort takes you to Patwon ki Haveli, a cluster of five meticulously crafted havelis, or mansions. These sandstone masterpieces are a testament to the opulence of Jaisalmer's wealthy merchants. The tranquil Gadisar Lake is an oasis of tranquility. Built-in the 14th century, it once served as a vital water source for the city. 
Take a leisurely boat ride(At additional cost), admire the historic chattris (cenotaphs) that dot the lake's edge, and enjoy the company of migratory birds. Visit the insightful Army War Museum and explore the enigmatic ghost town of Kuldhara, a village that has been abandoned for centuries.
Stroll through its narrow lanes, peering into the decaying homes, and let your imagination run wild with tales of the past. Return to the resort, where the evening comes alive with vibrant folk performances.
As your adventure in the desert comes to an end, savors a delicious breakfast at the resort. It's time to bid farewell to the golden dunes and warm hospitality. Check out and prepare for your departure as you leave for the airport or railway station with cherished memories of your Jaisalmer escapade.