1N/2D Rock Climbing and Rappelling with Camping – Dhanaulti
Dehradun

Pumped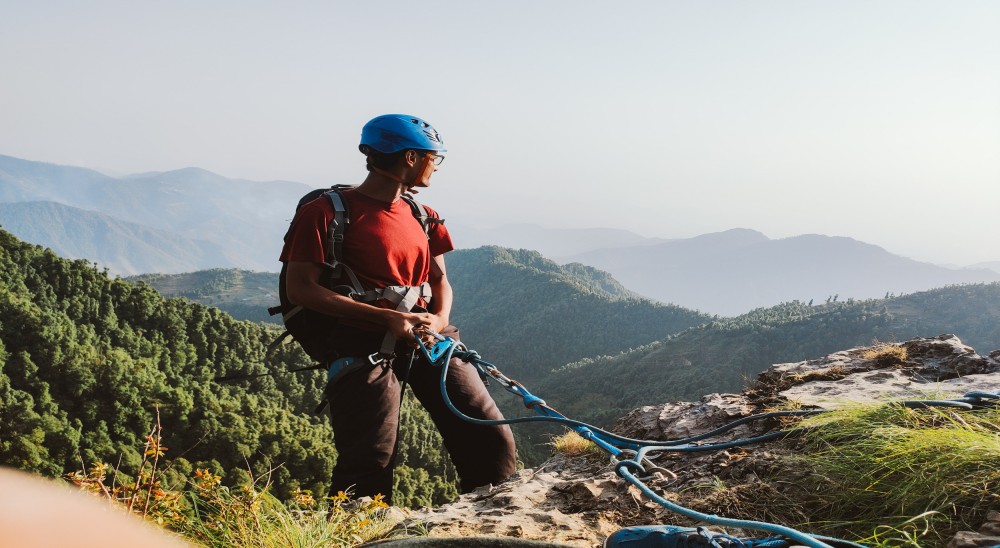 Overview
A serene walk through the pine forest, surrounded by greenery and high mountains will lead you to the rock climbing area. Nestled in quiet solitude, away from the hustle and bustle of the town of Dhanaulti is where we will be staying in a swiss tent. A small hike from the accommodation property will lead you to the rock climbing area which gives you splendid views of the Dehradun valley. While rappelling sessions are guaranteed to give you an adrenaline rush, as you slide down a 60-meter-high rocky hill, the campsite will soothe you, with meadows and jungle behind.
Under the star-studded sky, spend a serene night overlooking the aesthetic views of Dehradun.
Hike through the pine forest and enjoy an adventurous session of rock-climbing.
Enjoy rappelling and camping amidst the lush green pine forest and add a new feather to your adventure cap.
At 10:00 am, meet the representative at the arrival point. Head to the campsite and check-in. Next, you will be taken for the rappelling session. Enjoy this activity and satiate your hunger with a hot-served lunch at the campsite. In the evening, enjoy some fun activities with the rest of the group or try climbing some boulders. Head to the dining area for dinner and spend the night in your tents. 
wake up to a beautiful morning and enjoy a delicious breakfast. Today, you will learn the techniques of Rock-climbing and will also partake in this rather challenging activity. Spend most of your day, climbing different rocks. Later, have a hot-pipping lunch and head back for your return journey with a new sense of satisfaction. 
Swiss Camp Stay
Meals
Climbing & Safety Equipment
Keeping your safety first, if the weather is poor, the event may be delayed or postpone, and an alternative time slot will be suggested.  
Min age 10 yrs Max age 50 yrs.
Maximum weight - 115kg 
Participants deemed unfit for the activity may be prohibited from participating by the instructor. Since this decision will be made by the expert for your safety, we request your adherence. Kindly read our advisory in attachment to understand if you are fit to participate. 
Kindly pay full attention to the briefing provided and follow all guidelines as recommended. 
A parent or guardian must sign the disclaimer for any child under the age of 18 
Upon arrival, proof of identification is required (Not PAN card) 
Vendor details will be shared post booking. Please co-ordinate with vendor on reporting time & location. 
We will confirm your booking within 24 hours.

 

In case of non-availability for the date, our team will get in touch with you to work out best possible dates. Kindly bear with us as this industry does not work with real-time inventory view from vendor partners. If you wish to cancel before receiving a confirmation, you will receive 100% refund. 

 
100% at the time of booking  
Full Refund-

If cancelled before 48 hours. 

 

No Refund-

If cancelled by customer less than 48 hours. 

 

If participants are deemed unfit by instructor or refuse to go through with the experience at site or miss the activity, no refund will be applicable. 

 
The duration of the activity is 1 night and 2 days. 
Avoid alcohol 
Eat healthy and wholesome 
Hydrate well 
Practice mild stretching 
Cut your fingernails and toenails. 
Carry 2 liters of water with you for the session.
  Wear comfortable and stretchy clothes. A sports shorts / track pants with a comfortable t-shirt is just fine. 
Ideally leave all your jewelry at home. 
 Apply sunscreen lotion. 
If you wear a turban- You will have to wear a helmet so, please wear a turban which can flatten a little to accommodate the helmet. 
 Carry one extra pair of clothes and warm jacket according to the weather. 
Warm socks to sleep in. 
Carry a torch 
Toilet paper  
Sports shoes are fine, wearing trekking shoes are ideal. Carry Flipflops for the campsite if you want. 
Yes, this activity is suitable for beginners as it is completely supervised by the certified instructors 
Min age 10 yrs Max age 50 yrs. 
Maximum weight – 115kg  
Below 18yrs should take the parents signature on the form. 
The starting point for this activity is  – Hotel Crystal Palace Dhanaulti.
Trainers/ Boots/ Hiking shoes 

 

Pants or shorts 

 

Long shirts or tops covering waist 

 

Weather appropriate clothes 

 
If your activity is cancelled for weather conditions, operational or regulatory reasons, you will receive FULL refund, or you can reschedule your activity to an alternative date of your choice.  
You may cancel the booking anytime ,100% refund will be processed if the booking is cancelled 48 Hrs before the trip 

 

No refund if cancelled within 48 Hrs of the scheduled trip.