16N/17D Black Peak Expedition
₹

84,999
Closed for the Season
Dehradun

Daredevil Adventure
Couples/Group Adventure, Solo Adventure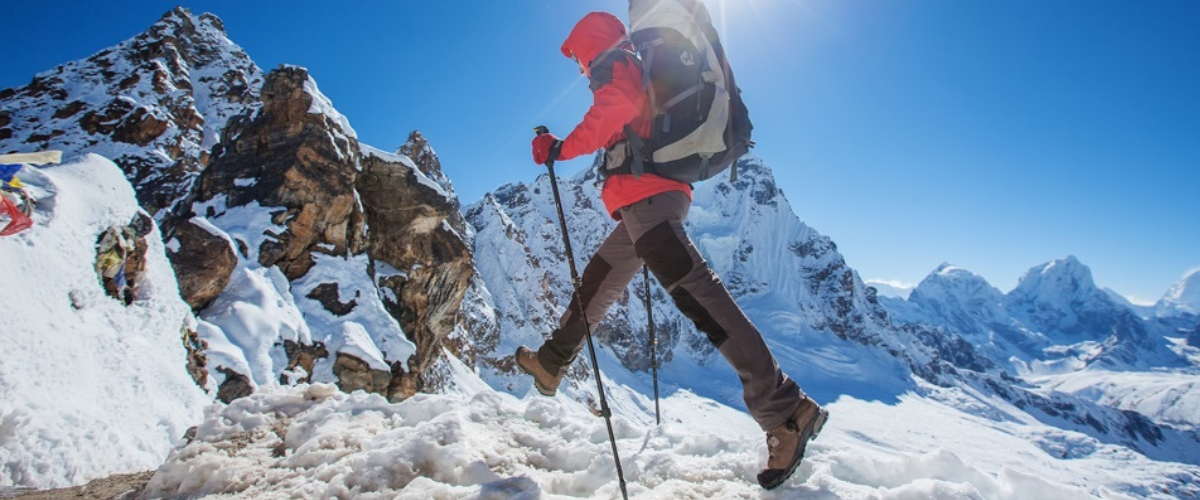 Overview
Black Peak Expedition is undoubtedly one of the best and most preferred expeditions found on a trekker's bucket list. It is a moderate to difficult level expedition, with the summit requiring some technical skills. The summit has a demanding 75 feet ice wall with at a gradient of about 70 degrees. Situated in the Uttarkashi district of Uttarakhand, Black Peak is at a height of 6387 meters and is the highest peak in the Saraswati mountain range, which will truly push you to the limits!
Enjoy the lovely drive from Dehradun to Sankri passing through places like Mussoorie, Nainbagh, Damta and Newman.
Trek through Walnut trees from Taluka to Osla.
Visit the Ruinsara Tal that lies amidst the pristine peaks and enjoy the magnificent views of Ruinsara Range, Mt. Black Peak, Bandarpoonch, and Swargarohini.
Enjoy the magnificent first sight of the Black Peak from Kyarkoti.
Experience moderate to steep ascent comprising a mixed walk of moraine and glacier.
Upon reaching Kala Nag, located at a height of 20954 ft, the highest peak in Saraswati Mountain Range Bandarpoonch and soak in the glory.
You will be picked up from Dehradun Railway Station or Bus stand. After this, drive to Sankri. Enjoy breakfast at Kempty fall, a famous picnic spot. Enjoy the picturesque drive to Sankri and witness awesome views.
You will drive through Dehradun, Mussoorie, Nainbagh, Damta, Newman, Purola, Mori and Netwar. Sankri is in Govind Wildlife Sanctuary of Uttarkashi district. You will see apple orchards here and greenery all around.
Reach Sankri, enjoy the snow-covered mountains, the invigorating climate and spend a relaxed night.
This day is reserved for briefing of your adventure that lies ahead. Get ready for the expedition today, our professional leader will brief you and will give all the details today. Complete the necessary documentation, after which you can rest or go on a short hike.
Enjoy breakfast at Sankri and then go to Taluka by taxi. It is a 11 km drive from Sankri. Upon
reaching Taluka, start the trek towards Osla. Pass through the dense forests with an
abundance of walnut trees. Also enjoy the breathtaking views of Himalayan villages. After a gradual ascent, reach Osla, the village famous for its culture. There is a temple of
Duryodhana worshiped by the villagers. Experience all of this in this quaint place. Overnight stay in Osla.
Wake up early in the morning and after breakfast leave for Ruinsara, one of the most
beautiful lakes in Uttarakhand. The lake is considered sacred by the villagers.
Spend a relaxed night here.
Wake up to the beautiful views at Ruinsara Lake and head towards Kyarkoti (Base Camp). From here, you can see the Black Peak.
Kyarkoti is a meadow amidst mountains and boulders. Set up your tents and settle for the day here.
As a part of the acclimatization routine, a method called load ferry from Base camp to the Advance Base Camp (ABC) will be carried out on this day. ABC is at the front of Black peak and next to Bandarpunch glacier.
Load ferry is a method of making rounds between camp
sites to better adapt to conditions. Load ferry is also used to move some of the luggage
between the two points, to distribute the weight across expedition days to make the climb
easier. It also gives the body enough time to adapt and hone your skills on the difficult
course.
Overnight stay at Base Camp after a round load ferry trip.
Go through the same path which you followed yesterday from Base Camp to Advance Base
Camp. This is a moderate ascent and moraine walk.
This day will be spent in Load Ferry from ABC to Camp 1, embracing the clear sights of Black
Peak. After setting up Camp 1, get back to ABC.
Follow the same path which you followed yesterday and ascent from ABC to Camp 1. This is a difficult ascent that comprises a mixed walk of moraine and glacier.
Ascent is steep, and the altitude of Summit Camp is 5500 meters. You will see Dhumdhar
Kandi pass on the left side while trekking. After 3 hours, you can reach the campsite.
After setting up the tents, retire early.
Start early after midnight after analyzing the weather and trail conditions. In the morning, the ice remains tough and hard so walking on it becomes easier.
Kala Nag or Black Peak is located at a height of 6387 meters and it is a steep ascent. Use
your equipment to reach the top. Traversing the top will give you the feeling of
accomplishment. After spending some time there, descent to Summit camp.
If summit attempt on day 11 was successful then enjoy some well-deserved 'Buffer Days' in
nature, allowing your muscles and limps to rest before undertaking the descent. Explore the nearby area or spend a day just relaxing, catching up on your reading maybe.
If you did not manage to complete the summit on day 11, then these buffer days will give
you ample opportunity to make a few more attempts for the summit.
After a successful climb, descent from Summit camp to Base camp. Enjoy some well-deserved rest.
Descent from Base Camp to Osla village where you halted on Day 2. Spend some time and soak in this town.
Overnight stay in Osla.
Bid adieu to this quaint village and start the descent to Taluka. Reach there and take a small
break. The trek ends here at Taluka. Enjoy the drive from Taluka to Sankri.
On the last day of this adventurous trip, leave Sankri early to reach Dehradun by evening.
Accommodation
Meals from Day 1 to Day 13
Professional Guide
Permits & Fees
First Aid Kit
Oxygen Cylinder
Stretcher
Cook/ Support Staff
This trip covers locations based on high altitude and not recommended for people with asthma or other breathing concerns.
The trek is not recommended for people below the age of 18 years.
Keeping your safety first, if the weather is poor, the event may be delayed or postpone, and an alternative time slot will be suggested.
Please carry an ID proof and passport size photo (PAN card will not be considered as valid address proof).
Kindly read all sections in attachment to know more about the trip.
Kindly pay full attention to the briefing provided and follow all guidelines as recommended.
Trekking is to immerse oneself in nature, so please expect basic facilities.
Electricity may be available only at a few locations.
Package includes vegetarian meals only.
Vendor details will be shared post booking. Please co-ordinate with vendor on reporting time & location.

Starting Point
Dehradun Railway Station
Dehradun Railway Station, Lakkhi Bagh, Dehradun, Uttarakhand 248001
Directions


Ending Point
Dehradun Railway Station
Dehradun Railway Station, Lakkhi Bagh, Dehradun, Uttarakhand 248001
Directions

We will confirm your booking within 24 hours.

In case of non-availability for the date, our team will get in touch with you to work out best possible dates. Kindly bear with us as this industry does not work with real-time inventory view from vendor partners.

 

If you wish to cancel before receiving a confirmation, you will receive 100% refund.

 
Full Refund– If cancelled before 7 days of scheduled date.
No Refund– If cancelled within 7 days of scheduled date.
If participants are unable to or refuse to go through with the experience at site, no refund will be applicable.
100% at the time of booking.

 
Rescheduling is subject to availability.

Once the cancellation window ends, rescheduling cannot be done.

Each booking allows for a maximum of two rescheduling opportunities. After which, no further changes can be made to the booking.

Any price differences resulting from rescheduling, such as changes in seasonal rates or availability, will be applicable and will be communicated to the customer during the rescheduling process.

In the event that a customer requests a rescheduling but fails to attend the newly scheduled appointment, it will be considered a missed appointment, and our standard cancellation policy will apply
The best time to go for Black Peak Expedition is from May to October. This trail passes through Govind National Park which will expose you to the various flora and fauna and will get to witness peaks like Swargarohini, Bhagirathi Massif, Bandarpunch, Gangotri range of mountains.
The starting point for this trek is Dehradun. You can reach here directly by train or by flight. Jolly grant airport is the nearest airport situated in Dehradun. You can also take a bus to reach Dehradun.
 

The maximum altitude of this trek is 20,954 ft.
Please read the "What to carry" section on the product details page.

 
The difficulty level for this trek is moderate. The highest altitude is

1

6

,

2

00 ft

. The total distance is

60

kms. If you are someone who does not work out regularly, it is advisable to start working out at least a month before the trek to avoid any discomfort. If you

are able to

Jog

5

kms in

30

minutes, your stamina is good to go. You can prepare yourself by running and doing cardio exercises. 

 
This is a moderate to difficult trek and will require physical strength. It is recommended to get physically fit is to start working out at least a month before the trek.

 

To gain stamina, you can try Cardio and running along with stretching every day to strengthen your muscles and work on your flexibility.

 

A

If you are able to Jog 5 kms in 30 minutes, your stamina is good to go.

 
The total trek distance is

60

kms and the time it will take you to complete the same is

7-

8

  hours

a day.

 
In

case you are sick and not able to complete the trek, you will be sent down to the base camp depending on the circumstances. Kindly note that a refund or reschedule for the same is not applicable. Any extra expenses incurred during this transfer will be borne by the

traveler.
Full Refund– If cancelled before 7 days of scheduled date.
No Refund– If cancelled within 7 days of scheduled date.
If participants are unable to or refuse to go through with the experience at site, no refund will be applicable.
The payment policy is 100% at the time of

booking.

 
Refunds are subjected to the cancellation

policies.

All refunds will be processed in 10 business days to the source account.

 
In case of extreme bad weather, government restriction or political disturbance, if any activity is cancelled then the operator will suggest the best possible alternative. However, a cash refund is not applicable. In case of a change in itinerary due to weather, any additional expenses will be borne by the traveler.