6N/7D Har Ki Doon Trek
Closed for the Season
Dehradun

Gutsy Adventure
Couples/Group Adventure, Solo Adventure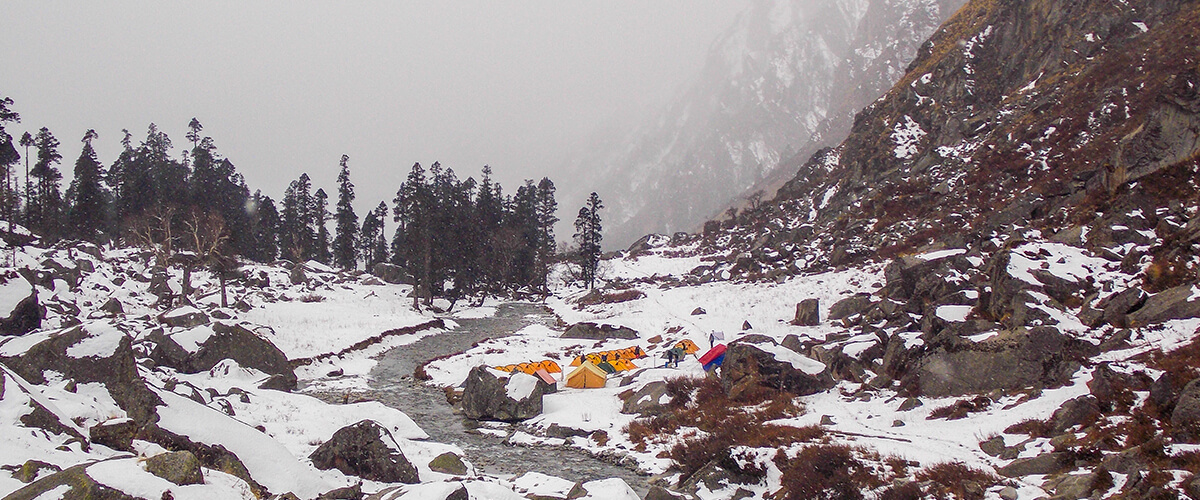 Overview
Nestled beautifully in the Garhwal Himalayas, Har Ki Dun is undeniably one of the most popular treks, owing to the spectacular natural beauty it offers and the adventure it comes with. Also referred to as the Hanging Valley, the trek is characterized by beautiful pine trees, splendid pastures, spell-binding meadows, rich birdlife, and wonderful views of mountain ranges coupled with the irreplaceable fragrance of nature.
Drive through the dense pine forests to Sankri crossing beautiful towns of Uttarakhand.
Enjoy the splendid view of the Swargarohini range.
Witness the state bird of Uttarakhand 'Himalayan Monal', commonly found in this region
Spot Leopards, Barking Deers Bores, Blue Sheep and Himalayan Langur and experience the wilderness.
Enjoy a thrilling and steep trek to Har ki Dun and witness snow-capped mountains, cascading waterfalls, gorgeous pastures.
Experience the rich birdlife in the Har Ki Dun Valley.
Enjoy the gorgeous sight of meadows full of alpine flowers.
Witness the wonderful sight of Swargarohini Range, Jaundhar Glacier and Hatu Peak.
Leave from Dehradun to base camp Sankri. Cross the Yamuna bridge and experience the
attractive view of dense pine forests on this scenic drive to Sankri. You will pass through
popular places like Mussoorie, Nainbagh, Damta and Purola towns of Uttarakhand.
Sankri lies in the Govind Wildlife Sanctuary of the Uttarkashi district. A charming and beautiful
village, Sankri is home to apple orchards and around 250 houses. When you reach the base,
take in the spectacular views of the snow-covered mountains and the splendid view of the
four peaks in the Swargarohini range. Watch the sun setting behind the Greater Himalayas as
you enjoy tea at the camp.
Savor a delicious dinner. Enjoy a relaxed night at Sankri under the star-studded sky.
After a delicious breakfast, drive to Taluka early in the morning. Pass through dense forests
and beautiful water streams. Enjoy the view as you hear birds chirping. If lucky, you will also
witness a rare species of birds including the state bird of Uttarakhand 'Himalayan Monal'. You
may also come in a close encounter with the wilderness – Leopards, Barking Deer and Bores.
Upon reaching Taluka, rest for some time and start your 14 km trek to Seema. You will pass
through rocky surfaces, traditional wooden bridges as well as lush green trails with the Supin
river flowing on your left.
By evening, reach Seema via Gangar village and spend a relaxed night.
Get ready for a day of thrill, adventure and hard work. The trek to Kalkati Dhar is 8 km and the ascent is steep. On the way, you will witness snow-capped mountains, cascading waterfalls,
gorgeous pastures and a variety of flora & fauna. You will cross the Tamosa river and climb
up to reach the trail that goes along the river upstream. You will reach the Kalkati Dhar  by evening.
Upon reaching,  you might be able to see birds like mountain fiches, flycatchers and
buntings as the valley is rich with bird life. You may also see a Blue Sheep and Himalayan
Langur.
Enjoy a delicious dinner and spend a rejuvenating night in the camp.
Wake up to a beautiful sunrise in Kalkati Dhar and soak in the charm of nature. Witness the
enchanting sight of Swargarohini range, Jaundhar Glacier, Hata peak and other Himalayan
peaks as you also see River Supin and Ruinsara Rivers flowing.
 trek a little further towards the stunning Maninda Lake.
capture the sights of mountains, meadows, glaciers and rivers in this beautiful valley that is
simply surreal.
 Once we have explored the valley, and creating memories that will last a lifetime, we return to our final campsite at Kalkati Dhar.
While it may get difficult for you to bid farewell to this gorgeous place, it's time to head back
to Seema. After a warm breakfast amidst nature, start trekking to Seema.
Upon reaching Seema, enjoy dinner and overnight stay in a camp.
After breakfast, get ready to trek for the last time from Seema to Taluka via dense forests.
Reach Taluka and drive back to Sankri base camp.
Overnight stay at Sankri base camp.
Leave Sankri to reach Dehradun by morning. Transport by car will be provided.
Accommodation
Veg Meals
Expert Instructor
Camping Tent
Sleeping bag/ Mattresses
Kitchen & Dining Tent
Utensils
Toilet Tent
Crampon/ Microspikes/ Gaitors
Permits & Fees
First Aid Kit
Oxygen Cylinder
Cook/ Support Staff
Transportation from Dehradun To Sankri
Transportation from Sankri To Dehradun
This trip covers locations based on high altitude and not recommended for people with asthma or other breathing concerns.
The trek is not recommended to the children below the age of 7 years.
Keeping your safety first, if the weather is poor, the event may be delayed or postpone, and an alternative time slot will be suggested.
Please carry an ID proof and passport size photo.
Kindly read all sections in attachment to know more about the trip.
Kindly pay full attention to the briefing provided and follow all guidelines as recommended.
Trekking is to immerse oneself in nature, so please expect basic facilities.
Electricity may be available only at a few locations.
Package includes vegetarian meals only.
Vendor details will be shared post booking. Please co-ordinate with vendor on reporting time & location.

Starting Point
Dehradun Railway Station
Dehradun Railway Station, Lakkhi Bagh, Dehradun, Uttarakhand 248001
Directions


End Point
Dehradun Railway Station
Dehradun Railway Station, Lakkhi Bagh, Dehradun, Uttarakhand 248001
Directions

We will confirm your booking within 24 hours.

In case of non-availability for the date, our team will get in touch with you to work out best possible dates. Kindly bear with us as this industry does not work with real-time inventory view from vendor partners.

If you wish to cancel before receiving a confirmation, you will receive 100% refund.
Full Refund– If cancelled before 7 days of scheduled date.
No Refund– If cancelled within 7 days of scheduled date.
If participants are unable to or refuse to go through with the experience at site, no refund will be applicable.
100% at the time of booking
Rescheduling is subject to availability.

Once the cancellation window ends, rescheduling cannot be done.

Each booking allows for a maximum of two rescheduling opportunities. After which, no further changes can be made to the booking.

Any price differences resulting from rescheduling, such as changes in seasonal rates or availability, will be applicable and will be communicated to the customer during the rescheduling process.

In the event that a customer requests a rescheduling but fails to attend the newly scheduled appointment, it will be considered a missed appointment, and our standard cancellation policy will apply
The best time to go for this trek is from March to June and September to December. During this time, you will get to witness the fascinating view of Ruinsara Peak and Swargarohini peak. This trail is a paradise for birds and animal lovers, you will be able to spot different Himalayan birds such as Monal and animals like snow leopard, black bear, etc.
The starting point for this trek is Dehradun. You can reach here directly by train or by flight. Jolly grant airport is the nearest airport situated in Dehradun. You can also take a bus to reach Dehradun.
The maximum altitude of this trek is 12,000 ft.
Please read the "What to carry" section on the product details page.
The difficulty level for this trek is moderate. The highest altitude is 12,000 Ft. The total distance is 52 kms. If you are someone who does not work out regularly, it is advisable to start working out at least a month before the trek to avoid any discomfort. If you are able to Jog 5 kms in 30 minutes, your stamina is good to go. You can prepare yourself by running and doing cardio exercises.
This is a moderate to difficult trek and will require physical strength , Recommendation to get physically fit is to start working out atleast a month before the trek. 

To gain stamina, you can try Cardio and running along with stretching every day to strengthen your muscles and work on your flexibility.

As a preparation cover 5 Kms in 30 mins.
The total trek distance is 52 Kms and the time it will take you to complete the same is 5-6 hours a day.
In case you are sick and not able to complete the trek, you will be sent down to the base camp depending on the circumstances. Kindly note that a refund or reschedule for the same is not applicable. Any extra expenses incurred during this transfer will be borne by the traveler.
The payment policy is 100% at the time of booking.
Refunds are subjected to the cancellation policies . All refunds will be processed in 10 business days to the source account.
In case of extreme bad weather, government restriction or political disturbance, if any activity is cancelled; then the operator will suggest the best possible alternative. However, a cash refund is not applicable. In case of a change in itinerary due to weather, any additional expenses will be borne by the traveler.
Full Refund- If cancelled before 7 days before scheduled departure.
No Refund- If cancelled within 7 days before scheduled departure.
If participants are unable to or refuse to go through with the experience at site, no refund will be applicable.