Amagarh Leopard Safari
Jaipur

Pumped Adventure
Couples/Group Adventure, Family Adventure, Solo Adventure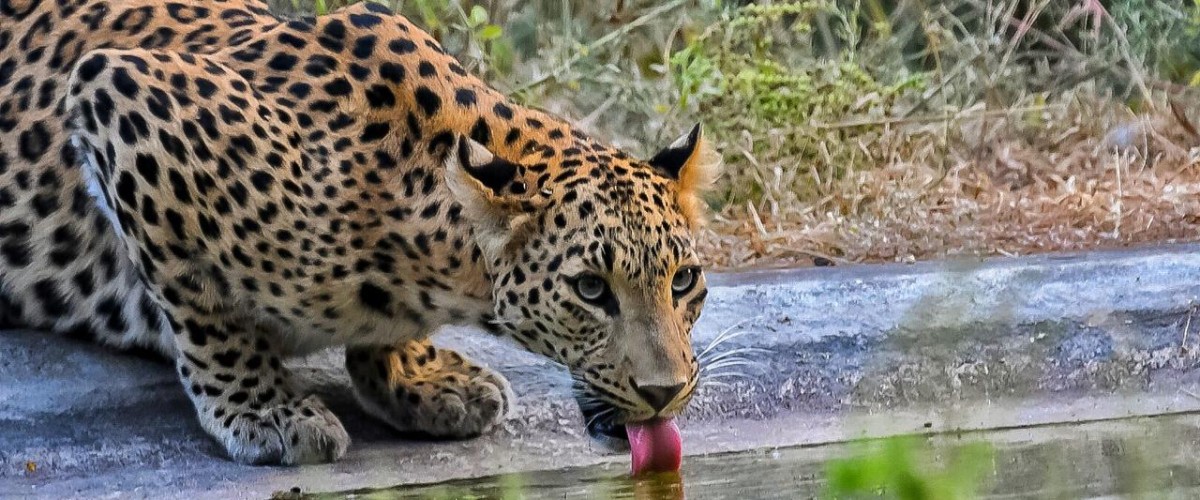 Overview
The Amagarh Leopard Reserve or Amagarh Safari Park is India's second Leopard Reserve opened in the city of Jaipur. This forest block is a home to 15 leopards, a must visit place for all the nature enthusiasts. This forest is not only a leopard reserve but also has various sightseeing spots like Galta  Ji Temple, Amagarh fort, Raghunath Fort, and Ambamata Temple. Enjoy visiting this old heritage and cultural spots with a wildlife safari and get a chance to witness the sightings of Leopards, hyenas, jackals, wild cats, foxes, civet cats, nilgai, sambhar, and a few others.
A home to 16-20 leopards and some other herbivorous and carnivorous species.
Get a chance to spot various creatures of the wild like Indian civets, jungle cats, striped hyenas, desert cats, desert foxes, jackals, porcupines, mongooses, spotted deer (chital), Blue Bull (Nilgai), Sambar deer, and a variety of birds.
Reach the starting point 10 minutes before the reporting time.  
Pay heed to the instructions given by the expert Naturalist. 
Keep your binoculars ready and enter the jungle for an adventurous ride. Enjoy the safari ride and spot some leopards. 
Get dropped off at the starting point and head home with thrilling memories of your time in the jungle.  
ID is mandatory while making safari booking and the tourists have to carry the same id proof all the time during their safari ride.
Foreigner tourists adhere to furnishing the details of their passport while making their safari booking. 
Please be ready at pickup point 10 minutes before departure.
Please coordinate with our vendor partner on meeting spots and timings, post booking.
Please read all advisory and policy documents carefully.
Vendor details will be shared post booking, please coordinate your reporting time and location with the vendor partner 

Starting Point
Amagarh Leopard reserve
302 maharani farm, Mahaveer Nagar 2, Jaipur, Rajasthan 302018.
Directions

We will confirm your booking within 24 hours.
In case of non-availability for the date, our team will get in touch with you to work out best possible dates. Kindly bear with us as this industry does not work with real-time inventory view from vendor partners.

 

If you wish to cancel before receiving a confirmation, you will receive 100% refund.

 
For Safari:
The costs for Jeep Safari and Canter Safari are non-refundable, non-transferable, and non-amendable.
(Exact breakup will be provided at the time of booking)  
100% at the time of booking. 
Rescheduling is subject to availability.

Once the cancellation window ends, rescheduling cannot be done.

Each booking allows for a maximum of two rescheduling opportunities. After which, no further changes can be made to the booking.

Any price differences resulting from rescheduling, such as changes in seasonal rates or availability, will be applicable and will be communicated to the customer during the rescheduling process.

In the event that a customer requests a rescheduling but fails to attend the newly scheduled appointment, it will be considered a missed appointment, and our standard cancellation policy will apply
The duration of this safari is 2.5 hours approx.  
Yes, this trip is absolutely safe for everyone. Kindly pay heed to the instructions of the guide and do not provoke the wildlife. 
Please read the Notes and Advisory section on the product page carefully before starting for the activity 
There is no age or weight limit for this trip. 
The starting point for this activity is  Amagarh Leopard Reserve . 
Please wear cotton clothes that are dull in colors or have camouflage Print. If you are visiting during the winter season, you need to carry warm clothes, a down jacket and wind cheater.  The animals gets attracted to bright colors. Please wear proper shoes to avoid any injuries. 
The refund would be initiated as per the cancellation policy termed below  
Cancellation policy - 
For Safari:
The costs for Jeep Safari and Canter Safari are non-refundable, non-transferable, and non-amendable.