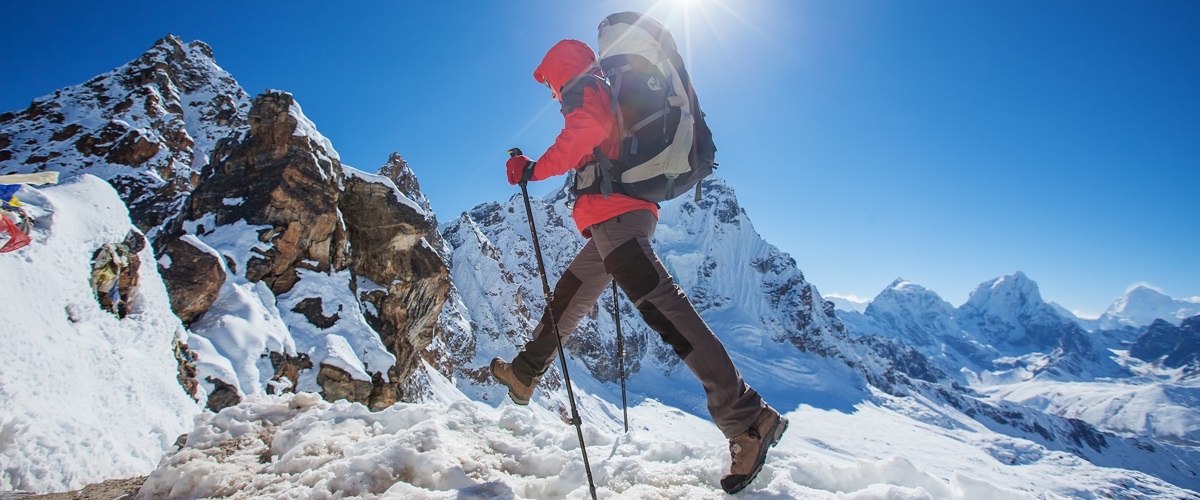 Overview
Experience the enthralling trek to an alpine lake with this 6-day trek to Brahmatal. Referred to as the jewel of the Himalayas, the Brahmatal trek is a relatively new one but has become very popular in recent years. This trek is beautifully positioned amidst the Himalayas and covered with glittering snow carpets. The trek covers Bursol, Kopad campsite, and Brahmatal takes you through centuries-old forests of Oak and Rhododendron, and offers you mesmerizing sights.
Glimpse the beauty of the Garhwal Himalayas.
Witness holy confluences of mighty rivers and their distinct teal and turquoise hues.
Pass Kali Valley, the meeting point of the Kali and the Pindari Rivers.
360-degree views of the mountain from its summit.
Views include - Chaukhamba, Mana, Mandir, Neelkanth, Nilgiri, Nanda Ghunti, Trishul, and Maitoli, Panchachuli Ranges and Shivalik Himalayan Mountains.
Meet the vendor partner at ISBT Rishikesh at 6:15 AM and enjoy your drive to Lohajung, a small village situated inside the Chamoli district in Uttarakhand. It is about 250 km and will take you 10-11 hours from Rishikesh.
Enjoy breathtaking views of the Garhwal Himalayan range, pristine peaks and beautiful hues
of river confluence set amidst a stunning sunset en route.
Transportation to Lohajung will be provided. Lohajung is home to a small market, where you
can purchase trekking gear and essentials amongst other things. Spend the night at the guesthouse booked for you. The network is available in this town. Lohajung is a town at the top of the mountain therefore you can anticipate the weather to get cold, rainy or foggy, particularly at night.
Take the bus to Lohajung and head to the Bekaltal campsite. After a delicious breakfast, begin your 6 kms trek with a moderate ascent, through Oak and Fir forest set against breathtaking
views of Mount Nanda Ghunti, towards Bekalatal. You can fill your water bottle with pristine
spring water en route.
By the end of the trek, you would have gained an altitude of 2,150 ft or 700 m. Enjoy a hot lunch at the campsite. Once your tents are put up, you can refresh yourself and go to Bekaltal Lake or Brown Lake, just 15 minutes away from your campsite in the evening. The distinctive brown colour in the lakes is due to the significant quantity of organic
matter dissolving into the seas.
After watching the stunning sunset from Bekaltal, return to your camp for a delicious meal
that awaits you in the evening. Stay overnight at the Bekalatal Campsite in a twin-sharing
camp.
The ascent via Bekaltal is steep for 1.3 hours and then gradual. The descent is steep in the next section with a final gradual descent to the campsite. No water source is available on the way; therefore, carry at least two bottles of water from the campsite.
It takes about five hours for the hike. You will be trekking on some snow-covered paths. The
trail is forested and once you get to Telindi summit, take in breathtaking views of the majestic
Himalayas.
Continue the path until you arrive at Brahmatal and Khabekhal Lake. You can enjoy a night walk along Brahmatal Lake, about 500m from the campsite. Enjoy some hot food at the camp and sleep in tents for the night. You would have gained an altitude of 1,300 ft or 400 m by the end of the day.
After breakfast, you can prepare for the 2.5-hour climb to the top of Brahmatal. Bring at least two litres of water along with you, as there are no water sources en route. A mountain ridge encloses this trail with valleys on both sides. Ascent till Brahmatal top high point is moderate. From the top, you'll be able to enjoy
the stunning views of the snow-covered Himalayan Ranges. Enjoy a packed lunch here.
Overnight stay at tents at base camp.
From base camp, it's a steep and gradual descent of about 4 km that will take between 3 and 4 hours. The climb to Lohajung follows an easily marked trail that crosses some streams and
through the forest of Oak and Fir Forest.
When you arrive at Lohajung, check into your guesthouse and freshen up. In the evening, wander around the town for some souvenir shopping. Sunsets from Lohajung are impressive. After a scrumptious dinner, enjoy a peaceful night's rest.
After having your last morning tea and breakfast, head back to Rishikesh to mark the conclusion of an incredible trip.
Rishikesh is located 210 km from Lohajung and will take
approximately 10 hours to return. Expect to arrive in Rishikesh at about 7 p.m., which could vary according to the road and traffic conditions.
Accommodation
Veg Meals
Expert Instructor
Camping Tent
Sleeping Bag/ Mattresses
Kitchen & Dining Tent
Utensils
Crampon/ Microspikes/ Gaitors
Permits & Fees
First Aid Kits
Oxygen Cylinder
Stretcher
Cook/ Support Staff
Transportation from Rishikesh To Lohajung
Transportation from Lohajung to Rishikesh
This trip covers locations based on high altitude and not recommended for people with asthma or other breathing concerns.
The trek is not recommended for people below the age of 18 years.
Keeping your safety first, if the weather is poor, the event may be delayed or postpone, and an alternative time slot will be suggested.
Please carry an ID proof and passport size photo (PAN card will not be considered as a valid id proof).
Kindly read all sections in attachment to know more about the trip.
Kindly pay full attention to the briefing provided and follow all guidelines as recommended.
Trekking is to immerse oneself in nature, so please expect basic facilities.
Electricity may be available only at a few locations.
Package includes vegetarian meals only.
Vendor details will be shared post booking. Please co-ordinate with vendor on reporting time & location.

Starting Point
Rishikesh Bus Stand
477W+57W, Adarsh Gram, Rishikesh, Uttarakhand 249201
Directions


Ending Point
Rishikesh Bus Stand
477W+57W, Adarsh Gram, Rishikesh, Uttarakhand 249201
Directions

We will confirm your booking within 24 hours.

In case of non-availability for the date, our team will get in touch with you to work out best possible dates. Kindly bear with us as this industry does not work with real-time inventory view from vendor partners.

If you wish to cancel before receiving a confirmation, you will receive 100% refund.

 
Full Refund-

If cancelled before 7 days of the scheduled trip. 

No Refund-

If cancelled within 7 days

of the scheduled trip. 

If participants are unable to or refuse to go through with the experience at site, no refund will be applicable.
100% at the time of booking.

 
Rescheduling is subject to availability.

Once the cancellation window ends, rescheduling cannot be done.

Each booking allows for a maximum of two rescheduling opportunities. After which, no further changes can be made to the booking.

Any price differences resulting from rescheduling, such as changes in seasonal rates or availability, will be applicable and will be communicated to the customer during the rescheduling process.

In the event that a customer requests a rescheduling but fails to attend the newly scheduled appointment, it will be considered a missed appointment, and our standard cancellation policy will apply
The best time to go for the Brahamtal Trek is from Mid-November to March.

This trek is famous as it offers a frozen lake embedded in a crater at the summit with a backdrop of Mt. Trishul and Mt. Nandaghuti. The crystal-clear lake freezes in winter and the shrine beside the lake offers eternal peace.   
The starting point for this expedition is Rishikesh.  You can reach here by air, rail or by road. If you wish to reach Rishikesh by air then Jolly Grant airport in Dehradun is the nearest with a distance of 21 kms from the city. You can take a direct train to Rishikesh and it is well connected with govt and private buses running from the major cities in the north region.
The maximum altitude of this trek is 11,570 ft.
Please read the "What to carry" section on the product details page. 
The difficulty level for this trek is moderate. The highest altitude is 11,570 ft. The total distance is 29 kms. If you are someone who does not work out regularly, it is advisable to start working out at least a month before the trek to avoid any discomfort.

If you are able to Jog 5 kms in 30 minutes, your stamina is good to go. You can prepare yourself by running and doing cardio exercises.  
This is a moderate to difficult trek and will require physical strength, Recommendation to get physically fit is to start working out at least a month before the trek. 

 

To gain stamina, you can try Cardio and running along with stretching every day to strengthen your muscles and work on your flexibility.

 

A

If you are able to Jog 5 kms in 30 minutes, your stamina is good to go.
The total trek distance is

29

kms and the time it will take you to complete the same is

6

–

7

  hours

a day.
In

case you are sick and not able to complete the trek, you will be sent down to the base camp depending on the circumstances.

Kindly note that a refund or reschedule for the same is not applicable. Any extra expenses incurred during this transfer will be borne by the

traveler.
Full Refund-

If cancelled before 7 days before scheduled departure.

 

No Refund-

If cancelled by customer less than 7 days before scheduled departure.

 

If participants are unable to or refuse to go through with the experience at site, no refund will
be applicable.
The payment policy is 100% at the time of

booking.
Refunds are subjected to the cancellation

policies .

All refunds will be processed in 10 business days to the source account.

 
In case of extreme bad weather, government restriction or political disturbance, if any activity is cancelled, then the operator will suggest the best possible alternative. However, a cash refund is not applicable. In case of a change in itinerary due to weather, any additional expenses will be borne by the traveler.