Bungee Jumping – Adventure Park Rishikesh
₹

2,599
Rishikesh

Daredevil Adventure
Couples/Group Adventure, Solo Adventure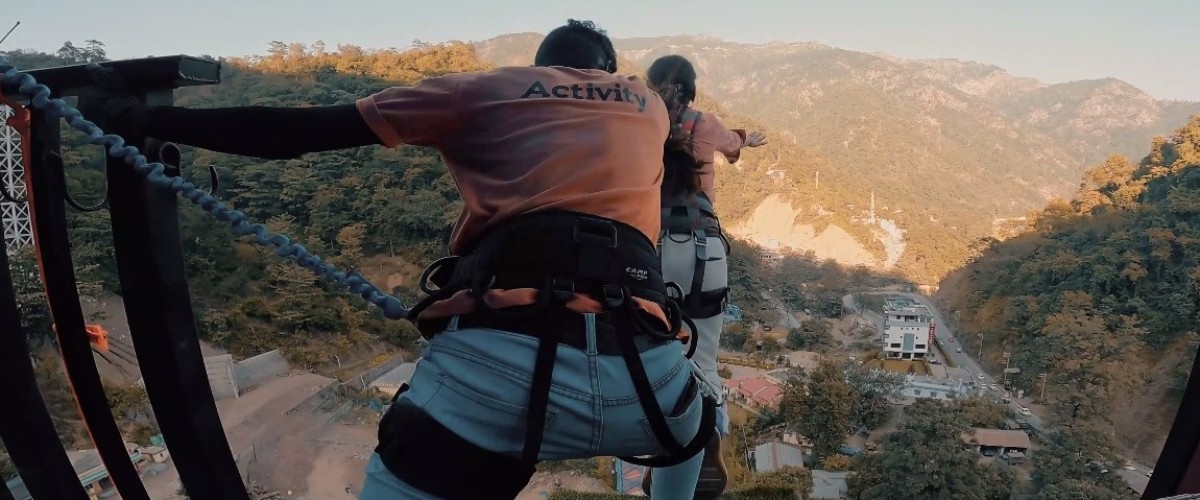 Overview
Looking for a thrilling bungee jump experience in Rishikesh? Look no further!
This experience is set inside an Adventure Park and lets you jump off a 50m platform. For novices and pros alike – this is the perfect experience to challenge yourself on your next trip to Rishikesh. This experience will definitely be worth your while. You will either find yourself screaming your lungs out or completely silent, stunned by the experience. Either way, we promise you a rush of a lifetime. Leap with complete faith on this verified experience.
Spectacular jump from a 50 m platform.
Inside a controlled space - no hike needed.
Access to a whole day-out of experiences - reverse bungee, giant swing, rope course.
Enjoy all three breath-taking activities at the same place.
Learn about safety procedures and bungee jumping.
You must fill out the waiver form acknowledging that you have read and understood our terms and conditions, that you have disclosed your medical conditions, and that you can participate in bungee jumping.
Take your valuables with you and place them at the front desk so your activity goes smoothly.
Jumpers are the only ones permitted to enter the bridge.
Jumpers undergo a minimum of three safety checks before jumping. 
Experience an adrenaline rush unlike any other by jumping with rubber cords tied around your ankles. While overcoming India's most challenging task, you can appreciate the beauty of the valleys, the holiness of the Ganges, and the wonder of the view. 
Keeping your safety first, if the weather is poor, the park maybe closed. An alternative date can be opted for or FULL refund can be availed.
No age restrictions. Minimum height - 1.4m (4ft 7").
Maximum weight - 115kg.
A parent or guardian must sign the disclaimer for any child under the age of 18.
Participants deemed unfit for the activity may be prohibited from participating by the instructor. Since this decision will be made by the expert for your safety, we request your adherence. Kindly read our advisory in attachment to understand if you are fit to participate.
Kindly pay full attention to the briefing provided and follow all guidelines as recommended.
Upon arrival, proof of identification is required (Not PAN card).
Vendor details will be shared post booking. Please co-ordinate with vendor on reporting time & location.

Starting Point
Shivpuri, Rishikesh
Near Indian Oil Petrol Pump & DGBR, Devprayag, Shivpuri, Rishikesh, Uttarakhand 249192
Directions

We will confirm your booking within 24 hours.

In case of non-availability for the date, our team will get in touch with you to work out best possible dates. Kindly bear with us as this industry does not work with real-time inventory view from vendor partners.

 

If you wish to cancel before receiving a confirmation, you will receive 100% refund.

 
Full Refund-

If cancelled before 48 hours of scheduled date. 

No Refund-

If cancelled within 48 hours of scheduled date. 
If participants are deemed unfit by instructor or refuse to go through with the experience at site, no refund will be applicable. 
100% at the time of booking.
Rescheduling is subject to availability.

Once the cancellation window ends, rescheduling cannot be done.

Each booking allows for a maximum of two rescheduling opportunities. After which, no further changes can be made to the booking.

Any price differences resulting from rescheduling, such as changes in seasonal rates or availability, will be applicable and will be communicated to the customer during the rescheduling process.

In the event that a customer requests a rescheduling but fails to attend the newly scheduled appointment, it will be considered a missed appointment, and our standard cancellation policy will apply
Duration of the Activity is 1.5 hours approximately. It includes briefing time, waiting time and Ticketing period and a small trek up the hill after the jump.
The height of this activity is 55 meters. Which means you will be taking a jump of 55 meters.
Yes, this activity is completely safe as this is the only fixed jump site in India for Bungee Jumping and the platform is specially designed by experts from New Zealand.  3 safety checks are done before every Jump. 
Please read the Notes and detailed advisory on the product page for more details 
The jump cannot be accomplished with specs, however, we attach the specs to you while you're jumping, so that they can be used after the jump. Contact lenses work just fine. 
 Yes, this activity is suitable for beginners as it is completely supervised by the certified instructors.
Weight limit – 40 to 110 kg.
The starting point for this activity is Shivpuri, Rishikesh.
Every jump is videotaped in HD quality and can be purchased at the site, No Personal Video or photography is permitted within the premises.
The ideal clothing for this activity is comfortable clothes. A trekking shoes or sports shoes are recommended after the jump as you will be hiking back to the top after the jump. 
If your activity is cancelled for weather conditions, operational or regulatory reasons, you will receive FULL refund or you can reschedule your activity to an alternative date of your choice. 
You may cancel the booking anytime ,100% refund will be processed if the booking is cancelled 48 Hrs before the trip

 
No refund if cancelled within 48 Hrs of the scheduled trip.