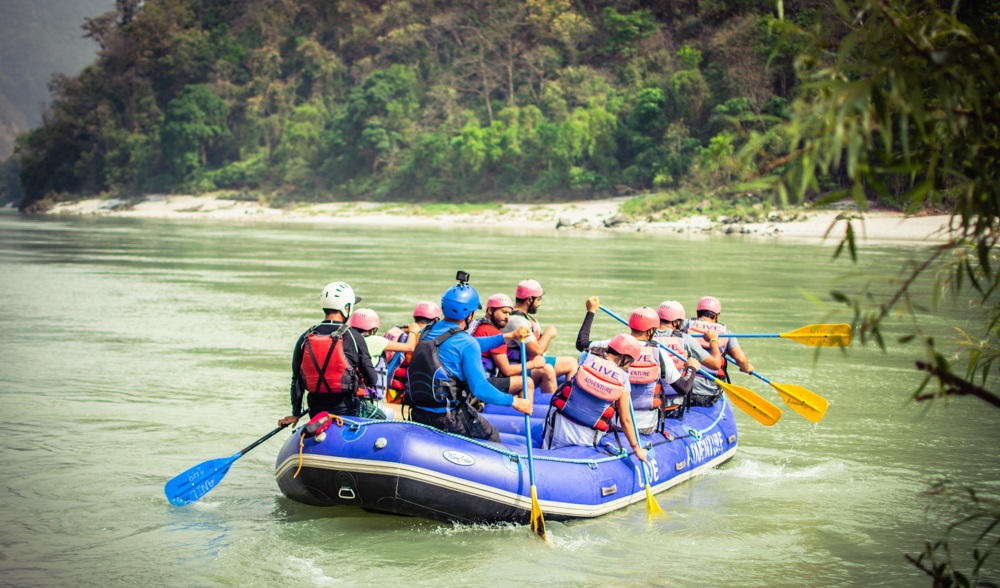 Overview
Rishikesh, the city of the sages, offers a myriad of options for adrenaline-pumping experiences in the foothills of the Shivalik range of the great Himalayas. River rafting in Rishikesh is one of the most sought-after activities that attract individuals, groups, the old and the young. The towering mountains accompany the gurgling river waters as you ride over different grades of turbulent rapids, promising a trip to remember!
Put on your life jacket and tighten the clutch as you are about to encounter the splashing waters in a thrilling Rishikesh river rafting experience with AdventuRush. Whether you are an avid adventurer or not, there is no reason why you should miss out on the steep gradients of the River Ganges and challenge yourself. Check out our Rishikesh rafting package that offers an electrifying, enlivening ride for both- the newbies and the experienced.
Enjoying rafting through the Ganges, enveloped by scenic mountains and other landscapes.
Choose between 16 kms, 24 kms or 35 kms river courses in Rishikesh.
Amidst the mountainous terrain, make your way through 4 grades of rapids.
Kindly arrive at the rafting meeting point at the agreed-upon time. It is advisable to reach the location 30 minutes before the activity is scheduled to begin.
Pay attention to the thorough safety briefing conducted by the rafting professional. With this verified experience by AdventuRush, keep all your worries at bay as you push yourself off the waves.
Grab your safety equipment and put them on for a safe and seamless experience.
Cruise through the savage ripples during this insanely beautiful ride.
Protective gear
Professional instructor
Safety kayaker with all the trips
All rafting gear
Partial commute
Our Rishikesh river rafting includes an amalgamation of fierce rapids, vouching for the thrill of rafting through the sparkling waters. Each grade is based on the levels of manoeuvrability – from mild to the trickiest ones.
Return to Sender (Grade 2)
Double Trouble (Grade 2)
Hilton & Terminator (Grade 2)
Three Blind Mice (Grade 3)
Roller Coaster (Grade 3+)
Golf Course (Grade 3+)
The Wall (Grade 4 Rapid in Kaudiyala)
Before you choose between the 16, 26, and 35 km long stretches and call the river rafting in Rishikesh price final, we recommend that you understand what each grade brings to your raft!
Grade 1 – Small and mellow rapids with little to no obstacles.
Grade 2 – Fairly medium waves with a few easy-to-overcome hurdles to manoeuvre through the stream. Safety equipment and guides are required.
Grade 3 – Many facets of the river down the stream – including heavy waves, rocks, and a clear passage. Experienced guides are required.
Grade 4 – Several uneven waves on the way, rocks, and strong eddies. Experienced guide required for easy and safe navigation.
There are 3 River Rafting starting points in Rishikesh. While Shivpuri is a favourite among beginners, Kaudiyala is the stretch for experts looking for an intense one-on-one with the rapids.
Shivpuri (16 km rafting stretch) – Intermediate difficulty level; the stretch from Shivpuri is an untamed duo of adventure and peace with the furious Grade 2 and Grade 3 tides.
Marine Drive (24 km rafting stretch) – Intermediate difficulty level; the stretch from Marine Drive to Rishikesh encompasses 14 rapids – bringing on a tough challenge that Grade 2 and Grade 3 tides pose.
Kaudiyala (36 km rafting stretch) – The longest and the most challenging stretch; Covers 13 rapids of Grade 3 and Grade 4. This one is only recommended for experienced individuals.
Fixed departure every day at 9:00 AM & 2:00 PM.
Keeping your safety first, if the weather is poor, the event may be delayed or postpone, and an alternative time slot will be suggested.
Participants deemed unfit for the activity may be prohibited from participating by the instructor. Since this decision will be made by the expert for your safety, we request your adherence. Kindly read our advisory in attachment to understand if you are fit to participate.
Kindly pay full attention to the briefing provided and follow all guidelines as recommended.
Please report 30 minutes before start time.
Activity is for ages 15- 55 years. 
Maximum weight allowed for the participant is 100 Kg.
Please carry your valid photo ID proof. (Not a PAN card).
It is mandatory for foreign nationals to provide their passport as well as visa information for booking and upon arrival.
Extra fees of RS 20/- per head has to be paid at location as Rafting Management Organization GNR Entry fee.
Vendor details will be shared post booking. Please co-ordinate with vendor on reporting time & location.
Make sure to pack light.
It is advisable to wear sturdy boots to prevent frostbite and just a single pair of socks for maintaining blood circulation.
Try to opt for track pants instead of jeans for a comfortable ride.
It is recommended to carry an extra set of clothes.
Avoid heavy food and alcoholic beverages at least one hour before the activity.
The Rishikesh river rafting booking is not inclusive of any cost incurred by any damage due to customer negligence. The cost of the damaged / broken item will be charged as per its actual value.
We will confirm your booking within 24 hours.

In case of non-availability for the date, our team will contact you to work out the best possible dates. Kindly bear with us as this industry does not work with real-time inventory views from vendor partners.

If you wish to cancel before receiving a confirmation, you will receive a 100% refund.

Full Refund– If cancelled before 48 hours of the scheduled date.
No Refund– If cancelled within 48 hours of the scheduled date.
If participants are deemed unfit by the instructor or refuse to go through with the experience at the site, no refund will be applicable.
100% at the time of booking.
Rescheduling is subject to availability.

Once the cancellation window ends, rescheduling cannot be done.

Each booking allows for a maximum of two rescheduling opportunities. After which, no further changes can be made to the booking.

Any price differences resulting from rescheduling, such as changes in seasonal rates or availability, will be applicable and will be communicated to the customer during the rescheduling process.

In the event that a customer requests a rescheduling but fails to attend the newly scheduled appointment, it will be considered a missed appointment, and our standard cancellation policy will apply
The duration of the activity is 16 km- 3.5 hrs, 24km- 4.5 hrs, 36 km- 7 hrs.

 

The starting time for this activity is 09:00 AM and 02:00 PM. 

 
The rafting distance depends on the variant selected.
Rafting in Rishikesh is a safe activity to try. The vendor adheres to industry standard safety protocols. We have licensed guides, good quality equipment. Every year hundreds of travellers and adventure junkies go for this experience.
The age limit for this activity is from 15 to 55 years. 

 

The maximum weight allowed for the participant is 100 KG. 

Pregnant women and people with heart problems or severe health issues are not advised to try this experience. 

Ensure you carefully listen to the briefing and adhere to all guidelines as recommended.

Upon arrival, proof of identification is required. Note that PAN cards do not qualify as address proofs. 

Foreign nationals must provide their passport and visa information at the time of arrival.

Weather-related delays or postponements may result in a change of the event timing. 

Please note that items that are damaged or broken due to the negligence of the participants will be charged at the actual cost. 

It is a good idea to bring an extra set of clothes. 

 
Yes, this activity is suitable for beginners as it is completely supervised by certified instructors.
The age limit for this activity is from 15 to 55 years
The maximum weight allowed for the participant is 100 Kg.
The starting point for this activity is Near Laxman Jhula, Rishikesh. Once your booking is confirmed, the tour operator will share the precise location.
The best time to go for this activity is from March to June and from mid-October to mid-November.
Wear comfortable clothing.
Shorts/ track pants/ casual clothes.
Extra pair of clothes.
 Sturdy boots.
Sunscreen and sunburn lotions.
Sunglasses
Waterproof camera.
Warm clothing depends on the month of visit.
If your flight is cancelled for weather conditions, operational or regulatory reasons, you will receive FULL refund or you can reschedule your activity to an alternative date of your choice(subject to availability).
Full Refund– If cancelled before 48 hours of the scheduled date.
No Refund– If cancelled within 48 hours of the scheduled date.
If participants are deemed unfit by the instructor or refuse to go through with the experience at the site, no refund will be applicable.