2N/3D- Adventure Hub – Rishikesh Tour
₹

26,399
Rishikesh

Gutsy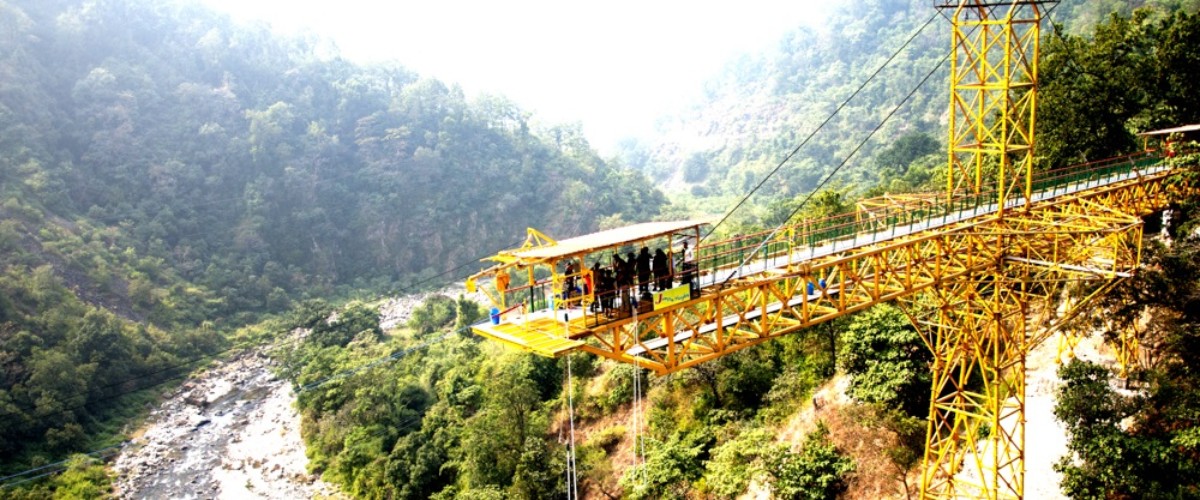 Overview
The holy city of Rishikesh, located on the foothills of the Himalayas, is where the Ganges and the chants of prayers breathe magic into your soul. However, what makes the Yoga Capital of the World even more special and popular is its boulevard of adventurous activities. From the highest bungee jumping in India to river rafting – name it, and the sane city has it.
Buckle up for an inspiriting trip with this Rishikesh package for 2 nights by AdventuRush that is curated to give you a rip-roaring time of your life! Play with danger on a safe and exciting river rafting ride in River Ganges and feel the unmatched stir of the highest bungee jump in India. This Rishikesh 2 night 3 days package is about to redefine your passion for adrenaline-inducing sports!
Drop your doubts at bay and make your trip an action-packed experience in Rishikesh.
Explore Rishikesh from the first and highest bungee jumping point in India- 83m above the ground.
Check the stirring ride of river rafting off your list.
Enhance your Rishikesh itinerary for 3 days by embarking on a feel-good walk to the popular sites of Rishikesh, like Lakshman Jhula and Triveni Ghat.
Check-in at the hotel and have some rest. You can dedicate the first day of your Rishikesh 2 night 3 days itinerary day to exploring the sites, temples, and monuments that Rishikesh is famous for. Start the journey with the must-see Laksham Jhula – a religiously significant site and also a window to the panoramic view of the River Ganges! Pay a visit to the popular Beatles Ashram, where the iconic band Beatles practiced transcendental meditation. Spend some time at Triveni Ghat and many more spots. Head back to the hotel for dinner and sound sleep.
Start your day with a delectable breakfast at the hotel. Afterwards, head to the meeting point for rafting at 9 am. From there, you will be taken to the starting point for rafting, where a crazy, thrilling session of river rafting awaits. After a thorough briefing on the safety measures and precautions that must be adhered to, it is finally time to jump for a ride on the rapids in the Ganges! Savor the adrenaline high, sail on exhilarating waves and experience the thrill of one of the most sought-after water adventure sports in India.
The third and final day of your Rishikesh 2 night 3 days package starts with a delish breakfast at the hotel. After checkout from the hotel, leave for the first and highest bungee jumping point in India. With rubber cords around your ankles, and a pounding sensation in your heart, feel the unparalleled amazement of being 83m above the ground as you take flight. If you have more time on your hands, check out Flying Fox and Giant Swing adventure activities at the same location.
Revel in the good and thrill-filled times you had in Rishikesh!
Accommodation: 2 nights
Meals – Dinner on day 1 to Day 2. Breakfast on Day 2 and Day 3.
River rafting as per the Kms. & Variant you choose
Bungee Jumping
Transportation (Rafting Meeting point to activity point)
Rafting equipment
Trained Instructor
Safety Equipment
Duration of rafting: 16 km- 3.5 hrs | 24 km- 4.5 hrs | 35 km- 7 hrs (as per your preference)
Transportation from Hotel to Rafting meeting point , Bungee site and Adventure park is not included in the package.
Entry ticket of Rs. 100 for bungee jump site and cost of videography of Rs. 900 is not included in the package and must be purchased at the location.
Keeping your safety first, if the weather is poor, the event may be delayed or postpone, and an alternative time slot will be suggested.
Participants deemed unfit for the activity may be prohibited from participating by the instructor. Since this decision will be made by the expert for your safety, we request your adherence. Kindly read our advisory in attachment to understand if you are fit to participate.
Kindly pay full attention to the briefing provided and follow all guidelines as recommended.
Please report 30 minutes before start time.
Activity is for ages 14-60 years.
Maximum weight allowed for the participant is 100 Kg.
Please carry your valid photo ID proof.
Extra fees of RS 20/- per head has to be paid at location as Rafting Management Organization GNR Entry fee
ID proof is mandatory for each individual guest at the time of booking, and also upon arrival. PAN card will not be considered as valid address proof.
Vendor details will be shared post booking. Please co-ordinate with vendor on reporting time & location.
Child above age 5 will be considered as an adult.
It is advisable not to carry valuables as the tents do not have a lock facility. Kindly carry lockable suitcases.
Smoking inside tents is not allowed
Any personal expenses or items of personal nature will not be included in the package. Any meals or transfers not mentioned in the itinerary are to be considered an exclusion in the deal.
Any kind of drink (alcoholic, aerated, or mineral water) is not included in the package cost.
Guidelines issued by the State Government are to be followed. Social distancing to be maintained. Frequent hand sanitization and use of mask recommended.
Any breakage or damage of any items in the resort will incur charges.
We will confirm your booking within 24 hours. 

 

In case of non-availability for the date, our team will get in touch with you to work out best possible dates. Kindly bear with us as this industry does not work with real-time inventory view from vendor partners.

 

If you wish to cancel before receiving a confirmation, you will receive 100% refund.

 
Full Refund-

If cancelled before 7 days of scheduled date.

 

No Refund-

If cancelled by within 7 days of scheduled date.

 
100% at the time of booking

 
The duration of this trip is 2 nights and 3 days.

The Duration of rafting depends on the variant chosen : – 09 km- 2.5 hrs |16 km- 3.5 hrs | 24km- 4.5 hrs | 35 km- 7 hrs

. 
Rafting in Rishikesh is a safe activity to try. Vendor adheres to industry standard safety protocols. We have licensed guides, good quality equipment. Every year hundreds of travellers and adventure junkies go for this experience.

 
The age limit for this activity is from 14 to 60 years.

 

Maximum weight allowed for the participant is 100 KG. 

 
Pregnant women and people with heart problems or severe health issues are not advised to try this experience.

 

Ensure you carefully listen to the briefing and adhere to all guidelines as recommended

 

Upon arrival, proof of identification is required. Note that PAN cards do not qualify as address proofs.

 

Foreign nationals must provide their passport and visa information at the time of arrival.

 

If an item is damaged or broken due to customer negligence, that item will be charged at its actual value.

 
Weather-related delays or postponements may result in the change of the event timing.

 

Please note that items that are damaged or broken due to the negligence of the participants will be charged for at actual cost.

 

It is a good idea to bring an extra set of clothes.

 
Yes, the age limit for rafting is for ages 14-60 years.

 

Maximum weight allowed for the participant is 100 Kg. However, there is no age limit for Camping. 

 
The starting point for this activity is

Mohanchatti

, Rishikesh. For exact location, kindly reach out to the tour operator

post

booking confirmation

 
The best time to go for this activity is around the year except for Monsoon season. 

 
Wear comfortable clothing

 

Shorts/ track pants/ casual clothes

 

Extra pair of clothes

 

Fitting sturdy boots

 
Sunscreen and sunburn lotions

 

Sunglasses – you may want to place them in your bags before stepping on the raft

 

Waterproof camera

 

Warm clothing depending on the month of visit

 
If your activity is cancelled for weather conditions, operational or regulatory reasons, you will receive FULL refund or you can reschedule your activity to an alternative date of your choice.

 
You may cancel the booking anytime ,100% refund will be processed if the booking is cancelled 7 Days before the trip

 

No refund if cancelled within 7 days of the scheduled trip.