River Rafting in Coorg
₹

1,099
Closed for the Season
Karnataka

Pumped Adventure
Couples/Group Adventure, Family Adventure, Solo Adventure
Timing - 07:00 AM to 04:00 PM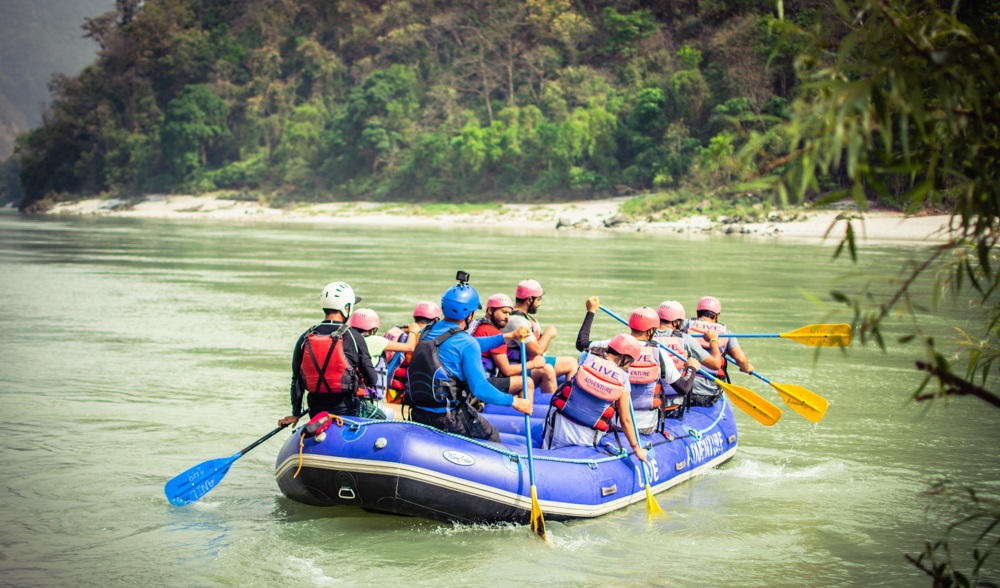 Overview
Get ready to experience all the thrill as you raft across gushing waters in the Coorg River. Coorg river rafting lets you explore the white waters and have your adrenaline pumped as you raft across curves and turns. This fun and challenging water activity works best for anyone looking for a family or individual adventure experience alike. 
If you're looking for an enthralling rafting experience in Coorg, the Barapole River rafting must be on your list. The Barapole River is turbulent and has 360 scenic surroundings- one of the unparalleled destinations for rafting. 
This water rafting in Coorg takes you through a thrill-filled route and gorgeous landscapes. Get your eyes peeled as you raft through the white waters while trying to push hard across the cascading water. Join AdventuRush to get access to Coorg river rafting price for a thrilling experience and some breathtaking views of the river.
Experience the thrill of launching the raft into the gushing white waters.
Enjoy a safe rafting experience as you will be accompanied by specialists who will brief you before embarking on a thrilling 4-kilometre rafting journey.
Escape into an exhilarating surge of excitement as your raft navigates down the river.
Get a 360-degree, panoramic view of the Barapole River flowing amidst majestic hills and plush greenery.
Get your adrenaline levels pumped as you raft through the river with a rapid, grade V-level flow.
Kickstart by reaching the start point at the Barapole River on time.

Attend the briefing session provided by the instructor to learn all the safety instructions.

Wear your safety gear and launch your raft into the river.

Dive into rafting as you paddle using the blades and cover an enthralling 4 km rafting ride.

Glimpse the gorgeous landscapes and breathtaking views as the water hits your face.

Reach the start point back and leave after indulging in a fun-filled adventure activity.
Certified guide
Essential equipment
Enjoy a thrilling 4 km river rafting adventure
All rafting gear
Internal transfers from end point to start point
For safety reasons, this activity is unsuitable for pregnant women, individuals who have recently undergone major surgery, those with broken limbs, chronic back or neck pain, etc.
The instructor reserves the right to reject participants deemed unfit for the activity.
The activity may be delayed or rescheduled in unfavorable weather conditions to the next available time slot.
Participants must carefully follow the guidelines provided by the instructor before and after the activity.
Children under ten years old are not permitted to participate in this activity.
Please report 30 minutes before start time.
It is not recommended to consuming heavy food or alcoholic beverages at least one hour before the activity.
Activity is for ages 10- 60 years. 
Maximum weight allowed for the participant is 90 Kg.
Adequate parking facilities are available at the rafting site.
Please carry your valid photo ID proof. (Not a PAN card )
It is mandatory for foreign nationals to provide their passport as well as visa information for booking and upon arrival.
Vendor details will be shared post booking. Please co-ordinate with vendor on reporting time & location.
Make sure to pack light.
It is advisable to wear sturdy boots to prevent frostbite and just a single pair of socks for maintaining blood circulation.
Try to opt for track pants instead of jeans for a comfortable ride.
It is recommended to carry an extra set of clothes.

Activity Point
Kodagu White Water Rafting
Kodagu White Water Rafting Theralu - Birunanai Rd, T. Shettigeri, Karnataka 571249
Directions

We will confirm your booking within 24 hours.

In case of non-availability for the date, our team will get in touch with you to work out the best possible dates. Kindly bear with us as this industry does not work with real-time inventory views from vendor partners.

If you wish to cancel before receiving a confirmation, you will receive a 100% refund.

Full Refund– If cancelled before 48 hours of the scheduled date.
No Refund– If cancelled within 48 hours of the scheduled date.
If participants are deemed unfit by the instructor or refuse to go through with the experience at the site, no refund will be applicable.
100% at the time of booking
Rescheduling is subject to availability.

Once the cancellation window ends, rescheduling cannot be done.

Each booking allows for a maximum of two rescheduling opportunities. After which, no further changes can be made to the booking.

Any price differences resulting from rescheduling, such as changes in seasonal rates or availability, will be applicable and will be communicated to the customer during the rescheduling process.

In the event that a customer requests a rescheduling but fails to attend the newly scheduled appointment, it will be considered a missed appointment, and our standard cancellation policy will apply
The months between June to September are considered the best for rafting in Coorg. Around this time, monsoon arrives, and the lakes and rivers are flooded with gushing water. You will surely enjoy a rafting session at this time and witness many excellent rapids.
The rafting distance is 4.5 km approx.
Yes. It is safe. The ideal time for river rafting in Coorg is between June and September, when the monsoon brings ample water to the lakes and rivers, creating exciting rapids

.
The age limit for this activity is from 10 to 60 years. 

 

The maximum weight allowed for the participant is 90 KG.  

 

Pregnant women and people with heart problems or severe health issues are not advised to try this experience. 

 

Ensure you carefully listen to the briefing and adhere to all guidelines as recommended 

 

Upon arrival, proof of identification is required. Note that PAN cards do not qualify as address proofs. 

 

Foreign nationals must provide their passport and visa information at the time of arrival. 

 
If an item is damaged or broken due to customer negligence, that item will be charged at its actual value. 

 

Weather-related delays or postponements may result in a change of the event timing. 

 

Please note that items that are damaged or broken due to the negligence of the participants will be charged at the actual cost. 

 

It is a good idea to bring an extra set of clothes. 

 
Yes, this activity is suitable for beginners as it is completely supervised by the certified instructors
The age limit for this activity is from 10 to 60 years
The maximum weight allowed for the participant is 90 Kg.
The starting point of this activity is – Barapole ( KKR) – near Tata Tea Estate, T.Shettiger.
Wear comfortable clothing
Shorts/ track pants/ casual clothes
Extra pair of clothes
Fitting sturdy boots
Sunscreen and sunburn lotions
Sunglasses – you may want to place them in your bags before stepping on the raft
Waterproof camera
Warm clothing depending on the month of the visit
If your flight is cancelled due to weather, operations, or regulations, you will receive a full refund or can reschedule for an alternative date (subject to availability).
You may cancel the booking anytime,100% refund will be processed if the booking is cancelled 48 Hrs before the trip.
No refund if cancelled within 48 Hrs of the scheduled trip.
Kickstart your adventure journey to begin water rafting in Coorg by reaching the Barapole River on time. The Barapole river rafting timings are always followed- so ensure to be on time. After arrival, attend the briefing session given by your instructor comprising details regarding the entire rafting process.
Brace yourselves as you launch the raft into the river and embark on the rafting journey. Start by putting on your safety gear appropriately. Buckle up get into your rafts and start paddling. 
Experience the thrill and fun as the cold water hits your face and you push through the flowing river. Take a moment to also soak your eyes in the unparalleled views and scenery. Cover a 4km distance (total duration- 45 minutes) rafting and reach the start point. Leave after experiencing a lifetime's thrill and excitement.