Flying Fox – Rishikesh
₹

2,949
Rishikesh

Gutsy Adventure
Couples/Group Adventure, Solo Adventure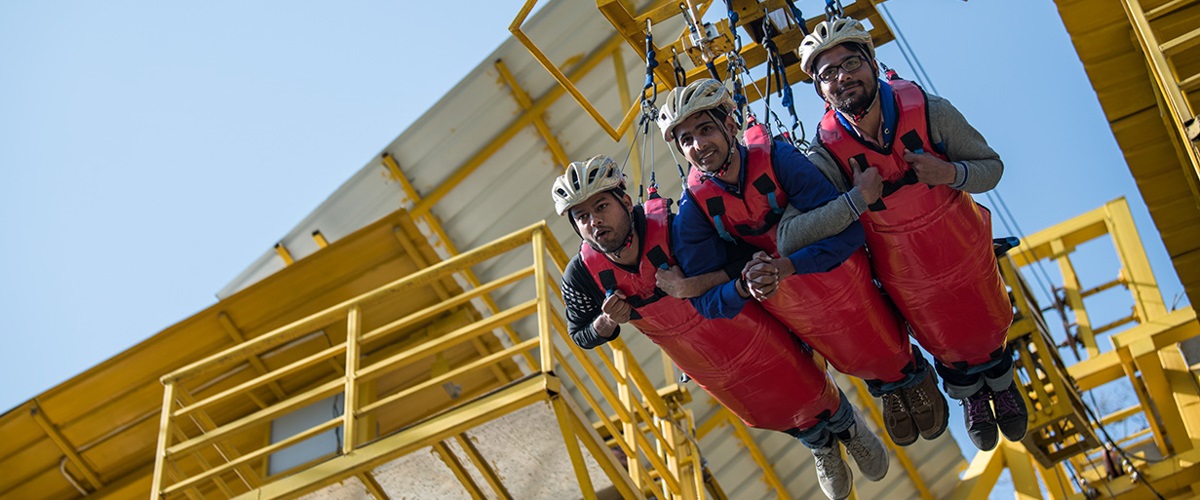 Overview
Flying Fox allows you the thrill of experiencing flying at a speed up to 160 kmph! After being harnessed & released by gravity, you roll down the wire to up to 7 meters above river level, then fly up, and then return at the lowest point. A retrieval mechanism pulls you back to the launch pad. You can ride with your buddies in tandem with up to 3 people, or you can choose to go Solo. Feel the cooling breeze while enjoying the picturesque and compositional land above the Ganges' brook. 
Witness the River Ganges while hovering at about 7 meters above
Accelerate at a speed of about 160 kmph
Enjoy the experience
Get ready for an exciting experience when you arrive at the location. Please coordinate your arrival time with our vendor partner, post booking.
Put on a harness with the help of an expert instructor.
Experience the exciting activity under the supervision of trained and skilled instructors in accordance with international safety standards.
After the experience, hike back up to the cafeteria area and claim your 'Dare to Jump Certificate'.
Flying Fox  experience
Safety equipment
Safety instructor
Activity is for age 12+ and weight requirements range between 40-130 kgs.
Entry ticket 100rs - the entry ticket is not included and must be purchased at the activity location.
The vendor partner adheres to safety standards set by Australia and New Zealand and is a government-approved entity.
Keeping your safety first, if the weather is poor, the event may be delayed or postpone, and an alternative slot will be suggested.
You may be prohibited from participating if you don't meet the fitness criteria. Since this decision will be made by the expert for your safety, we request your adherence. Kindly read our advisory in attachment to understand if you are fit to participate.
Kindly pay full attention to the briefing provided and follow all guidelines as recommended.
There is no photography or videography allowed on the premises of the activity. Vendor partner will provide you with photographs and videos of your experience at additional cost.
Kindly report 30 minutes before your time slot.
Please carry a valid Photo & address proof (PAN Card will not be considered as a valid id proof).
Vendor details will be shared post booking. Please co-ordinate with vendor on reporting time & location.
We will confirm your booking within 24  hours.

In case of non-availability for the date, our team will get in touch with you to work out best possible dates. Kindly bear with us as this industry does not work with real-time inventory view from vendor partners.

If you wish to cancel before receiving a confirmation, you will receive 100% refund.

Full Refund– If cancelled before 72 hours of scheduled date.
No Refund– If cancelled within 72 hours of scheduled date.
If participants are deemed unfit by instructor or refuse to go through with the experience at site, no refund will be applicable.
100% at the time of booking.
Rescheduling is subject to availability.

Once the cancellation window ends, rescheduling cannot be done.

Each booking allows for a maximum of two rescheduling opportunities. After which, no further changes can be made to the booking.

Any price differences resulting from rescheduling, such as changes in seasonal rates or availability, will be applicable and will be communicated to the customer during the rescheduling process.

In the event that a customer requests a rescheduling but fails to attend the newly scheduled appointment, it will be considered a missed appointment, and our standard cancellation policy will apply
 Duration of the Activity is 1.5 hours approximately. It includes briefing time, waiting time and Ticketing period.
The height of this activity is 83 meters. Which means you will be taking a jump of 83 meters.
 Yes, this activity is completely safe as you are strapped in completely with best quality equipment and every sling undergoes 3 safety checks before riding away. 
Please read the Notes and detailed advisory on the product page for more details.
The jump cannot be accomplished with specs, however, we attach the specs to you while you're jumping, so that they can be used after the jump. Contact lenses work just fine.
 Yes, this activity is suitable for beginners as it is completely supervised by the certified instructors.
Age limit – 12-45 Years 

Weight limit – 35 to 110 kg 
 The starting point for this activity is Jump Zone Village, Mohan Chatti, Rishikesh. 
Every jump is videotaped in HD quality and can be purchased at the site. No Personal Video or photography is permitted within the premises.
The ideal clothing for this activity is comfortable clothes. A trekking shoes or sports shoes are recommended after the jump as you will be hiking back to the top after the jump.
If your activity is cancelled for weather conditions, operational or regulatory reasons, you will receive FULL refund or you can reschedule your activity to an alternative date of your choice.
You may cancel the booking anytime ,100% refund will be processed if the booking is cancelled 72 Hrs before the trip 

No refund if cancelled within 72 Hrs of the scheduled trip.