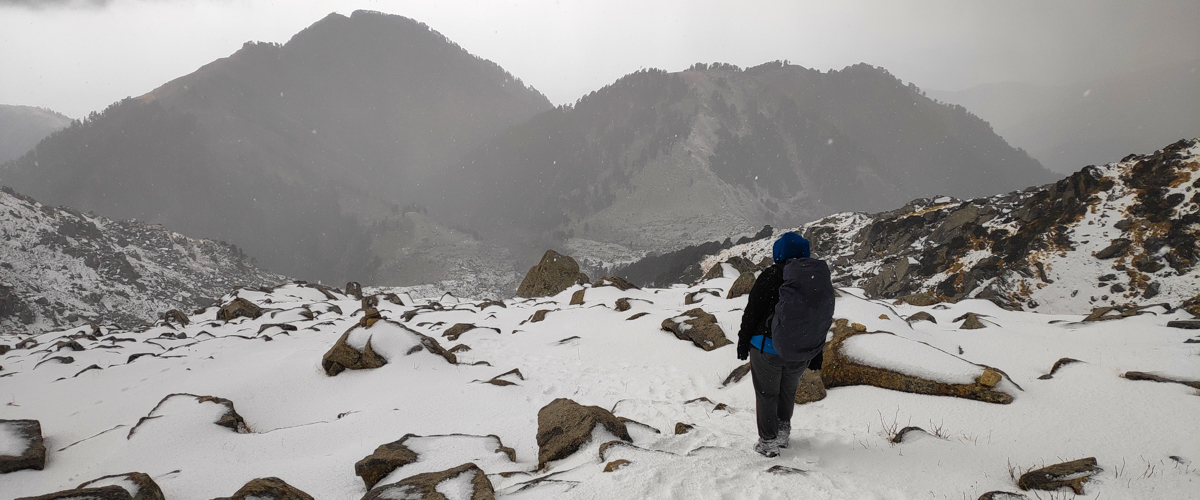 Overview
Embark on this 3-day trek to Lake Glacier and Triund which will enchant you with its unfiltered beauty and spectacular views. Known for its undulating and well-defined trails, this trek passes through scenic forests lined with oak and rhododendron and is beautifully enveloped in the mighty Dhauladhar ranges.
Experience the adventurous trek to Laka Glacier and soak in the view of beautiful snowcapped mountains.
Visit ancient Bhagsunag temple, known for its two pools that are believed to have healing properties.
Visit popular Shiva cafe.
Experience the panoramic views of Shivalik Hills and plains of Kangra Valley.
Enjoy the beautiful trail leading to Triund covered with rhododendron bushes and oak trees.
Watch the most beautiful sunrise as the sun splashes golden light on mountains.
Relax around a warm bonfire session with lovely music while you enjoy dinner and engaging conversations.
Meet up at the starting point in Bhagsu Nag at 10 AM IST. Bhagsu Nag is a small village, east of McLeod Ganj at 7,000 feet above sea level. This is the place from where the trek starts to Leta Village. Cross the local Tibetan market, the ancient  Bhagsu Nag temple to reach the majestic waterfall in Bhagsu Nag.
Stop at the Shiva Cafe for a quick bite and some rest and continue ahead. The trek offers some stunning views that will be etched in your minds forever. After 4 kms, reach the campsite, take your bags off and take in the freshness amidst nature. Trek a little further to get panoramic views of Shivalik Hills and plains of Kangra Valley.
Relax and get warm at the bonfire and enjoy a memorable dinner with some soothing music. Spend time under the unfiltered star studded sky.
Overnight stay in camps.
Start early for a 7 km long trek. The trail to Triund is beautiful with grassy patches. Take a break at the snowline to enjoy lunch and do some photography. Trek further to reach Laka Glacier, which offers a spectacular view. You will be enchanted by the view of lofty mountains covered in snow. spend time exploring around while soaking in the magic of nature. Trek down to the campsite, Overnight stay at Leta campsite.
Following breakfast, embark on a return trek to McLeod Ganj, cherishing the lasting memories created during your journey. Your adventure concludes upon reaching Bhagsunag waterfall, where the guide bids you farewell, allowing you to indulge in the serene surroundings. Take the opportunity to explore the Bhagsunag temple and the nearby Tibetan market at your leisure.
Accommodation
Veg Meals
Expert Instructor
Camping Equipment
All Permits & Fees
Medical Kits
This trip covers locations based on high altitude and not recommended for people with asthma or other breathing concerns.
This trek is not recommended for the children below 7 years.
Keeping your safety first, if the weather is poor, the event may be delayed or postpone, and an alternative time slot will be suggested.
Please carry an ID proof and passport size photo (PAN card will not be considered as a valid address proof).
Kindly read all sections in attachment to know more about the trip.
Kindly pay full attention to the briefing provided and follow all guidelines as recommended.
Trekking is to immerse oneself in nature, so please expect basic facilities.
Electricity may be available only at a few locations.
Package includes vegetarian meals only.
Vendor details will be shared post booking. Please co-ordinate with vendor on reporting time & location.

Starting Point
Bhagsu Nag Taxi Stand
68VM+C3Q, Bhagsu Nag,Dharamshala, Himachal Pradesh, Dharamshala, Himachal Pradesh 176216
Directions


End Point
Bhagsu Nag Waterfall
Temple, near Bhagsu Nag, Dharamshala, Himachal Pradesh 176215
Directions

We will confirm your booking within 24 hours.

In case of non-availability for the date, our team will get in touch with you to work out best possible dates. Kindly bear with us as this industry does not work with real-time inventory view from vendor partners.

If you wish to cancel before receiving a confirmation, you will receive 100% refund.



Full Refund-

If cancelled before 7 days.

No Refund-

If cancelled by customer less than 7 days.

If participants are unable to or refuse to go through with the experience at site, no refund will be applicable.
100% at the time of booking.
Rescheduling is subject to availability.

Once the cancellation window ends, rescheduling cannot be done.

Each booking allows for a maximum of two rescheduling opportunities. After which, no further changes can be made to the booking.

Any price differences resulting from rescheduling, such as changes in seasonal rates or availability, will be applicable and will be communicated to the customer during the rescheduling process.

In the event that a customer requests a rescheduling but fails to attend the newly scheduled appointment, it will be considered a missed appointment, and our standard cancellation policy will apply
The glacier is full of snow during the pre-monsoon season (March to June), but from July onwards, it begins to melt and recede, and during the post-monsoon season, there is no snow on the glacier and only the moraine is visible (the remnants of Glacier).
The starting point for this trek is Bhagsunag, Mcleodganj. The best way to reach Mcleodganj is Gaggal Airport or Kangra Airport at Dharamshala which is about 20 km away from McLeod Ganj and is well connected to Delhi, Kullu, and Chandigarh.

Several state-owned and private buses connect McLeod Ganj with other cities like Delhi, Chandigarh, and Dharamshala.

Pathankot Railway Station, situated approximately 90 km away, is the closest broad-gauge railhead serving those headed to McLeod Ganj.
The maximum altitude of the Laka glacier peak is almost 10600 feet which offers the majestic view of Dhauladhar ranges.
Please read the "What to carry" section on the product details page.
The trek is easy and is perfect for any beginner. The total trek distance is 26 kms which is easily manageable for any beginner. Although if you are not a physically active person, we suggest working out 3 times a week before taking on this adventure.
Morning jogs and running 15 days before the trip will help you during the trek.
The total trek distance is 26 kms and the time it will take you to complete the same is 4-5 hours a day.
Veg meals during the trek starting from Lunch on day one till Breakfast on day 03.
In case you are sick and not able to complete the trek, you will be sent down to the base camp depending on the circumstances. Kindly note that a refund or reschedule for the same is not applicable. Any extra expenses incurred during this transfer will be borne by the traveler.
Full Refund-

If cancelled before 7 days before scheduled departure.

No Refund-

If cancelled by customer less than 7 days before scheduled departure.

If participants are unable to or refuse to go through with the experience at site, no refund will be applicable. 
The payment policy is 100% at the time of booking.
Refunds are subjected to the cancellation policies. All refunds will be processed in 10 business days to the source account.
In case of extreme bad weather, government restriction or political disturbance, if any activity is cancelled, then the operator will suggest the best possible alternative. However, a cash refund is not applicable. In case of a change in itinerary due to weather, any additional expenses will be borne by the traveler.