River Rafting in Manali
Manali

Gutsy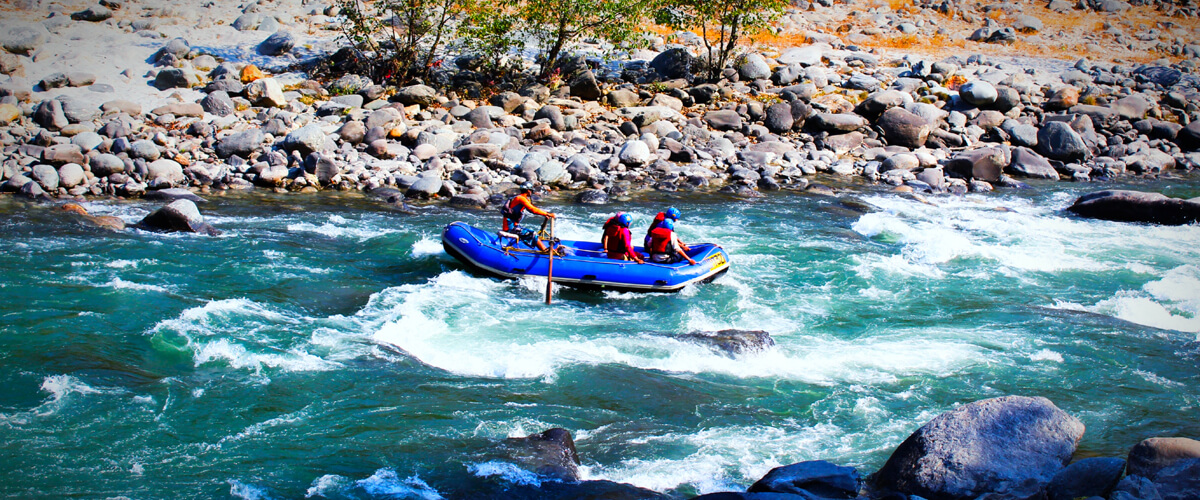 Overview
Kullu-Manali is known for its lush green forests and beautiful mountains. The glorious Beas river is the hub for adventure activities, river rafting being the most popular one. Prepare yourself for an unforgettable river rafting experience. With multiple rapids in the Himalayan waters, you can be sure that this would be an adventure of a lifetime. So, gear up and hold on tight to your oars.
Four grades of rapids to experience constant challenges
It is among the safest rafting adventures in India
Experience the picturesque mountain views and coniferous forests of the Beas river
Variant options on distance
Please arrive at the activity site 30 minutes prior to your scheduled slot
Highly trained instructors will brief you on the Dos, Don'ts and what to expect.
Before moving ahead to the big lines, a practice session is conducted
The duration of this Activity is 30-60 minutes depending on the selected variant.
Raft
Safety equipment
Transportation (Activity end point to starting point)
Instructor
Keeping your safety first, if the weather is poor, the event may be delayed or postpone, and an alternative time slot will be suggested.
Participants deemed unfit for the activity may be prohibited from participating by the instructor. Since this decision will be made by the expert for your safety, we request your adherence. Kindly read our advisory in attachment to understand if you are fit to participate.
Kindly pay full attention to the briefing provided and follow all guidelines as recommended.
Please report 30 minutes before start time.
Activity is for ages 16-45 years.
The maximum allowed weight limit is 90Kg
Please carry your valid photo ID proof. (Not a PAN card )
Vendor details will be shared post booking. Please co-ordinate with vendor on reporting time & location.
We will confirm your booking within 24 hours. 

In case of non-availability for the date, our team will get in touch with you to work out best possible dates. Kindly bear with us as this industry does not work with real-time inventory view from vendor partners.

If you wish to cancel before receiving a confirmation, you will receive 100% refund.
Full Refund– If cancelled before 48 hours of scheduled date.
No Refund– If cancelled within 48 hours of scheduled date.
If participants are deemed unfit by instructor or refuse to go through with the experience at site, no refund will be applicable.
100% at the time of booking
The duration of this Activity is 30-60 minutes depending on the selected variant. The operational hours of the activity are from 10:00 AM to 4:00 PM.
The rafting distance depends on the variant selected. There are two variants for this activity 7 Kms and 14 Kms respectively.
Rafting in Manali is a safe activity to try. Vendor adheres to industry standard safety protocols. We have licensed guides, good quality equipment. Every year hundreds of travellers and adventure junkies go for this experience.
The age limit for this activity is from 16 to 45 years.

Maximum weight allowed for the participant is 90 KG. 

Pregnant women and people with heart problems or severe health issues are not advised to try this experience.

Ensure you carefully listen to the briefing and adhere to all guidelines as recommended

Upon arrival, proof of identification is required. Note that PAN cards do not qualify as address proofs.

Foreign nationals must provide their passport and visa information at the time of arrival.

If an item is damaged or broken due to customer negligence, that item will be charged at its actual value.

Weather-related delays or postponements may result in the change of the event timing.

Please note that items that are damaged or broken due to the negligence of the participants will be charged for at actual cost.

It is a good idea to bring an extra set of clothes.
Yes, this activity is suitable for beginners as it is completely supervised by the certified instructors
The age limit for this activity is from 16 to 45 years 

Maximum weight allowed for the participant is 90 Kg. 
The starting point for this activity is Babeli – Kullu. The meeting point will be shared by the tour operator after the booking confirmation.
The best time to go for this activity is from April to June and during Mid-October to Mid- November.
Wear comfortable clothing
Shorts/ track pants/ casual clothes
Extra pair of clothes
Fitting sturdy boots
Sunscreen and sunburn lotions
Sunglasses – you may want to place them in your bags before stepping on the raft
Waterproof camera
Warm clothing depending on the month of visit
If your activity is cancelled for weather conditions, operational or regulatory reasons, you will receive FULL refund or you can reschedule your activity to an alternative date of your choice(subject to availability).
You may cancel the booking anytime ,100% refund will be processed if the booking is cancelled 48 Hrs before the trip.
No refund if cancelled within 48 Hrs of the scheduled trip.