%
7N/8D Spiti Valley – Backpacking Group Departures
₹

27,299
Closed for the Season
Manali, Spiti

Gutsy Adventure
Couples/Group Adventure, Family Adventure, Solo Adventure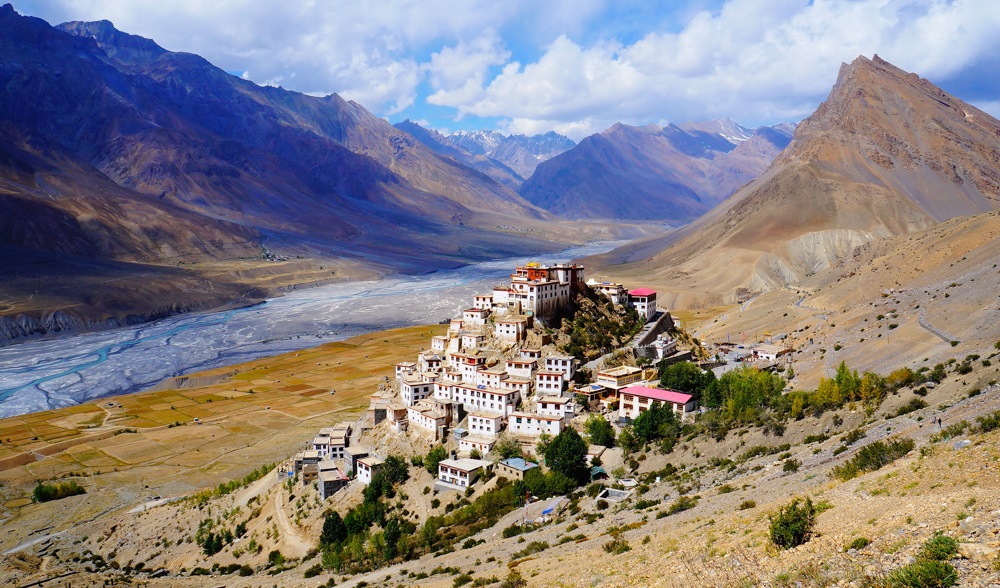 Overview
Pack a bag and set forth on a journey of a lifetime. Experience Spiti Valley in its full glory by driving past some stunning scenic landscapes such as Chail, Kufri, and Hatu Peaks en route. Enjoy mountains, lakes, cirques, and so much more. Drive to some local villages in Spiti Valley and experience the serenity that only nature can offer.
While driving towards Spiti, witness stunning views of Chail, Kufri, and Hatu Peak.
Drive to some beautiful scenic viewpoints at Kinnaur Valley
If you are a geography buff, the Khab-Confluence of the Satluj River and Spiti River is a sight to behold
Key Gompa Monastery, in its bowl-shaped form, is a great getaway for some spiritual time
Visit the beautiful crescent shaped Chandratal Lake
Once you reach Delhi, you will have to proceed towards your boarding point for the overnight bus from Delhi to Shimla.
After reaching Shimla, depart for one of the most beautiful views of Kinnaur Valley. The village is the last inhabited one, before the border between India and China. Stay and Dinner at Hotel/Homestay/Camps.
After breakfast head to Kalpa, which is just 60 km away, and reach Kalpa by afternoon. Overnight stay at Camp/Homestay.
Depart for Kaza after breakfast. Enroute Indo-Tibet highway. Also, on the itinerary is the Khab Confluence of the Satluj River and Spiti River. Afterwards, cross Nako and enter Spiti Valley right after crossing Sumdo. Stop at Nako Lake for lunch. Head to Kaza for dinner and an overnight stay.
After breakfast, continue your journey to see the breathtaking beauty of Kaza.
The small village of Langza
of Spiti Valley contains some of the most attractive tourist attractions such as Key Gompa Monastery which is nestled between mountains in a bowl-shaped formation. The village is
located at an astounding 14,500 ft above sea level. Moreover, it is the highest village in the world with a motorable road; Komic is the highest village with a motorable road. The village of Hikkim in Spiti District, near Kaza, is another beautiful location. Stay overnight at a hotel.
Our backpacking trip, then moves to the beautiful crescent-shaped Chandratal Lake, the next location on the map. This place will take your breath away.
This is a lake in the Spiti region of Lahaul and Spiti district that is also
known as "Moon Lake." On one side, it is surrounded by mountains and on the other by a cirque. After spending a good quality time on the lake, we will be starting our journey again towards Sissu which is at a distance of 40 km.
Get ready for the last day of the Spiti Valley backpacking Trip as soon as the dawn breaks. Following a hearty breakfast, drive along the iconic route of the Atal Tunnel and some of the most scenic villages in the Lahaul Valley.
This day marks the end of this adventure. While you may be leaving for home today, you won't be going alone.This trip will provide you with lots of fun memories which you will treasure for a long time.
As we are already delving deep into nostalgia, let's remember the days we stitched together to make memories. These memories are a promise to travel back to the marvellous Spiti again.
Volvo Tickets (Delhi to Shimla & Manali to Delhi)
Experienced Tour marshal
Accommodation
Breakfast & Dinner
First Aid Kit
Oxygen Cylinder
Permits
Bon Fire wherever possible (Depends on the weather condition)
This trip covers locations based on high altitude.
High altitude may lead to Acute Mountain Sickness due to lower oxygen pressure than usual. Some of the symptoms include headache, nausea and more.
Kindly read all sections in attachment to know more about the trip.
Kindly pay full attention to the briefing provided and follow all guidelines as recommended.

Starting Point
Shimla Bus Stand
35X2+79P, ISBT Parking Rd, Tutikandi, Shimla, Himachal Pradesh 171004
Directions


Ending Point
Manali Bus Stand
65VQ+MXW, Himachal Pradesh, kullu Manali market, Manali
Directions

Booking will be confirmed within 24 hours.
In case of non-availability for the date, our team will get in touch with you to work out the best possible dates. Kindly bear with us as this industry does not work with real-time inventory views from vendor partners.
If you wish to cancel before receiving a confirmation, you will receive a 100% refund.
Full Refund– If cancelled before 15 days of scheduled departure.
No Refund– If cancelled less than 15 days of scheduled departure.
If participants are unable to or refuse to go through with the experience at site, no refund will be applicable. In order to avoid inconvenience to other travelers, the expedition will continue in such case and participant will have to make their own arrangements, if they continue their stay.
100% at the time of booking
Rescheduling is subject to availability.

Once the cancellation window ends, rescheduling cannot be done.

Each booking allows for a maximum of two rescheduling opportunities. After which, no further changes can be made to the booking.

Any price differences resulting from rescheduling, such as changes in seasonal rates or availability, will be applicable and will be communicated to the customer during the rescheduling process.

In the event that a customer requests a rescheduling but fails to attend the newly scheduled appointment, it will be considered a missed appointment, and our standard cancellation policy will apply
Yes, there will be an experienced tour marshal during the entire trip.
Please read the product detail page carefully for things to carry for the trip.
Yes, there are age & weight restrictions for this trip. The age limit is 18 to 50. The weight limit is 50 to 100 Kg as long as there is no medical history or condition involved. Please consult your doctor before visiting the trip.
The accommodations will be provided in standard hotels/ guest houses and camps on a Single / Twin / Triple sharing basis of your selection.
Breakfast and dinner are included in the trip,  from Dinner on Day 02 to Breakfast on Day 07.
Every day you will be doing a ride of a minimum 5 to 6 hours and it may extend depending on the cumulative speed of the group and halts taken during the trip.
If you are going for this expedition from Jan to March, you may experience snow on the trail. In the summer, the snow melts completely and the weather is bright and sunny.
Below are the additional charges that may incur and are not included in the package cost:
Personal expenses
Any detours that you may take or places that you visit that are not a part of the itinerary.
Entry fees for any attractions.
For riders with their bikes, all the documents related to the vehicle are mandatory like insurance, RC, Driving license, valid ID, and address proof. For other riders, ID proof and a valid driving license are required.
The local permits required will be arranged by our vendor partner however a valid ID proof & address proof, the booking voucher along your declaration form are required.
Full Refund- If cancelled before 15 Days of scheduled departure
No Refund- If cancelled within 15 Days of scheduled departure
If participants are unable to or refuse to go through with the experience at site, no refund will be applicable.
In order to avoid inconvenience to the other travellers, the expedition will continue in such case and participant will have to make their own arrangements, if they continue their stay.
The payment policy is "100% at booking
In case of extreme bad weather, government restriction or political disturbance, if any activity is cancelled; then the operator will suggest the best possible alternative. However, a cash refund is not applicable. In case of a change in itinerary due to weather, any additional expenses must be borne by the traveller.
AMS or Acute Mountain Sickness is caused by quick exposure to low oxygen levels at high altitudes. Symptoms of AMS include nausea, fatigue, rapid heart rate and headache to name a few.
In case of any symptoms, please inform your tour marshal immediately, if there is any discomfort and oxygen levels drop, a Backup oxygen cylinder is provided as an immediate relief and the customer is taken to the nearest hospital and moved to a lower altitude region. Once the doctor certifies that you are fit to travel, you can resume the trip or you will be advised to travel back home.
Any changes in your schedule about airlines or transportation will result in a change in the entire itinerary. The operator will suggest the best alternative possible in this case. However, a refund for any missed inclusions will not be provided and any extra cost incurred to rearrange the itinerary will be borne by the traveller.
4- Passport size photographs
Photo & address identity proofs that are issued by the Government of India like Driving License, Passport, Voter ID. (PAN card will not be considered as a valid address proof)