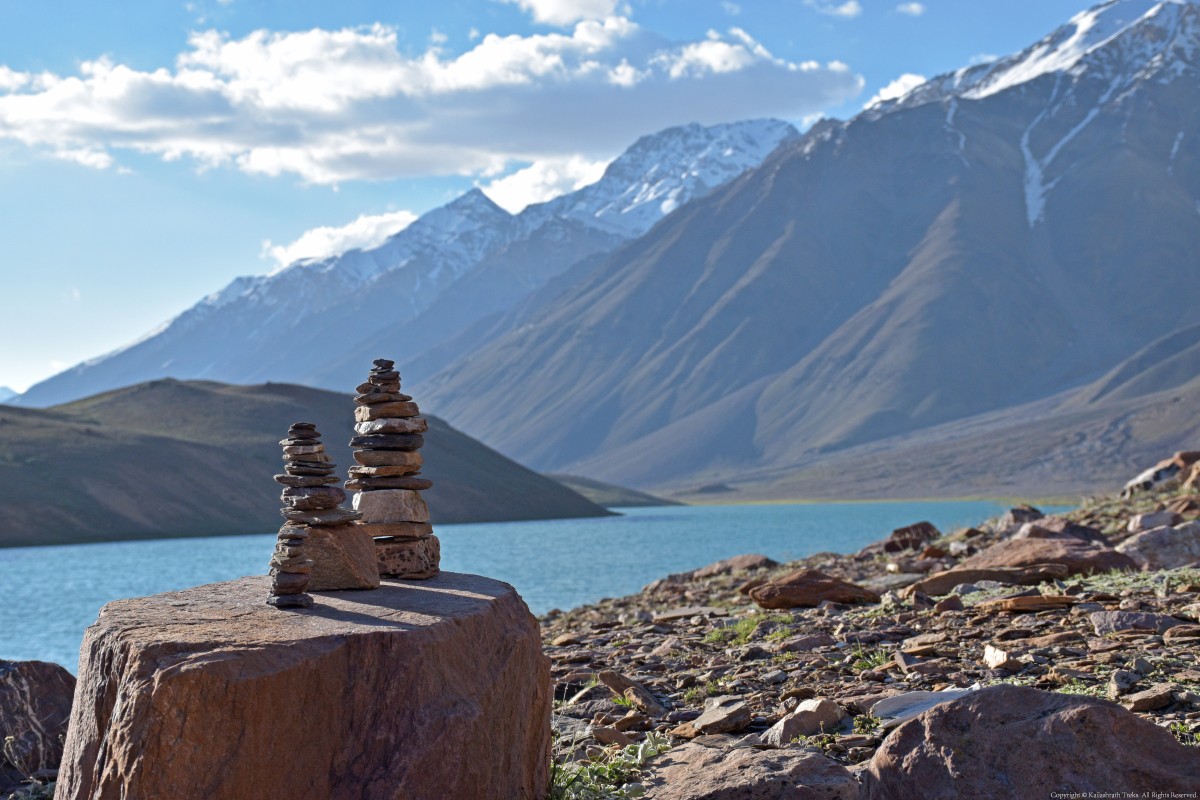 Overview
The Hampta Pass trek flaunts a striking contrast between barren mountains and lush greenery. An unparalleled embodiment of jagged patches and marvelous blooms is what awaits as you embark on your Hampta Pass trekking experience. 
With a bit of snow, rugged earthly terrains, a group of rock boulders, scenic meadows, and unpredictable trails – Hampta pass is a mix of pretty much everything in nature. Chandrataal, with its clear water, presents one of the most sublime views of a beautiful lake amidst the arid mountains of Spiti Valley. It is a trek that you want to revel in and take pictures of at the same time. And just when you scavenge the web to make a Hampta Pass Trek booking you find a perfect 4-night and 5 days long Hampta Pass trekking itinerary with AdventuRush. 
 From the majestic Rumsu village spanning the great Himalayas to the woods and valleys on every other resting spot – unleash your imagination on this thrilling trek to the famous Hampta. 
Enjoy a high-spirited trek to Hampta and challenge yourself to map the daunting altitudes.
Drive through the panoramic views of Manali.
Soak in a quiet time at Hampta away from the urban chaos.
Explore the unexplored sites midst small forests and streams.
Enjoy nutritious meals and a serene retreat close to the nature at campsite.
Spend the first day of your Hampta Pass trek package to familiarise yourself with the weather and ambience of Manali. The excitement begins as you board a bus to Patlikuhal junction from Delhi . You will find transportation that will take you to Rumsu village. This quaint village, clad with wooden houses and adorned by Himalayas, is the location from where you will follow the trail to the 

base camp.

Acquaint yourself with the mesmerising peaks and the change of wind after a registration process at base camp. Your

Hampta Pass trek package is about to unfold! So, grab your trekking bags, microspikes, trekking stick, and gaiters.

 
Unveil the first morning of your Hampta Pass package with a delicious breakfast and brace yourself. Your quest to map a beautiful path begins as you take off from Rumsu at 8 am. This smooth sailing 2-hour long drive to Hampta Dam will introduce you to the subtle beauty of the region.

Before reaching the campsite, you will cross a small forest patch followed by two wooden bridges. Chikka hosts an amalgamation of serene views where you will also find a beautiful waterfall adding more charm to your Hampta Pass night and day rendezvous.

 
After breakfast we will start the trek for Balu Ka Ghera. Trek duration is around 5 to 6 hours from Chikka to Balu ka Ghera, scaling to an altitude of 11,900 feet.

The initial part of the trek goes through the right bank of Hamta river crossing a few rock boulders. There is a water stream that needs to be crossed on the way followed by a 3 hours trek to Balu Ka Gera.
Today's trek starts early as we will try covering the maximum snow patch before sunrise. The trek route  from Balu Gehra towards Shia Ghoru is a moderate climb, scaling more than 14,000 feet. The trek duration is relatively long and starts by 5 am in the morning from Balu ka Gera. It takes around 4 to 5 hours to reach the top of the Hamta Pass. The aerial views of Spiti valley from Hamta Pass are quite breathtaking.
We will then descend from Hamta top towards Shia Ghoru. The descent is steep and at times when snow is abundant one can slide down to reach Shia Ghoru. Overnight stay at Shia Goru.
After breakfast we will start the trek to Chatru which takes around 3 hours. From Chatru we will drive in vehicles to the majestic Chandrataal lake.

The ride takes you to one of the most famous high altitude roads of India connecting Manali to Kaza. Chandrataal, with it's clear water presents one of the most sublime views of a beautiful lake amidst the arid mountains of Spiti valley.  Participants will get their deposited luggage at Chatru while they will return all the issued gear.

Overnight stay at Chatru.

 
After morning breakfast we will start the jeep ride to Manali via Atal Tunnel. We will be reaching by 1pm to Manali. While booking return bus tickets, book a volvo after 7 PM from Manali to keep some buffer time as there are chances of traffic while driving down towards Manali.
Accommodation
Camping Equipment
Personal Insurance
Rucksack
Safety Equipment
Safety Gears
First Aid Kit
Meals
Cook/ Support Staff
Trek Guidance and Support
This trip covers locations based on high altitude and not recommended for people with asthma or other breathing concerns.
The trek is not recommended for the people below the age of 18 years.
Keeping your safety first, if the weather is poor, the event may be delayed or postpone, and an alternative time slot will be suggested.
Please carry an ID proof and passport size photo.
Kindly read all sections in attachment to know more about the trip.
Kindly pay full attention to the briefing provided and follow all guidelines as recommended.
Trekking is to immerse oneself in nature, so please expect basic facilities.
Electricity may be available only at a few locations.
Package includes vegetarian meals only.
Vendor details will be shared post booking. Please co-ordinate with vendor on reporting time & location.

Starting Point
Rumsu Village
Rumsu Village, Kullu - Naggar - Manali Rd, Naggar, Himachal Pradesh 175130
Directions


Ending Point
Manali Bus Stand
Log Huts Rd, Manali, Himachal Pradesh 175131
Directions

We will confirm your booking within 24 hours.

In case of non-availability for the date, our team will get in touch with you to work out best possible dates. Kindly bear with us as this industry does not work with real-time inventory view from vendor partners.

 

If you wish to cancel before receiving a confirmation, you will receive 100% refund.

 
Full Refund-

If cancelled before 7 days of departure.

No Refund-

If cancelled by customer less than 7 days

of departure.

If participants are unable to or refuse to go through with the experience at site, no refund will be applicable.
100% at the time of booking.
Rescheduling is subject to availability.

Once the cancellation window ends, rescheduling cannot be done.

Each booking allows for a maximum of two rescheduling opportunities. After which, no further changes can be made to the booking.

Any price differences resulting from rescheduling, such as changes in seasonal rates or availability, will be applicable and will be communicated to the customer during the rescheduling process.

In the event that a customer requests a rescheduling but fails to attend the newly scheduled appointment, it will be considered a missed appointment, and our standard cancellation policy will apply
The best time to go for

Hampta

Pass Trek is June to October. This trek is one of the most popular treks in Himachal. It allows you to experience the lush green scenery of

Kullu

on one side and arid, barren lands of

Lahaul

on the other side. During the winter season, the summit offers a snow-white view of

Spiti

Valley with patches of rough, rocky terrains. The trail leads through the narrow valley with lush green landscapes on the side.  

 
The starting point for this trek is Rumsu village. You can reach Rumsu village by air or road. To reach Rumsu village  by air, you can take a flight to Bhuntar airport which is nearest from  Rumsu village.  To reach by road, you can take a cab or a bus from Delhi/ Chandigarh to Patlikuhal.

 
The maximum altitude

of this trek is

14,100

ft.

 
Please read the "What to carry" section on the product details page.

 
The difficulty level for this trek is

Easy to

moderate. The highest altitude is

14,100

ft

. The total distance is

35

kms. If you are someone who does not work out regularly, it is advisable to start working out at least a month before the trek to avoid any discomfort.

If you

are able to

Jog

5

kms in

30

minutes, your stamina is good to go. You can prepare yourself by running and doing cardio exercises. 

 
All Veg & Jain meals from Breakfast  on day 1st to Breakfast on day 5th.
This is a Easy to Moderate trek,

Morning jogs and running 15 days before the trip will be helpful during the trek.

 

To gain stamina, you can try Cardio and running along with stretching every day to strengthen your muscles and work on your flexibility.

 
The total trek distance is 35 kms and the time it will take you to complete the same is 6-7  hours a day.

 
In

case you are sick and not able to complete the trek, you will be sent down to the base camp depending on the circumstances. Kindly note that a refund or reschedule for the same is not applicable. Any extra expenses incurred during this transfer will be borne by the

traveler.
Full Refund-

If cancelled before 7 days of  scheduled departure.

 

No Refund-

If cancelled by the customer in less than 7 days of scheduled departure.

If participants are unable to or refuse to go through with the experience at site, no refund will be applicable.
The payment policy is 100% at the time of

booking.

 
Refunds are subjected to the cancellation

policies .

All refunds will be processed in 10 business days to the source account.

 
In case of extreme bad weather, government restriction or political disturbance, if any activity is cancelled; then the operator will suggest the best possible alternative. However, a cash refund is not applicable. In case of a change in itinerary due to weather, any additional expenses will be borne by the traveler.