%
7N/8D Zanskar Valley – Backpacking Group Departures
Closed for the Season
Manali

Gutsy Adventure
Couples/Group Adventure, Family Adventure, Solo Adventure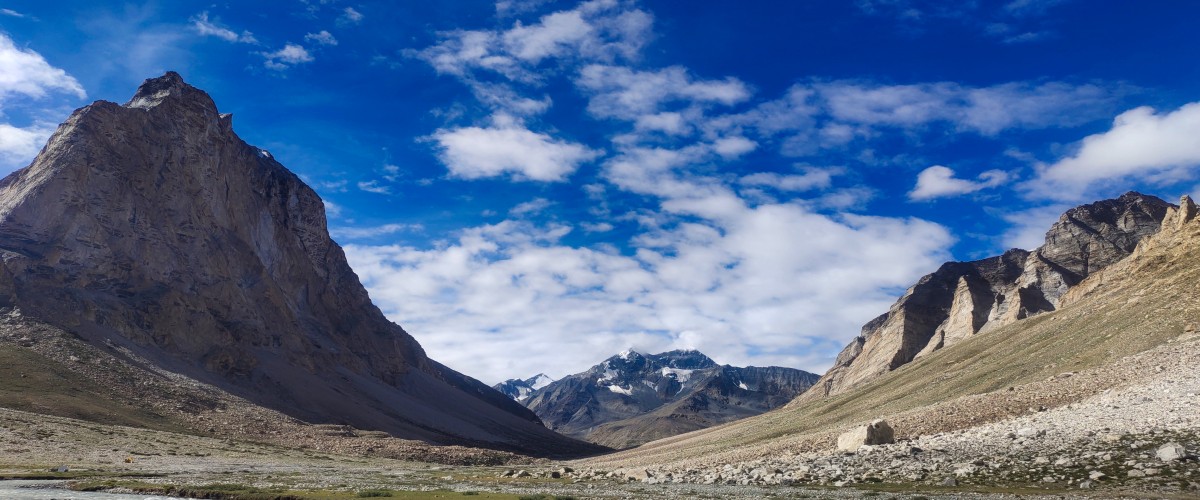 Overview
Zanskar is where scenic landscape views blend effortlessly with ancient culture. Nestled amidst the mighty Himalayas, Zanskar evokes the adventure junkies yearning for an experience to remember. When you venture from Manali to Zanskar, you trace treacherous mountain passes and majestic valleys through whispering winds. And while this sounds like a thrill not to miss, it is also a journey to exploring the discreetly beautiful culture of Zanskar.
Lace up your boots! This Zanskar itinerary by AdventuRush is your gateway to the most incredible palette of colours, the one by nature itself. The remote region invites both nature and adventure enthusiasts to a heavenly escapade and is definitely not you'd want to miss.
Explore the popular town of Manali and the neighbouring sights.
Drive to some beautiful scenic viewpoints at Lahaul Valley
Steal glimpses of ravishingly beautiful mountain peaks and the uproar of Jogini Falls.
Walk through the finest culmination of cultural and natural beauty in Padum.
Savour tasteful meals, lost in the embrace of hills and mist.
It's the first day of your Zanskar Itinerary, which kicks in when you board a Volvo bus that takes you to Manali, a popular, spectacular hill station in Himachal Pradesh. Sleep tight while you traverse the night in a comfortable bus ride before starting an action-packed Delhi to Zanskar trip!
'Hello, Manali!', says your heart as it captures the gorgeous sights surrounding the bustle of the town. Indulge in a scrumptious dinner at the hotel before marking explorations. Move on to trek through Jogini Falls, a magnificent waterfall near Manali that soars into the white-gold waters mixed with a powerful sound of falls. Explore the hush-hush of forests while the secretive and bumpy trails guide you to breathtaking views of the mountains. After venturing through and about the wilds, take some time to relax and rejuvenate at the waterfall. Wind the second day of your Delhi to Zanskar itinerary with a delectable hill-station-kind-of dinner.
As the day of an exciting Zanskar Padum trip arrives, make sure to fuel your body with a healthy breakfast. After check-out from the hotel in Manali, start your journey to Purne, a remote village located in the Zanskar region. When travelling, you will get the views of stunning landscapes, snow-capped peaks, and sublime valleys to behold.  After arrival in Purne, check-in to your accommodation, rest and freshen up. The evening will unfold to the explorations of local surroundings where you will learn a lot about the culture of the Himalayan village. Cuddle up to an overnight stay in Purne, embraced by nature's splendour.
Rise and shine! You have explored quite a zest of Delhi to Zanskar trip and there's a lot more that's yet to uncover. So, here comes your Purne to Padum adventure, which begins with a savoury breakfast. On the way to traversing Zanskar Padum, the tranquility of nature will be embracing you with towering mountains, and pristine landscapes. Upon arrival in Padum and check into your hotel and relax for some time. Spend the afternoon of your Purne to Padum trip exploring the local market and culture and splurge on some antique handicrafts or souvenirs, if you may. Call it a night after a cosy dinner at the stay.
This day of your Delhi to Zanskar trip is all about tapping the cultural spectrum of the village. Get ready as today you are to visit the ancient monasteries, their breathtaking architecture, and unbelievably serene ambiance. Spend the day delving into the spiritual resemblance of the place, while breathing nature's best works as they surround the sound of prayers. Enjoy an overnight rest in Padum.
Post breakfast, bid adieu to Padum and kickstart the new day of your Zanskar itinerary that goes straight to Jispa, a scenic village in the Lahaul Valley. On your drive to the destination, capture striking views at every turn. The village is decked up with the awe-inspiring landscapes of Ladakh, majestic mountains, shimmery rivers, and grand expanses of the high-altitude region.
Upon your arrival in Jispa, check into your accommodation and have some rest in the lap of this quaint mountain village.
Relish in a healthy yet delicious breakfast before you check out from the hotel in Jispa. The journey begins as you trace your way back to Manali through the sleek, mesmerising views of Lahaul, which transition into something even more heavenly with time. Board the overnight Volvo bus from Zanskar to Delhi, with feel-good memories in your heart.
The world indeed feels different upon a chit-chat with nature. After saying goodbye to what truly was Bon Voyage, you return to Delhi.
Volvo Tickets (Delhi to Shimla & Manali to Delhi)
Experienced Tour marshal
Accommodation
Breakfast & Dinner
First Aid Kit
Oxygen Cylinder
Permits
Bon Fire wherever possible (Depends on the weather condition)
This trip covers locations based on high altitude.
High altitude may lead to Acute Mountain Sickness due to lower oxygen pressure than usual. Some of the symptoms include headache, nausea and more.
Kindly read all sections in attachment to know more about the trip.
Kindly pay full attention to the briefing provided and follow all guidelines as recommended.

Starting Point
Manali Bus Stand
65VQ+MXW, Himachal Pradesh, kullu Manali market, Manali
Directions


Ending Point
Manali Bus Stand
65VQ+MXW, Himachal Pradesh, kullu Manali market, Manali
Directions

Booking will be confirmed within 24 hours.
In case of non-availability for the date, our team will get in touch with you to work out the best possible dates. Kindly bear with us as this industry does not work with real-time inventory views from vendor partners.
If you wish to cancel before receiving a confirmation, you will receive a 100% refund.
Full Refund– If cancelled before 15 days of scheduled departure
No Refund– If cancelled less than 15 days after the scheduled departure.
If participants are unable to or refuse to go through with the experience at the site, no refund will be applicable. To avoid inconvenience to other travellers, the expedition will continue in such cases and participants will have to make their arrangements if they continue their stay.
100% at the time of booking.
Rescheduling is subject to availability.

Once the cancellation window ends, rescheduling cannot be done.

Each booking allows for a maximum of two rescheduling opportunities. After which, no further changes can be made to the booking.

Any price differences resulting from rescheduling, such as changes in seasonal rates or availability, will be applicable and will be communicated to the customer during the rescheduling process.

In the event that a customer requests a rescheduling but fails to attend the newly scheduled appointment, it will be considered a missed appointment, and our standard cancellation policy will apply
Yes, there will be an experienced tour marshal during the entire trip.
Please read the product detail page carefully for things to carry for the trip.
Yes, there are age & weight restrictions for this trip. The age limit is 18 to 50. The weight limit is 50 to 100 Kg as long as there is no medical history or condition involved. Please consult your doctor before visiting the trip.
The accommodations will be provided in standard hotels/ guest houses and camps on Single/twin/ triple sharing basis of your selection.
Breakfast and dinner are included in the trip,  from Dinner on Day 02 to Breakfast on Day 07.
Every day you will be doing a ride of minimum 5 to 6 hours and it may extend depending on the cumulative speed of the group and halts taken during the trip.
If you are going for this expedition during the month of Jan to March, you may experience snow on the trail. In the summer, the snow melts completely and the weather is bright and sunny.
Below are the additional charges that may incur and are not included in the package cost:
Personal expenses
Any detours that you may take or places that you visit that are not a part of the itinerary.
Entry fees for any attractions.
For riders with their bikes, all the documents related to the vehicle are mandatory like insurance, an RC Driving license a valid ID, and address proof. For other riders, ID proof and a valid driving license are required.
The local permits required will be arranged by our vendor partner however a valid ID proof & address proof, the booking voucher along your declaration form are required.
Full Refund- If cancelled before 15 Days of scheduled departure
No Refund- If cancelled within 15 Days of scheduled departure
If participants are unable to or refuse to go through with the experience at the site, no refund will be applicable.
To avoid inconvenience to the other travellers, the expedition will continue in such cases and participants will have to make their arrangements if they continue their stay.
The payment policy is "100% at booking.
In case of extreme bad weather, government restriction or political disturbance, if any activity is cancelled; then the operator will suggest the best possible alternative. However, a cash refund is not applicable. In case of a change in itinerary due to weather, any additional expenses must be borne by the traveller.
AMS or Acute Mountain Sickness is caused by quick exposure to low oxygen levels at high altitudes. Symptoms of AMS include nausea, fatigue, rapid heart rate and headache to name a few.
In case of any symptoms, please inform your tour marshal immediately, if there is any discomfort and oxygen levels drop, a Backup oxygen cylinder is provided as an immediate relief and the customer is taken to the nearest hospital and moved to a lower altitude region. Once the doctor certifies that you are fit to travel, you can resume the trip or you will be advised to travel back home.
Any changes in your schedule about airlines or transportation will result in a change in the entire itinerary. The operator will suggest the best alternative possible in this case. However, a refund for any missed inclusions will not be provided and any extra cost incurred to rearrange the itinerary will be borne by the traveller.
4- Passport size photographs
Photo & address identity proofs that are issued by the Government of India like Driving License, Passport, Voter ID. (PAN card will not be considered as a valid address proof)