Paragliding in Kamshet
₹

3,699

Gutsy Adventure
Couples/Group Adventure, Solo Adventure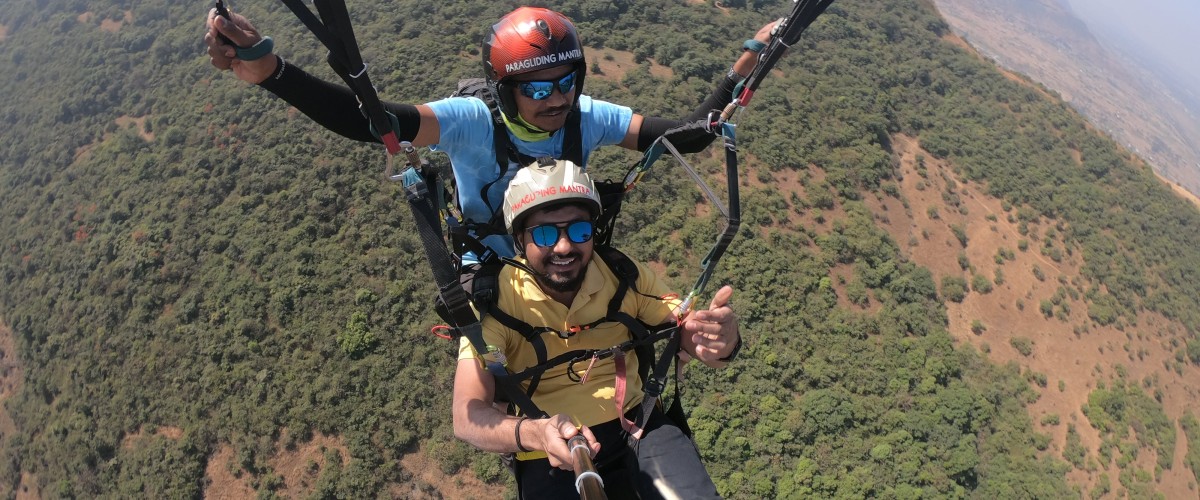 Overview
Kamshet, a tiny village situated in Pune, is home to an endearing natural grandeur. Nestled amidst the exalted hills of the western ghats, the place proffers its visitors the most peaceful environment to adore. Moreover, it is known for some amazing fun activities like Paragliding. 
Paragliding in Kamshet allures both beginners and veterans. It is for all adventure seekers who are willing to tame the blue skies and fly around a stellar location. 

Get ready to witness the finest views of nature from a height and capture the most picturesque beauties at Kamshet. Kamshet Paragliding Booking with AdventuRush offers three different types of Paragliding, i.e. Basic Tandem fly, Instructional Tandem fly, and Acro Tandem fly, giving you a chance to make a choice. So, choose your type and treat your eyes to the scenic views of shimmery lakes and crystal clear sky at Kamshet.
Fly above the panoramic township of Kamshet, surrounded by awe-inspiring mountains and quaint terrains.
Experience an adrenaline rush as you take off to the clear sky.
Record the bird's eye views and capture the exhilarating moments to relish for a lifetime.
Arrive at the activity location as per the time allotted to you. Also, it is better to be at least 15-20 minutes before the activity starts.
Pay attention to the quick briefing session conducted by trained experts before Paragliding Kamshet Pune. Equip yourself with all the Paragliding essentials, and you are all set to fly. 
Take your flight to the clear skies and enjoy the beautiful landscapes surrounded by lofty peaks from the sky. Capture the best shots to relish for a lifetime.
The best locations for Kamshet Paragliding booking depend on the different seasons. In summer, it is from the Pawna Lake site, which is at 350 feet and will take you much higher after the flight. During winters, you will take off from Tower Hill(800-900 feet) (works from October till February), which is also one of the most renowned flying sites in India.
Safety Equipment
Trained Instructor
Paragliding gear
Tandem Joy rides
Instructional Tandem ride
Special Acro Tandem Ride
While the gliding time is 15-20 minutes, the entire experience can last for an hour.
Keeping your safety first, if the weather is poor, the event may be delayed or postpone, and an alternative time slot will be suggested.
Participants deemed unfit for the activity may be prohibited from participating by the instructor. Since this decision will be made by the expert for your safety, we request your adherence. Kindly read our advisory in attachment to understand if you are fit to participate.
Kindly pay full attention to the briefing provided and follow all guidelines as recommended.
Please report 30 minutes before start time.
Activity is for ages 6 yrs and above.
Upon arrival, proof of identification is required (Not PAN card)
Vendor details will be shared post booking. Please co-ordinate with vendor on reporting time & location.

Activity Point
Hotel Rangoli, Kamshet
old Pune-Mumbai highway(NH4)
Directions


Ending Point
Hotel Rangoli, Kamshet
old Pune-Mumbai highway(NH4)
Directions

We will confirm your booking within 24 hours.

In case of non-availability for the date, our team will get in touch with you to work out best possible dates. Kindly bear with us as this industry does not work with real-time inventory view from vendor partners.

If you wish to cancel before receiving a confirmation, you will receive 100% refund.

Full Refund– If cancelled before 48 hours of scheduled date.
No Refund– If cancelled within 48 hours of scheduled date.
If participants are deemed unfit by instructor or refuse to go through with the experience at site, no refund will be applicable.
100% at the time of booking.
Rescheduling is subject to availability.

Once the cancellation window ends, rescheduling cannot be done.

Each booking allows for a maximum of two rescheduling opportunities. After which, no further changes can be made to the booking.

Any price differences resulting from rescheduling, such as changes in seasonal rates or availability, will be applicable and will be communicated to the customer during the rescheduling process.

In the event that a customer requests a rescheduling but fails to attend the newly scheduled appointment, it will be considered a missed appointment, and our standard cancellation policy will apply
The duration of the Activity is about 10-15 minutes, depending on the wind speed. The activity starts at 08:00 AM. Slot time will be confirmed one day prior to your activity. 
Yes, this activity is absolutely safe. All the safety measures are thoroughly followed, and the equipment used for this activity are from one of the world's most reputed manufacturers. Along with it, the instructor /Pilot for this activity is licensed Pilot with several years of experience.
Please refer the Notes and Advisory section on the product page carefully.
Paragliding in Kamshet is absolutely safe as it is handled by a well-qualified and experienced team. Moreover, AdventuRush will assist you with all the required modern safety gear. The professional instructors will guide you during the entire activity and ensure a smooth experience. The 10-15-minute training session will give you a sneak peek into the sport and guide you about the safety instructions you need to follow. 
The Age limit for this activity is 16 to 45 years.
Maximum weight allowed for the participant is 90 KGs.
The pick-up location is Hotel Rangoli for winters, i.e. from October to February, and Pawna Lake for summers, i.e. from March to May.  
October to May is an ideal time to try the parasailing sport in Kamshet. During this time, the average wind speed is around 20 km per hour which facilitates smooth flying. October is the onset of the winter season here which continues till February.
The months between March and May are summer months in Kamshet when the temperature is on the higher side. Monsoon season is the most unfavorable time for Kamshet paragliding, as the adverse weather might act as a hindrance to your adventure ride.
Wear comfortable clothing as the activity is air borne.
Wear comfortable & well-fitting shoes.
Hair bands/clip to tie long hair.
If your flight is cancelled for weather conditions, operational or regulatory reasons, you will receive FULL refund or you can reschedule your flight to an alternative date of your choice.
You may cancel the booking anytime ,100% refund will be processed if the booking is cancelled 48 Hrs before the trip
No refund if cancelled within 48 Hrs of the scheduled trip.