Off roading with ATV – Jaipur
Jaipur

Pumped Adventure
Couples/Group Adventure, Family Adventure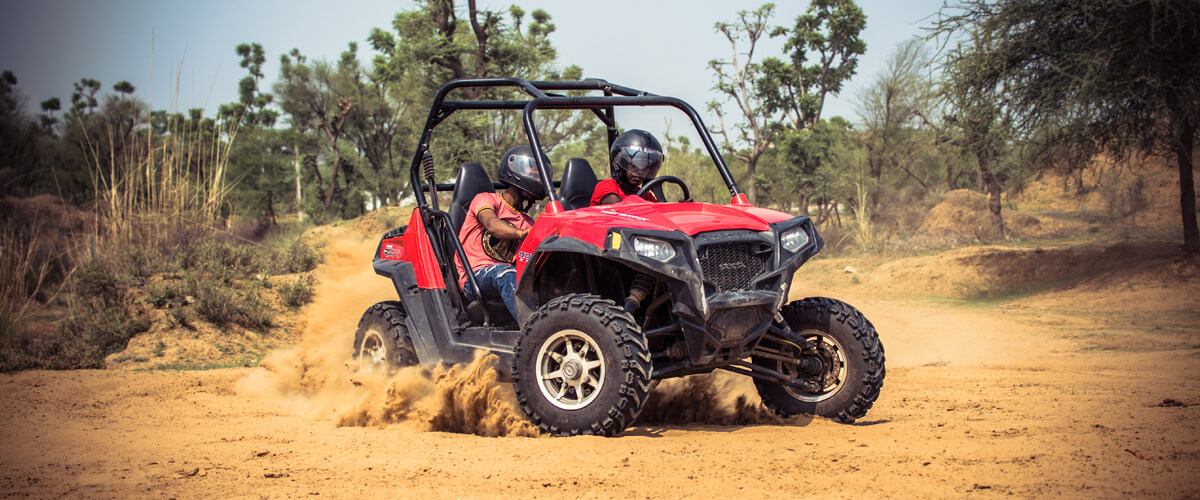 Overview
There is no better way to enjoy the power of handling a vehicle, than by driving it over treacherous, rough terrains.
A perfect experience for vehicle enthusiasts, who enjoy pushing the limits of their driving skills or those bored of their everyday commute in traffic.
Get the full feel of an ATV over the 4km circuit with its gruelling but exciting courses.
Experience Jaipur Achrol's most extensive ATV tour.
A 4km terrain that can be customized for longer drives
Top of the line bikes available for a thrilling time
Drive through deserts, across the trails, and up the mountains
Enjoy honing your driving skills on top-notch, well-maintained ATVs
Arrival : Arrive at the location.
Briefing : An expert instructor will brief you during this session.
Safety Gear : Put on your safety gear to ensure a seamless experience.
Board your ATV : Opt to drive your own ATV or choose to join up with a professional driver so you can sit back and enjoy the ride
Equipment
Safety gear
Expert guidance
Snacks
Duration - 25 to 30 minutes
Off-road vehicles are modified golf carts that are powered by a turbocharged motor and have a cage around the passengers. Take a ride on a 2-seater ATV or accompany a professional driver, as per your choice.
Sturdy shoes with closed toes are mandatory
Drivers have to be 16 years of age or older with a valid photo ID to drive
The participant's parent or guardian must sign a consent waiver if he or she is under 18 years of age
A parent or guardian must accompany children 12 to 15 years of age
Participants deemed unfit for the activity may be prohibited from participating by the instructor. Since this decision will be made by the expert for your safety, we request your adherence. Kindly read our advisory in attachment to understand if you are fit to participate.
Kindly pay full attention to the briefing provided and follow all guidelines as recommended.
Vendor details will be shared post booking. Please co-ordinate with vendor on reporting time & location.
We will confirm your booking within 24 hours.

In case of non-availability for the date, our team will get in touch with you to work out best possible dates. Kindly bear with us as this industry does not work with real-time inventory view from vendor partners.

If you wish to cancel before receiving a confirmation, you will receive 100% refund.
Full Refund- If cancelled before 48 hours of scheduled date.
No Refund- If cancelled within 48 hours of scheduled date.
If participants are deemed unfit by instructor or refuse to go through with the experience at site, no refund will be applicable.
100% at the time of booking
Rescheduling is subject to availability.

Once the cancellation window ends, rescheduling cannot be done.

Each booking allows for a maximum of two rescheduling opportunities. After which, no further changes can be made to the booking.

Any price differences resulting from rescheduling, such as changes in seasonal rates or availability, will be applicable and will be communicated to the customer during the rescheduling process.

In the event that a customer requests a rescheduling but fails to attend the newly scheduled appointment, it will be considered a missed appointment, and our standard cancellation policy will apply
The duration of the Activity is 25-30 Mins approx. . (Depends on the driving speed)
Yes, this activity is safe. Off-roading is an adventure sport and is safe if conducted properly. This is an off-roading track and hence During this activity you will be provided a brief training course and you have to follow a trained marshal along the track
Minimum Age Is 16 Years To Drive With Valid Photo ID For Proof Of Age

Drivers Licenses Are Not Required

Children 12 To 15 Years Must Be Accompanied By An Adult

Participants Under 18 Years Must Have A Parent Or Guardian Sign A Consent Waiver

Max Capacity of Weight is 110Kg Per Person.
 Yes, this activity is suitable for beginners as it is completely supervised by the trained instructors.
Minimum Age Is 16 Years To Drive With Valid Photo ID For Proof Of Age

Children 12 To 15 Years Must Be Accompanied By An Adult

Max Capacity of Weight is 110Kg Per Person.
The starting point for this activity is Achrol on Jaipur – Delhi highway
The best time for this activity is around the year. You can visit here any time.
Wear comfortable clothing and close toed shoes.
If your activity is cancelled for weather conditions, operational or regulatory reasons, you will receive FULL refund or you can reschedule your activity to an alternative date of your choice(subject to availability).
You may cancel the booking anytime ,100% refund will be processed if the booking is cancelled 48 Hrs before the trip.

No refund if cancelled within 48 Hrs of the scheduled trip.