7N/8D Friendship Peak Expedition
₹

27,599
Closed for the Season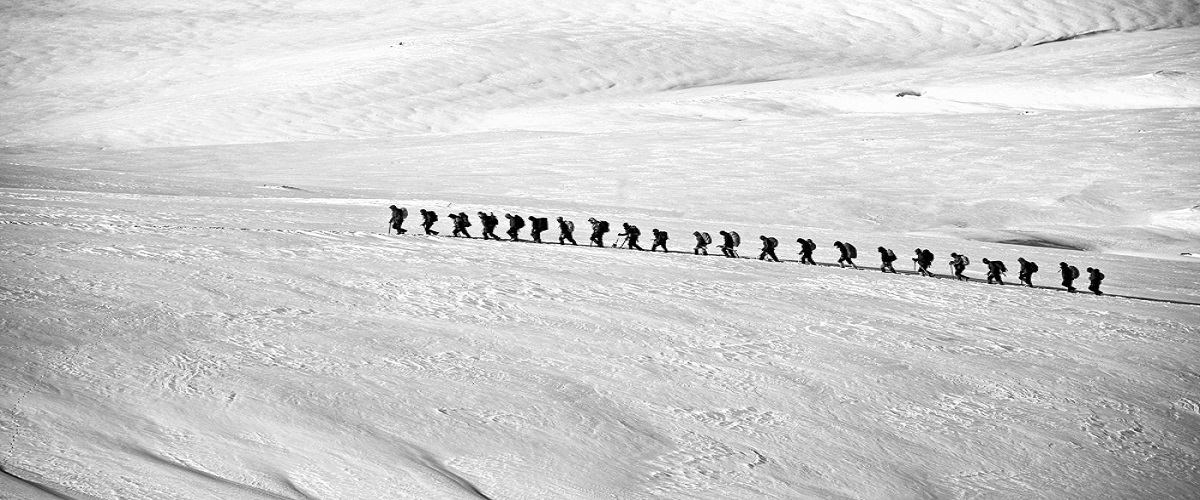 Overview
Behold the wondrous Friendship Peak, a majestic geological formation that towers over the surrounding landscape with awe-inspiring grandeur. The jagged peaks and rugged terrain of the Friendship Peak in Manali beckon the intrepid adventurer, to embark upon a journey of exploration and discovery. What hidden wonders and breathtaking vistas await those brave enough to ascend the lofty Friendship Peak summit! Indeed, a journey to Mount Friendship Peak is a journey into the very heart of nature itself, a testament to the enduring power and beauty of our world.
With its soaring heights and challenging terrain, Friendship Peak Manali beckons those seeking to push themselves to their limits. As one stares at its awe-inspiring beauty, one cannot help but feel a sense of reverence and respect for this magnificent natural wonder. Embark on a journey of a lifetime as we conquer the mighty Friendship Peak together!
The adventure remains thrilling the entire time as we negotiate huge snow rocks, changeable weather, and challenging slopes.
Every season at the summit has its own challenges, which results in unique sights and an entirely unique experience.
You find yourself wandering more and farther away from the noise of the city as you ascend from wide-open expanses to a variety of howling winds and calming bird chirps.
At the Rumsu base, everyone must complete the registration process. After lunch, take a walk to Naya Tapru Enroute Chandrakhani to acclimatize yourselves to the terrain, which will be followed by a briefing, orientation. Return to the campsite later for dinner, and spend a peaceful night in Rumsu base camp before beginning your adventurous expedition the following morning.
After a delicious breakfast, drive to Solang Valley- the starting point of the trek. Upon arrival, all participants must start trekking from Dhundi, the last motorable location in Beas valley. Enjoy the jovial Beas River, and the constant chatter of the stream alongside you at 3150 m from Dhundi to Lohali.
The hike is an odd mixture of bustling townships, small stores, scenic beauty, and quiet, lonely expanses. The appealing sight of inhabitants going about their daily lives and the odd stone-built homes gives us a small look into the social construct of mountain life. From Solang to Lohali, this lovely journey is relatively simple and lasts about four to five hours. Enjoy the taste of adventure with camping at Lohali for the night.
The trek to Lady Leg from Lohali involves a steep climb across the ridge and takes around 3 hours. Lady Leg presents a grand view of the Friendship peak. Overnight stay at Lady Leg.
Let's start the day with a short trek to Beas Kund. The route to the lake is easy and takes around 3 hours to visit and get back to Lady Leg.
All participants will walk to the advanced base camp for acclimatization after a delicious breakfast while wearing Koflach shoes. It takes around two hours to walk from Lady leg to Advance base camp; Advance base camp is a two hours trek from Lady Leg and lies just below the snout. We will descend back to Lady leg for an overnight stay.
As the sun's first light graces the mountain tops, we commence the exhilarating Day 5 of our expedition: a trek towards the resplendent Advance Base Camp (ABC) whilst acquainting ourselves with the art of cramponing. This challenging yet rewarding endeavor will provide an unparalleled opportunity to experience the majesty of nature and the remarkable prowess of human perseverance.
As we ascend, our skilled instructors will impart the art of cramponing, ensuring absolute safety and mastery over the icy terrain. Enjoy camping overnight at ABC, and savor the starry sky as you fall asleep to the light mountain breeze and chill.
As the sun rises on Friendship Peak, we shall embark on an unparalleled and extraordinary journey certain to enchant and delight even the most discerning of adventurers. The summit walk starts at 3 AM and takes around 6 to 7 hours to reach the Friendship Peak summit.
Our meticulously crafted itinerary infuses opulence and refinement into each and every moment, rendering this expedition an unforgettable, once-in-a-lifetime experience. Traversing the arresting vistas of this mountainous terrain, we will be greeted by an eclectic tapestry of captivating flora and fauna native only to these seraphic alpine locales.
The descent starts at 10 AM, and one reaches Lady Leg in another 4 to 5 hours. Upon reaching Lady Leg, enjoy an evening of fun, frolic and relaxation, gearing up for Day 7 of the trek.
The descent will begin from Lady Leg to Solang Valley today, the final day of the expedition. At Solang Valley, if you wish, you can enjoy paragliding through the beautiful scenary of Solang. Once everyone has arrived in Solang, we all ride in a vehicle to the Rumsu base camp for the night.
After a series of breathtaking vistas and exhilarating encounters, molding our journey into an unforgettable tapestry of memories, we depart from Rumsu base camp for Manali after a hearty breakfast, bidding a final adieu to the beautiful landscape, the people and the whole experience.
Accommodation
Camping Equipment
Personal Insurance
Rucksack
First Aid Kit
Meals
Cook/ Support Staff
Trek Guidance and Support
This trip covers locations based on high altitude and not recommended for people with asthma or other breathing concerns.
This trek is not recommended for people below the age of 18 years.
Keeping your safety first, if the weather is poor, the event may be delayed or postpone, and an alternative time slot will be suggested.
Please carry an ID proof and passport size photo (PAN card will not be considered as a valid address proof).
Kindly read all sections in attachment to know more about the trip.
Kindly pay full attention to the briefing provided and follow all guidelines as recommended.
Trekking is to immerse oneself in nature, so please expect basic facilities.
Electricity may be available only at a few locations.
Package includes vegetarian meals only.
Vendor details will be shared post booking. Please co-ordinate with vendor on reporting time & location.

Starting Point
Rumsu Village
Rumsu Village, Kullu - Naggar - Manali Rd, Naggar, Himachal Pradesh 175130
Directions


Ending Point
Rumsu Village
Rumsu Village, Kullu - Naggar - Manali Rd, Naggar, Himachal Pradesh 175130
Directions

We will confirm your booking within 24 hours.

In case of non-availability for the date, our team will get in touch with you to work out best possible dates. Kindly bear with us as this industry does not work with real-time inventory view from vendor partners.

 

If you wish to cancel before receiving a confirmation, you will receive 100% refund.

 
Full Refund-

If cancelled before 7 days.

 

No Refund-

If cancelled by customer within 7 days.

If participants are unable to or refuse to go through with the experience at site, no refund will be applicable.
100% at the time of booking.

 
Rescheduling is subject to availability.

Once the cancellation window ends, rescheduling cannot be done.

Each booking allows for a maximum of two rescheduling opportunities. After which, no further changes can be made to the booking.

Any price differences resulting from rescheduling, such as changes in seasonal rates or availability, will be applicable and will be communicated to the customer during the rescheduling process.

In the event that a customer requests a rescheduling but fails to attend the newly scheduled appointment, it will be considered a missed appointment, and our standard cancellation policy will apply
The best time to go for Friendship peak trek is during the months of June – July and Sept- October. At this time, the weather is really pleasant and stable. The skies are clear and there is no sudden rainfall or snowfall which makes it easy for the trekkers.
The starting point for this trek is Manali. You can take a direct Bus to Manali from Delhi or Chandigarh. You can also take a flight to Bhuntar and then a cab till Manali.
The highest altitude for this trek is 17346 ft at the summit.
Please read the "What to carry" section on the product details page.

 
The difficulty level of the trek is moderate to difficult and requires physical strength.
The participants must have basic or advanced mountaineering or trekking courses. If you have previous experience of trekking at an altitude of 18000 ft then you can book this trek.
This is a Moderate to Difficult trek, Morning jogs and running 30 days before the trip will be helpful during the trek.
To gain stamina, you can try Cardio and running along with stretching every day to strengthen your muscles and work on your flexibility. Since it is a physically endearing trek, strength training will also help along with HIIT workouts.
The total trek distance is 24 kms. Each day, you will be covering trekking for 4-5 hours approximately.
In

case you are sick and not able to complete the trek, you will be sent down to the base camp depending on the circumstances. Kindly note that a refund or reschedule for the same is not applicable. Any extra expenses incurred during this transfer will be borne by the

traveler.
Full Refund-

If cancelled before 7 days before scheduled departure.

 

No Refund-

If cancelled by customer in  less than 7 days before scheduled departure.

If participants are unable to or refuse to go through with the experience at site, no refund will be applicable.
The payment policy is 100% at the time of

booking.

 
Refunds are subjected to the cancellation

policies .

All refunds will be processed in 10 business days to the source account.

 
In case of extreme bad weather, government restriction or political disturbance, if any activity is cancelled; then the operator will suggest the best possible alternative. However, a cash refund is not applicable. In case of a change in itinerary due to weather, any additional expenses will be borne by the traveler.