2N/3D Bhrigu Lake Trek
₹

4,999
Manali

Pumped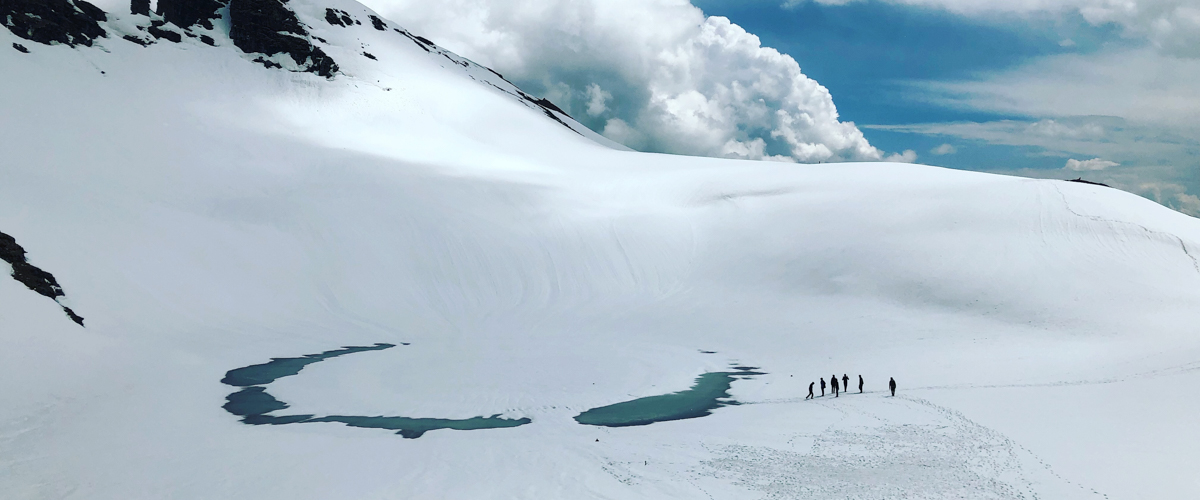 Overview
Experience an immediate gratification of witnessing an endless carpet of beautiful grassland just 10 minutes into the trek. Typically, such a landscape is witnessed after a tough ascent of 2 days in India and hence this trek offers stunning views comparable to those in Switzerland, with very little effort!  
Witness the bountiful nature of Bhrigu Lake in this 3-day trek. It is believed that the famous saint Maharishi Bhrigu sat in deep meditation in Bhrigu. With stunning meadows, high-altitude alpine lakes, and snowcapped peaks, this trek is packed with adventure and promises of a great experience.  
Soak in the serene view of Solang Valley from the beautiful campsite
Admire the scenic beauty as you enjoy a relaxed lunch at Bhrigu Lake, a high-altitude glacial lake with beautiful views of the snow-capped peaks
Enjoy the trek from Kulang Village to the campsite and enjoy varied landscapes
Upon meeting the representative at Manali, drive to Kulang village. Start your trek from here to reach the campsite. The ascent to the base camp is moderate and will take 3 to 4 hours. You will cross two captivating streams on your way. Upon reaching the base camp, enjoy and experience the beautiful views of the Solang Valley. 
Overnight stay in tents at the campsite. 
Enjoy a sumptuous breakfast and start your trek to the lake. Enjoy the packed lunch by the lake while admiring the awe-inspiring beauty of the surroundings. After a relaxed lunch, start your descent to the campsite. Upon reaching, relax amidst nature. 
Dinner and overnight stay in camp. 
After breakfast, check out of the camps and start the easy descending trek to Kulang village.  
A vehicle from the village will take you back to Manali where this amazing experience culminates. 
Professional Guide
Accommodation
Camping equipment
Safety equipment
Safety gears
Transportation from Manali to Base camp
Utensils
First Aid Kit
Meals
Cook/ Support staff
This trip covers locations based on high altitude and not recommended for people with asthma or other breathing concerns
Age limit 18+
Keeping your safety first, if the weather is poor, the event may be delayed or postpone, and an alternative time slot will be suggested
Please carry an ID proof and passport size photo (PAN card will not be considered as a valid address proof)
Kindly read all sections in attachment to know more about the trip
Kindly pay full attention to the briefing provided and follow all guidelines as recommended
Trekking is to immerse oneself in nature, so please expect basic facilities
Electricity may be available only at a few locations
Package includes vegetarian meals only
Vendor details will be shared post booking. Please co-ordinate with vendor on reporting time & location.

Starting Point
Manali Bus stand
Log Huts Rd, Manali, Himachal Pradesh 175131
Directions


Ending Point
Manali Bus stand
Log Huts Rd, Manali, Himachal Pradesh 175131
Directions

We will confirm your booking within 24 hours.

In case of non-availability for the date, our team will get in touch with you to work out best possible dates. Kindly bear with us as this industry does not work with real-time inventory view from vendor partners.

 
If you wish to cancel before receiving a confirmation, you will receive 100% refund.

 
Full Refund-

If cancelled before 7 days of scheduled date. 

No Refund-

If cancelled within 7 days

of scheduled date.
If participants are unable to or refuse to go through with the experience at site, no refund will be applicable.
100% at the time of booking.
The best time to go for Bhirgu Lake Trek is June to November.     
The starting point for this trek is Manali. You can reach Manali by air, road or rail. To reach Manali by air, you can take a flight to Bhuntar airport which is nearest from Manali.  To reach by road, you can take a cab or a bus from Delhi/ Chandigarh to Manali. 
The maximum altitude

of this trek is 14,100 Ft.

 
Please read the "What to carry" section on the product details page.  
The difficulty level for this trek is Easy to moderate. The highest altitude is 14,100 Ft. The total distance is 20 kms. If you are someone who does not work out regularly, it is advisable to start working out at least a month before the trek to avoid any discomfort. If you are able to Jog 5 kms in 30 minutes, your stamina is good to go. You can prepare yourself by running and doing cardio exercises.  
All veg meals from day 1 evening snacks to day 3 breakfast.
This is a Easy to Moderate trek ,

Morning jogs and running 15 days before the trip will be helpful during the trek.

 

To gain stamina, you can try Cardio and running along with stretching every day to strengthen your muscles and work on your flexibility.

 
The total trek distance is 20 Kms and the time it will take you to complete the same is 6-7  hours a day.

 
In case you are sick and not able to complete the trek, you will be sent down to the base camp depending on the circumstances. Kindly note that a refund or reschedule for the same is not applicable. Any extra expenses incurred during this transfer will be borne by the traveler.
Full Refund-

If cancelled before 7 days before scheduled departure.

No Refund-

If cancelled by customer less than 7 days before scheduled departure.

 
If participants are unable to or refuse to go through with the experience at site, no refund will be applicable. 
The payment policy is 100% at the time of booking.
Refunds are subjected to the cancellation policies . All refunds will be processed in 10 business days to the source account. 
In case of extreme bad weather, government restriction or political disturbance, if any activity is cancelled; then the operator will suggest the best possible alternative. However, a cash refund is not applicable. In case of a change in itinerary due to weather, any additional expenses will be borne by the traveler.