2N/3D Bhrigu Lake Trek
₹

4,799
Currently Unavailable
Manali

Pumped Adventure
Couples/Group Adventure, Family Adventure, Solo Adventure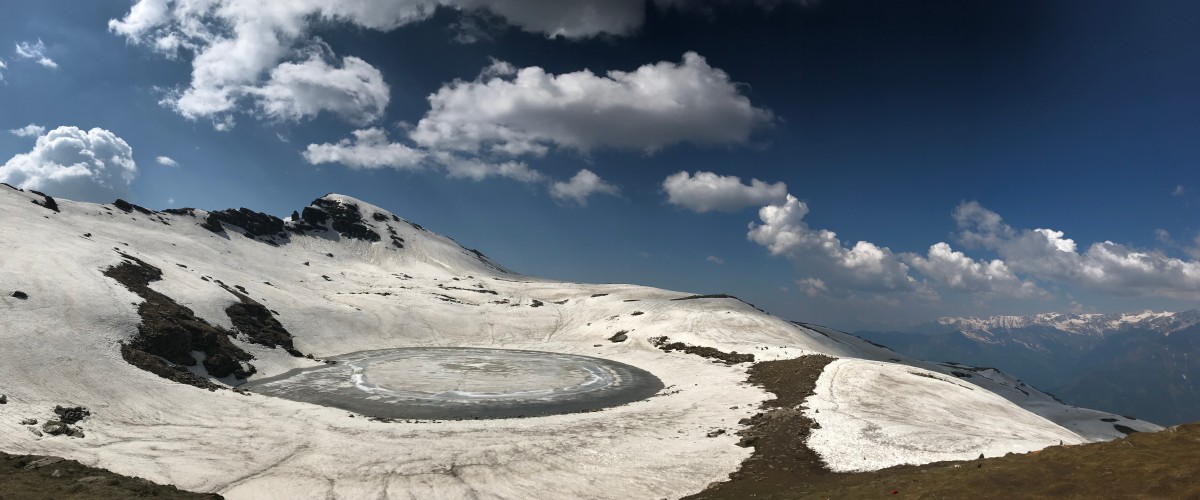 Overview
Bhrigu Lake is a mystical alpine wonderland nestled in the Kullu district of Himachal Pradesh, India. With an elevation of 14,100 feet above sea level, this high-altitude lake is named after the legendary sage Bhrigu, who is said to have meditated by its shores in ancient times. For nature lovers and adventure seekers, the Bhrigu Lake trek is an absolute treat, offering an unforgettable experience of thrill and natural beauty.
This trek is a feast for the senses, with breathtaking views of snow-capped mountains, verdant meadows, and the glistening waters of the lake. The trek starts from Roli Kholi and takes approximately 7-8 hours to complete, depending on one's pace. The path is surrounded by stunning scenery, providing a glimpse into the traditional lifestyle of the local people. The Kullu valley, adorned with apple orchards, pine forests, and rolling hills, adds to the trek's charm.
Embarking on the Bhrigu Lake Trek takes you through a terrain of diverse landscapes, including steep ascents, flat plateaus, and rocky trails. However, the highlight of this trek is undoubtedly the immaculate Bhrigu Lake. Locals consider it sacred, and it's easy to see why. The pristine waters of the lake reflect the surrounding mountain range, creating a breathtaking vista. A visit to this lake is a spiritual experience that will stay with you long after you leave.
Behold the awe-inspiring vistas of the majestic snow-crowned peaks such as Hanuman Tibba, Seven Sisters, and Deo Tibba.
Encounter the enchanting spectacle of the Bhrigu Lake as it transforms its hues at a lofty altitude.
Pitch your tent amidst the verdant meadows of the Himalayas and immerse yourself in the natural splendor.
Trek through the picturesque villages of Gulaba and Rola Kholi, where you can savor the authentic culture and lifestyle of the locals.
Traverse the snow-laden terrain, which will add an extra thrill and fervor to your expedition.
Embark on an exciting adventure on day one, starting with a picturesque drive from Manali to Gulaba. After a quick briefing and orientation at the old Manali campsite, we'll set off on a trek to our first base camp at Roli Kholi. The three to four-hour trek will offer stunning views and fresh mountain air.

Once we reach Roli Kholi, we'll be treated to a delicious dinner and cozy tents to rest for the night. This is just the beginning of an unforgettable experience.
Get ready for a thrilling adventure on Day 2 as we trek to Bhrigu Lake from Roli Kholi. This 7-8 hour trek will take us to the high plateaus above the Kullu valley, offering breathtaking views along the way.

Our day will begin early with a delicious breakfast, followed by an exciting trek towards Bhrigu Lake that will take approximately 3 hours. We will have a packed lunch by the pristine lakeside and be sure to keep the area clean as it holds great spiritual significance.

After lunch, we will make our way to the Moridogu campsite to unwind for the rest of the day before trekking back to the Roli Kholi base camp for an overnight stay.
Get ready for a refreshing trek back to Gulaba and then depart for Manali. After a scrumptious breakfast, we'll begin our descent towards Kulang. The trek is relatively easy as it involves a moderate descent and will take us approximately 3-4 hours to reach Kulang. From there, we'll head to the old Manali campsite for a relaxing ride.

Don't miss out on this amazing opportunity to soak in the scenic beauty of the region and create unforgettable memories.
Professional Guide
Accommodation
Camping and Trekking Equipment
Transportation from Manali to Manali
First Aid Kit
Meals (Veg) - Including from packed lunch on the 1st Day to breakfast on the 3rd Day
Cook/ Support Staff
This trip covers locations based on high altitude and not recommended for people with asthma or other breathing concerns.
The trek is not recommended for people below the age of 18 years.
Keeping your safety first, if the weather is poor, the event may be delayed or postpone, and an alternative time slot will be suggested.
Please carry an ID proof and passport size photo (PAN card will not be considered as a valid address proof).
Kindly read all sections in attachment to know more about the trip.
Kindly pay full attention to the briefing provided and follow all guidelines as recommended.
Trekking is to immerse oneself in nature, so please expect basic facilities.
Electricity may be available only at a few locations.
Package includes vegetarian meals only.
Vendor details will be shared post booking. Please co-ordinate with vendor on reporting time & location.

Starting Point
Manali
Riverside Camps & Hostels, Old Manali, Manali, Himachal Pradesh 175131, India
Directions


Ending Point
Manali Bus Stand
Log Huts Rd, Manali, Himachal Pradesh 175131
Directions

We will confirm your booking within 24 hours.

In case of non-availability for the date, our team will get in touch with you to work out best possible dates. Kindly bear with us as this industry does not work with real-time inventory view from vendor partners.

 

If you wish to cancel before receiving a confirmation, you will receive 100% refund.

 
Full Refund-

If cancelled before 7 days of scheduled date. 

No Refund-

If cancelled within 7 days

of scheduled date.

If participants are unable to or refuse to go through with the experience at site, no refund will be applicable.
100% at the time of booking.
Rescheduling is subject to availability.

Once the cancellation window ends, rescheduling cannot be done.

Each booking allows for a maximum of two rescheduling opportunities. After which, no further changes can be made to the booking.

Any price differences resulting from rescheduling, such as changes in seasonal rates or availability, will be applicable and will be communicated to the customer during the rescheduling process.

In the event that a customer requests a rescheduling but fails to attend the newly scheduled appointment, it will be considered a missed appointment, and our standard cancellation policy will apply
The best time to go for Bhirgu

Lake Trek is

June to November.

  

 

 

 
The starting point for this trek is Manali. You can reach Manali by air, road or rail. To reach Manali by air, you can take a flight to

Bhuntar

airport which is

nearest from

Manali.  To reach by road, you can take a cab or a bus from Delhi/ Chandigarh to Manali.

 
 

The maximum altitude

of this trek is 14,100 ft.

 
Please read the "What to carry" section on the product details page.

 
The difficulty level for this trek is

Easy to

moderate. The highest altitude is

14,100 Ft

. The total distance is

20

kms. If you are someone who does not work out regularly, it is advisable to start working out at least a month before the trek to avoid any discomfort.

If you are able to Jog

5

kms in

30

minutes, your stamina is good to go. You can prepare yourself by running and doing cardio exercises. 

 
All veg meals from day 1 evening snacks to day 3 breakfast.
This is a Easy to Moderate trek,

Morning jogs and running 15 days before the trip will be helpful during the trek.

 

To gain stamina, you can try Cardio and running along with stretching every day to strengthen your muscles and work on your flexibility.

 
The total trek distance is 25 Kms and the time it will take you to complete the same is 6-7 hours a day.

 
In

case you are sick and not able to complete the trek, you will be sent down to the base camp depending on the circumstances. Kindly note that a refund or reschedule for the same is not applicable.

Any extra expenses incurred during this transfer will be borne by the

traveler.
Full Refund-

If cancelled before 7 days before scheduled departure.

No Refund-

If cancelled by customer less than 7 days before scheduled departure.

 

If participants are unable to or refuse to go through with the experience at site, no refund will be applicable. 
The payment policy is 100% at the time of

booking.
Refunds are subjected to the cancellation

policies .

All refunds will be processed in 10 business days to the source account.

 
In case of extreme bad weather, government restriction or political disturbance, if any activity is cancelled; then the operator will suggest the best possible alternative. However, a cash refund is not applicable. In case of a change in itinerary due to weather, any additional expenses will be borne by the traveler.