1N/2D Jim Corbett Wildlife Safari
Nainital

Pumped Adventure
Couples/Group Adventure, Family Adventure, Solo Adventure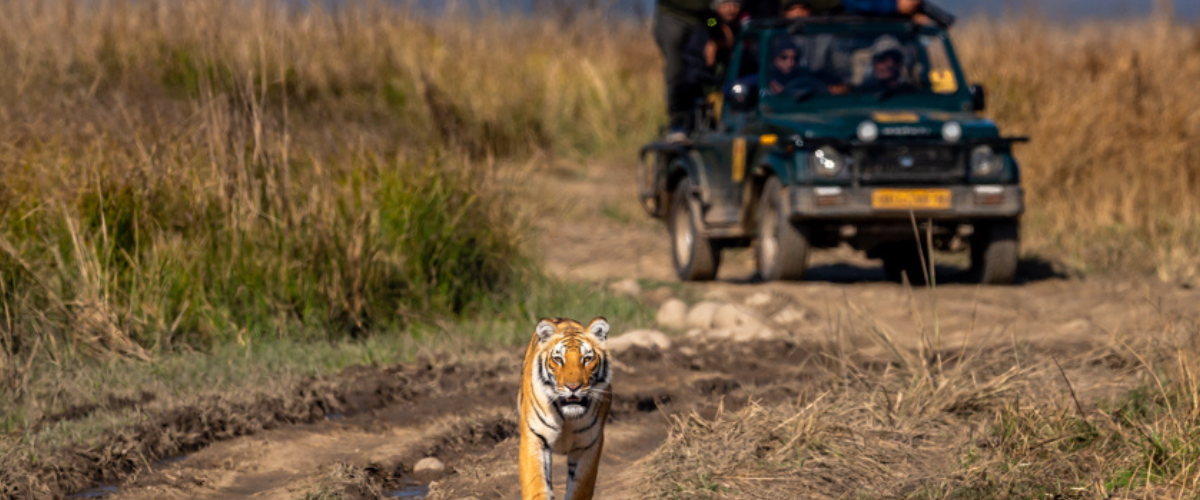 Overview
India's oldest national park, Jim Corbett located in Nainital, Uttarakhand is among India's most visited tourist spots. More than 70,000 tourists are anticipated to visit this site each year to experience the thrilling experience of being in the forest and see the wide variety of flora and fauna. In addition to nature's wonders, it offers a variety of exciting adventures to make your trip more exciting. With 33 species of wild cats, 50 mammals, 580 species of birds, and 110 species of trees, Corbett boasts a variety of natural beauty. However, it is most proud of and offers a haven to its rare tiger species. Prepare yourself for a memorable wildlife safari! 
Witness a host of wild animals during this exhilarating safari.
Learn more about the historical roots of the park, which partially belonged to the state of Tehri Garhwal.
With more than 500 birds, the park offers a medley of sounds that are pleasant to the ears.
Locate some rare genus of tigers and earn bragging rights.
Check into your hotel and freshen-up, upon arrival. Later, embark on a thrilling safari into the park. 
Proceed to the national park for another safari in the morning (Purchasable as an add-on). Check out of the hotel after breakfast and depart.
Budget Stay : The Maya Resort & Spa/ Similar
Economy Stay : Nadiya Parao Resort/ Similar
Economy Plus Stay : The Solluna Resort / Wood Castle spa & Resort/ Similar
Stay
Meals (Breakfast & Dinner)
1 Safari
Hotel Amenities
Permit fees
ID is mandatory while making safari booking and the tourists have to carry the same id proof all the time during their safari ride.
Foreigners are required to furnish the details of their passport while making their safari booking.
Please be ready at pickup point 10 minutes before departure.
Please read all advisory and policy documents carefully.
Vendor details will be shared post booking , Please co-ordinate your reporting time and location with the vendor partner.
All reservations for use of any facility including an entry in Tiger Reserve are provisional in nature and are subject to modification/cancellation by the Field Director, Forest Department, without assigning any reasons.
We will confirm your booking within 24 hours.

In case of non-availability for the date, our team will get in touch with you to work out the best possible dates. Kindly bear with us as this industry does not work with real-time inventory views from vendor partners.

 

If you wish to cancel before receiving a confirmation, you will receive a 100% refund.

 
For Safari:
The costs for Jeep Safari and Canter Safari are non-refundable, non-transferable, and non-amendable.
(The exact breakup will be provided at the time of booking) 
For Stay:
14 Days and less – No refund 
29-15 Days – 50% refund 
59-30 days – There is a cancellation fee of 30% 
60 days and prior – There is a cancellation charge of 10% 
100% at the time of booking. 
Rescheduling is subject to availability.

Once the cancellation window ends, rescheduling cannot be done.

Each booking allows for a maximum of two rescheduling opportunities. After which, no further changes can be made to the booking.

Any price differences resulting from rescheduling, such as changes in seasonal rates or availability, will be applicable and will be communicated to the customer during the rescheduling process.

In the event that a customer requests a rescheduling but fails to attend the newly scheduled appointment, it will be considered a missed appointment, and our standard cancellation policy will apply
The duration of this trip is 1 night & 2 days.
Yes, this trip is absolutely safe for everyone. Kindly pay heed to the instructions of the guide and do not provoke the wildlife. 
Please read the Notes and Advisory section on the product page carefully before starting for the activity.
There is no age or weight limit for this trip.
The starting point for this activity is Jim Corbett National Park. 
The best time to go for a wildlife Safari in Jim Corbett National Park is  November to mid-May. If you are a bird-lover then you can visit during the winter season. If you can take the heat and wish to witness the wilderness of this park, then you can visit during the summer season. At this time, all the animals gathered around the water source and that makes it easier to spot the wildlife.  The park is closed from July to October. 
Please wear cotton clothes that are dull in color or have a camouflage Print. If you are visiting during the winter season, you need to carry warm clothes, a down jacket, and a windcheater.  The animals get attracted to bright colors. Please wear proper shoes to avoid any injuries.
The refund would be initiated as per the cancellation policy termed below 
Cancellation policy – 
For Safari:
The costs for Jeep Safari and Canter Safari are non-refundable, non-transferable, and non-amendable.
(The exact breakup will be provided at the time of booking) 
For Stay:
 14 Days and less – No refund 
29-15 Days – 50% refund 
59-30 days – There is a cancellation fee of 30% 
60 days and prior – There is a cancellation charge of 10%