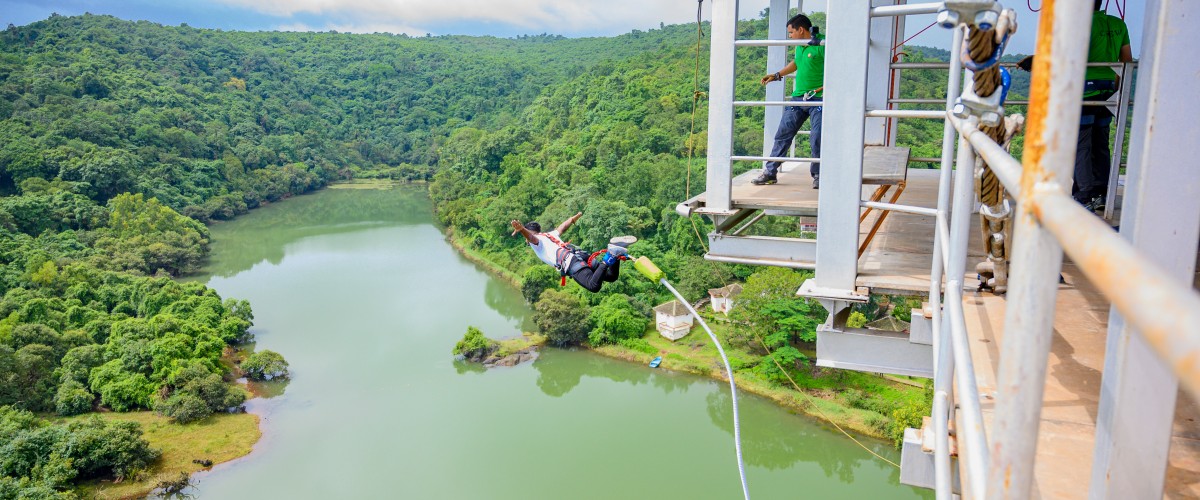 Overview
Goa is a paradise where the sparkling waves titillate your feet, and Portuguese architecture is an aesthetic treat for all. This Pearl of Orient in India is also counted among the best adventure destinations in the country – bringing on a bountiful of thrilling activities that are here to give you goosebumps!
This Bungee jumping in Goa is one such high-end adventure sport offering an enthralling and captivating experience for adventure seekers! Whether you are a seasoned adventure enthusiast or just getting started – this adrenaline-pumping sport is for everyone. What makes it stand out is the panoramic lake view that Goa's only Fixed Bungy Platform towers over.
AdventuRush brings this Mayem Lake bungee jumping package that has what you are looking for- an extraordinary vacation to Goa! Pack light, put on the safety gear, hang in tight, and explore this incredibly satisfying Bungee Jumping Goa itinerary.
Goa's ONLY a fixed- platform Bungy.
Owned and Run by ex-Army officers.
In association with Goa Tourism.
Operated over 1,50,000 jumps in Rishikesh absolutely safely since 2010.
Jump from a platform 55 meters high.
Admire nature in the heart of Mayem Lake of Goa, a beautiful serene lake surrounded by a forest.
High-quality equipment and word class safety procedures make this a safe experience.
A thorough briefing will be provided to all participants about the safety procedures that must be followed during bungee jumping.
A waiver form must be filled, acknowledging that the participants have read and understood the organizer's terms and conditions, have shared their medical conditions (if any), and are participating in the adventure sport with full knowledge of the risks.
You can carry your valuables with you, submit them at the front desk, and enjoy your bungee jumping experience to the fullest.
Proceed towards the bungee jump bridge. Only jumpers are permitted to enter the platform.
Jumpers must pass multiple safety checks before the activity commences.
It's time to jump off the platform and experience a rush you've never experienced before.
Instructor
Safety gear
Videography
Certificate
The minimum age allowed is 12 and the maximum age is 45.
Weight must range between 40-110 kgs.
Keeping your safety first, if the weather is poor, the event may be delayed or postpone, and an alternative time slot will be suggested.
Participants deemed unfit for the activity may be prohibited from participating by the instructor. Since this decision will be made by the expert for your safety, we request your adherence. Kindly read our advisory in attachment to understand if you are fit to participate.
Individuals with medical conditions like heart problems, high blood pressure, neurological disorder, spondylitis, backache, epilepsy, recent surgery, pregnancy, fracture, or osteoporosis, will not be permitted to participate in this bungee jumping.
Kindly pay full attention to the briefing provided and follow all guidelines as recommended.
We recommend to book in advance for an assured time slot.
No refund will be entertained if the participant doesn't show up on time or refuses to jump.
Eatables and alcohol are prohibited at the venue.
Any sharp objects, luggage bags, lighters, knives etc. are prohibited.
Vendor details will be shared post booking. Please co-ordinate with vendor on reporting time & location.
Please be advised that there is a fee of Rs. 25 per person for entry at the GTDC Entry point. This charge is to be borne by the customer and is not encompassed within the vendor's remit.
We will confirm your booking within 24 hours.

In case of non-availability for the date, our team will get in touch with you to work out best possible dates. Kindly bear with us as this industry does not work with real-time inventory view from vendor partners.

 

If you wish to cancel before receiving a confirmation, you will receive 100% refund.

 
Full Refund-

If cancelled before 72 hours of scheduled date. 

No Refund-

If cancelled within 72 hours of scheduled date. 
If participants are deemed unfit by instructor or refuse to go through with the experience at site, no refund will be applicable. 
100% at the time of booking.
Rescheduling is subject to availability.

Once the cancellation window ends, rescheduling cannot be done.

Each booking allows for a maximum of two rescheduling opportunities. After which, no further changes can be made to the booking.

Any price differences resulting from rescheduling, such as changes in seasonal rates or availability, will be applicable and will be communicated to the customer during the rescheduling process.

In the event that a customer requests a rescheduling but fails to attend the newly scheduled appointment, it will be considered a missed appointment, and our standard cancellation policy will apply
Duration of the Activity is 1.5 hours approximately. It includes briefing time, waiting time and Ticketing period.
The height of this activity is 55 meters.
Yes, this activity is completely safe as this is the only fixed jump site in India for Bungee Jumping and the platform is specially designed by experts from New Zealand.  3 safety checks are done before every Jump. 
Please read the Notes and detailed advisory on the product page for more details.
The jump cannot be accomplished with specs, however, we attach the specs to you while you're jumping, so that they can be used after the jump. Contact lenses work just fine. 
 Yes, this activity is suitable for beginners as it is completely supervised by the certified instructors.

 
Weight limit – 40 to 110 kg.
The starting point for this activity is Mayem Lake, Goa.
The ideal clothing for this activity is comfortable clothes. A trekking shoes or sports shoes are recommended after the jump as you will be hiking back to the top after the jump. 
If your activity is cancelled for weather conditions, operational or regulatory reasons, you will receive FULL refund or you can reschedule your activity to an alternative date of your choice. 
You may cancel the booking anytime ,100% refund will be processed if the booking is cancelled 72 Hrs before the trip.
No refund if cancelled within 72 Hrs of the scheduled trip.