Flyboarding in Goa
₹

3,499
Goa

Pumped Adventure
Couples/Group Adventure, Family Adventure, Solo Adventure
Timing – 7:00 AM to 6:00 PM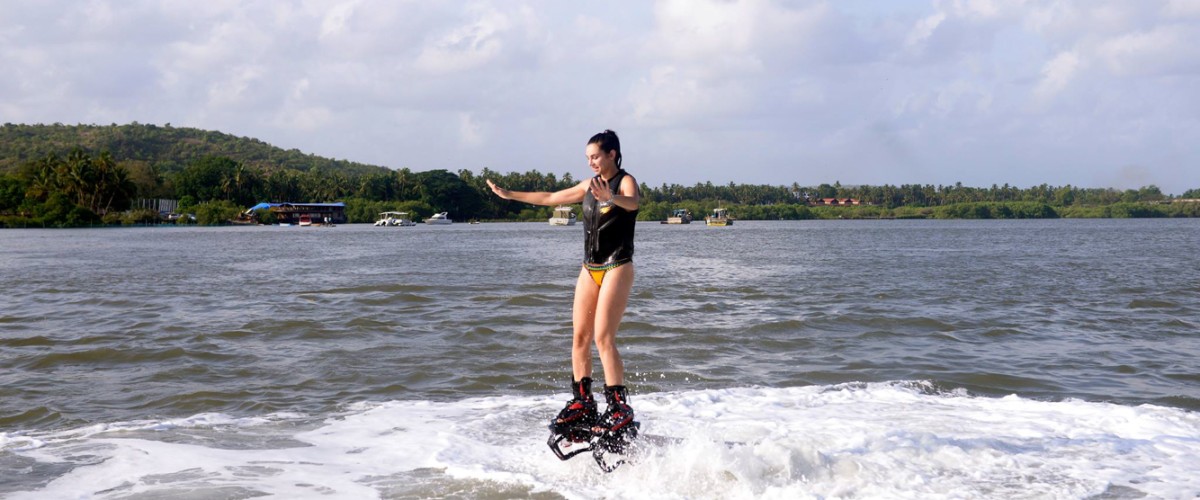 Overview
Goa, a susegad on the western coasts of India, is home to endless sparkling nights, tranquil beaches, and crazy escapades. The tiny emerald location unfolds numerous surprises at all aesthetic spots. Countless enthralling activities, including the most-loved Chapora river flyboarding, await millions of adventurers every year in the stellar location. 
Flyboarding in Goa is one of the most fun-filled activities, giving you mixed feelings of fear and excitement all at the same time. The fly through the tricky waves will load you with the nonstop thrill and pumped adrenaline rush that the sport offers. So, pull on your swimsuits and life jackets to drench in the fearless water ride with AdventuRush. We promise you will glide like a superhero and swim like a dolphin within a few minutes of the exhilarating sport.  
Indulge in action-packed water sports and drift up to 30 feet in the air on a Flyboard!
Relish the picturesque Chapora and the serene Calangute beach.
Delve deeper into the water and explore the unknown depths and marine life.
Experience the perfect blend of thrill, exhilaration, charm, and romance of the loveable place.
It is better to be at least 15 minutes earlier and have hassle-free flyboarding in Goa. The exultant ride has some essential prerequisites that will take time to complete. 
Pay attention to all the safety directions given by your instructor. Get yourself equipped with the Chapora River flyboarding essentials that include Jet propulsion, a safety helmet, and a life jacket.
You are now ready for the flyboard water sports in Goa, which will take you approximately 30 ft from sea level. Fly through the waves for about 10 to 15 minutes and have an experience like never before.
You can even go into the tranquil water through the jet propeller and peep into its immaculate environment. 
Kayaking (Complimentary)
Standup Paddleboat (Complimentary)
Safety Gear
Safety Instructor
Children below 12 years of age are not allowed to flyboard water sports in Goa.
Keeping your safety first, if the weather is poor, the event may be delayed or postpone, and an alternative time slot will be suggested.
Please report 15 minutes before your scheduled time.
Above itinerary can be changed as per ground situation and weather conditions.
It is essential to have any identity proof other than the PAN card.
Kindly pay full attention to the briefing provided and follow all guidelines as recommended.
A refund may not be applicable if travelers are not willing to go for flyboarding by their own choice.
Vendor details will be shared post booking. Please co-ordinate with vendor on reporting time & location.
We will confirm your booking within 24 hours.

In case of non-availability for the date, our team will get in touch with you to work out best possible dates. Kindly bear with us as this industry does not work with real-time inventory view from vendor partners.

 

If you wish to cancel before receiving a confirmation, you will receive 100% refund.

 
Full Refund-

If cancelled before 48 hours of scheduled date. 

No Refund-

If cancelled within 48 hours of scheduled date. 
If participants are deemed unfit by instructor or refuse to go through with the experience at site, no refund will be applicable. 
100% at the time of booking.
Rescheduling is subject to availability.

Once the cancellation window ends, rescheduling cannot be done.

Each booking allows for a maximum of two rescheduling opportunities. After which, no further changes can be made to the booking.

Any price differences resulting from rescheduling, such as changes in seasonal rates or availability, will be applicable and will be communicated to the customer during the rescheduling process.

In the event that a customer requests a rescheduling but fails to attend the newly scheduled appointment, it will be considered a missed appointment, and our standard cancellation policy will apply
The activity duration, including briefing, is approximately 30 minutes. 
Flyboarding in Goa is absolutely safe as it is handled by a well-qualified and experienced team. Moreover, AdventuRush will assist you with all the required modern safety gear, including floating equipment and life jackets, before flyboarding. The professional instructors will guide you during the entire activity and ensure a smooth experience. The 10-15-minute training session will give you a sneak peek into the sport and guide you about the safety instructions you need to follow. 
Yes, this activity is suitable for beginners as it is completely supervised by certified instructors.
Consider the following points before taking the activity. 
The minimum age limit for this activity is 12 yrs. Pregnant women, people with heart problems or severe health issues are not advised to try this experience. 

Ensure you carefully listen to the briefing and adhere to all guidelines as recommended. 

You need proof of identification upon arrival. Remember, we do not accept PAN cards as they are not address proofs.

If an item is damaged or broken due to customer negligence, that item will be charged at its actual value. 

Weather-related delays or postponements may result in a change in the event timing. 

It is better to carry an extra set of clothes. 
The activity begins at Seascape waterfront, Agarwada.
The best season to go for flyboarding in Goa is early October to early May.
Wear comfortable clothes so you can fully engage in the adventure.  Also, carry an extra pair to avoid any fuss. 
If your activity is cancelled for weather conditions, operational or regulatory reasons, you will receive FULL refund or you can reschedule your activity to an alternative date of your choice. 
You may cancel the booking anytime ,100% refund will be processed if the booking is cancelled 48 Hrs before the trip.
No refund if cancelled within 48 Hrs of the scheduled trip.