Zipline in Rishikesh
₹

1,799

Pumped Adventure
Couples/Group Adventure, Solo Adventure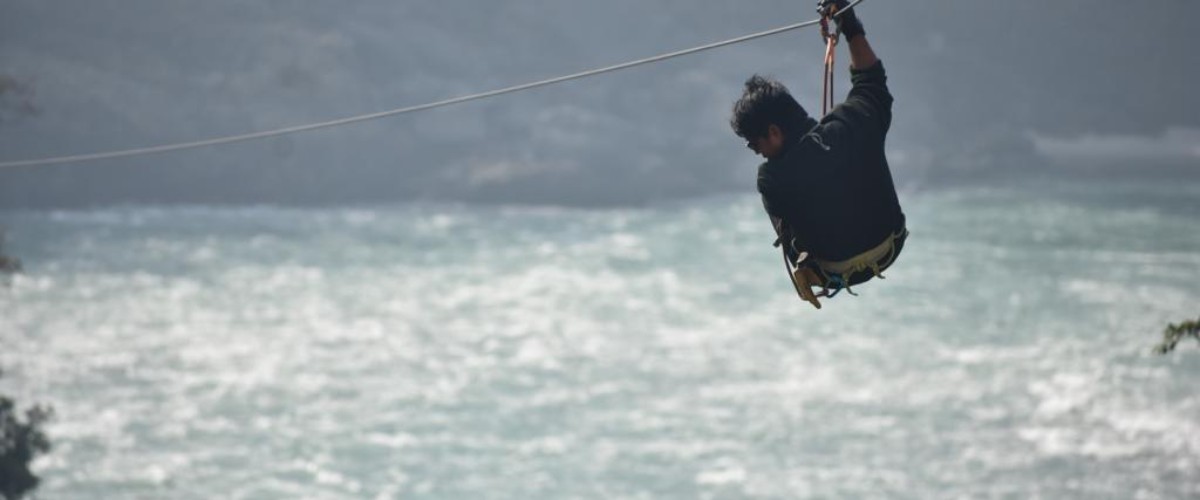 Overview
In the heart of Rishikesh, prepare to embark on an epic adventure that will redefine your idea of exhilaration. As you zipline in Rishikesh into the open sky, witness the majestic scenery unfold in front of your eyes.
But wait, there's more. As you glide through the air on your zipline in Rishikesh, you'll embrace the thrill of a lifetime and discover the unbeatable serenity. This isn't just any ordinary ziplining experience; it's an adrenaline-pumping adventure that etches as a forever memory in your heart.
So, look no further than AdventuRush for those seeking the best zipline in Rishikesh adventure. Prepare for an extraordinary journey, where every moment is a celebration of life and a testament to your courage. With AdventuRush, you need not worry about the zipline in Rishikesh price. It's time to conquer your fears, ride the zip line in Rishikesh, and experience the Ganges like never before.
Experience thrill coupled with 100% safety with our expert team hailing from the adventure capital of the world, New Zealand.
Equip yourself with the latest state-of-the-art gear and equipment, ensuring that every moment of your adventure is both secure and exhilarating.
Redefine adventure as you glide through and soar into the air and witness the Ganges in a unique perspective.
Enjoy the most sought-after zip-lining destination in the country for an unmatched experience that sets us apart as pioneers in the world of adventure.
Enjoy your adventure as we prioritize your well-being, ensuring that every adventure you undertake with us is as exhilarating as it is secure.
Arrive at the captivating Thrill Factory base camp in Shivpuri, Rishikesh, where your extraordinary adventure amidst stunning natural beauty begins.

Prioritize safety with a comprehensive briefing by our expert team, ensuring you're well-prepared for the thrilling challenges ahead.

Get ready for action as you don cutting-edge safety gear, including harnesses and helmets, designed for your security and comfort.

Soar above the majestic River Ganga on an 800-meter zip-lining journey, defying gravity and soaking in breathtaking views of the landscape.

Share your memorable moments and celebrate your achievements with fellow adventurers during a debriefing session.

As the adventure concludes, choose to explore Rishikesh further or savor a delightful meal in this charming town, carrying the thrill and memories with you.
Highly Trained Staff
Safety Equipment
Duration: The total duration of this activity is 60 minutes.
Weather Notice: Your safety is our top priority. In the event of adverse weather conditions, the activity may be delayed or postponed. In such cases, an alternative time slot will be suggested to ensure your safety and enjoyment.
Age Requirement: Participants must be at least 14 years old to participate in this activity.
Fitness Assessment: The instructor may assess participants' fitness for the activity. If a participant is deemed unfit for any reason, they may be prohibited from participating. This decision is made by our expert with your safety in mind. Please refer to the attached advisory to determine if you meet the fitness requirements.
Briefing and Guidelines: Pay close attention to the briefing before the activity begins, and follow all recommended guidelines for your safety and enjoyment.
Parent/Guardian Supervision: If you have a child under 18 years old participating, a parent or guardian must sign the disclaimer and supervise the activity.
Identification Requirement: Upon arrival, please have proof of identification ready. Please note that PAN cards are not acceptable forms of identification.
Arrival Time: Plan to arrive at the activity site at least 30 minutes before your zipline tour is scheduled to begin. Late arrivals cannot be accommodated, and refunds will not be available if you miss the zip tour.
Vendor Details: Vendor details will be shared after booking. Please coordinate with the vendor regarding reporting time and location for the activity.

Starting Point
Rishikesh
Rishikesh Shivpuri Near Indian Oil Petrol Pump & DGBR, Devprayag, Shivpuri, Rishikesh, Uttarakhand 249192
Directions

A booking confirmation will be sent to you within 24 hours of your payment.
If your desired date is unavailable, our team will contact you to find the best alternative dates. Please understand that real-time inventory views from our vendor partners may not be available.
You will receive a 100% refund if you decide to cancel your booking before receiving confirmation.
Full Refund– If cancelled before 48 hours of the scheduled date.
No Refund– If cancelled within 48 hours of the scheduled date.
If participants are deemed unfit by instructor or refuse to go through with the experience at site, no refund will be applicable.
100% at the time of booking.
Rescheduling is subject to availability.

Once the cancellation window ends, rescheduling cannot be done.

Each booking allows for a maximum of two rescheduling opportunities. After which, no further changes can be made to the booking.

Any price differences resulting from rescheduling, such as changes in seasonal rates or availability, will be applicable and will be communicated to the customer during the rescheduling process.

In the event that a customer requests a rescheduling but fails to attend the newly scheduled appointment, it will be considered a missed appointment, and our standard cancellation policy will apply
Zip Lining in Rishikesh is an exhilarating adventure that entails gliding gracefully through the air along a secure cable line while being safely harnessed. Unlike activities such as bungee jumping or reverse bungee, zip lining offers a more extended, leisurely ride, allowing participants to marvel at the breathtaking landscapes while soaring above the majestic River Ganga in Rishikesh.
The Zip Lining experience at Thrill Factory spans an electrifying 800 meters in length. This considerable distance adds to the thrill and provides ample time to relish the adventure and soak in the awe-inspiring vistas of the Ganges River and the picturesque surroundings.
Safety is our foremost concern. Our team comprises highly trained professionals and employs state-of-the-art equipment that strictly adheres to safety standards. Before embarking on your zip-lining adventure, you will receive thorough safety briefings, expert harnessing, and continuous supervision from our experienced staff. Moreover, our Zip Lining platform has been meticulously designed and constructed by seasoned experts from New Zealand, making it one of the safest in the country.
For the safety of all participants, personal cameras, smartphones, or recording devices are not permitted during the Zip Lining activity. However, there's no need to worry about missing out on capturing your exhilarating moments. We have professional photographers stationed on-site, ready to immortalize your thrilling experience. You can conveniently acquire these media packages from us after completing the ride.
This zipline adventure lasts approximately 60 minutes, providing ample time to relish every moment of this electrifying experience.
You may cancel the booking anytime ,100% refund will be processed if the booking is cancelled 48 Hrs before the trip.
No refund if cancelled within 48 Hrs of the scheduled trip.
If your activity is cancelled for weather conditions, operational or regulatory reasons, you will receive FULL refund or you can reschedule your activity to an alternative date of your choice.
Arrival at Base Camp :Your journey into the world of excitement begins at 10:00 AM as you arrive at the Thrill Factory base camp, strategically nestled in the mesmerizing beauty of Shivpuri, Rishikesh. Surrounded by lush greenery and the serene aura of the region, the setting itself ignites the anticipation for the adventure that awaits. As you step onto this hallowed ground, you'll feel a surge of excitement coursing through your veins, knowing that you're about to embark on a thrilling escapade that will test your limits and create lasting memories.
Safety Briefing: Safety is our paramount concern, that our seasoned team of experts takes center stage. They will conduct a comprehensive safety briefing, ensuring that every adventurer is well-prepared to take on the challenges that lie ahead. You'll gain valuable insights into the equipment you'll be using, the techniques you'll employ, and the best practices for ensuring your safety throughout the adventure. With their guidance and expertise, you'll feel confident and ready to dive into the heart-pounding action.
Gear Up:It's time to get suited up for an adrenaline-pumping experience like no other. Our gear is a testament to cutting-edge technology and design, meticulously crafted to guarantee your safety and comfort. Our state-of-the-art equipment has you covered, from harnesses that provide security at every turn to helmets that shield you from any unexpected twists. As you put on this gear, you'll feel the transformation from ordinary to extraordinary, gearing up for the adventure of a lifetime.
Adventure Time :The moment you've been waiting for arrives. It's the main event! You'll take flight on an 800-meter zip-lining voyage that will take you soaring above the majestic River Ganga. As you step off the platform and into the open sky, you'll experience an unparalleled rush of adrenaline. The sensation of defying gravity is electrifying. The views that unfold beneath you are nothing short of awe-inspiring.
Conclusion and Debrief :As your zip-lining activity concludes at noon, you'll find yourself immersed in a whirlwind of excitement and accomplishment. Gather with your fellow thrill-seekers for a debriefing session, a time to share your unforgettable moments. The bonds formed during this shared experience are often as exhilarating as the adventure itself. Celebrate your achievements and savor the memories as you bid farewell to this extraordinary chapter of your journey.
Departure :Your adventure officially comes to a close, but the memories and the thrill remain. You can continue exploring the local area, taking in the sights and sounds of Rishikesh, or perhaps indulging in a delicious meal in this charming town. While the official adventure may end, the sense of accomplishment, the breathtaking views, and the exhilaration of soaring above the River Ganga will stay with you forever.