%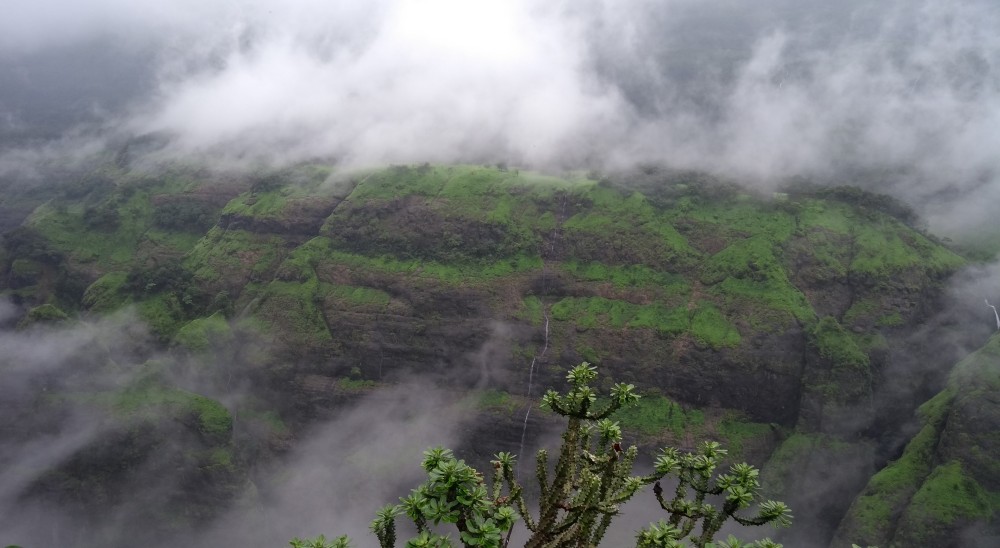 Overview
Andharban Jungle Trek is a thrilling adventure that takes you deep into the heart of the mesmerizing Andharban trek location nestled amidst the lush greenery and captivating beauty of the Sahyadri mountain range in Maharashtra, India. As the name implies, Andharban is a "Dark Dense Forest." This walk is one of Sahyadri's most invigorating excursions during the monsoon season. The Andharban trek is the ideal location for any hiker who wants to enjoy the delight of exploring deep woods with breathtaking vistas. It is situated in the Pimpri area of Maharashtra, about 16 kilometers from the well-known city of Pune. 
A must-visit location for all nature enthusiasts, the Andharban trek is a lovely experience to explore on a thrilling monsoon trek. When it rains, trekking here entails traversing lovely green hills, relaxing in stunning waterfalls, and taking in the big cloud cover right next to you. Discover the Andharban jungle trek with Adventurush for an exhilarating experience as well as a relaxing vacation.
Trek through the enchanting Andharban Forest.
Immerse yourself in the beauty of lush greenery and diverse flora.
Experience the thrill of walking through dense canopies and misty trails.
Discover hidden waterfalls and streams along the way.
Enjoy breathtaking panoramic views of the surrounding valleys.
Indulge in delicious vegetarian meals during the trek.
The ease of having Andharban trek start point in Mumbai and Pune kicks off the excitement of the Andharban Jungle Trek. A cozy car is waiting to take you to the trek's beginning site as you eagerly get ready for the adventure. Because of the expert drivers' assurance of a comfortable and secure ride, you may fully enjoy your excitement for the approaching Andharban trek.

The pick-up service guarantees a hassle-free and delightful trip right away, whether you are traveling from Mumbai or Pune. Observe your surroundings and prepare to go off on an adventurous trip through the alluring Andharban trek.
Start the last day of Andharban Jungle trekking with a healthy breakfast to provide you energy. Take a thrilling walk through the mysterious Andharban Trek. Visit the charming Hirdi & Ghutke Junction for a well-earned rest. Rejuvenate, unwind, and take in the peace of the surroundings. Resuming your trip, go in the direction of Ghutke Village. Enjoy the beautiful ride and record the unforgettable journey in your recollections Andharban night trek. Reach the base settlement and enjoy a tasty vegetarian thali for lunch while savoring the local flavors. Bid the base village adieu and set out on your return trip to Mumbai or Pune. Enjoy this time to think about your future Andharban Trek booking and to appreciate the natural beauty you saw on the Andharban trekking.
Transportation
Meals
Guide Charges
First Aid Kit
Entry Charges
Age limit 12+
Keeping your safety first, if the weather is poor, the event may be delayed or postpone, and an alternative time slot will be suggested.
Please carry an ID proof and passport size photo (PAN card will not be considered as a valid address proof).
Kindly read all sections in attachment to know more about the trip.
Kindly pay full attention to the briefing provided and follow all guidelines as recommended.
Trekking is to immerse oneself in nature, so please expect basic facilities.
Electricity may be available only at a few locations.
Package includes vegetarian meals only.
Vendor details will be shared post booking. Please co-ordinate with vendor on reporting time & location.

Starting Point
Mumbai
Report to the Trekleaders at Borivali National Park
Directions


Starting Point
Pune
Report at FC road
Directions

We will confirm your booking within 24 hours.

In case of non-availability for the date, our team will get in touch with you to work out best possible dates. Kindly bear with us as this industry does not work with real-time inventory view from vendor partners.

 
If you wish to cancel before receiving a confirmation, you will receive 100% refund.

 
Full Refund-

If cancelled before 7 days of scheduled date. 

No Refund-

If cancelled within 7 days

of scheduled date.
If participants are unable to or refuse to go through with the experience at site, no refund will be applicable.
100% at the time of booking.
Rescheduling is subject to availability.

Once the cancellation window ends, rescheduling cannot be done.

Each booking allows for a maximum of two rescheduling opportunities. After which, no further changes can be made to the booking.

Any price differences resulting from rescheduling, such as changes in seasonal rates or availability, will be applicable and will be communicated to the customer during the rescheduling process.

In the event that a customer requests a rescheduling but fails to attend the newly scheduled appointment, it will be considered a missed appointment, and our standard cancellation policy will apply
The Andharban jungle trek should ideally be undertaken during the monsoon months and so you will get to experience the full beauty of the lush green valley. Pre- monsoon and right after monsoon are the ideal time slots, which mean the months from June to September.
The starting point for this trek is from Mumbai as well as Pune depends on option you choose.
Yes, beginners can attempt the Andharban Jungle Trek, but it is important to be physically fit and mentally prepared for the challenges of the trek. It is advisable to start with less difficult routes and gradually progress.
Some precautions to take while trekking  include carrying sufficient water, wearing proper trekking shoes, carrying necessary medications, and being aware of weather conditions and trail markings.
In

case you are sick and not able to complete the trek, you will be sent down to the base camp depending on the circumstances. Kindly note that a refund or reschedule for the same is not applicable. Any extra expenses incurred during this transfer will be borne by the

traveler.
Full Refund-

If cancelled before 7 days before scheduled departure.

No Refund-

If cancelled by customer less than 7 days before scheduled departure.

If participants are unable to or refuse to go through with the experience at site, no refund will be applicable.
The payment policy is 100% at the time of

booking.
Refunds are subjected to the cancellation

policies.

All refunds will be processed in 10 business days to the source account.

 
In case of extreme bad weather, government restriction or political disturbance, if any activity is cancelled, then the operator will suggest the best possible alternative. However, a cash refund is not applicable. In case of a change in itinerary due to weather, any additional expenses will be borne by the traveler.

 
From Mumbai:
10:00 PM: Report to The Trekleaders at Borivali National Park
10:05 PM: Samta Nagar, Kandivali
10:15 PM: Sufi Irani Cafe, Goregaon
10:30 PM: Hanuman Road Bus Stop Andheri
10:45 PM: Kalanagar Bust Stop, Bandra
11:00 PM: Neeta Volvo, Sion
11:10 PM: Ghatkopar Mankhurd Link Road
11:30 PM: Vashi (under the bridge)
11:45 PM: Nerul LP
11:55 PM: Kharghar station
From Pune:
11:55 PM: Report to The Trekleaders at Fergusson College Main Gate, FC Road
12:20 AM: Bremen Chowk, Aundh
12:40 AM: Wakad-Hinjewadi Flyover
12:55 AM: Hinjewadi Phase 1
01:15 AM: Hinjewadi Phase 3