9N/10D Srinagar | Leh | Manali – Self Drive Own Car
₹

26,399
Closed for the Season
Ladakh

Pumped Adventure
Couples/Group Adventure, Family Adventure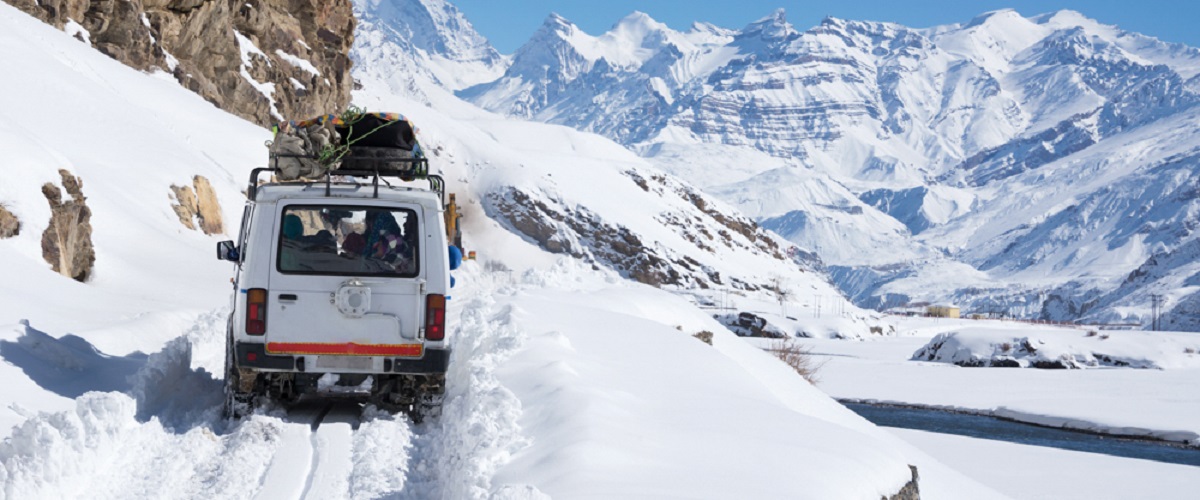 Overview
Embark upon an exhilarating journey with AdventuRush's Srinagar-Leh-Manali Self Drive Tour – sans Trutuk, covering the unmissable charms of local Leh. Treat yourself to an invigorating Srinagar-Leh-Manali trip to be captivated by the pristine beauty of this heavenly landscape, teeming with natural splendour and cultural riches that narrate an enchanting tale of time. Beneath the vast cerulean skies, the verdant valleys and towering peaks unite to form a spontaneous masterpiece that speaks to the soul. This expedition beckons you to delve into the heart of the land where tradition and nature entwine in a harmonious embrace.
AdventuRush has a meticulously planned Srinagar-Leh-Manali package that takes you through the captivating beauty of Kargil, where the confluence of nature and history leaves an indelible mark on your memories. Traverse the famed Khardung La pass and encounter the pristine allure of Pangong, all the while immersing yourself in the vibrant culture and traditions of the region and an enterprising journey. Let the sight of ancient monasteries perched on the stunning slopes of Ladakh inspire awe, tranquillity, and buzz in equal measure as you continue to unravel the enchanting tapestry of northern India's mesmerizing landscape. This extraordinary odyssey promises to leave your Srinagar-Leh-Manali trip with an unparalleled sense of wonder and enchantment, ensuring an experience that will be cherished for a lifetime.
This particular Srinagar-Leh-Manali package skips Turtuk and instead focuses on the breathtaking beauty and rich culture that Leh and its surrounding areas have to offer, such as the 479-kilometer-long Leh – Manali road, the ideal Mecca of Road trips.
With this Srinagar to Leh to Manali trip, you will be biking on a variety of high-altitude trails, including the Khardung La, the world's highest motorable road, which is 18380 feet above sea level.
The awe-inspiring beauty of the mighty Himalayas provides a perfect backdrop for your Manali 10 days package adventure, challenging to conquer the winding roads and high-altitude passes.
Awaken to the breathtaking panorama of the serene Pangong Lake and indulge in a sumptuous breakfast As you wend your way back to Leh, pause briefly at the majestic Chang-la Pass, a

pinnacle

of the world's highest mountain traverses. Discover the charming Chang-la Cafe nestled within this lofty haven. Embark on a pilgrimage to the revered Changla Baba Temple, situated atop the pass which reverentially bears its name, a sanctuary rumoured to safeguard all who venture to this celestial domain. Upon your arrival in Leh, luxuriate in repose before partaking in a delectable evening feast at your lodgings. Stay overnight

at the hotel in Leh, wherein tomorrow's adventures await you.
200 km | 4-5 hrs | 8776 ft.
Our journey to Kargil shall proceed via the captivating Zoji La pass. Put your driving skills to the test while crossing rugged terrain en route to the summit. Time will be dedicated to absorbing the solemn atmosphere of the Kargil War Memorial, where one may observe the historical landmarks of Tiger Hill, Tololing, and Point 4875 from a vantage point. Subsequently, the expedition shall carry on towards Kargil, culminating in a restful overnight stay at the hotel.
220 Kms | 5 hrs | 11,483 ft.
On the third day of your

10 days trip to Manali

, relish the exhilarating ride along the picturesque expanse of the winding road. We shall pause at Lamayuru to marvel at the enchanting lunar landscape that Ladakh bestows upon its visitors. As we traverse the elevations of Fotu La and Namik La, soaring at 13,500 and 12,200 feet, respectively, anticipation builds before our arrival at Kargil. Midway, savor a delectable meal that nourishes both body and soul.

Continuing our expedition beyond Khaltse, prepare to be captivated by the enigmatic Magnetic Hill, the tranquil confluence of the Zanskar and Indus rivers, and the sacred grounds of Gurudwara Patthar Sahib. Collectively nourishing our sense of adventure and camaraderie, retire to the welcoming embrace of the Leh Hotel as twilight settles upon us.
Embark on your urban expedition after partaking in a delicious breakfast. Allow yourself to roam freely throughout the city, discovering the vibrant market, serene monasteries, and majestic palaces. AdventuRush shall provide insights into those locales that pique your curiosity. You may opt to treat this day as a respite if you so desire. Day four of your

Srinagar-Leh-Manali trip package

concludes for the night in the comfort of your accommodations in Leh.
Venturing on a journey along the lofty road above 18,000 feet, our path is maintained by the dedicated Border Road Organization. Navigating precarious inclines and hairpin bends, contending with low oxygen levels and the whims of

unpredictable

weather, this arduous expedition ranks among the most formidable challenges for even seasoned riders. Upon reaching the peak, we shall pause for a triumphant photograph at the landmark board, permanently etching our accomplishment into memory.

Descending gracefully towards the serene Nubra Valley, we will pay homage to the spiritual sanctuary of Diskit Monastery through prayerful reflection. As twilight envelops the landscape, we will rest for the night at a quaint campsite or a welcoming guesthouse nestled in the valley's embrace.
160 kms | 4-5 hrs | 10000 ft
Embark on a brief trial run atop your designated bicycle, ensuring optimal functionality. Our odyssey then carries us toward Kargil, traversing the

contorted

Zoji La pass, wherein one's dexterity on rugged terrain is put to the test as we ascend the lofty peaks. At the Kargil War Memorial, we shall pay homage to fallen heroes while gazing upon the awe-inspiring vistas of Tiger Hill, Tololing, and Pt 4875. Our journey proceeds to Kargil, culminating in an overnight sojourn at a cozy hotel.
160 Km | 4-5 hours | 14835 ft.
Day seven of the

Srinagar-Leh-Manali tour package

includes embarking on a serpentine path that meanders alongside the resplendent Pangong Lake coast. Here, we confront numerous burbling streams en route to discovering the majestic Chang La Pass. Amidst an ascent upon earthen and gravel pathways lies the towering Chang La (17,580 ft), which awaits the entrance of all who dare reach its soaring heights. As we traverse this ethereal landscape, behold captivating glimpses of Kang Yisay Peak, nestled within Hemis National Park. The day's adventures conclude with an overnight stay at a welcoming hotel in Leh.
 250 kms | 13783ft.
Embark on a journey to an isolated haven, where the presence of human footprints is minimal, and a plethora of breathtaking landscapes and thrilling encounters await. Traverse three towering high-altitude passes amidst diverse terrain: Naki La (15,547 ft), Lachalung La (16,616 ft), and Tanglang La (17,582 ft). Relish in the otherworldly experience of posing for photographs on Moray Plains—the only section of the Tibetan Plateau within India's borders—and savoring a comforting lunch within the cozy confines of a hut in Pang. As daylight fades, be captivated by the celestial splendor above while nestled in quivering tents at Sarchu.
 200 kms  | 10,500 ft.
Upon day nine, after rekindling an innate connection to primitive survival instincts during your stay at Sarchu, prepare for a gradual transition back to urban existence as you journey onward to Manali. Revel in the serenity of Suraj Taal and Deepak Taal as you navigate the lofty Baralach La pass (16,000 ft), an exhilarating route that continually offers unpredictable natural challenges and shifting road conditions. Feel awe-struck as you traverse the remarkable 9 km-long architectural wonder known as the Atal Tunnel. Upon arrival in Manali, immerse yourself in an enchanted evening before retiring to your hotel for a well-deserved overnight respite.
The day has arrived when we must reluctantly bid adieu to the enchanting city and the delightful individuals who graced our path. Adhering to the designated schedule, we shall vacate our temporary abode and embark on the next leg of our journey. Rest assured; our paths shall cross once more as we venture forth towards new and thrilling escapades
Experienced Tour marshal
Mechanic
Accommodation
Breakfast & Dinner (from Dinner on Day 01 to Breakfast on Day 10)
First aid kit
Oxygen cylinder
Permits
Bon Fire wherever possible (Depends on the weather condition)
If bringing your own Car, the fuel cost will not included in the package cost.
This trip covers locations based on high altitude.
High altitude may lead to Acute Mountain Sickness due to lower oxygen pressure than usual. Some of the symptoms include headache, nausea and more.
Kindly read all sections in attachment to know more about the trip.
Kindly pay full attention to the briefing provided and follow all guidelines as recommended.

Starting Point
Srinagar Airport
Indragandhi Road, Humhama, Badgam, Jammu and Kashmir 190007
Directions


Ending Point
Manali Bus stand
65VQ+MXW, Himachal Pradesh, kullu Manali market, Manali
Directions

We will confirm your booking within 24 hours.
In case of non-availability for the date, our team will get in touch with you to work out the best possible dates. Kindly bear with us as this industry does not work with real-time inventory view from vendor partners.
If you wish to cancel before receiving a confirmation, you will receive a 100% refund.
Full Refund– If cancelled before 15 days of the scheduled date.
No Refund– If cancelled within 15 days of the scheduled date.
If participants are unable to or refuse to go through with the experience at the site, no refund will be applicable.
To avoid inconvenience to other travellers, the expedition will continue in such cases and participants will have to make their arrangements if they continue their stay.
100% at the time of booking.
Rescheduling is subject to availability.

Once the cancellation window ends, rescheduling cannot be done.

Each booking allows for a maximum of two rescheduling opportunities. After which, no further changes can be made to the booking.

Any price differences resulting from rescheduling, such as changes in seasonal rates or availability, will be applicable and will be communicated to the customer during the rescheduling process.

In the event that a customer requests a rescheduling but fails to attend the newly scheduled appointment, it will be considered a missed appointment, and our standard cancellation policy will apply
Yes, there will be an experienced tour marshal during the entire trip.
Please read the product detail page carefully for things to carry for the trip.
The best time to visit for a Ladakh  is from May to October, during this time all the winter snow starts melting resulting in clear and dry roads. Autumn and summer are the best time, as there are a lot of festival celebrations in the town , which makes it more appealing for tourists.
Yes, there are age & weight restrictions for this trip. The age limit is 18 to 50. The weight limit is 50 to 100 Kgs as long as there is no medical history or condition involved. Please consult your doctor before visiting the trip.
The accommodations will be provided in standard Hotels / Guest houses and camps on a Single / Twin / Triple sharing basis of your selection.
Breakfast and dinner are included in the trip from Dinner on Day 01 to Breakfast on Day 10.
Every day you will be doing a ride of a minimum of 5 to 6 hours and it may extend depending on the cumulative speed of the group and halts taken during the trip.
You can enjoy river rafting, camping, double-humped camel rides and ATV rides during this trip at your expense. It is not a part of the package being offered.
If you are going for this expedition from Jan to March, you may experience snow on the trail. In the summer, the snow melts completely and the weather is bright and sunny.
Below are the additional charges that may incur and are not included in the package cost:
Personal expenses
Any detours that you may take or places that you visit which are not a part of the itinerary.
Entry fees of any attractions.
For riders with their own Cars, all the documents related to the vehicle are mandatory like insurance, RC and Driving license a valid Id & address proof. For other riders, id proof and valid driving license is required.
The local permits required will be arranged by our vendor partner however a valid Id proof & address proof, the booking voucher along with your declaration form is required.
The best way to reach Srinagar is by flight. Named Sheikh ul Alam Airport, Srinagar Airport is an international airport. This airport is well-connected and airlines offer regular flights from Srinagar to Delhi, Mumbai and Chandigarh. The airport is located just 15 km away from the centre of the city
You can reach Srinagar by Train, one has to reach either Jammu Tawi or Udhampur railway station. The stations are well connected with different parts of India. From these stations, you can hire taxis, and private as well as state government buses to reach this magnificent place.
Srinagar is the capital of the state of Jammu and Kashmir. The city is well connected with major cities like Delhi (876 km), Chandigarh (646 km), Leh (424 km) and Jammu (258 km). There is a good Bus service and Cab service available.
Full Refund– If cancelled before 15 days of scheduled departure.
No Refund– If cancelled less than 15 days of scheduled departure.
If participants are unable to or refuse to go through with the experience at the site, no refund will be applicable. To avoid inconvenience to other travellers, the expedition will continue in such cases and participants will have to make their arrangements if they continue their stay.
The payment policy is 100% at booking.
In case of extreme bad weather, government restriction or political disturbance, if any activity is cancelled; then the operator will suggest the best possible alternative. However, a cash refund is not applicable. In case of a change in itinerary due to weather, any additional expenses must be borne by the traveller.
AMS or Acute Mountain Sickness is caused by the quick exposure to low oxygen levels at high altitude. Symptoms of AMS include nausea, fatigue, rapid heart rate and headache to name a few.
In case of any symptoms, please inform your tour marshal immediately, if there is any discomfort and oxygen levels drop, Backup oxygen cylinder is provided as an immediate relief and the customer is taken to the nearest hospital and moved to a lower altitude region. Once the doctor certifies that you are fit to travel, you can resume the trip or you will be advised to travel back home.
Any changes in your schedule pertaining to airlines or transportation will result in a change in the entire itinerary. The operator will suggest the best alternative possible in this case. However, a refund for any missed inclusions will not be provided and any extra cost incurred to rearrange the itinerary will be borne by the traveller.
4 - Passport size photographs
Driving License – Original
If bringing your own Car, all documents related to your car should be brought
Photo & address identity proofs that are issued by the Government of India like Driving License, Passport, Voter ID. (PAN card will not be considered as a valid address proof)