8N/9D Leh | Umling La | Leh – Self Drive Own Car
₹

22,799
Closed for the Season
Ladakh

Gutsy Adventure
Couples/Group Adventure, Family Adventure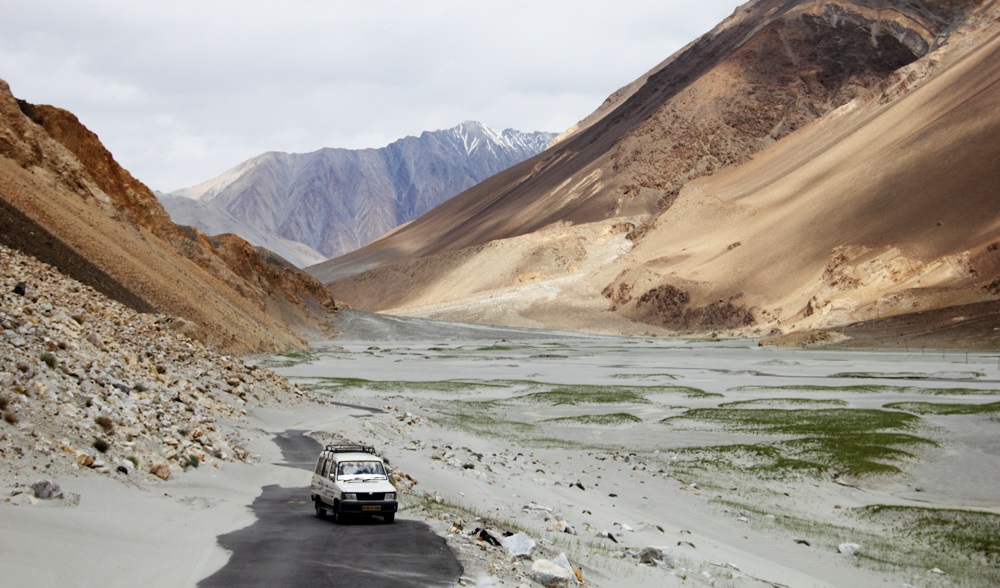 Overview
Here's an off-beat and not-so-common Leh Self-Drive expedition route, for the explorer in you  – Leh to Umling La. Our Leh tour package, which already begins on a stimulating note from Leh, covers all things cultural and adventurous – with attractions and peaks that set Leh apart from the rest of the country.
We bring this Leh local sightseeing package with a riveting expedition that starts from Leh and travels to Umling La – the pass that owns the tag of one of the highest motorable roads in the world. You will see Nubra Valley, which nature itself has painted with orchards, mind-blowing dunes, and a high-altitude desert.
The unmatched pull of Leh compels you into its sanctuary covered with crystal clear skies, mystical lakes, out-of-this-world peaks and mysterious roads – making you forget everything else.
Journey to the off-beat locations, of Umling La (highest motorable road over Khardung La) and Hanle, not covered in common Leh itineraries.
Enjoy the feeling of being on top of the world with the highest motorable passes, Umling La and Khardung La.
Lose yourself in the saint-like calmness of Pangong lake and the dazzle of Tso Kar.
Meet and greet places like Hanle, Tso Moriri lake, and Puga.
Spend some quiet time exploring the cultural side of Leh and the famous attractions it has to offer.
Arrive in Leh, vibing and preparing to commence our long-awaited journey. Acclimatise yourself to the chills of Little Tibet tonight as we have a glacier-clad morning to wake up to.
Local sightseeing, one of the highlights of our Leh trip package, is ready to lure us into the world of architectural show-stoppers! Visit places like Leh Palace, Pathar Sahib Gurudwara, Hall of Fame, Shanti Stupa, Magnetic Hill, and Sangam Confluence. Brood about all of that over dinner in the hotel and call it a night.
The adventurous trip from Leh to Nubra Valley commences today. This part of our Leh travel package is all about scenic and thrill-filled rides from Leh to Nubra Valley, where you will experience the adrenaline rush of riding on one of the highest motorable roads in the world – Khardung La. After reaching Nubra Valley, which is located on the banks of the tranquil Nubra River, we will pause and rewind in the hotel.
 Morning unveils, and we gear up our way from Nubra Valley to Pangong Lake, which adds an ornamental appeal to Leh. We will come across the Shyok village and give our eyes time to soak in the shores of the pristine water body of the highest saltwater lake in the world. You will find yourself mesmerized by the wonder that seems to be mingled with the blue dye. Capture photos and later soak in some warmth by the bonfire. To give this unforgettable experience a peaceful sleep, we have an overnight stay prepped up in the cradle of nature.
Today is all about traversing the distance from Pangong to Hanle, an off-beat route added  to make this Leh tour package special. We will ride from Pangong to Hanle post breakfast, and then, even the air will say that you have come a long way. The immaculate waters of Pangong lake will still be a part of our journey – pegged to leave us spellbound as we ride alongside its shore. We will cross Merek Village and then Chushul. Riding further on the Loma bridge, we will move towards Hanle – a beauty-inducing historic village that hosts the highest astronomical observatory in the world. Not to mention, this ravishing place is one of the restricted areas in Ladakh – open to only domestic tourists with permits. We will check in to the guest house and give in to the comfort of a modest but cozy stay.
Today will be a memorable day. Get ready to experience the adventure as we embark on a soul-stirring gospel ride via one of the highest motorable passes in the world – Umling La pass (19300 ft.) A thrilling route added especially to this  Leh package – this one will have you enraptured for months to come. Many of you might be checking it off your bucket list during our stay in the guest house tonight.
Have your breakfast, and we'll be meeting at the ever-so-quaint Tso Moriri Lake. On our way, we will cross Ya Ya Tso Lake, Nurpa Pass (16,100 ft.) and Mahe Bridge. We will reach Korzok by late afternoon, after which the time will be all yours to try and grasp the symphonies of the Tso Moriri Lake. We will wrap this day up at a hotel or camp in Korzok.
Let's have our breakfast early today and leave for our next quest. The notes at the end of any Leh packages are often the ones we either want to delay or delete! But we are not going alone this time. There are memories of the divine Ladakh which will never fade. We will cross Puga, the wonder valley that is famous for its hot sulfur spring, and we will pass by the gorgeous Tso Kar – an emerald salt lake that can make anyone believe in magic. We will also come across Taglang La La Pass (17,585ft.), the highest motorable road on Manali Leh Highway. We will reach Leh by the evening and give it a rest with a stay at the hotel here.
We are at the end of our Leh to Leh tour package, the part no one wants to talk about. Such is the allure of this entire region. Let's recall how we crossed some of the highest passes and roads in the world during this trip. These unparalleled moments and an urge to stay are our excuse to come back here again soon.
Accommodation
Meals
Permit
Mechanic
First aid kit
Oxygen cylinder
Experienced Tour marshal
Bon Fire wherever possible (Depends on the weather condition)
If bringing your own car, fuel cost will not be included in the package cost.
This trip covers locations based on high altitude.
High altitude may lead to Acute Mountain Sickness due to lower oxygen pressure than usual. Some of the symptoms include headache, nausea and more.
Kindly read all sections in attachment to know more about the trip.
Kindly pay full attention to the briefing provided and follow all guidelines as recommended.
Vendor details will be shared post booking. Please co-ordinate with vendor on reporting time & location.

Starting Point
Leh
Kushok Bakula Rimpochee Airport
Directions


End Point
Leh
Kushok Bakula Rimpochee Airport
Directions

Booking will be confirmed within 24 hours.

In case of non-availability for the date, our team will get in touch with you to work out the best possible dates. Kindly bear with us as this industry does not work with real-time inventory views from vendor partners.

If you wish to cancel before receiving a confirmation, you will receive a 100% refund.
Full Refund– If cancelled before 15 days of scheduled departure.
No Refund– If cancelled less than 15 days after scheduled departure.
If participants are unable to or refuse to go through with the experience at the site, no refund will be applicable. To avoid inconvenience to other travellers, the expedition will continue in such cases and participants will have to make their arrangements if they continue their stay.
100% at the time of booking.
Rescheduling is subject to availability.

Once the cancellation window ends, rescheduling cannot be done.

Each booking allows for a maximum of two rescheduling opportunities. After which, no further changes can be made to the booking.

Any price differences resulting from rescheduling, such as changes in seasonal rates or availability, will be applicable and will be communicated to the customer during the rescheduling process.

In the event that a customer requests a rescheduling but fails to attend the newly scheduled appointment, it will be considered a missed appointment, and our standard cancellation policy will apply
Yes, there will be an experienced tour marshal during the entire trip.
Please read the product detail page carefully for things to carry for the trip.
The best time to visit Ladakh is from May to October, during this time all the winter snow starts melting resulting in clear and dry roads. Autumn and summer are the best time, as there are a lot of festival celebrations in the town, which makes it more appealing for tourists.
Yes, there are age & weight restrictions for this trip. The age limit is 18 to 50 years. The weight limit is 50 to 100 Kg. as long as there is no medical history or condition involved. Please consult your doctor before visiting the trip.
The accommodations will be provided in standard hotels/ Guest Houses and camps on a Single / Twin / Triple sharing basis of your selection.
Breakfast and dinner are included in the trip from Dinner on Day 01 to Breakfast on Day 10.
Every day you will be doing a ride of a minimum 5 to 6 hours and it may extend depending on the cumulative speed of the group and halts taken during the trip.
You can enjoy river rafting, camping, double-humped camel rides and ATV rides during this trip at your expense. It is not a part of the package being offered.
If you are going for this expedition from Jan to March, you may experience snow on the trail. In the summer, the snow melts completely and the weather is bright and sunny.
Below are the additional charges that may incur and are not included in the package cost:
Personal expenses
Any detours that you may take or places that you visit which are not a part of the itinerary.
Entry fees of any attractions.
For people with their car, all the documents related to the vehicle are mandatory like insurance, an RC Driving license a valid ID & address proof. For other riders, ID proof and a valid driving license are required.
The local permits required will be arranged by our vendor partner however a valid ID proof & address proof, the booking voucher along your declaration form are required.
The best way to reach Manali is by Bus. Manali is very well connected with all the major tourist destinations and you can easily get a bus from Delhi to Manali. You can get state-organized buses or private travel buses. The duration for the same is 12 to 13 hours.
Full Refund– If cancelled before 15 days of scheduled departure.
No Refund– If cancelled less than 15 days of scheduled departure.
If participants are unable to or refuse to go through with the experience at the site, no refund will be applicable. To avoid inconvenience to other travellers, the expedition will continue in such cases and participants will have to make their arrangements if they continue their stay.
The payment policy is 100% at booking.
In case of extreme bad weather, government restriction or political disturbance, if any activity is cancelled; then the operator will suggest the best possible alternative. However, a cash refund is not applicable. In case of a change in itinerary due to weather, any additional expenses must be borne by the traveller.
AMS or Acute Mountain Sickness is caused by quick exposure to low oxygen levels at high altitudes. Symptoms of AMS include nausea, fatigue, rapid heart rate and headache to name a few.
In case of any symptoms, please inform your tour marshal immediately, if there is any discomfort and oxygen levels drop, a Backup oxygen cylinder is provided as an immediate relief and the customer is taken to the nearest hospital and moved to a lower altitude region. Once the doctor certifies that you are fit to travel, you can resume the trip or you will be advised to travel back home.
Any changes in your schedule about airlines or transportation will result in a change in the entire itinerary. The operator will suggest the best alternative possible in this case. However, a refund for any missed inclusions will not be provided and any extra cost incurred to rearrange the itinerary will be borne by the traveller.
4 - Passport size photographs
Driving License – Original
If bringing your own car, all documents related to your car should be brought
Photo & address identity proofs that are issued by the Government of India like Driving License, Passport, Voter ID. (PAN card will not be considered as a valid address proof)