Skandagiri Sunrise Trek
₹

1,599
Closed for the Season
Karnataka

Pumped Adventure
Couples/Group Adventure, Family Adventure, Solo Adventure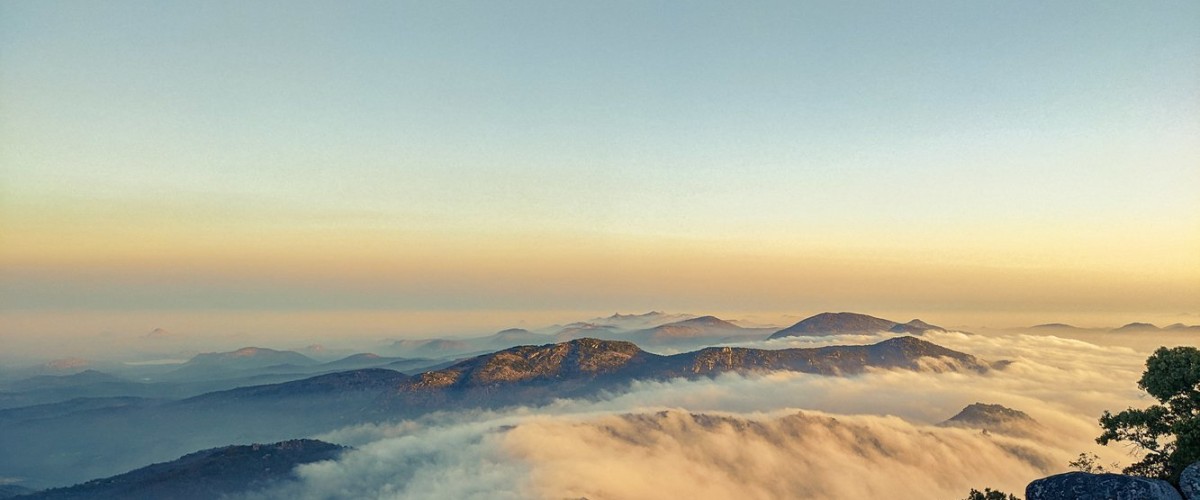 Overview
Get ready to embark on a thrill-filled and exhilarating trek to the Skandagiri Peak at a height of 1350 metres. As you explore the terrains of Skandagiri, be prepared to discover majestic viewpoints, picturesque valleys and ancient temples en route. 
 This Skandagiri trekking allows you to witness the most surreal sunrise scene. This majestic peak is located in the Nandi hill ranges and captures the earth and sky. Thus, the Skandagiri night trek is less preferred than the early morning trek. Brace your eyes to get soaked in the magical scene with clouds. 
Trekking in the trails of the Skandagiri hills is on the bucket list of every adventure lover. Be it, casual trekkers or seasoned trekkers. The sublime atmosphere ensures you have the most surreal experience. Get your trek shoes ready to experience thrill, serenity, and magic with AdventuRush's Skandagiri trek package. Grab a glimpse of the majestic panoramic view with mystical trails and an unparalleled green landscape. Want to check such a scene off your bucket list? Rush to our Skandagiri trek booking now.
Take an off-beat track (trekking in Skandagiri hills from Bangalore) and discover the wilderness.
Brace yourselves for a thrilling and adrenaline-rushing Skandagiri trek on a diverse trail covered with boulders, rocks and gravel.
Get your eyes soaked in the beauty of the dense vegetation and breathtaking landscape.
Explore the architectural highlights of Skandagiri, like the aesthetic caves and historic temples located at the peak.
Begin your journey by boarding the bus from Bangalore to Skandagiri by 11:00 p.m.

Pick-up points include Indira Nagar (11:00 p.m.), Dolmur Sky Walk (11:15 p.m.), Sapphire Toys (11:30 p.m.) and Esteem Mall- Hebbal (11:55 p.m.)
Reach the base camp by 2:00 a.m., refresh, and rest for a while.

Start the exhilarating trekking towards the peak as the morning breeze gushes.

Discover spots like the

Skandagiri temple and some ancient earthy caves en route.

Reach the peak, witness the magical sunrise and explore nearby areas.

Trek down the same route for another thrilling experience and reach the base camp.

Leave for Bangalore after a delicious breakfast by 9:00 a.m.
Transportation
Meals
Guide Charges
First Aid Kit
Entry Charges
Age limit 12+
Keeping your safety first, if the weather is poor, the event may be delayed or postpone, and an alternative time slot will be suggested.
Please carry an ID proof and passport size photo (PAN card will not be considered as a valid address proof).
Kindly read all sections in attachment to know more about the trip.
Kindly pay full attention to the briefing provided and follow all guidelines as recommended.
Trekking is to immerse oneself in nature, so please expect basic facilities.
Electricity may be available only at a few locations.
Package includes vegetarian meals only.
Vendor details will be shared post booking. Please co-ordinate with vendor on reporting time & location.

Starting Point
Indiranagar, Banglore
100 Feet Rd, Binnamangala, Hoysala Nagar, Indiranagar, Bengaluru, Karnataka 560038
Directions

We will confirm your booking within 24 hours.

In case of non-availability for the date, our team will contact you to work out the best possible dates. Kindly bear with us as this industry does not work with real-time inventory views from vendor partners.

 
If you wish to cancel before receiving a confirmation, you will receive a 100% refund.

 
Full Refund-

If cancelled before 7 days of the scheduled date. 

No Refund-

If cancelled within 7 days

of the scheduled date.

If participants are unable or refuse to go through with the experience at the site, no refund will be applicable.
100% at the time of booking.
Rescheduling is subject to availability.

Once the cancellation window ends, rescheduling cannot be done.

Each booking allows for a maximum of two rescheduling opportunities. After which, no further changes can be made to the booking.

Any price differences resulting from rescheduling, such as changes in seasonal rates or availability, will be applicable and will be communicated to the customer during the rescheduling process.

In the event that a customer requests a rescheduling but fails to attend the newly scheduled appointment, it will be considered a missed appointment, and our standard cancellation policy will apply
The ideal time to visit Irshalgad Trek is during the months of June to October when the weather is pleasant and favorable for trekking.
The starting point for this trek is from  Indiranagar, Banglore.
Yes, beginners can attempt the  Irshalgad trek, but it is important to be physically fit and mentally prepared for the challenges of the trek. It is advisable to start with less difficult routes and gradually progress.
Some precautions to take while trekking  Skandagiri  include carrying sufficient water, wearing proper trekking shoes, carrying necessary medications, and being aware of weather conditions and trail markings.
In

case you are sick and not able to complete the trek, you will be sent down to the base camp depending on the circumstances. Kindly note that a refund or reschedule for the same is not applicable. Any extra expenses incurred during this transfer will be borne by the

traveller.
Full Refund-

If cancelled before 7 days before scheduled departure.

No Refund-

If cancelled by the customer less than 7 days before scheduled departure.

 

If participants are unable or refuse to go through with the experience at the site, no refund will be applicable. 
The payment policy is 100% at the time of

booking.
Refunds are subject to the cancellation

policies.

All refunds will be processed in 10 business days to the source account.

 
In case of extreme bad weather, government restriction or political disturbance, if any activity is cancelled; then the operator will suggest the best possible alternative. However, a cash refund is not applicable. In case of a change in itinerary due to weather, any additional expenses will be borne by the traveller.

 
The Pickup location is from Indiranagar, Banglore
Start your Bangalore to Skandagiri trek in a comfortable bus ride of 60 km. Pick-up points include  Indira Nagar (11:00 p.m.), Dolmur Sky Walk (11:15 p.m.), Sapphire Toys (11:30 p.m.) and Esteem Mall- Hebbal (11:55 p.m.).
Reach the base camp of the Skandagiri peak by 2 a.m. Lay back and relax to brace yourselves for the exuberant journey ahead. Start trekking by 4:00 a.m. The initial part of the Skandagiri trek route is arid and semi-dry. But hold on! The best part lies after this. The Skandagiri trek distance is 4 km. Lush greenery and a majestic 360-degree view are just a few miles away. Get your boots on the ground, embarking on a spellbound journey amidst these green forests, musty trees and fresh breeze. 
 Visit the Skandagiri temples (Shri Subramanyaswamy temple) and earthy caves to get mesmerised by their architectural beauty.
Get moving to the peak and experience the highlight of the Skandagiri Hills trek- a beautiful sunrise by 6:00 a.m. Explore the surroundings and get your cameras into action as the morning light unfolds. 
Apart from the glorious sunrise, brace yourselves to witness the ancient fortress, uninterrupted greenery and an ancient Shiva temple at the hilltop.
Then trek down the base on the same route for a second experience at this enthralling route by 7:30 a.m. Wrap this Skandagiri trek by leaving for Bangalore and having a delicious breakfast on the way back by 9:00 a.m. Reach Bangalore by 11:30 a.m. And just like that, you've experienced one of the best mornings of your life.