Gulmarg Skiing Adventure
₹

9,999

Gutsy Adventure
Couples/Group Adventure, Solo Adventure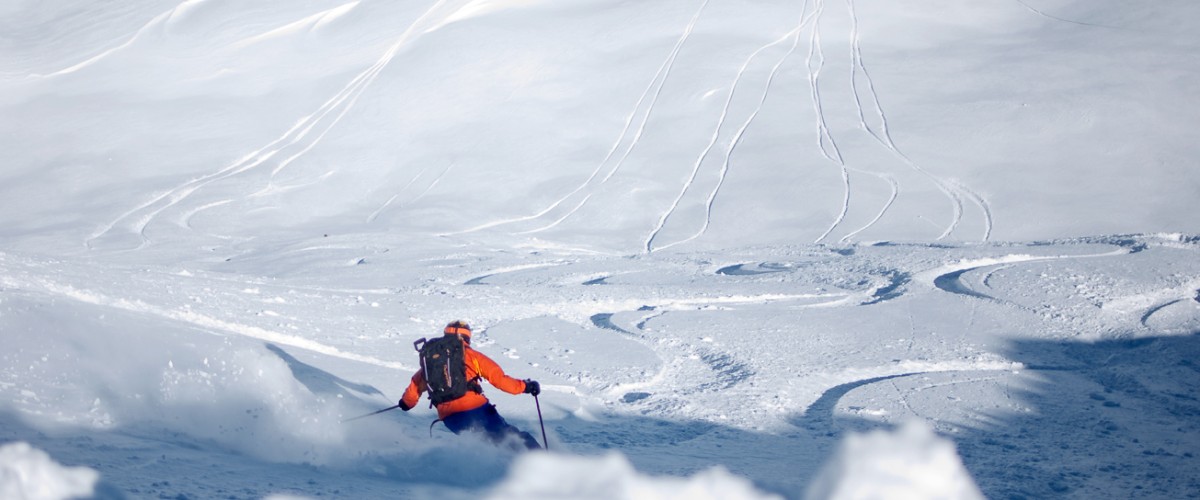 Overview
Calling all adventure enthusiasts and thrill-seekers! Are you ready to take your skiing skills to the next level? Look no further than our Backcountry Day Tour, a thrilling adventure designed exclusively for advanced and expert skiers. But here's the twist – intermediates with a strong confidence in their riding abilities are also invited to join this extraordinary journey.
Whether you're a seasoned pro or an intermediate with a passion for pushing your limits, this skiing course in Gulmarg is your gateway to an unforgettable skiing adventure.
In the pristine landscapes of Gulmarg, find yourself carving through untouched landscapes, navigating challenging slopes. Experience the ultimate skiing adrenaline rush. Our Backcountry Day Tour is more than just skiing; it's a quest for exploration, a test of your skills, and an opportunity to conquer the untamed.
Join AdventuRush for the basic skiing course Gulmarg that will leave you breathless from the altitude and sheer exhilaration. You don't have to worry about the skiing price in Gulmarg, book your spot now and be part of an epic skiing journey like no other.
Enjoy an unforgettable journey led by experienced guides who pick you up from your accommodation and guide you to the majestic Apharwat mountain. With their extensive mountain knowledge, you'll enjoy a tailored and thrilling tour.
Benefit from one-on-one lessons that offer the undivided attention of our skilled instructors. Each lesson is carefully customized to your current skill level and desired outcomes, whether it's skiing for beginners or an intermediate looking to refine your technique on and off-piste.
Experience the utmost safety as our qualified instructors are locals with in-depth knowledge of the terrain. They'll accompany you on an exhilarating adventure through the stunning slopes of Gulmarg.
Gain essential backcountry skills and techniques from our experienced guides, enabling you to become a more proficient and confident backcountry skier.
Start your day conveniently as we pick you up from your Gulmarg accommodation.
Learn advanced skiing skills, safety measures, and techniques from experienced guides.
Embark on an exhilarating skiing adventure with an expert guide, exploring Gulmarg's slopes.
Enjoy lunch surrounded by stunning scenery.
Get an overview of emergency and avalanche rescue procedures.
End your skiing adventure and safely return to your hotel for relaxation and reflection.
1 Day of Guided Backcountry Tour.
Emergency/Avalanche Rescue.
Backcountry Training Skill.
Hotel Pickup & Drop within Gulmarg.
Participants must be 18 years of age or older to participate.
This program is specifically designed for professionals with intermediate and advanced skill levels.
The program operates from 9:00 AM to 4:30 PM.
Vendor contact details will be provided after booking. Please coordinate with the vendor regarding the reporting time and location.
Personal expenses or items of a personal nature are not included in the package. Meals or transfers not mentioned in the itinerary are not covered.
Alcoholic beverages, aerated drinks, or mineral water are not part of the package cost.
Any damage or breakage of items in the resort will incur additional charges
A booking confirmation will be sent to you within 24 hours of your payment.
If your desired date is unavailable, our team will contact you to find the best alternative dates. Please understand that real-time inventory views from our vendor partners may not be available.
You will receive a 100% refund if you decide to cancel your booking before receiving confirmation.
Full Refund:

Cancellations made 72 hours or more before the scheduled date will receive a full refund.
No Refund:

Cancellations made within 72 hours of the scheduled date are not eligible for a refund.
A 100% payment is required at the time of booking.
Rescheduling is subject to availability.

Once the cancellation window ends, rescheduling cannot be done.

Each booking allows for a maximum of two rescheduling opportunities. After which, no further changes can be made to the booking.

Any price differences resulting from rescheduling, such as changes in seasonal rates or availability, will be applicable and will be communicated to the customer during the rescheduling process.

In the event that a customer requests a rescheduling but fails to attend the newly scheduled appointment, it will be considered a missed appointment, and our standard cancellation policy will apply
This experience spans a duration of 6 hours.
The activity commences in Gulmarg.
You can cancel your booking at any time.
A 100% refund will be processed if the cancellation occurs 72 hours before the scheduled trip.
No refund will be provided if the cancellation is made within 72 hours of the scheduled trip.
Kickstart your day with convenience and ease as our dedicated team picks you up right from your accommodation in Gulmarg. No need to worry about transportation; we've got you covered from the get-go.
Your journey into the world of skiing begins at our specially designated training area. Here, our seasoned guides will impart valuable skills and techniques, taking your skiing prowess to the next level. Dive into the intricacies of advanced skiing, learn essential safety measures, and discover how to make the most of the slopes.
Prepare for a day of unforgettable skiing adventure led by our expert guide. Explore the majestic slopes of Gulmarg, carving your way through powder-filled terrain and experiencing the pure thrill of advanced skiing. With your guide at the helm, you can trust in an exhilarating and safe experience.
Pause for a well-deserved lunch break amidst the stunning natural surroundings. Recharge your energy levels while soaking in the breathtaking scenery that surrounds you. It's not just a meal; it's a moment to savor the beauty of Gulmarg. In the afternoon, our guides will provide an overview of emergency and avalanche rescue procedures, equipping you with the knowledge and confidence to handle unforeseen situations. 
As the day draws to a close, it's time to head back towards Gulmarg after an exhilarating skiing adventure. Arrive safely at your hotel or resort in Gulmarg, where you can relax, unwind, and reflect on the incredible memories you created on the slopes.