Channarayana Durga Day Trek
₹

1,199

Pumped Adventure
Couples/Group Adventure, Family Adventure, Solo Adventure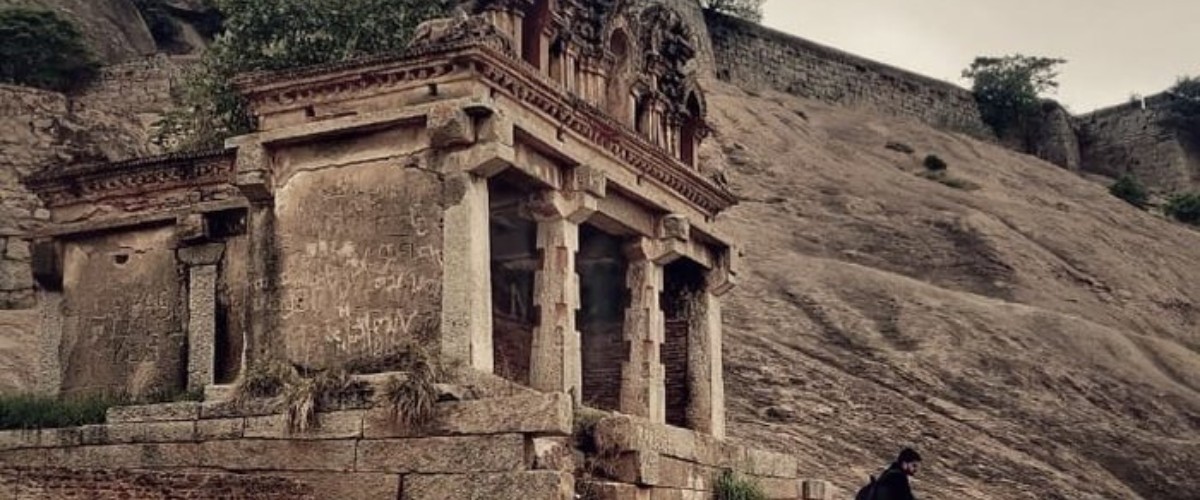 Overview
Get set and go! Brace yourselves to go on an off-beat daring trek to Channarayana. Located in the Madhugiri district, Channarayan is a must-experience trek route for both casual and seasoned trekkers. Get ready to lure into nature's endless beauty as you take a rocky route, feeding your inner adventurer. 
This hill fort is best known for its historical richness and architectural highlights. Nothing can beat the experience at a height of 3,730 feet, where the fresh air gushes by your face, and all you see is a panoramic view of irreplaceable views. The difficulty rating of this Channarayana durga fort trek route is moderate- you'll climb through granite rocks stretched across the entire trail. 
From chatting with the locals to visiting historical spots and cave temples, you'll have it all in this Bangalore to Channarayana Durga trek. Prepare for one of the most breathtaking and thrill-filled trekking around Bangalore with AdventuRush.
Get a trekking experience that's adventurous, explorable and filled with worth-sceneries.
Dive into a perfect blend of serenity and thrill as you reach the Channarayana durga fort viewpoint.
Experience the ultimate adrenaline rush as you climb a trail filled with granite rocks and steep boulders.
Explore the architectural beauty of the Channarayana Fort, built in the late 16th century.
Lure into lush greenery, majestic hill locks and a 360 view during the Channarayana Durga trek.
Start your day by boarding the bus from Bangalore to Channarayana Durga Fort. 

Enjoy a delicious breakfast en route. 

Arrive at the base camp for the Channarayana Durga Fort day trek, freshen up and commence the 5km ascent to the glorious fort. 

After relishing the scenic views, and experiencing the thrill of this trek, return to the base for a scrumptious lunch. 

Start the journey back to Bangalore and reach by night. 
Transportation
Meals
Guide Charges.
First Aid Kit
Entry Charges
Age limit 12+.
Keeping your safety first, if the weather is poor, the event may be delayed or postpone, and an alternative time slot will be suggested.
Please carry an ID proof and passport size photo (PAN card will not be considered as a valid address proof).
Kindly read all sections in attachment to know more about the trip.
Kindly pay full attention to the briefing provided and follow all guidelines as recommended.
Trekking is to immerse oneself in nature, so please expect basic facilities.
Electricity may be available only at a few locations.
Package includes vegetarian meals only.
Vendor details will be shared post booking. Please co-ordinate with vendor on reporting time & location.

Starting Point
Indiranagar, Banglore
100 Feet Rd, Binnamangala, Hoysala Nagar, Indiranagar, Bengaluru, Karnataka 560038
Directions

We will confirm your booking within 24 hours.

In case of non-availability for the date, our team will get in touch with you to work out best possible dates. Kindly bear with us as this industry does not work with real-time inventory view from vendor partners.

 
If you wish to cancel before receiving a confirmation, you will receive 100% refund.

 
Full Refund-

If cancelled before 7 days of scheduled date. 

No Refund-

If cancelled within 7 days

of scheduled date.
If participants are unable to or refuse to go through with the experience at site, no refund will be applicable.
100% at the time of booking.
Rescheduling is subject to availability.

Once the cancellation window ends, rescheduling cannot be done.

Each booking allows for a maximum of two rescheduling opportunities. After which, no further changes can be made to the booking.

Any price differences resulting from rescheduling, such as changes in seasonal rates or availability, will be applicable and will be communicated to the customer during the rescheduling process.

In the event that a customer requests a rescheduling but fails to attend the newly scheduled appointment, it will be considered a missed appointment, and our standard cancellation policy will apply
The ideal time to visit  Channarayana Durga  Trek  is during the months of June to October when the weather is pleasant and favorable for trekking.
The starting point for this trek is from  Indiranagar, Banglore.
Yes, beginners can attempt the Channarayana Durga   trek, but it is important to be physically fit and mentally prepared for the challenges of the trek. It is advisable to start with less difficult routes and gradually progress.
Some precautions to take while trekking  Channarayana Durga  include carrying sufficient water, wearing proper trekking shoes, carrying necessary medications, and being aware of weather conditions and trail markings.
In case you are sick and not able to complete the trek, you will be sent down to the base camp depending on the circumstances. Kindly note that a refund or reschedule for the same is not applicable. Any extra expenses incurred during this transfer will be borne by the traveler.
Full Refund-

If cancelled before 7 days before scheduled departure.

No Refund-

If cancelled by customer less than 7 days before scheduled departure.

 
If participants are unable to or refuse to go through with the experience at site, no refund will be applicable. 
The payment policy is 100% at the time of booking.
Refunds are subjected to the cancellation policies . All refunds will be processed in 10 business days to the source account. 
In case of extreme bad weather, government restriction or political disturbance, if any activity is cancelled; then the operator will suggest the best possible alternative. However, a cash refund is not applicable. In case of a change in itinerary due to weather, any additional expenses will be borne by the traveler. 
The Pickup location is from Indiranagar, Banglore
Begin your journey of absolute adventure by departing from Banglore in a Non-AC comfortable bus between 6.30 to 7.30 am. The pickup points include  Indira Nagar, Dolmur Sky Walk, Sapphire Toys and Yesvantpur. Fill up your stomachs with a delicious breakfast en route to Channarayana Hills to prepare for the perfect adventure-filled day.
Brace yourselves for all the thrill as you reach the base camp of the Channarayana durga fort by 10 am. Buckle up and set off on a daring ascend on a narrow, rocky and tricky trail. Delve in the gorgeous views and lush landscape that does all the magic amidst uneven granite rocks and dry boulders on the way. What do we call the highlight of this Channarayana Durga trek? The adrenaline rush you experience hiking on huge and crazy granite rocks- a scene worth every penny.
Set your shoes stronger on the ground as you climb up a 4-5 km long trail with scented bushes and boulders stretched across. Keep going as you get your eyes to witness the alluring landscape and charming views. Explore historic caves and majestic temples in the Channarayana Durga Fort. 
Reach the hilltop, experience your magical moment and unwind. Have a yummy lunch, return to the base and wrap this day. Leave for Bangalore by 4 pm after a day of adventures with a ton of memories.