%
Ladakh Bike Expedition – Srinagar to Leh 7N/8D
Srinagar

Gutsy Adventure
Couples/Group Adventure, Solo Adventure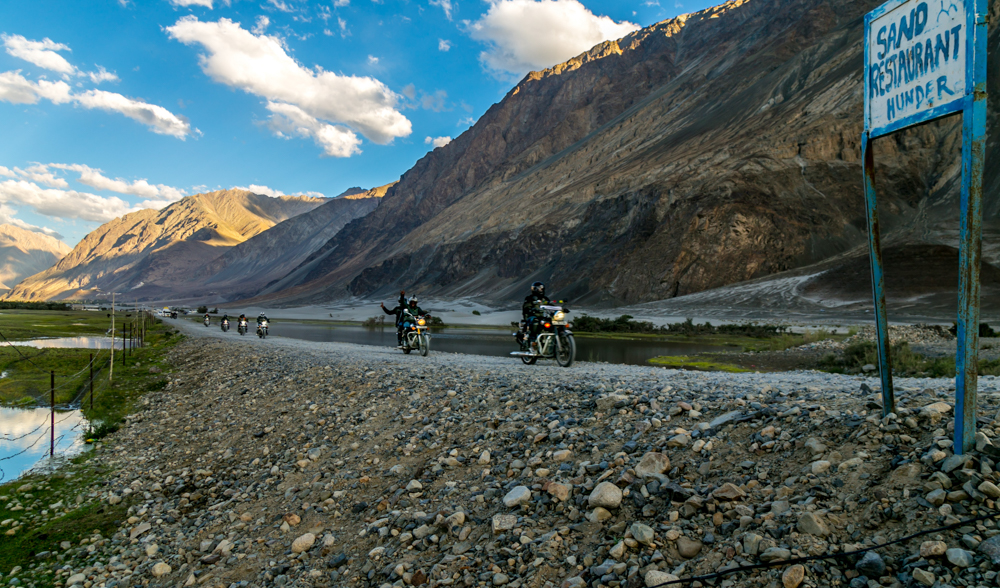 Overview
Nestled in the embrace of the majestic Himalayas, the splendid Srinagar to Leh trip shall take one's breath away with a mélange of awe-inspiring vistas and exhilarating adventures. Embarking upon this odyssey across a prismatic landscape, the intrepid traveler is met with a series of enchanting destinations, each echoing tales of yore and brimming with indigenous culture. This literary masterpiece endeavors to illuminate the myriad splendors hidden within the folds of this picturesque trip, catering to the discerning tastes of the mavens of wanderlust.
Embark on the exhilarating Srinagar to Leh bike trip with AdventuRush. A timeless, unforgettable experience that promises the best of adventure, views, and thrill to all.
Along the way on the Srinagar to Leh bike trip, noble travelers encounter the welcoming embraces of verdant valleys and the rhapsodic melodies of murmuring rivers.
Witness the pristine snow-capped mountains, verdant valleys, and cerulean skies throughout Leh's trip from Srinagar.
This Srinagar to Leh trip, an epitome of luxury and exquisiteness, bestows upon its zealous participants a thrilling surge of adrenaline as they conquer the lofty altitudes with unwavering finesse.
The Gurudwara Pathar Sahib is another serene location to visit before experiencing the intriguing phenomenon of magnetic hills.
Drive across Khardung La, which is said to be the highest motorable road on earth.
Pangong Lake's vivid colors and serene ambience are incomparable to anything else.
Drive across the Chang La, the second-highest pass in the world.
The day one of the Srinagar to Leh bike trip includes arriving in the picturesque city of Srinagar. Settle into our welcoming accommodations and prepare for an afternoon of exploration within this enchanting locale. In the evening, our astute tour manager will provide invaluable insights regarding safety precautions, adept riding techniques, and essential gear assessments.
In the evening, savor the opportunity to develop connections with fellow travelers as companionship grows amidst shared anticipation for the adventures that lie ahead. Sleep soundly within the hotel's comforting ambiance as new experiences await in the days ahead.
Following breakfast at your hotel, venture on a captivating day tour to Kargil. Traverse the majestic Zojila Pass, situated at an elevation of 3,580 meters, as you make your way through this breathtaking journey. En route, you will encounter the remote Drass Village—renowned as the second coldest inhabited locale on Earth.
As you continue onward, feast your eyes upon the awe-inspiring vistas of Tiger Hill and an array of other significant peaks nestled within the Himalayan range. By evening, you shall arrive in the distinct town of Kargil. Conclude your day by staying overnight at a cozy hotel in Kargil as you reflect upon the enchanting experiences that filled your day.
On the third day of your Leh trip from Srinagar, savor a delectable breakfast at your hotel in Kargil before embarking on your enthralling journey to Leh . En route, pay a visit to the renowned Lamayuru Monastery, which stands as one of the most significant and ancient Buddhist sanctuaries in the picturesque Ladakh region. Witness the awe-inspiring confluence of the Zanskar and Indus Rivers, also recognized as the world's highest river rafting point. Immerse yourself in the acclaimed Hall of Fame and gain profound insights into the Indo-Pak wars and their valiant martyrs.
Become captivated by Magnetic Hill, where you can experience the astonishing phenomenon of vehicles seemingly defying gravity, sliding uphill on neutral gear. As you return to Leh, relish in sumptuous langar at Gurudwara Pathar Sahib. Finally, settle for an overnight stay encompassed by comfort within your hotel in Leh.
After having your breakfast, brace yourself for an unparalleled odyssey. This intrepid expedition shall lead you across some of the loftiest mountain passes known to humankind, regaling you with a kaleidoscope of ever-transforming views of stark, isolated terrains. Pause for a break at the café perched atop Khardung-La Pass, the apex of all-season motorable roads; marvel at the panoramic scenery and savor the sensation of transcending earthly bounds. Time permitting, venture to the venerable Diskit Monastery, Ladakh's most ancient and expansive haven of worship, cradling within its walls an imposing statue of Buddha.
Delight in the rare opportunity to mount the exquisite dual-humped Bactrian camel, a privilege exclusive to this unique region once traversed by the renowned Silk Road. Rest for an overnight repose beneath a blanket of stars at a serene campsite nestled within the embrace of Nubra Valley.
Following a delectable morning meal, commence your journey towards Turtuk. As the final outpost in India before reaching the Pakistan-controlled Gilgit-Baltistan territory, Turtuk serves as one of the gateways to the breathtaking Siachen Glacier. Its cultural, linguistic, and historical distinctions set it apart from the experiences you've encountered thus far on your Ladakh sojourn, as it resides within the Gilgit-Baltistan region.
The landscape transmutes, unveiling dramatic narrow valleys juxtaposed against imposing mountain slopes, a stark contrast to Central Ladakh and Nubra. Nestled at a gentler altitude compared to Leh, Turtuk boasts verdant pastures yielding succulent fresh produce such as apricots and apples.
Upon returning to the campsite, indulge yourself in a delectable dinner. Day five of your Srinagar to Leh bike trip concludes by embracing a serene respite under starry skies with an overnight stay in the alpine tents of the Nubra Valley.
Awaken at daybreak amidst the splendor of the enchanting Nubra Valley and partake in a delicious breakfast. Prepare for an eagerly anticipated day as you journey to the sublime Pangong Lake, nestled along the Indo-China frontier. Greeted by one of nature's marvels, behold the breathtaking beauty of Pangong Tso, one of the highest altitude brackish water lakes, as it captivates you with its mesmerizing chromatic transitions from iridescent blues to verdant greens and resplendent reds. Immerse yourself in the serene exploration of Pangong's surroundings, with the tranquil Shyok River flowing on one side and majestic mountains casting their shadows on the other.
When night falls, retreat to a cozy campsite nestled close to Pangong Lake for a blissful sojourn and a savory evening banquet beneath a canopy of stars.
Wake up to the resplendent visage of the serene Pangong Lake, and indulge in a tasty morning repast. As you commence your journey back to Leh, pause momentarily at the majestic Chang-la Pass – among the highest mountainous thresholds the world over. Pay a visit to the quaint Chang-la Café nestled upon this very pass. Ascend further to the hallowed Changla Baba Temple, from which the pass derives its name, regarded as the celestial guardian for those who traverse these altitudes. Upon your arrival at Leh, allow yourself a brief respite before partaking in a sumptuous dinner within the hotel confines. Conclude your day with a tranquil overnight stay at a prominent Leh establishment
As the sun sets on the final day of the Srinagar to Leh trip, prepare to bid farewell to the breathtaking beauty that has captivated your senses and stolen your heart. Reminisce over the adrenaline-pumping adventures and unforgettable moments that have shaped your alluring journey through this magical realm. Relish the kaleidoscope of vibrant memories you have woven as you pay tribute to the extraordinary bonds you have forged in this enigmatic land. As you embark on your journey back, carry with you the essence of North India, forever etched in your mind and perpetually calling you back to unravel more of its infinite wonders.
Srinagar : Marcopolo Houseboat / Hotel Shafaf / Similar
Kargil : Hotel Baru-la / Rangyul Hotel / Similar
Leh: Mandala Hotel / Leh Villa / Similar
Nubra : Sand dune Hotel / Shayok Camp / Similar
Pangong : Pangong Heritage Camp / P3 Camp / Similar
Bike
Fuel
Permits
Helmets
Mechanic
First aid kit
Oxygen cylinder
Accommodation
Experienced Tour marshal
Backup vehicle with luggage space up to 60 Litres
Bon Fire wherever possible (Depends on the weather condition)
Breakfast and Dinner (from Dinner on Day 01 to Breakfast on Day 08)
A refundable security deposit of INR 10,000 in cash will have to be paid on arrival to the vendor partner for the Bike.
If bringing your own bike, the fuel cost will not included in the package cost.
Please carry 1 rucksack bag per person (Trolley bags are not allowed).
This trip covers locations based on high altitude.
High altitude may lead to Acute Mountain Sickness due to lower oxygen pressure than usual. Some of the symptoms include headache, nausea and more.
Kindly read all sections in attachment to know more about the trip.
Kindly pay full attention to the briefing provided and follow all guidelines as recommended.

Starting Point
Srinagar Airport
Indragandhi Road, Humhama, Badgam, Jammu and Kashmir 190007
Directions


Ending Point
Leh Airport
Kushok Bakula Rimpochee Airport, Leh Airport Travel Terminal, Leh, 194104
Directions

We will confirm your booking within 24 hours.
In case of non-availability for the date, our team will get in touch with you to work out best possible dates. Kindly bear with us as this industry does not work with real-time inventory view from vendor partners.
If you wish to cancel before receiving a confirmation, you will receive 100% refund.
Full Refund– If cancelled before 15 days of scheduled date
No Refund– If cancelled within 15 days of scheduled date
If participants are unable to or refuse to go through with the experience at site, no refund will be applicable.
To avoid inconvenience to other travelers, the expedition will continue in such case and participant will have to make their own arrangements, if they continue their stay.
100% at the time of booking.
Rescheduling is subject to availability.

Once the cancellation window ends, rescheduling cannot be done.

Each booking allows for a maximum of two rescheduling opportunities. After which, no further changes can be made to the booking.

Any price differences resulting from rescheduling, such as changes in seasonal rates or availability, will be applicable and will be communicated to the customer during the rescheduling process.

In the event that a customer requests a rescheduling but fails to attend the newly scheduled appointment, it will be considered a missed appointment, and our standard cancellation policy will apply
Since ladakh is a rough terrain, a bike with powerful engine and strong build is preferable. The ideal bike for this trip is RE himalayan, adventure bikes, you can try KTM Duke, KTM Adventure 390.
Yes, it is safe for solo riders to bring their own bike and join the group if they are a good rider. The group departure has an experienced tour marshal along with a mechanic and a backup vehicle. Thus, you can enjoy this adventure with maximum safety.
Yes, there will be an experienced tour marshal during the entire trip.
Please read the product detail page carefully for things to carry for the trip.
The best time to visit for a Ladakh Bike Trip is from May to October, during this time all the winter snow starts melting resulting in clear and dry roads. Autumn and summer are the best time, as there are a lot of festival celebrations in the town, which makes it more appealing for tourists.
Yes, there are age & weight restrictions for this trip. The age limit is 18 to 50. The weight limit is 50 to 100 Kgs if there is no medical history or condition involved. Please consult your doctor before visiting the trip.
The accommodations will be provided in standard hotels/guest houses and camps on Single/twin/ triple sharing basis of your selection.
Breakfast and dinner are included in the trip from Dinner on Day 01 to Breakfast on Day 08.
If you are a frequent bike rider, then this trip is perfect for you. If you are not a rider, then you can join the trip as a pillion with your rider partner or get a seat on a backup vehicle
Every day you will be doing a ride of minimum 5 to 6 hours and it may extend depending on the cumulative speed of the group and halts taken during the trip.
You can enjoy river rafting, camping, double humped camel ride and ATV rides during this trip at your expense. It is not a part of the package being offered.
If you are going for this expedition during the month of Jan to March, you may experience snow on the trail. In the summer, the snow melts completely and the weather is bright and sunny.
Below are the additional charges that may incur and are not included in the package cost:
A refundable security deposit of INR 10,000 in cash will have to be paid on arrival to the vendor partner for the Bike.
Personal expenses
Any detours that you may take or places that you visit which are not a part of the itinerary.
Entry fees of any attractions.
For riders with their own bikes, all the documents related to the vehicle are mandatory like insurance, RC and Driving license a valid Id & address proof. For other riders, id proof and valid driving license is required.
The local permits required will be arranged by our vendor partner however a valid Id proof & address proof, the booking voucher along with your declaration form is required.
The best way to reach Srinagar is by flight. Named Sheikh ul Alam Airport, Srinagar Airport is an international airport. This airport is well connected and airlines offer regular flights from Srinagar to Delhi, Mumbai and Chandigarh. The airport is located just 15 km away from the center of the city
You can reach Srinagar by Train, one has to reach either Jammu Tawi or Udhampur railway station. The stations are well connected with different parts of India. From these stations, you can hire taxis, private as well as the state government buses to reach this magnificent place.
Srinagar is the capital of the state of Jammu and Kashmir. The city is well connected with major cities like Delhi (876 km), Chandigarh (646 km), Leh (424 km) and Jammu (258 km). There is good Bus service and Cab service available
Full Refund- If cancelled before 15 days of scheduled departure
No Refund- If cancelled less than 15 days of scheduled departure
If participants are unable to or refuse to go through with the experience at site, no refund will be applicable.
To avoid inconvenience to other travelers, the expedition will continue in such case and participant will have to make their own arrangements, if they continue their stay.
The payment policy is 100% at booking.
In case of extreme bad weather, government restriction or political disturbance, if any activity is cancelled; then the operator will suggest the best possible alternative. However, a cash refund is not applicable. In case of a change in itinerary due to weather, any additional expenses must be borne by the traveler.
AMS or Acute Mountain Sickness is caused by the quick exposure to low oxygen levels at high altitude. Symptoms of AMS include nausea, fatigue, rapid heart rate and headache to name a few.
In case of any symptoms, please inform your tour marshal immediately, if there is any discomfort and oxygen levels drop, Backup oxygen cylinder is provided as an immediate relief and the customer is taken to the nearest hospital and moved to a lower altitude region. Once the doctor certifies that you are fit to travel, you can resume the trip or you will be advised to travel back home.
Any changes in your schedule pertaining to airlines or transportation will result in a change in the entire itinerary. The operator will suggest the best alternative possible in this case. However, a refund for any missed inclusions will not be provided and any extra cost incurred to rearrange the itinerary will be borne by the traveller.
4 - Passport size photographs
Driving License – Original
If bringing your own bike, all documents related to your bike should be brought
Photo and address identity proofs that are issued by the Government of India like Driving License, Passport, Voter ID. (PAN card will not be considered as a valid address proof)