%
5N/6D Leh | Umling La | Leh – Bike Expedition
₹

17,299
Currently Unavailable
Ladakh

Gutsy Adventure
Couples/Group Adventure, Solo Adventure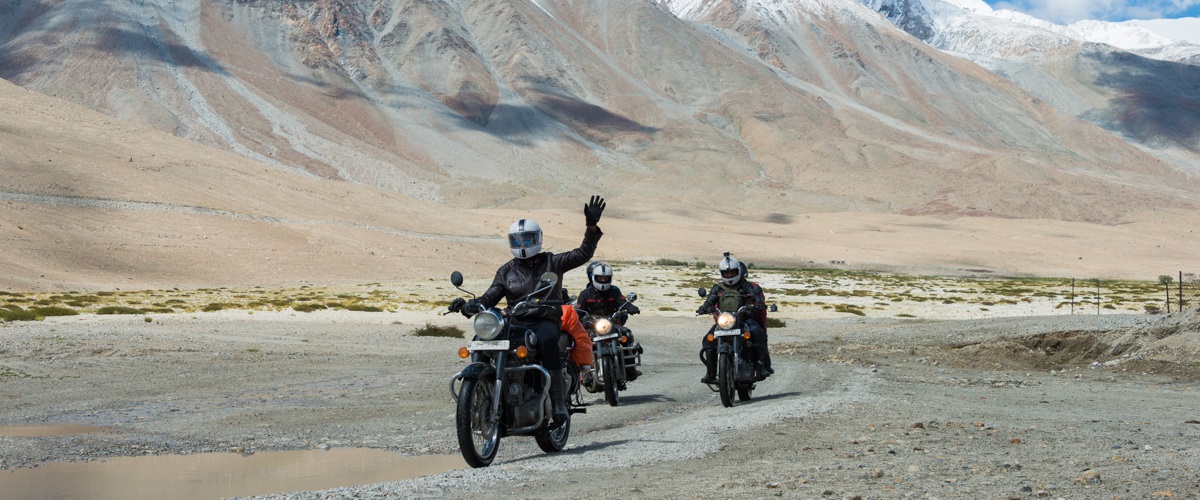 Overview
In the realm of exquisite escapades, the Leh – Umlingla – Leh expedition emerges as an unparalleled sojourn for intrepid souls. Embarking upon this odyssey, one will traverse the resplendent landscapes of Leh, ascend to the dizzying heights of Umlingla, and find solace in the return to Genesis. With each twist and turn over the treacherous terrains, indulge in moments of sheer awe, wanderlust, and exhilaration, enraptured by the sublime splendour of this unparalleled expedition.
The expedition weaves an intricate tapestry of adventure, intertwining the echoes of ancient civilizations with the mighty sweep of Mother Nature's brushstrokes. Within these boundless vistas, time stands momentarily still, whispering secrets of undisturbed beauty etched across millennia and the adrenaline rush that rushes through your body with every turn. Join AdventuRush, as we travel this mesmerizing path, delving into the depths of Leh and Umlingla's timeless allure and crafting a story that will leave an indelible impression upon the annals of your memory. This Leh Ladakh 5-night 6-day itinerary will help you with everything that you need to know. 
The exhilarating journey from Leh to Umlingla, is a biker's paradise, offering an indelible experience of pristine landscapes and undulating terrains.
From the awe-inspiring views of rugged mountains and sparkling azure lakes to the culturally rich monasteries and local villages, there is no shortage of breathtaking moments throughout the journey.
Furthermore, the sense of accomplishment upon reaching Umlingla Pass, the world's highest motorable road, amplifies the adrenaline rush, making this 5 nights 6 days Ladakh package a once-in-a-lifetime adventure.
Upon arrival, proceed to the designated hotel in Leh. Acclimatize to the new environment by sipping water every 15 minutes to maintain optimal hydration. Rest until 4 pm, then explore the serene Shanti Stupa, historic Leh Palace, and bustling local market at your own pace. Return to the hotel for a peaceful night's rest.
On the second day of your

Ladakh 5 nights 6 days package

, awaken to a picturesque morning amidst the mountains and savour a hearty breakfast. Embark on an exhilarating journey to the enchanting Sham Valley, gracefully nestled along the Srinagar-Leh highway. Commence your sightseeing by honouring the valiant Indo-Pak War heroes at the Hall of Fame. 

Relish a delectable langar at Gurudwara Pathar Sahib and discover the intriguing story behind its construction by the army. Delve into the mystery of Magnetic Hill, a beguiling stretch of road defying gravity's law. Venture to the Indus Sangam Viewpoint and witness the mesmerizing confluence of Zanskar and Indus Rivers.

Conclude your day of adventure by returning to your hotel for dinner and a restful overnight stay in Leh.
Begin your day early, around 7 a.m. allowing ample time for scenic exploration along the way. Venture towards Karu Market and Upshi Market. Here, the police will inspect your permit, and subsequently, you may proceed to Chumathang. If permitted, indulge in a rejuvenating bath at the Chumathang hot spring; however, circumstances occasionally restrict access or limit the availability of cold water to moderate the temperature.

 

A few kilometres ahead lies the quaint village of Nyoma—pause here for a refreshment or lunch break. Since much of the route lacks asphalt, seize the opportunity to revel in an off-road escapade.

 

Arrive in Hanle during the evening and immerse yourself in cultural wonders by visiting the Indian Astronomical Observatory or Hanle Monastery. As both are perched atop hills, they present breathtaking vistas perfect for capturing memorable photographs. Conclude your day with a well-earned overnight stay in Hanle.
Begin your day with a substantial breakfast, thoroughly lubricate your bike's chain, and set off towards the Hanle bridge. Ensure that you remain within proximity of your fellow riders, maintaining consistent communication with the road captain and backup car via radio.

Upon crossing the bridge, you will encounter the expansive Kalatartar plain, reminiscent of Leh-Manali's Moore plain but devoid of asphalt. Embrace the challenge of this uncharted off-road terrain as sands billow from the rider in front of you, navigating in any direction necessary to avoid their dusty wake.

This expedition to Umling-la epitomizes both the untamed landscape and the profound tranquillity of the region. Allow yourself a moment of peaceful reflection or meditation as you wish. Upon reaching the summit, capture photographic evidence of your triumphant endeavour and revel in your sense of accomplishment.

When you've fully absorbed the gravity of your feat, retrace your path back to Hanle via the same route. As evening descends, settle into a restful overnight stay at Hanle.
Following a hearty breakfast, embark on your return journey to Leh, retracing the same picturesque route. En route, you'll encounter the charming Nyoma Village. The road is smooth and inviting, providing a delightful contrast to yesterday's arduous ride. Today's pleasant biking experience will more than compensate for any previous challenges.

Arrive in Leh, where you can rest as you spend the night at a cozy hotel, reflecting on the day's delightful adventure.
The final day of your

5 nights 6 days Leh Ladakh package

! After breakfast, you will depart for Manali – the place where it all began. As it is time to say goodbye to this godly sight – make the most of it by indulging in the panoramic views.
Leh: Mandala Hotel / Leh Villa / Karakoram Hotel / Similar
Hanle: Padma House / Similar
Note -*Hotel will be provided based on availability at the time of booking
Experienced Tour marshal
Backup vehicle with luggage space up to 60 Litres
Mechanic
Accommodation
Breakfast & Dinner
Bike
Fuel
Helmets
First aid kit
Oxygen cylinder
Permits
Bon Fire wherever possible (Depends on the weather condition)
A refundable security deposit of INR 10,000 in cash will have to be paid on arrival to the vendor partner for the Bike.
If you are bringing your own bike, the fuel cost will not be included in the package cost.
Kindly carry 01 rucksack bag per person (Trolley bags not allowed).
This trip covers locations based on high altitude.
High altitude may lead to Acute Mountain Sickness due to lower oxygen pressure than usual. Some of the symptoms include headache, nausea and more.
Kindly read all sections in attachment to know more about the trip.
Kindly pay full attention to the briefing provided and follow all guidelines as recommended.
Vendor details will be shared post booking. Please co-ordinate with vendor on reporting time & location.

Starting Point
Leh Airport
Kushok Bakula Rimpochee Airport – Leh Airpo
Directions


End Point
Leh Airport
Kushok Bakula Rimpochee Airport – Leh Airport
Directions

We will confirm your booking within 24 hours. 

In case of non-availability for the date, our team will get in touch with you to work out best possible dates. Kindly bear with us as this industry does not work with real-time inventory views from vendor partners.

If you wish to cancel before receiving a confirmation, you will receive a 100% refund.
Full Refund-

If cancelled before 15 days of scheduled departure
No Refund-

If cancelled within 15 days of scheduled departure
If participants are unable to or refuse to go through with the experience at site, no refund will be applicable.
To avoid inconvenience to the other travelers, the expedition will continue in such case and participant will have to make their own arrangements, if they continue their stay.
100% at the time of booking.
Rescheduling is subject to availability.

Once the cancellation window ends, rescheduling cannot be done.

Each booking allows for a maximum of two rescheduling opportunities. After which, no further changes can be made to the booking.

Any price differences resulting from rescheduling, such as changes in seasonal rates or availability, will be applicable and will be communicated to the customer during the rescheduling process.

In the event that a customer requests a rescheduling but fails to attend the newly scheduled appointment, it will be considered a missed appointment, and our standard cancellation policy will apply
Since this is a rough terrain, a bike with a powerful engine and strong build is preferable. The ideal bike for this trip is RE Classic 350cc, RE Classic 500cc, RE Himalayan, RE Thunderbird, Bajaj Avenger and in adventure bikes, you can try KTM Duke, and KTM Adventure 390.
Yes, it is safe for solo riders to bring their bike and join the group. The group departure has an experienced tour marshal along with a mechanic and a backup vehicle. Thus, you can enjoy this adventure with maximum safety.
Yes, there will be an experienced tour marshal during the entire trip.
Please read the product detail page carefully for things to carry for the trip.
The best time to visit for a Ladakh Bike Trip is from May to October, during this time all the winter snow starts melting resulting in clear and dry roads. Autumn and summer are the best time, as there are a lot of festival celebrations in the town, which makes it more appealing for tourists.
Yes, there are age & weight restrictions for this trip. The age limit is 18 to 50 years. The weight limit is 50 to 100 Kg.  If there is any medical history or condition involved, Please consult your doctor before going on the trip.
The accommodations will be provided in standard Hotels/Guest houses and camps on a Single / Twin / Triple sharing basis of your selection.
Breakfast and dinner are included in the trip from dinner on Day 01 to breakfast on Day 06.
If you are a frequent bike rider, then this trip is perfect for you. If you are not a rider, then you can join the trip as a pillion with your rider partner or get a seat in a backup vehicle.
Every day you will be doing a ride of a minimum of 5 to 6 hours and it may extend depending on the cumulative speed of the group and halts taken during the trip.
You can enjoy river rafting, camping, double-humped camel rides and ATV rides during this trip at your expense. It is not a part of the package being offered.
If you are going for this expedition from Jan to March, you may experience snow on the trail. In the summer, the snow melts completely and the weather is bright and sunny.
Below are the additional charges that may incur and are not included in the package cost: 
A refundable security deposit of INR 10,000 in cash will have to be paid on arrival to the vendor partner for the Bike.

Personal expenses

Any detours that you may take or places that you visit that are not a part of the itinerary.

Entry fees for any attractions.
For riders with their bikes, all the documents related to the vehicle are mandatory like insurance, an RC Driving license a valid ID, and address proof. For other riders, ID proof and a valid driving license are required. 

The local permits required will be arranged by our vendor partner however a valid ID proof & address proof, the booking voucher along your declaration form are required. 
The best way to reach Leh is by getting a direct flight from Delhi to Leh. The duration for the same is 1 hr and 15 mins.
Full Refund– If cancelled before 15 Days of scheduled departure.
No Refund– If cancelled within 15 Days of scheduled departure.
If participants are unable to or refuse to go through with the experience at the site, no refund will be applicable.
To avoid inconvenience to the other travellers, the expedition will continue in such cases and participants will have to make their arrangements if they continue their stay.
The payment policy is 100% at booking.
In case of extreme bad weather, government restriction or political disturbance, if any activity is cancelled; then the operator will suggest the best possible alternative. However, a cash refund is not applicable. In case of a change in itinerary due to weather, any additional expenses must be borne by the traveller.
AMS or Acute Mountain Sickness is caused by the quick exposure to low oxygen levels at high altitude. Symptoms of AMS include nausea, fatigue, rapid heart rate and headache to name a few. 

In case of any symptoms, please inform your tour marshal immediately, if there is any discomfort and oxygen levels drop, Backup oxygen cylinder is provided as an immediate relief and the customer is taken to the nearest hospital and moved to a lower altitude region. Once the doctor certifies that you are fit to travel, you can resume the trip or you will be advised to travel back home.
Any changes in your schedule about airlines or transportation will result in a change in the entire itinerary. The operator will suggest the best alternative possible in this case. However, a refund for any missed inclusions will not be provided and any extra cost incurred to rearrange the itinerary will be borne by the traveller.
4 - Passport size photographs
Driving Licence – Original
If bringing your own bike, all documents related to your bike should be brought.
Please Carry a Photo & address identity proofs that are issued by the Government of India like Driving License, Passport, Voter ID. (PAN card will not be considered as a valid address proof)