10N/11D Manali | Zanskar | Leh – Car Expedition
₹

72,799
Closed for the season
Ladakh, Manali

Pumped Adventure
Couples/Group Adventure, Family Adventure, Solo Adventure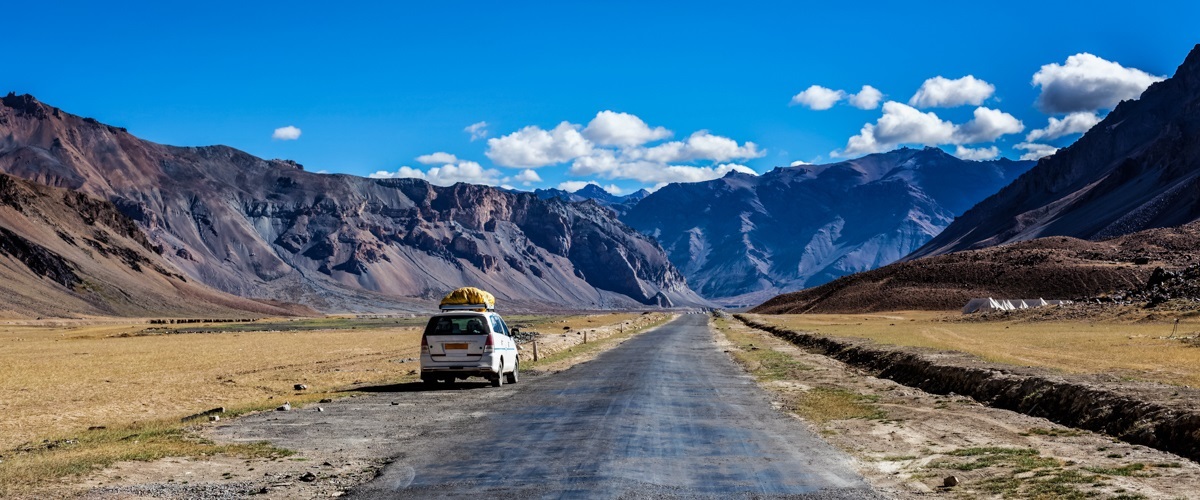 Overview
This 11-day trip will leave you amazed with its awe-inspiring sceneries and charms of nature. Starting from Manali, this spectacular journey takes you through high mountain passes, gorgeous valleys, arid mountains, pristine blue lakes, and the stunning architecture of the region. Get ready to open your mind and set your soul free with this trip that promises you inimitable joy.
Soak in the bucolic beauty of Manali situated in the stunning Beas River valley.
Visit to the Gumbo Ranjan, or God's Mountain, a solitary peak situated in the Kargyak Valley.
Visit to the highest motorable passes including Khardung La, Lachung La and Nakee La.
Pass through the iconic Atal tunnel, the World's Longest Highway Tunnel above 10,000 feet.
Witness the 30 feet giant Buddha sculpture of Buddha on rock mountain.
Stay at the Pangong Lake, world famous for its pristine beauty.
Soak in the brilliant landscapes of Nubra Valley.
Get intrigued by the fascinating gravity-defying phenomenon at Magnetic Hill.
Drive through the fascinating Gata Loops, a stretch of loopy road that has 21 hairpin bends at an altitude of 17000 feet.
As you arrive, relax for your upcoming expedition at the hotel. Spend the day relaxing and exploring the charming town of Manali. Your tour guide will take you through the itinerary.
140 Km | 6-8 Hours | 10,500 ft
After breakfast, embark on your adventurous journey to Ladakh. Set off on the drive from Manali to Jispa. You will pass through the iconic and popular Atal tunnel, the longest highway single-tube tunnel above 10,000 feet in the world.
Upon reaching Jispa, spend a relaxed night at the camp.
150 Km | 3-4 Hours | 12,038 ft
Enjoy a relaxed breakfast in the quaint town of Jispa. After breakfast, start the tour towards Zanskar on the newly opened road. Cross the Shingo-La, a mountain pass on the border between Ladakh and Himachal Pradesh. You will also pass through Gumbo Ranjan or God's Mountain, a solitary peak situated in Kargyak Valley which is also one of the most sacred sites for Zanskari Buddhists.
Overnight stay at a nice Alpine tent in Padum.
180 Km | 3-4 Hours | 8,780 ft
After breakfast, get ready for a long day. Drive through the Suru Valley to reach Padum in Zanskar. You will cross through Pensi La, a high-altitude pass. There is also the Drang-Drung mountain glacier near the Pensi La, which you can visit.
Overnight stay in Kargil.
220 km | 5 Hours | 11,483ft
Wake up in the captivating town of Kargil and enjoy your breakfast. After breakfast, start your day 5 expedition. You will pass through the magnificent Mulbek, a giant living Buddha sculpture on rock. Also visit the Lamayuru Monastery, a Tibetan Buddhist monastery in Lamayouro.
Also, drive through the awe-inspiring Magnetic Hill and witness its gravity-defying phenomenon. Pay a visit to Gurudwara Pathar Sahib.
Reach Leh and spend a relaxed night at the hotel.
60 Km | 2-3 Hrs | 17,982 ft
After a tempting breakfast in Leh, set off on a drive that will probably make it to the list of your best drives ever. Drive through the exemplary landscapes of this region to reach Nubra Valley, famous for its gorgeous orchards. You will also cross Khardung La, the highest motorable road.
Upon reaching Nubra, situated on the banks of the Nubra river, spend a relaxed night.
150 Km | 3-4 Hrs | 14,270 ft
Enjoy a sumptuous breakfast as you soak in the serenity of Nubra Valley. Head off to the pristine Pangong Lake. Pangong Lake will mesmerize you with its unfiltered beauty and dreamy vibe.
Later, transfer to the campsite and enjoy a cozy bonfire amidst the bliss of nature. Overnight stay in Pangong.
225 km | 7 hours | 11,483 ft
After breakfast in beautiful Pangong, you will leave for Leh. En route, you will cross the second-highest pass in the world, Chang La. Connecting Leh with the Changthang Plateau, Chang La is considered among the toughest passes. You will also see Tso Ltak, popularly referred to as the cousin of Pangong Tso.
Reach Leh early in the evening and spend time soaking in the city. Overnight stay in Leh.
250 km | 7 hours | 13,783 ft
Savour a delectable breakfast in Leh and head off to your next destination, Sarchu. Soak in the panoramic view of the majestic mountains and striking colours of nature as you pass through the borders of Jammu & Kashmir, and Himachal Pradesh. You will also pass through Tanglang La at 17,480 feet. Enjoy a rather different drive through More Plains, originally called Kiang Chu Thang. This is a 45 km stretch plateau at a height of 15,500 feet. Also, cross through the famous Gata Loops with 21 hairpin bends.
Reach Sarchu by evening. Overnight stay in Sarchu.
210 km | 6 hours | 625ft
After breakfast, leave for the quaint and serene town of Manali. On your way, you will cross the mighty Baralacha La at 16050 feet. Drive through the iconic route of the Atal tunnel and witness some of the gorgeous villages of Lahaul Valley.
Reach Manali and spend the night there.
After breakfast, check out from the hotel and spend some time exploring the city. Post that you will get a drop at Manali Bus Stand.
Accommodation
Breakfast
Dinner
Vehicle
Driver cum Guide
First aid kit
Oxygen cylinder
Permits
Bon Fire wherever possible (Depends on the weather condition).
Leh: Hotel Lumbani / Basera INN / Lonchay Villa / Hotel Taj Ladakh / La budha / Abu palace/ Similar
Nubra: Skylark Nature Resort / Royal Desert Camp / Sky Ride /De Nubra / Summer Camp / Similar
Pangong: Pangong Holiday/ Pangso /100 Sky Camp / Padma Camp/Regal Camp/ Similar
Manali: Anant Midows / Hotel Zarim / Manali Paradise / Ibex Manali / Hill House /Similar
Kargil: Greenland Hotel / Hotel Zero Miles / Hotel Jan Palace / Hotel Rangyul /Hotel Border View / Similar
Jispa: Baga Eco Camp / Himalayan Spirit Camp / Similar
Sarchu: Shakia Camp / Himalayan Roots Camp / Similar
Leh: Hotel Rafica / Deja Vu / Evergreen / Imperial Ladakh / Grand Ladakh / Similar
Nubra: Royal Delux Camp / Hotel Snow Lepord / Regal Camp / Apricot Camp / Similar
Pangong: Pangong Heritage/High Lake camp / The Kora Eco Resort / Mentsel Cottegae / Gallexy Cottage/ Similar
Manali: Himalayan Heights / Broadways Inn / Snow Valley Resort / Angles Hill/ Similar
Kargil: Hotel Royal Gasho
/ Ladakh Resort / Hotel Rangyul Resort/ De zojilla/ Hotel Barula / Similar
Jispa: Ibex Camp / Jispa Journeys / Similar
Leh: Hotel Paradise ladakh /Hotel Samaya / Ksar Palace / Lakrook / Singge Palace/ Similar
Nubra: Wooden Resort / Nubra Eco Lodge / Mystique Meadows Earth Home / Pebbles Swizz Camps Resort / Nubra Sarai / Similar
Pangong: Lg Resort / Nirvana / Vista Camp / Pangong Inn / Man Village Tourist Camp / Similar
Manali: Orchard Greens/hotel Swiss Wood / Hotel Piccadilly / Similar
Kargil: Zojilla Residence / White Castel / Island Mountain Resort / PC Palace / Caravan Sarai / Similar
Jispa: Gemoor Khar / Padma Lodge / Similar
This trip covers locations based on high altitude.
High altitude may lead to Acute Mountain Sickness due to lower oxygen pressure than usual. Some of the symptoms include headache, nausea and more.
Kindly read all sections in attachment to know more about the trip.
Kindly pay full attention to the briefing provided and follow all guidelines as recommended.
Please carry a Photo identity proofs that are issued by the Government of India like Driving License, Passport, Voter ID. (PAN card will not be considered as a valid address proof).
Vendor details will be shared post booking. Please co-ordinate with vendor on reporting time & location.

Starting Point
Manali Bus Stand
65VQ+MXW, Himachal Pradesh,kullu Manali market, Manali
Directions


Ending Point
Manali Bus Stand
65VQ+MXW, Himachal Pradesh,kullu Manali market, Manali
Directions

We will confirm your booking within 24 hours.
In case of non-availability for the date, our team will get in touch with you to work out the best possible dates. Kindly bear with us as this industry does not work with real-time inventory view from vendor partners.
If you wish to cancel before receiving a confirmation, you will receive a 100% refund.
Full Refund- If cancelled before 15 days.
No Refund- If cancelled by the customer in less than 15 days
If participants are unable to or refuse to go through with the experience at the site, no refund will be applicable.  To avoid inconvenience to the other travellers, the expedition will continue in such cases and participants will have to make their own arrangements if they continue their stay.
100% at the time of booking.
Rescheduling is subject to availability.

Once the cancellation window ends, rescheduling cannot be done.

Each booking allows for a maximum of two rescheduling opportunities. After which, no further changes can be made to the booking.

Any price differences resulting from rescheduling, such as changes in seasonal rates or availability, will be applicable and will be communicated to the customer during the rescheduling process.

In the event that a customer requests a rescheduling but fails to attend the newly scheduled appointment, it will be considered a missed appointment, and our standard cancellation policy will apply
The transportation during this trip will be provided based on the group size and the vehicle selected as per your choice. The available options are Tempo Traveller / Toyota Innova / Mahindra Xylo / Scorpio.  Since Ladakh is a rough terrain, only vehicles with high ground clearance are used here.
Please read the product detail page carefully for things to carry for the trip.
There is no age and weight limit for Ladakh if there is no medical history or condition involved. Please consult your doctor before visiting the trip.
The accommodations will be provided in standard Hotels/ Guest Houses and camps on a Single/Twin/ Triple sharing basis of your selection.
Breakfast and dinner are included in the trip from Dinner on Day 01 to Breakfast on Day 11.
The local permits required will be arranged by our vendor partner however a valid ID proof, address proof and booking confirmation email are required.
The best way to reach Manali is by Bus. Manali is very well connected with all the major tourist destinations, and you can easily get a bus from Delhi to Manali. You can get state-organized buses or private travel buses.  The duration for the same is 12 to 13 hours.
Below are the additional charges that may incur and are not included in the package cost:
Personal expenses
Any detours that you may take or places that you visit that are not a part of the itinerary.
Entry fees for any attractions.
Full Refund- If cancelled 15 Days before departure
No Refund- If cancelled within 15 Days of departure
If participants are unable to or refuse to go through with the experience at the site, no refund will be applicable. To avoid inconvenience to the other travellers, the expedition will continue in such cases and participants will have to make their own arrangements if they continue their stay.
The payment policy is "100% at booking.
In case of extreme bad weather, government restriction or political disturbance, if any activity is cancelled; then the operator will suggest the best possible alternative. However, a cash refund is not applicable. In case of a change in itinerary due to weather, any additional expenses must be borne by the traveller.
This trip is the best way to explore Leh Ladakh with family and friends without the hardships of riding on your own. You can easily enjoy this trip with ample time for sightseeing. Thus, it is a very easy trip to enjoy.
Each day you will be taking a drive for 4-5 hours and enjoying the surreal beauty of Leh in all its glory.
You can enjoy river rafting, camping, double-humped camel rides and ATV rides during this trip at your expense. It is not a part of the package but can be customized as per the traveller's request.
If you are visiting during the summer season, the initial months will let you see the snow on the trails that is melting from the mountains. During monsoon season, there might be sudden showers but not snow.
AMS or Acute Mountain Sickness is caused by quick exposure to low oxygen levels at high altitudes. Symptoms of AMS include nausea, fatigue, rapid heart rate and headache to name a few.
In case of any symptoms, please inform your tour marshal immediately, if there is any discomfort and oxygen levels drop, a Backup oxygen cylinder is provided as an immediate relief and the customer is taken to the nearest hospital and moved to a lower altitude region. Once the doctor certifies that you are fit to travel, you can resume the trip or you will be advised to travel back home.
Any changes in your schedule pertaining to airlines or transportation will result in a change in the entire itinerary. The operator will suggest the best alternative possible in this case. However, a refund for any missed inclusions will not be provided and any extra cost incurred to rearrange the itinerary will be borne by the traveller.