Off roading with ATV – Manali
Manali

Pumped
Timings - 10 am to 4:30 pm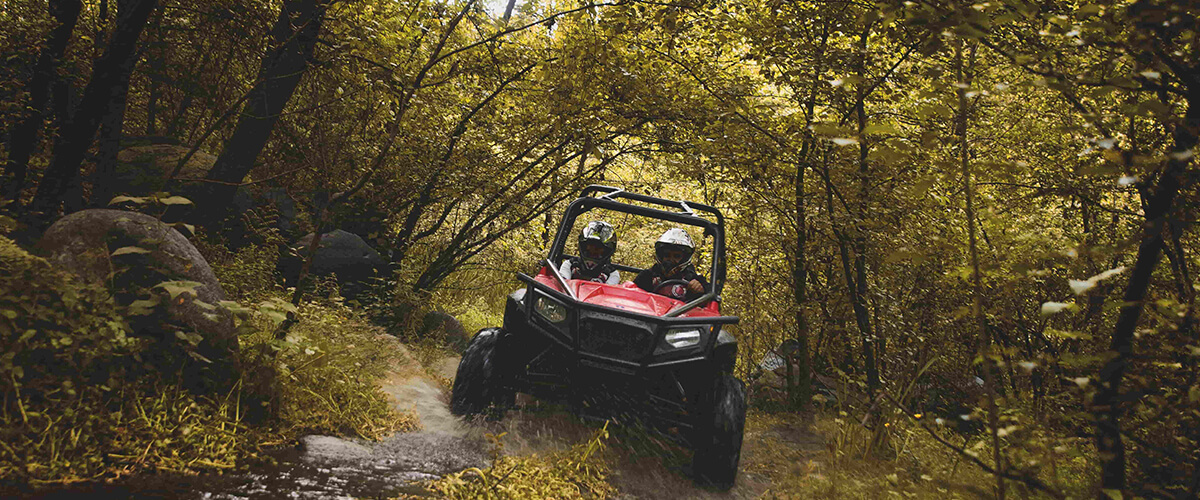 Overview
If you love vehicles and enjoy driving through rough terrains, off-roading is the perfect adventure sport for you. You won't find anything like this off-roading experience anywhere else in the country. Alongside the mighty river Beas, deep within the Himalayas, lies this exciting off-roading course.
Enjoy a scenic off-roading experience along the Beas and take in the mighty Himalayas
Drive across various tricky and challenging courses for 7.5 kms
Choose from a range of ATVs to enjoy the experience of a lifetime
Take a quick break by the Beas River and enjoy the beauty that nature has to offer
It is mandatory for all riders to register
Put on your safety gear to ensure a seamless experience
Watch a safety video to understand the dos and don'ts during your offroading adventure
An expert instructor will train you during this session
The difficulty level of the trail will determine the level of your skill test.
Every rider is required to complete a mandatory 200 m training course
Riders continue to the Kiwi Trail, which is a 1km trail
Riders continue to the Raison River trail, which is a 6.5 km trail
There is a 10-minute rest stop along the Beas River during this ride
(great photo opportunity!).
ATV
Safety gear
Trained Instructor
All ATV rides are booked on an hourly basis
ATV ride is operational till 4 Pm in winters and 6 Pm in summers.
For this activity women are requested to wear trousers or shorts.
Sturdy shoes with closed toes are mandatory
Drivers have to be 18 years of age or older with a valid driver's license
Participants deemed unfit for the activity may be prohibited from participating by the instructor. Since this decision will be made by the expert for your safety, we request your adherence. Kindly read our advisory in attachment to understand if you are fit to participate.
Kindly pay full attention to the briefing provided and follow all guidelines as recommended.
Vendor details will be shared post booking. Please co-ordinate with vendor on reporting time & location.
We will confirm your booking within 24 hours

In case of non-availability for the date, our team will get in touch with you to work out best possible dates. Kindly bear with us as this industry does not work with real-time inventory view from vendor partners.

If you wish to cancel before receiving a confirmation, you will receive 100% refund.

Full Refund– If cancelled before 48 hours of scheduled date.
No Refund– If cancelled within 48 hours of scheduled date.
If participants are deemed unfit by instructor or refuse to go through with the experience at site, no refund will be applicable.
100% at the time of booking
The duration of the activity is 1-1.5 hrs. The slots for the same are :  11am,12pm,1pm,2pm,3pm,4pm,5pm 
ATV ride is operational till 4 Pm in winters and 6 Pm in summers.
Yes, this activity is safe. Off-roading is an adventure sport and is safe if conducted properly. This is an off-roading track and hence during this activity you will be provided a brief training course and you have to follow a trained marshal along the track
Minimum Age Is 18+ Years To Drive With Valid Photo ID For Proof Of Age

Drivers Licenses is mandatory

Children 12 To 15 Years Must Be Accompanied By An Adult

Participants Under 18 Years Must Have A Parent Or Guardian Sign A Consent Waiver

Max Capacity of Weight is 110Kg Per Person.
Yes, this activity is suitable for beginners as it is completely supervised by the trained instructors
Minimum Age Is 18 Years to Drive With Valid Photo ID For Proof Of Age

Max Capacity of Weight is 110Kg Per Person.
The starting point for this activity is Naggar-Patlikuhl Link road opposite Snow Touch resorts Patlikuhl, Himachal Pradesh 175129
The best time to go for this activity is during the summers or the winter season. During the monsoon season, it is advisable to take extra care and follow the guide instruction and some parts of the route will not be operational
Wear comfortable clothing and close toed shoes

It is required that women wear trousers or shorts – not skirts or saris
If your activity is cancelled due to  weather conditions, operational or regulatory reasons, you will receive FULL refund or you can reschedule your activity to an alternative date of your choice.
You may cancel the booking anytime ,100% refund will be processed if the booking is cancelled 48 Hrs before the trip

No refund if cancelled within 48 Hrs of the scheduled date