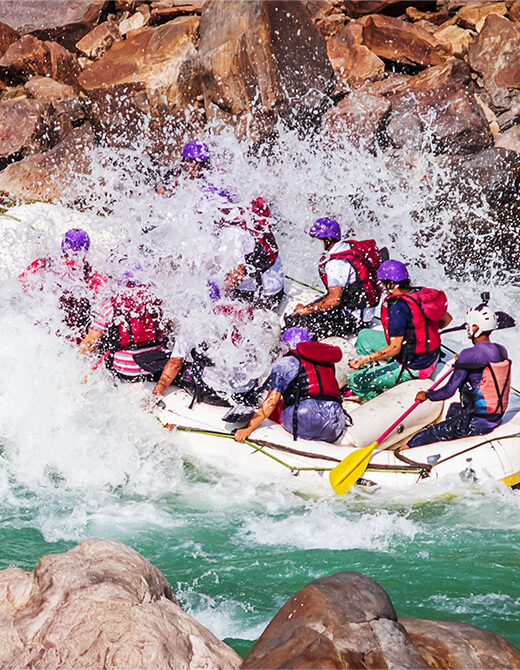 Looking for a fun getaway or an adventure to invigorate your soul or just seeking a breakfrom your daily routine- River rafting
River rafting might be what you need to lift your spirits.
It is challenging, exciting, and safe both for beginners and seasoned enthusiasts alike.
The sport of river rafting involves navigating a river using inflatable rafts. Make sure to learn about the different categories of rapids with varying difficulty levels.
GRADE I: Flat water with small waves with no or very few obstacles to manoeuvre around.
GRADE II: Small to medium waves with some obstruction to the route downstream.
GRADE III: Features medium to harsh waves, some eddies and rocks
GRADE IV: Many irregular sized waves and obstacles including rocks and strong eddies.
GRADE V: Large and irregular waves, long and violent rapids with many obstructions. May have big drops or steep gradients.
GRADE VI: Not used for commercial rafting.
Depending on your choice of difficulty level, make sure to check the grade of rapids while booking.
If you are a skilled rafter, then go for Grade 4 and 5. If you are a beginner at rafting, then start your adventure with Grade 1 rapids.
When you plan to test waters (pun intended), river rafting in Manali and Rishikesh features among the most authentic rapids in the country with experienced rafters guiding people through every step.
The rafting passages in Manali are popular for their proximity to glorious mountains, offering breath-taking views for as you manoeuvre the cascading river!
Biás is another name for the Beas River, located in central Himachal Pradesh, India. The Beas river rises in the Himalayas and flows for 470 kilometres to the Sutlej River. It offers an ideal course for river rafting. In fact, with over 6 rapids, this river attracts people from across the world, tempting even the most nervous travellers to jump headfirst into this thrilling experience.
After the tumultuous ride on the rapids, you enter calm waters, which in this case is the quiet after the storm. Immerse yourself in nature's embrace. The solitude that these calming waters bring with them is unmatched. The babbling brook against the backdrop of snow-capped mountains makes this an ideal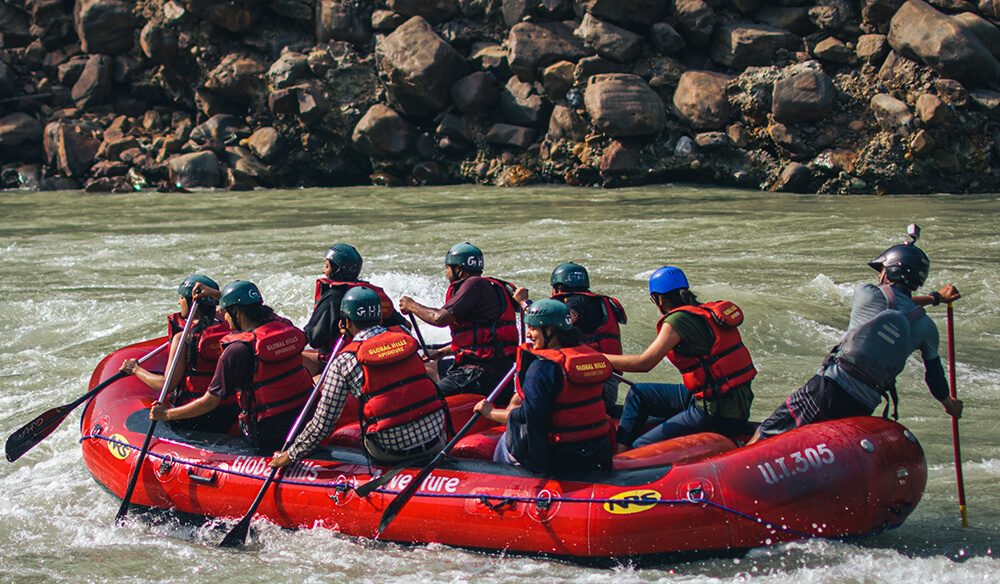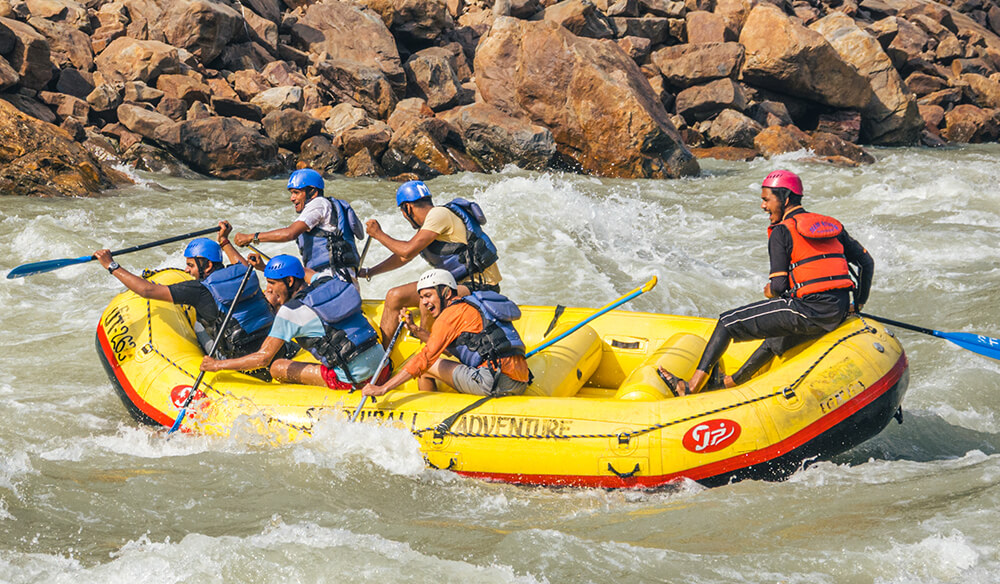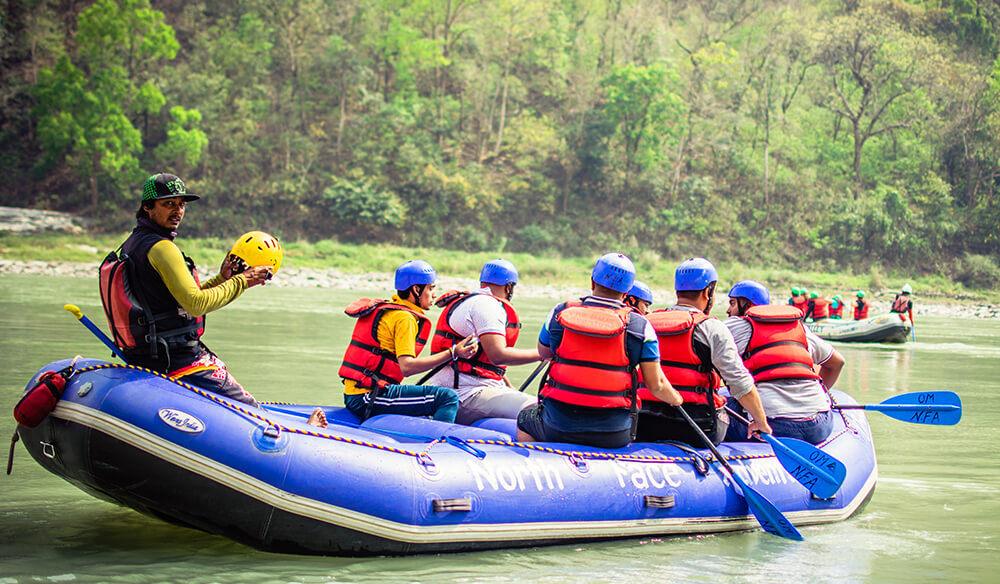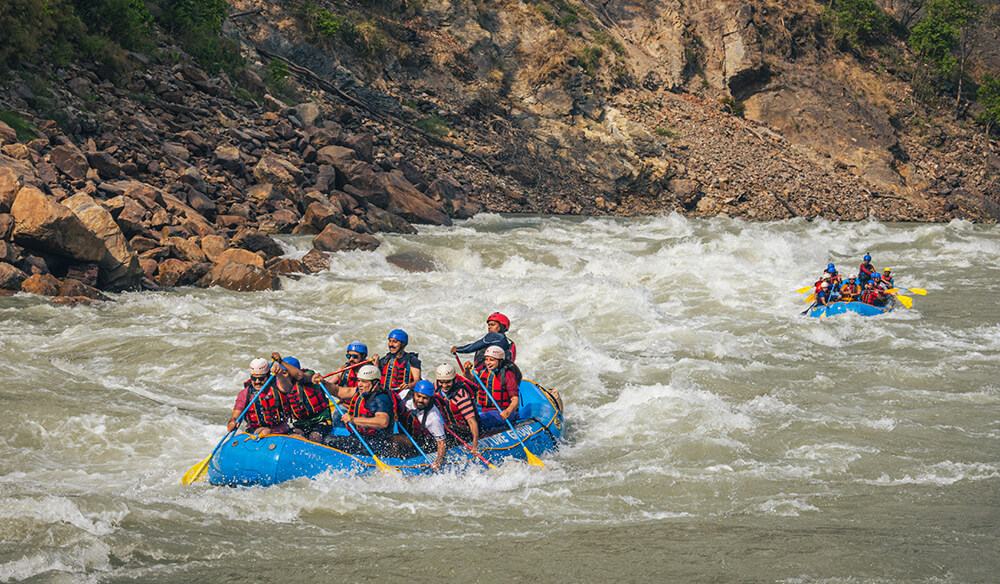 When you're in Rishikesh, don't miss the rafting adventure through River Ganga's blustery waters. There's a reason for its name – White Water Rafting. Rafting in foam when rushing across the river is a beautiful sight. As the raft moves, viewers are surprised by the sparkling view that gives them the illusion of speed.
Rafting through the clear waters, you'll experience sturdy rapids and see breath-taking panoramas of mountains & greenery. You can choose from a 9 kilometres, 16 kilometres, 24 kilometres or 35 kilometer course in Rishikesh! With grade 1-4 rapids, rafting in Rishikesh is suitable for anyone.
The majestic Himalayan foothills will also appear as a backdrop to your raft as it glides along the swift river. The gorgeous valleys juxtaposed with the drifting cold Himalayan winds will undoubtedly send chills down your spine.
The best time for river rafting in Manali and Rishikesh is from June to July and October till early February. During monsoon, rafting remains restricted due to the heavy rainfall.
As you enjoy an adventure rush of a lifetime, remember to pay heed to the trained professionals stationed to guide you, to ensure utmost safety.
---