8N/9D Chandigarh | Spiti – Bike Expedition
Closed for the Season
Spiti

Gutsy Adventure
Couples/Group Adventure, Solo Adventure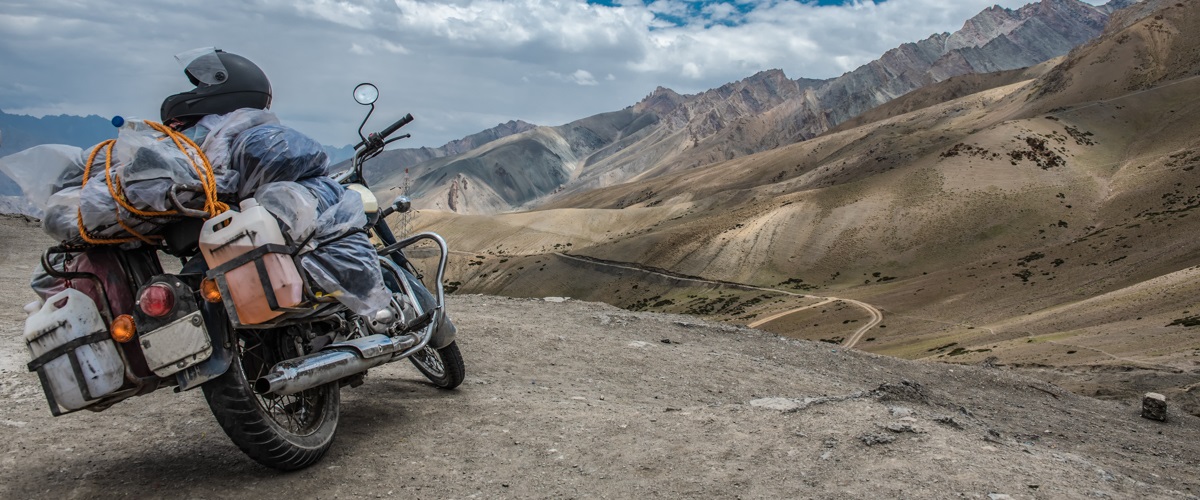 Overview
Brace yourself for an extraordinary journey into the heart of the enigmatic Spiti Valley. This isn't just a trip; it's an adventure that will redefine your idea of rugged beauty, awe-inspiring landscapes, and untamed exploration.
Nestled high in the trans-Himalayan region, Spiti Valley beckons with its raw and untouched grandeur. As you traverse through its ancient monasteries, winding mountain roads, and quaint villages, you'll find yourself immersed in a world that is as mystical as it is captivating.
AdventuRush's meticulously crafted Spiti itinerary is designed to take you on a rollercoaster ride of experiences. So, whether you're seeking an adrenaline rush, spiritual solace, or a chance to witness nature's grandeur, Spiti has it all. Join us on this extraordinary expedition as we journey through Spiti's untamed landscapes, delve into its ancient cultures, and create memories that will forever be etched in the canvas of your adventurous spirit.
Immerse yourself in the mesmerizing beauty of Spiti's landscapes, characterized by snow-capped peaks, deep valleys, and pristine rivers.
Explore ancient monasteries perched on rocky outcrops, where you can witness the spiritual essence of the region and the serenity of prayer flags.
Embark on spine-tingling drives along narrow mountain roads, offering awe-inspiring views and thrilling experiences as you navigate through challenging routes.
Enjoy the colours of the Nako Lake as you grab a bite
Arrive in Chandigarh, meet fellow travelers and crew, bike allocation, tour briefing, dinner, and rest for the next day's ride.
Chail Palace – Kufri – Hatu Peak – Narkanda
Depart for Spiti, passing through Chail, Kufri, and Hatu Peak, and stay in Narkanda with dinner.
Chitkul – Kinnaur – Baspa River 
Head to Chitkul, the last village on the Indo-Tibetan trade route, stroll through orchards and return to Chitkul camp for dinner and stay.
Kinner Kailash – Kalpa – Nako Lake
Travel to Nako, visit Reckong Peo Kalpa, check-in at Nako hotel/camp, explore Reckong Peo, and stay in Nako
Nako Monastery – Tabo Monastery –  Chogskhor Monastery 
Proceed to Kaza via Tabo, explore Nako monastery Tabo attractions, check-in at Kaza hotel, and have a rest. 
Ki Kibber Monastery –  Hikkim, Gue – Komic Monastery – Sakya Tangyud Monastery 
Visit Ki Kibber Monastery, Kibber village, sightseeing in Kaza, and overnight stay.
Travel to Kalpa, check-in at the hotel, explore Kalpa's unique rock formation, and visit Buddhist Gompa.
Journey to Shimla, check-in at the hotel, and explore Shimla's mall road and church if time allows.
Final day's ride from Shimla to Chandigarh, concluding the Spiti Road Trip Expedition.
Narkanda - Aarav Regency / Shyam regency / Similar
Sangla hotel - Hotel Nirvana/ Similar
Chitukul - Nagru Camp & Adventure / Similar
Klapa - White Castle/ Tab Exotic / Similar
Kaza - Spiti Sarai / Delek House / Similar
Shimla - Hotel Moonlight / Similar
Experienced Tour marshal
Backup vehicle with luggage space upto 60 Litres
Mechanic
Accommodation
Breakfast & Dinner
Bike
Fuel as per the itinerary
Helmets
First Aid Kit
Oxygen Cylinder
Permits
Bon Fire wherever possible (Depends on the weather condition)
A refundable security deposit of INR 10,000 in cash will have to be paid on arrival to the vendor partner for the Bike.
If you are bringing your own bike, the fuel charges are not included in the package cost.
This trip covers locations based on high altitude.
High altitude may lead to Acute Mountain Sickness due to lower oxygen pressure than usual. Some of the symptoms include headache, nausea and more.
Kindly read all sections in attachment to know more about the trip
Kindly pay full attention to the briefing provided and follow all guidelines as recommended.

Starting Point
Chandigarh Bus Terminus
Chandigarh Bus Terminus, ISBT Road, 17G, 17F, Sector 17, Chandigarh, 160017
Directions


Ending Point
Chandigarh Bus Terminus
Chandigarh Bus Terminus, ISBT Road, 17G, 17F, Sector 17, Chandigarh, 160017
Directions

Booking will be confirmed within 24 hours.
In case of non-availability for the date, our team will get in touch with you to work out best possible dates. Kindly bear with us as this industry does not work with real-time inventory view from vendor partners.
If you wish to cancel before receiving a confirmation, you will receive 100% refund.
Full Refund– If cancelled before 15 days of scheduled departure
No Refund– If cancelled less than 15 days of scheduled departure
If participants are unable to or refuse to go through with the experience at site, no refund will be applicable. In order to avoid inconvenience to other travelers, the expedition will continue in such case and participant will have to make their own arrangements, if they continue their stay.
100% at the time of booking
Rescheduling is subject to availability.

Once the cancellation window ends, rescheduling cannot be done.

Each booking allows for a maximum of two rescheduling opportunities. After which, no further changes can be made to the booking.

Any price differences resulting from rescheduling, such as changes in seasonal rates or availability, will be applicable and will be communicated to the customer during the rescheduling process.

In the event that a customer requests a rescheduling but fails to attend the newly scheduled appointment, it will be considered a missed appointment, and our standard cancellation policy will apply
Since this is a rough terrain, a bike with powerful engine and strong build is preferable. The ideal bike for this trip is RE 350cc, RE Classic 500cc, RE Himalayan, RE Thunderbird, Bajaj Avenger and in adventure bikes, you can try KTM Duke, KTM Adventure 390.
Yes, it is absolutely safe for solo riders to bring their own bike and join the group if they are a good rider. The group departure has an experienced tour marshal along with a mechanic and a backup vehicle. Thus, you can enjoy this adventure with maximum safety.
Yes, there will be an experienced tour marshal during the entire trip.
Please read the product detail page carefully for things to carry for the trip
Yes, there are age & weight restrictions for this trip. The age limit is 18 to 50. The weight limit is 50 to 100 Kgs as long as there is no medical history or condition involved. Please consult your doctor before visiting the trip
The accommodations will be provided in standard Hotels/ Guest houses and camps on Single/Twin/ Triple sharing basis of your selection.
Breakfast and dinner are included in the trip from Dinner on Day 01 to Breakfast on Day 09
If you are a frequent bike rider then this trip is perfect for you. If you are not a rider then you can join the trip as a pillion with your rider partner or get a seat on a backup vehicle
Every day you will be doing a ride of minimum 5 to 6 hours and it may extend depending on the cumulative speed of the group and halts taken during the trip.
If you are going for this expedition during the month of Jan to March, you may experience snow on the trail. In the summer, the snow melts completely and the weather is bright and sunny.
Below are the additional charges that may incur and are not included in the package cost:
A refundable security deposit of INR 10,000 in cash will have to be paid on arrival to the vendor partner for the Bike.
Personal expenses
Any detours that you may take or places that you visit which are not a part of the itinerary.
Entry fees of any attractions.
For riders with their own bikes, all the documents related to the vehicle are mandatory like insurance, RC and Driving license a valid Id & address proof. For other riders, id proof and valid driving license is required.
The local permits required will be arranged by our vendor partner however a valid Id proof & address proof, the booking voucher along with your declaration form is required.
Full Refund- If cancelled before 15  Days of scheduled departure
No Refund- If cancelled within 15 Days of scheduled departure
If participants are unable to or refuse to go through with the experience at site, no refund will be applicable.
In order to avoid inconvenience to the other travellers, the expedition will continue in such case and participant will have to make their own arrangements, if they continue their stay.
The payment policy is "100% at booking
In case of extreme bad weather, government restriction or political disturbance, if any activity is cancelled; then the operator will suggest the best possible alternative. However, a cash refund is not applicable. In case of a change in itinerary due to weather, any additional expenses must be borne by the traveler.
AMS or Acute Mountain Sickness is caused by the quick exposure to low oxygen levels at high altitude. Symptoms of AMS include nausea, fatigue, rapid heart rate and headache to name a few.
In case of any symptoms, please inform your tour marshal immediately, if there is any discomfort and oxygen levels drop, Backup oxygen cylinder is provided as an immediate relief and the customer is taken to the nearest hospital and moved to a lower altitude region. Once the doctor certifies that you are fit to travel, you can resume the trip or you will be advised to travel back home.
Any changes in your schedule pertaining to airlines or transportation will result in a change in the entire itinerary. The operator will suggest the best alternative possible in this case. However, a refund for any missed inclusions will not be provided and any extra cost incurred to rearrange the itinerary will be borne by the traveller.
Upon your arrival in Chandigarh, you will meet fellow travelers and our crew members at the hotel. A comprehensive tour briefing will provide you with all the necessary information for the journey ahead. You will be assigned your bikes, setting the stage for an exciting adventure. After the day's activities, enjoy a delicious dinner and comfortable accommodation at the hotel, ensuring you're well-rested for the upcoming ride. 
Chitkul – Kinnaur – Baspa River 
Start your journey towards the mesmerizing Spiti Valley after a hearty breakfast. As you ride through the picturesque landscapes, you'll pass through notable places like Chail, Kufri and Hatu Peak. Chail stands out as a tranquil retreat embraced by the hills. Chail Palace, a former summer retreat of the Maharaja of Patiala, adds a touch of regal grandeur to the landscape. Continuing your journey, Kufri emerges as a nature lover's paradise. This picturesque destination is known for its stunning landscapes and outdoor activities. Kufri offers a range of adventure options, including skiing during the winter months. These locations offer stunning and make great photo stops. The crown jewel of your journey's highlights, Hatu Peak, stands as a vantage point that grants you a spectacular panorama of the surrounding landscapes. Your day ends in Narkanda, where you'll find a hotel or homestay awaiting you. Have dinner and end your day with a comfortable night's rest. 
Kinner Kailash – Kalpa – Nako Lake
Greet the day with an eager spirit as you venture towards Chitkul, a gem along the historic Indo-Tibetan trade route. This remote village is a gateway to the Kinnaur region's stunning beauty. Leisurely strolls take you through lush orchards, beside the mesmerizing Baspa River. Chitkul's serene charm and the alluring embrace of nature await at your camp for the night, where dinner under the stars paints a picturesque memory.
Nako Monastery – Tabo Monastery –  Chogskhor Monastery 
With the sunrise, your journey towards Nako begins. Along the way, Reckong Peo welcomes with its awe-inspiring views of Kinner Kailash, a sacred peak. Kalpa, another destination, captivates with its ancient monasteries and stunning vistas. As the day draws to a close, Nako unveils itself Perched on the banks of a serene lake, this picturesque village is surrounded by towering mountains that create a protective embrace. The high-altitude Nako Lake, with its clear blue waters reflecting the sky, exudes an otherworldly charm. The lake is considered sacred by the locals and adds to Nako's spiritual aura. The hotel or camp becomes your haven for the night, under the expansive sky.
Nako Monastery – Tabo Monastery –  Chogskhor Monastery 
Following breakfast, continue your journey to Kaza via Tabo. Amidst the rugged beauty of the Spiti Valley, Tabo stands as an oasis of culture and spirituality. Upon arrival in Kaza, check-in at the hotel. The rest of the day is free for your leisure. During your trip, explore the Nako Monastery and Tabo's notable attractions. The Tabo Monastery, often referred to as the "Ajanta of the Himalayas," is an architectural marvel that dates back over a thousand years. The Chogskhor Monastery within the complex holds a special place in the hearts of visitors, offering a serene ambience for contemplation.
Ki Kibber Monastery -Hikkim, Gue – Komic Monastery – Sakya Tangyud Monastery 
After breakfast, head to Ki Kibber Monastery. This iconic Tibetan Buddhist monastery, also known as Key Monastery, is a symbol of spirituality and architectural splendor. The next stop is Kibber Village, one of the highest inhabited villages in the world. The village's charm lies in its pristine isolation and traditional way of life. Return to the hotel in the evening for an overnight stay. In Kaza, explore the Ki Monastery, Hikkim, Gue Mummy at Gue Village, Komic Monastery, Sakya Tangyud Monastery, and Langza Village. 
As the day comes to a close, and you return to your Kaza hotel, your heart and mind are brimming with the wonders of Kibber's village life, Ki Kibber Monastery's spiritual embrace, and the cultural richness of Kaza. 
Following breakfast, set out for Kalpa. As you traverse the rugged landscapes, the journey offers a unique blend of nature and culture. Upon arriving in Kalpa, the headquarters of Kinnaur district, you'll find a serene haven awaiting your presence. Kalpa stands as a testament to the timeless allure of the Himalayan region. The village is known for its tranquility and stunning views of the Kinnaur Kailash range. One of Kalpa's most captivating legends centers around a natural phenomenon: a 79-foot rock formation resembling a Shivling. This sacred rock is believed to change colors throughout the day, casting a mystic aura over the village. Check-in at your hotel, where a comfortable overnight stay is arranged. 
After a wholesome breakfast, embark on a scenic drive that will take you from Kalpa to Shimla. As you leave the mountains behind, the journey unveils a transition from rugged terrain to charming urban landscapes. Upon reaching Shimla, the "Queen of Hills," check-in at your hotel for a well-deserved overnight stay.
The final leg of your Spiti Road Trip Expedition begins with a breakfast that fuels your journey from Shimla to Chandigarh. As you ride through the scenic landscapes, you'll reflect on the incredible experiences, breathtaking vistas, and memorable encounters that have defined this journey. Arriving in Chandigarh by evening, you mark the end of this epic expedition.
4- Passport size photographs
Driving License- Original
If bringing your own bike, all documents related to your bike should be brought.
Photo & address identity proofs that are issued by the Government of India like Driving License, Passport, Voter ID. (PAN card will not be considered as a valid address proof)